After delays, Russia set to add module to space station
BY STEPHEN CLARK
SPACEFLIGHT NOW
Posted: October 13, 2009


Technicians in Kazakhstan are readying a new docking compartment and airlock for launch to the International Space Station next month, the first Russian addition to the complex in more than eight years.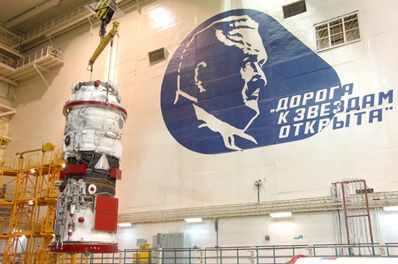 The Progress spacecraft and MRM 2 module being prepared for launch. Credit: Energia



The Mini-Research Module 2, or MRM 2, is being prepped for launch aboard a Soyuz rocket on Nov. 10 at 1422 GMT (9:22 a.m. EST).

MRM 2 will serve as a new docking port for visiting Russian vehicles and an airlock for spacewalks.

The 13-foot-long module was transported last month from its factory at Energia in Moscow to the Baikonur Cosmodrome, the famed Russian launch site on the steppes of Kazakhstan.

Since its delivery, MRM 2 has been undergoing electrical testing and leak checks inside a vacuum chamber at Baikonur, according to Energia.

The module's modified Progress space tug will soon be fueled with maneuvering propellant and other gases before being attached to its Soyuz rocket.

After launch, the Progress will guide MRM 2 to the station in a standard rendezvous sequence lasting about two days, according to NASA.

The 8,091-pound module will be attached to the upward-facing of port the Zvezda service module, the nerve center of the space station's Russian segment.

For now, MRM 2 will provide the fourth usable docking interface for Russian Soyuz and Progress ships and the European Automated Transfer Vehicle. When Node 3, also named Tranquility, is added to the station next year, that number will fall to three operational ports because the U.S. connecting node will block access to one of the docking locations on the Russian Zarya module.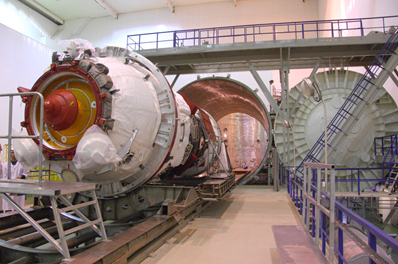 MRM 2 being prepared for pressurization leak checks. Credit: Energia



During a mission next May, the shuttle Atlantis is scheduled to haul a larger Russian docking and cargo storage module to the station for attachment to Zarya. The new addition will return the fourth docking port to service.

MRM 2 is a near-clone of the Pirs docking module delivered to the outpost on a similar mission in 2001. Pirs was the most recent Russian module added to the station.

New parts for the Russian segment have been plagued by systemic delays due to tight funding.

Pirs is bolted to Zvezda's downward-facing port opposite of the future home of MRM 2.

The new module has a maximum diameter of more than 8 feet and features 523 cubic feet of pressurized volume and 380 cubic feet of habitable volume. It also includes ports for unpressurized science payloads and an external robotic crane.

More than 2,000 pounds of cargo will be delivered to the station inside MRM 2, including life support equipment and Orlan spacesuits, according to a NASA press kit.

MRM 2 is designed as a replacement for Pirs. Current plans call for Pirs to be undocked from the outpost when Russia launches a laboratory module in 2012, but that schedule is uncertain.