New crewmates and tourist launch to the space station
BY WILLIAM HARWOOD
STORY WRITTEN FOR CBS NEWS "SPACE PLACE" & USED WITH PERMISSION
Posted: September 30, 2009


A Russian Soyuz rocket blasted off from Yuri Gagarin's launch pad in Kazakhstan Wednesday, carrying two fresh crew members and the founder of Cirque du Soleil on a voyage to the International Space Station.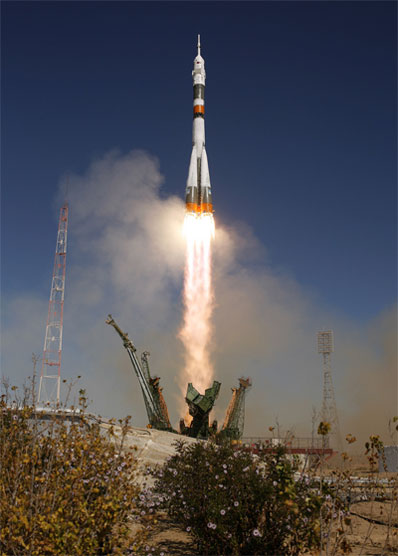 Credit: NASA/Bill Ingalls



Under a cloudless blue sky, the Soyuz TMA-16 rumbled to life and soared away from the Baikonur Cosmodrome in Kazakhstan at 3:14:42 a.m. EDT, roughly the moment Earth's rotation carried the launch pad into the plane of the station's orbit.

Soyuz commander Maxim Suraev, making his first flight, monitored the ascent from the cramped capsule's center seat, assisted by NASA flight engineer Jeffrey Williams to his left. Space tourist Guy Laliberte made the climb to space seated in the capsule's right seat.

The nine-minute ascent went smoothly as the launcher arced away to the east, shedding its liquid-fueled strap-on boosters and core stages without incident. In live television views from inside the spacecraft's central compartment, Laliberte could be seen smiling and giving ground controllers an enthusiastic thumbs up, telling Suraev he felt "super."

After separating from the rocket's third stage, the Soyuz TMA-16's two solar wings and radio antennas deployed as planned and flight controllers in the Russian mission control center near Moscow reported the vehicle was in good shape and operating normally.




Additional coverage for subscribers:


VIDEO: FULL EXPERIENCE FROM LIFTOFF TO ORBIT PLAY


VIDEO: CREW DEPARTS SITE 254 FOR LAUNCH PAD PLAY


VIDEO: VIPS MEET THE CREW ON LAUNCH MORNING PLAY


VIDEO: CREW MEMBERS DON THEIR SOKOL SPACESUITS PLAY


VIDEO: LAUNCH MORNING TRADITIONS AT CREW QUARTERS PLAY



VIDEO: PREVIEW OF NEXT SIX MONTHS AT SPACE STATION PLAY


VIDEO: POST-ROLLOUT COMMENTS FROM NASA OFFICIALS PLAY


VIDEO: SOYUZ ROCKET ROLLED TO BAIKONUR LAUNCH PAD PLAY


VIDEO: ASSEMBLY OF SOYUZ ROCKET STAGES COMPLETED PLAY


VIDEO: HIGHLIGHTS OF CREW'S ACTIVITIES AT BAIKONUR PLAY


VIDEO: CELEBRATIONS MARK CREW'S DEPARTURE FROM STAR CITY PLAY


SUBSCRIBE NOW




If all goes well, Suraev, a Russian air force colonel, and Williams, a veteran shuttle and space station astronaut, will oversee an automated docking at the aft port of the station's Zvezda command module around 4:37 a.m. on Oct. 2.
"This is a very exciting day for me," Laliberte said during a pre-launch news conference Tuesday. "I just turned 50 years old a couple of weeks ago and for celebrating that half of my life, hopefully, I have approaching the great privilege to fly in space.
"I was only 10 years old when the first man put his foot on the moon. I was in summer camp and I was watching that on a black-and-white TV. And for me, it nurtured not the dream of going in space, but it nurtured the understanding and the belief that fairy tales are possible to live."
Asked if he was frightened at the risk of launching aboard a rocket and flying through space at five miles per second, Laliberte, who frequently whips out and wears a red clown nose, said "I'm not scared of anything up there."
"That question's been asked many, many times," he said. "As you know, I'm not a professional, but the one question you have to answer is if you will nurture fear or not? I'm not there to be scared at all. I'm there after evaluating danger. There is, of course, risk coming up there, there are things that you have to be careful of, but I've been well trained."
Williams said he looked forward to watching Suraev and Laliberte experience weightlessness and the view of Earth from 220 miles up.
"I'm very happy now to be getting ready to go again with Max and Guy," he said. "The training has gone very well and we're going to have a great time. I look forward to enjoying their first experiences on orbit."
Suraev and Williams will replace outgoing Expedition 20 commander Gennady Padalka and NASA flight engineer Michael Barratt, who were launched to the station March 27. Laliberte will enjoy just nine days aboard the lab complex before returning to Earth Oct. 11 with Padalka and Barratt aboard the TMA-14 capsule that carried the two professionals into orbit last March.
Laliberte, a Canadian worth an estimated $2.5 billion, is believed to be paying upward of $35 million to visit the International Space Station as a "spaceflight participant," or space tourist, in a deal with the Russian space agency arranged through Space Adventures Ltd.
Toward the end of his stay aboard the orbital lab, Laliberte plans to remotely oversee a five-continent, 14-city extravaganza as part of his "poetic social mission" to raise awareness of water as a critical cultural and environmental issue.
Beginning in Montreal at 8 p.m. on Oct. 9 and closing in Moscow, "we will travel the world, unveiling part of a poetic tale to a voice of international personality," Laliberte said during a news conference in August. "We will also be presenting ... artistic presentations linked to water as an inspiration and as a source of life."
Among those Laliberte said had agreed to participate are former Vice President Al Gore, U2, Shakira, Canadian astronaut Julie Payette and Peter Gabriel. The theme of the production is "Moving Stars and Earth for Water."
The Soyuz TMA-16 flight is the latest chapter in an especially busy few months aboard the space station.
European Space Agency astronaut Frank De Winne will assume command of the outpost from Padalka when the veteran cosmonaut, Barratt and Laliberte depart. The Expedition 21 crew will be made up of De Winne, Williams, Suraev, Canadian astronaut Robert Thirsk, cosmonaut Roman Romanenko and NASA flight engineer Nicole Stott.
On Oct. 30, the crew will oversee the departure of Japan's HTV-1 cargo craft, an unmanned spacecraft that was captured by Stott, operating the station's robot arm, on Sept. 17 and then berthed at the Harmony module's Earth-facing port. The HTV will be undocked by the robot arm and released so it can maneuver away on its own for re-entry and atmospheric burn up on Nov. 1.
Nine days later, on Nov. 10, the Russians plan to launch a new docking compartment that will be attached to the upper port of the Zvezda module, providing a fourth port for visiting Soyuz ferry craft and unmanned Progress supply ships. The module is scheduled to make an automated approach and docking on Nov. 12, the same day NASA hopes to launch the shuttle Atlantis on a mission to deliver critical spare parts.
Stott is scheduled to return to Earth aboard Atlantis on Nov. 23, leaving the station with a crew of five. De Winne, Thirsk and Romanenko are scheduled to come home a week later on Dec. 1, leaving Williams and Suraev behind on the station as the core members of the Expedition 22 crew. Three more crew members - cosmonaut Oleg Kotov, NASA astronaut Timothy Creamer and Japanese astronaut Soichi Noguchi - are scheduled for launch Dec. 21.
"We'll complete the operations with the HTV module, getting it completely unpacked and repacked with some trash and garbage that will end up burning up in the atmosphere after the undock," Williams said Tuesday. "Then we've got two shuttles during the expedition.
"In November, we've got STS-129 (Atlantis) coming up, its primary mission will be to bring up spare parts, primarily for the outside, the external spares in case of failures. This is in the plan to sustain the space station well into the future years after the shuttle retires in a little over a year.
"We have a second shuttle (visit) planned during our stay, currently planned in February, STS-130, which will bring up the final module for the U.S. orbiting segment, what we call node 3. And in node 3, it will have some of the life support equipment as well as some exercise equipment and the toilet."
Williams said a major focus of his expedition will be science.
"Just like in the Russian segment, we have a lot of experiments and scientific research that will be going on during our time," he said. "This is a transition between the assembly of the space station (to) the full utilization of the space station as this international orbiting laboratory."