Space station awaits doubling of crew this week
BY WILLIAM HARWOOD
STORY WRITTEN FOR CBS NEWS "SPACE PLACE" & USED WITH PERMISSION
Posted: May 27, 2009


A Russian Soyuz rocket roared to life and streaked into orbit Wednesday, setting off after the International Space Station in a long-awaited mission to boost the lab's crew from three to six full-time residents.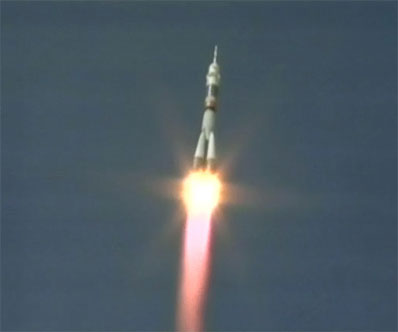 Soyuz rocket soars skyward. Credit: NASA TV



With Apollo 11 moon walker Buzz Aldrin and a throng or dignitaries and well wishers looking on, the Soyuz TMA-15 spacecraft lifted off at 6:34:53 a.m. EDT and quickly climbed away from the Baikonur Cosmodrome in Kazakhstan.

Live television shots from inside the capsule showed Soyuz commander Roman Romanenko, son of a Russian cosmonaut, at the controls in the capsule's center seat, flanked on the left by European Space Agency astronaut Frank De Winne of Belgium and on the right by Canadian Space Agency astronaut Robert Thirsk, a shuttle veteran.

All three cosmonauts appeared comfortable and at ease as the spacecraft climbed toward orbit, monitoring checklists and cockpit controls. Nine minutes after liftoff, the Soyuz TMA-15 spacecraft slipped into its planned preliminary orbit and a few minutes later, its solar panels and antennas unfolded and locked in place as planned.

Over the next two days, Romanenko will oversee a series of rocket firings designed to bring the spacecraft to within a stone's throw of the space station. If all goes well, the Soyuz capsule will dock at an Earth-facing port on the front end of the space station's Russian Zarya module around 8:36 a.m. Friday.

Waiting to welcome their new crewmates aboard will be Expedition 20 commander Gennady Padalka, NASA physician-astronaut Michael Barratt and Japanese astronaut Koichi Wakata.

Padalka and Barratt were launched to the station March 26 aboard the Soyuz TMA-14 spacecraft, currently docked to the Zvezda command module's aft port. Wakata was launched aboard the shuttle Discovery on March 15, becoming Japan's first full-time crew member.

With the arrival of Romanenko, De Winne and Thirsk, all five of the space agencies building the International Space Station will be represented by full-time crew members for the first time.

"Six person crew is a milestone in the history of the International Space Station," Thirsk said before launch. "In a big way, the International Space Station will be able to fulfill it's primary purpose, which is to function as a world-class orbiting laboratory for medical science and materials science."

The lab complex has been stocked with enough food to last the expanded crew through October even if subsequent shuttle and unmanned resupply missions get delayed. Oxygen is generated on board by U.S. and Russian systems and fresh water is delivered by shuttle crews and automated Russian supply ships.

But in a major milestone, a sophisticated water recycling system was installed late last year and, after startup problems were resolved, the new hardware was cleared for everyday use. The system recycles condensate and urine from a U.S. toilet in the Destiny lab module, generating ultra-pure water for drinking, crew hygiene and oxygen generation.

The water recycling system will be critical to sustaining a six-person crew after the space shuttle is retired late next year.

"It will be a challenge for everybody to make sure we can sustain six persons on orbit," De Winne said before launch. "Of course, most of the questions (are) about us and how we will work together with six on board, but we (should not) forget that for us to be able to do this work, there are thousands and thousands of people around the globe working to make sure we have everything we need."

He said a six-person space station was beyond the capabilities of any one nation and that international cooperation was the key to the project's success.

"I think it shows a great example to the rest of the world that if nations want to work together for something great, for something wonderful, for something for the future of our kids, that we can achieve incredible things," he said.

Up until now, the station's science output has been limited because assembly was ongoing and the lab's three full-time crew members were busy simply maintaining the growing complex. With a crew of six, the time devoted to scientific research is expected to triple, jumping from 20 hours a week to more than 70.

"We've been building the International Space Station for 10 years now and we've finally gotten to a point now where it has some incredible laboratory facilities and six people on board the station to do some science," Thirsk said. "So you're going to see over 1,000 hours (in the near term) of crew time devoted to research and development."

More than 100 experiments are planned for the Expedition 20 crew.

"We're going to be doing life science work, we're going to be doing medical operations, plant biology, fluid physics, materials processing, exploiting this weightless environment of space," Thirsk said. "We're ... doing some great, fundamental science for preparing humans for the next venture into space."

Romanenko and Padalka will bunk in the Russian Zvezda module, which is equipped with two sleep stations and a bathroom. Two more sound-proofed "cabins" are available in the Harmony module that serves as a hub between the European Columbus module, the Japanese Kibo lab and the U.S. Destiny module.

An additional U.S. sleep station is scheduled for launch in August. In the near term, one Expedition 20 astronaut will use a temporary sleep station in the Destiny module while another sleeps in Kibo. A second toilet, the one tied into the water recycling system, is available in Destiny as well, extending out into the lab's center aisle.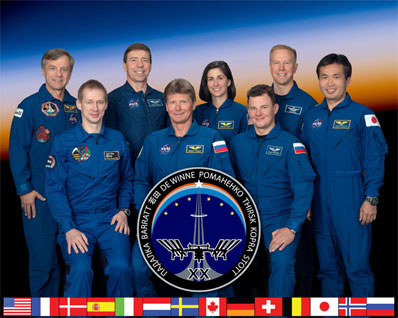 The entire Expedition 20 crew, including members to be rotated during shuttle missions. Front row: De Winne, Padalka and Romanenko. Back row: Thirsk, Barratt, Stott, Kopra and Wakata. Credit: NASA



While the space station is roomy compared to any previous spacecraft, a full-time crew of six will present challenges.

"Everyone knows what it's like to have the in-laws and friends and other family members over for the holidays for several days," Thirsk said. "There are line ups at the bathroom, meals have to be properly coordinated, there are even line ups for use of the phone, and everyone loses their personal space a little bit. But it's something we're willing to go through.

"We will have to coordinate amongst ourselves very well, meal preparation, use of the communication loops, more attention to stowage, more attention to trash management, managing the hygiene facilities and making sure we give everyone their personal space. We all have that kind of training ... so we're prepared for that."

English is typically used in the U.S. segment of the station while Russian is preferred in the Zvezda command module. All station crew members are able to speak both languages to some extent, but Romanenko said astronauts and cosmonauts had developed their on "space language" over the years.

"There is a special language which is a mixture of Russian and English, there are jokes about it in orbit," he said through a translator. "It is so-called 'Renglish.' We, in fact, have invented that language quite well. Moreover, we really know each other very well, we know what to expect from each other and how to be around each other because we have been working together, we have been training together for years now. ... We have been partners for a long time. Thus, we are this big international family, space family."

The expanded station crew faces a busy timeline over the next few weeks. Padalka and Barratt plan spacewalks June 5 and 10 to prepare an upward-facing port of the Zvezda command module for attachment of another docking module.

Three days after the second spacewalk, NASA plans to launch the shuttle Endeavour on a five-spacewalk assembly mission to attach an experiment platform to the Kibo module and change out batteries on the station's oldest set of U.S. solar arrays.

During the period Endeavour is docked, the space station will have to support 13 people.

Endeavour also will deliver a fresh crew member - Timothy Kopra - and bring Wakata back to Earth. Another crew swap is planned for a shuttle flight in August when NASA astronaut Nicole Stott replaces Kopra.

Stott, a former shuttle engineer at the Kennedy Space Center, said all of the Expedition 20 crew members were comfortable with each other, sharing a professionalism and sense of humor honed by years of training.

"Even the guys who are up there in orbit right now, we have spent loads of time with them training here on the ground," she said. "And I think one thing that I can say about everyone we'll be up there with, you've got that balance between the total professional and the humor.

"I think when things come right down to it, we know how to manage ourselves and to stay safe and we'll let that carry out through every day that we're up there. And then we also have the humor to keep us happy and working well together. I think it's going to be a great experience."


Additional coverage for subscribers:


VIDEO: FULL LAUNCH EXPERIENCE FROM LIFTOFF TO ORBIT PLAY


VIDEO: NARRATED HIGHLIGHTS OF CREW'S LAUNCH PREPS PLAY



VIDEO: CREW MEETS VIPS AND REPORTERS ON EVE OF LAUNCH PLAY


VIDEO: SOYUZ MOVED TO LAUNCH PAD FOR EXPEDITION 20 PLAY


VIDEO: ASSEMBLY OF RUSSIAN SOYUZ ROCKET COMPLETED PLAY


VIDEO: HIGHLIGHTS OF CREW'S ACTIVITIES AT BAIKONUR PLAY


VIDEO: MISSION OVERVIEW BRIEFING FOR EXPEDITION 20 PLAY


VIDEO: EXPEDITION 20 CREW PRE-FLIGHT BRIEFING PLAY


SUBSCRIBE NOW