Double-sized international crew united aboard station
BY WILLIAM HARWOOD
STORY WRITTEN FOR CBS NEWS "SPACE PLACE" & USED WITH PERMISSION
Posted: May 29, 2009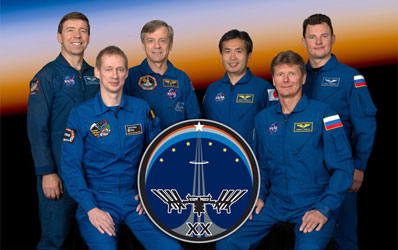 The new Expedition 20 crew. Front row: De Winne and Padalka. Back row: Barratt, Thirsk, Wakata and Romanenko. Credit: NASA



A Russian Soyuz capsule docked with the International Space Station Friday, doubling the lab's crew to six in a long-awaited milestone intended to boost productivity and science output.

With second-generation cosmonaut Roman Romanenko monitoring an automated approach, the Soyuz TMA-15 spacecraft docked with an Earth-facing port on the Russian Zarya module at 8:34 a.m. as the two spacecraft sailed through orbital darkness 218 miles above the Pacific Ocean east of Taiwan.

"And now, it's perfectly in the center, all the crosses have aligned," someone said, watching a docking target on the space station as the Soyuz closed in. "We are approaching the center, we are going a little bit lower for pitch and we expect contact. Start the timer... we have contact!"

The docking completed a carefully orchestrated rendezvous that began Wednesday when Romanenko, European Space Agency astronaut Frank De Winne of Belgium and Canadian astronaut Robert Thirsk blasted off from the Baikonur Cosmodrome in Kazakhstan.

After leak checks, hatches between the two spacecraft were opened at 10:14 a.m. and Expedition 20 commander Gennady Padalka, NASA flight engineer Michael Barratt and Japanese astronaut Koichi Wakata welcomed their new crewmates aboard with hugs and handshakes.

"It is wonderful to see all six of you up there, all five partners working together, it's a historic day," radioed Canadian Space Agency President Steve MacLean, a veteran shuttle astronaut who helped build the station. "With eight vehicles coming up during your six-month mission, you're going to be very, very busy. I just want you to know all Canadians will be watching, especially you, Bob, for the next 180 days. Congratulations, great launch the other day, fantastic docking, and enjoy. Enjoy."

"I agree, it is a historic day," Thirsk replied from the Zvezda command module. "It's also a very happy day up here, you can't imagine the state of elation the six of us have right now. You know, amongst partners that have a passion for exploration, a proven track record on innovation and a desire to gain new knowledge, we've got an incredible potential for success here. This is going to be something incredible! You ain't seen nothing yet."

The wives of Romanenko, Thirsk and De Winne also congratulated their husbands - Romanenko promised to call back Sunday when he will have more time to chat - and Thirsk's mother added, "have a good time, and God bless."

"Thanks, Mom."

The arrival of Romanenko, De Winne and Thirsk marked a major milestone in the history of the space station project, boosting the lab's full-time crew to six for the first time since assembly began in 1998.

Up to this point, research aboard the station has been limited because of ongoing construction and maintenance requirements that have occupied previous two- and three-person crews. With six people on board, the time available for scientific research is expected to more than triple, jumping from 20 hours a week to more than 70.

"We've been building the International Space Station for 10 years now and we've finally gotten to a point now where it has some incredible laboratory facilities and six people on board the station to do some science," Thirsk said before launch.

"We're going to be doing life science work, we're going to be doing medical operations, plant biology, fluid physics, materials processing, exploiting this weightless environment of space. We're ... doing some great, fundamental science for preparing humans for the next venture into space."

At a post-docking news conference, MacLean said the international collaboration that built the space station shows "we can achieve so much more than any one nation."

"There is so much potential in this beginning, in this historic milestone, in the sense that in the future, if we continue to collaborate like this, I think it represents what we will be able to achieve ... for the future exploration of space," he said.

A crew news conference is planned Monday.


Additional coverage for subscribers:


VIDEO: HATCH OPENING AND WELCOMING CEREMONY PLAY


VIDEO: SOYUZ SPACECRAFT DOCKS TO SPACE STATION PLAY



VIDEO: FULL LAUNCH EXPERIENCE FROM LIFTOFF TO ORBIT PLAY


VIDEO: NARRATED HIGHLIGHTS OF CREW'S LAUNCH PREPS PLAY



VIDEO: CREW MEETS VIPS AND REPORTERS ON EVE OF LAUNCH PLAY


VIDEO: SOYUZ MOVED TO LAUNCH PAD FOR EXPEDITION 20 PLAY


VIDEO: ASSEMBLY OF RUSSIAN SOYUZ ROCKET COMPLETED PLAY


VIDEO: HIGHLIGHTS OF CREW'S ACTIVITIES AT BAIKONUR PLAY


VIDEO: MISSION OVERVIEW BRIEFING FOR EXPEDITION 20 PLAY


VIDEO: EXPEDITION 20 CREW PRE-FLIGHT BRIEFING PLAY


SUBSCRIBE NOW