Station crew and tourist aim for overnight landing
BY WILLIAM HARWOOD
STORY WRITTEN FOR CBS NEWS "SPACE PLACE" & USED WITH PERMISSION
Posted: April 7, 2009;
Updated after hatch closing


Outgoing space station commander Mike Fincke, flight engineer Yury Lonchakov and space tourist Charles Simonyi bid farewell to the Expedition 19 crew Tuesday and boarded a Soyuz ferry craft for re-entry and landing Wednesday in Kazakhstan.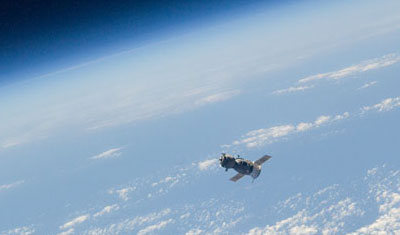 File image of Soyuz spacecraft. Credit: NASA



Fincke and Lonchakov, launched to the International Space Station last Oct. 12, are wrapping up a 178-day stay off planet as the core members of the lab's 18th full-time crew. Simonyi, a wealthy software developer making his second paid trip to the station, took off March 26 with Expedition 19 commander Gennady Padalka and flight engineer Michael Barratt.

After a busy day of packing and readying the Soyuz TMA-13 spacecraft for re-entry, Fincke, Lonchakov and Simonyi shared hugs and handshakes with Padalka, Barratt and Japanese astronaut Koichi Wakata before floating into the ferry craft around 8:45 p.m. EDT. Hatches were closed a few moments later to set the stage for undocking just before midnight. Landing is expected around 3:16 a.m. Wednesday.

In a brief farewell ceremony earlier Tuesday, Fincke thanked his crewmates for a successful mission and said he looked forward to re-entry in the Russian Soyuz, "a great, reliable transport vehicle, up and down. ... It's going to be an interesting and fun ride back."

"I think the coolest thing in my life, outside of being married to a beautiful woman and having three kids, is to work with the international partners, all of us, the United States, Canada, the European Space Agency, Japan and of course, Russia," he said. "We do everything together, we're humanity's bright hope for the future.

"So we're handing you over a station with all that," he told Padalka, Barratt and Wakata. "The pressure's on, guys! ... Good luck to you."

"Well, from where I stand, I think humanity got a wonderful space station in the International Space Station," said Simonyi, the only space tourist to make two trips to the lab complex. "Maybe the only thing that is more remarkable than the size and the effectiveness of this space vehicle is the people serving on board. ... It was a difficult decision for me to fly for the second time and now, looking back, I'm so glad that I've done it. ... It was a great trip, thank you everyone. I'm looking forward to get home, to my wife, but it was a fantastic trip. Thank you."

Padalka then took the microphone, saying in English, "thank you very much, guys, for (leaving) a space station in great, safe condition for us. (We're) ready to accept space station command and ready to continue our research and to prepare space station for six-person crew. Honestly, we'll be missing you. You'll be always in our hearts and we'll be looking forward to seeing you again as soon as possible. But not earlier than in six months!"

Padalka, Barratt and Wakata plan to welcome three additional crew members in late May - cosmonaut Roman Romanenko, European Space Agency astronaut Frank De Winne of Belgium and Canadian Space Agency astronaut Robert Thirsk - as the station project transitions to a six-person crew for the first time.

Fincke, Lonchakov and Sandra Magnus, who returned to Earth aboard the shuttle Discovery March 28, completed final preparations for the long-awaited crew increase, hooking up and testing a complex water recycling system and accepting delivery of a fourth and final set of solar arrays.

"The can-do crew came through and we all worked together," Fincke radioed flight controllers Tuesday during his final daily planning conference. "So we're very proud of that, especially today."

The Soyuz TMA-13 re-entry originally was planned for Tuesday, but rain, snow and soggy terrain in the normal landing zone northeast of Arkalyk, Kazakhstan, prompted Russian mission managers to delay the crew's return by one day to move the landing zone about 190 miles to the southeast where conditions were more favorable.

Lonchakov will serve as commander of the Soyuz spacecraft, sitting in the center seat of the central descent module, with Fincke, serving as flight engineer, to his left and Simonyi on his right.

Undocking from the downward-facing port of the Russian Zarya module is targeted for around 11:55 p.m. EDT this evening. After moving a safe distance away and reaching the proper point in their orbit, Lonchakov will oversee a planned four-minute 21-second rocket firing at 2:24 a.m. that will slow the craft by about 258 mph and put it on the proper re-entry trajectory.

After falling to an altitude of about 87 miles, the three modules making up the Soyuz TMA-13 spacecraft will separate and the central descent module will enter the discernible atmosphere at an altitude of about 62 miles at 2:52 a.m. If all goes well, the module's main parachute will deploy shortly after 3 a.m. for a rocket-assisted touchdown at 3:16:29 a.m.

Here is an updated re-entry timeline (in EDT and mission elapsed time; dV: change in velocity):

EDT........DDD...HH...MM...EVENT

04/07/09
09:59 PM...177...18...58...U.S.-to-Russian attitude control handover
10:16 PM...177...19...15...Russian ground station acquisition of signal
10:28 PM...177...19...27...ISS maneuver to duty attitude
10:33 PM...177...19...32...Russian ground station loss of signal
11:22 PM...177...20...21...ISS maneuver to undocking attitude
11:24 PM...177...20...23...Sunrise
11:49 PM...177...20...48...Russian ground station acquisition of signal
11:51 PM...177...20...50...ISS to free drift
11:52 PM...177...20...51...Undocking command
11:55 PM...177...20...54...Physical separation (11:55:30 PM; dV: 0.3 mph)
11:58 PM...177...20...57...Soyuz separation burn 1 (15 sec; dV: 1.2 mph)

04/08/09
12:00 AM...177...20...59...ISS maneuver to duty attitude
12:08 AM...177...21...07...Russian ground station loss of signal
12:23 AM...177...21...22...Sunset
01:24 AM...177...22...23...Russian-to-U.S. attitude control handover
02:24 AM...177...23...23...Soyuz deorbit burn start (2:24:26 AM; dV: 257.7 mph)
02:27 AM...177...23...26...Sunrise
02:29 AM...177...23...27...Deorbit burn complete (2:28:47 AM)
02:49 AM...177...23...48...Separation of modules (87 miles)
02:52 AM...177...23...51...Atmospheric entry (62.5 miles)
02:54 AM...177...23...53...Entry guidance start (50.1 miles)
02:59 AM...177...23...58...Maximum G-load (23.8 miles)
03:01 AM...177...23...60...Command to open parachute (6.6 miles)
03:16 AM...178...00...15...Landing (3:16:29 AM; 1:16 PM local)
10:03 AM...178...07...02...Sunset at landing site

"The Russian search and recovery forces ... are putting the final touches on their landing plans for this homecoming in the southeastern region of Kazakhstan," NASA landing commentator Rob Navias said early Tuesday. "Late tonight U.S. time, as the Soyuz undocks from the International Space Station, the recovery team will begin to make their way to the airport here in Karaganda, where seven Mi-8 helicopters and two fixed-wing aircraft will be standing by to take off for an hour-and-40-minute flight to the landing zone."
Four helicopters will fly directly to the planned landing site 134 miles northeast of Dzhezkazgan while three will be stationed midway between the planned landing site and the so-called "ballistic" landing area where the Soyuz could end up if a problem of some sort causes a steeper-than-usual re-entry.
Assuming a normal touchdown, recovery forces will be on hand within minutes to assist the returning crew.
"One of the first helicopters to land will contain medical personnel to place the crew into reclining chairs so they can begin to acclimate themselves to Earth's gravity, particularly Fincke and Lonchakov, who have been off the planet for a half year," Navias said.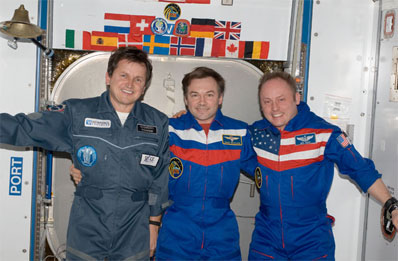 Simonyi, Lonchakov and Fincke will depart the space station tonight for return to Earth. Credit: NASA


Assuming an on-time landing, Fincke will have logged 178 days in space, pushing his total through two space station expeditions to 366 days, third on the list of most experienced U.S. astronauts behind Peggy Whitson (377 days) and Mike Foale (374 days).
Lonchakov will have logged 178 days in space on this flight for a total time of 201 days over three missions. Simonyi's total will be 13 days in space for this flight, 27 including his first station visit in 2007.
An inflatable tent will be set up at the landing site for initial medical checks before helicopter flights back to Karaganda and then a three-hour flight to the Gagarin Cosmonaut Training Center in Star City near Moscow where friends and family members will be waiting.
Fincke will be welcomed home in Kazakhstan by NASA space station Program Manager Mike Suffredini, chief astronaut Steve Lindsey and a NASA flight surgeon, Steve Hart. Fincke's family will be waiting in Star City.


Additional coverage for subscribers:


VIDEO: FULL EXPERIENCE FROM LIFTOFF TO ORBIT PLAY


VIDEO: SOYUZ ROCKET LAUNCHES EXPEDITION 19 PLAY


VIDEO: THREE CAMERA REPLAYS OF THE LAUNCH PLAY


VIDEO: NARRATED HIGHLIGHTS OF CREW'S LAUNCH PREPS PLAY



VIDEO: CROWD WELCOMES CREW AT BAIKONUR PAD PLAY


VIDEO: CREW DEPARTS SITE 254 FOR LAUNCH PAD PLAY


VIDEO: VIPS MEET THE CREW ON LAUNCH MORNING PLAY


VIDEO: CREW MEMBERS DON THEIR SOKOL SPACESUITS PLAY


VIDEO: LAUNCH MORNING TRADITIONS AT CREW QUARTERS PLAY



VIDEO: SOYUZ MOVED TO LAUNCH PAD FOR EXPEDITION 19 PLAY


VIDEO: ROCKET HOISTED VERTICALLY ONTO LAUNCH PAD PLAY


VIDEO: INTERVIEW WITH ISS DEPUTY PROGRAM MANAGER PLAY


VIDEO: INTERVIEW WITH FORMER ISS COMMANDER PLAY


VIDEO: ASSEMBLY OF SOYUZ ROCKET COMPLETED PLAY


VIDEO: HIGHLIGHTS OF CREW'S ACTIVITIES AT BAIKONUR PLAY


VIDEO: EXPEDITION 19 CREW PRE-FLIGHT BRIEFING PLAY


SUBSCRIBE NOW