Weather causes one-day delay in Soyuz landing
BY WILLIAM HARWOOD
STORY WRITTEN FOR CBS NEWS "SPACE PLACE" & USED WITH PERMISSION
Posted: April 5, 2009


Snow and soggy conditions at the primary landing site in Kazakhstan have prompted Russian flight planners to order a 24-hour delay, from April 7 to 8, for the return of a Soyuz capsule carrying outgoing space station commander Mike Fincke, flight engineer Yury Lonchakov and space tourist Charles Simonyi.

The mission had been scheduled to conclude with a touchdown on April 7 northeast of Arkalyk, Kazakhstan, but the landing zone has been moved to a backup site about 180 miles to the southeast where conditions may be more favorable. Touchdown now is targeted for 3:15 a.m. EDT on April 8.


| | |
| --- | --- |
| | Fincke and Lonchakov. Credit: NASA |
Fincke and Lonchakov were launched to the international space station aboard the Soyuz TMA-13 spacecraft Oct. 12. Their replacements - Expedition 19 commander Gennady Padalka and flight engineer Michael Barratt, a NASA physician-astronaut, were launched March 26 aboard the Soyuz TMA-14 spacecraft. They were joined by Simonyi, a Hungarian-born U.S. software developer making his second privately funded trip to the space station.

During a change-of-command ceremony Thursday, Fincke formally handed the station over to Padalka, saying "all systems are in order and Yury and I can now take a little bit of a rest and get ready, along with Charles, to come back to the planet."

"Thank you very much, my best friend," Padalka replied. "Expedition 19 is very happy to get space station in great operational condition. ... We're ready to work on behalf of all our space agencies and ... all human beings."

If all goes well, Fincke, Lonchakov and Simonyi will say farewell to Padalka, Barratt and Japanese astronaut Koichi Wakata the evening of April 7, sealing hatches between the Soyuz TMA-13 spacecraft and the downward-facing port of the Russian Zarya module around 8:45 p.m.

Undocking is planned for 11:55 p.m. with a 22-second deorbit rocket firing expected at 2:24 a.m. on April 8. The three modules making up the Soyuz spacecraft will separate just before atmospheric entry at 2:52 a.m. and the central crew module carrying Fincke, Lonchakov and Simonyi will descend to a parachute-and-rocket-assisted touchdown at 3:15 a.m.

Assuming an on-time landing, Fincke will have logged 178 days in space, pushing his total through two space station expeditions to 366 days, third on the list of most experienced U.S. astronauts behind Peggy Whitson (377 days) and Mike Foale (374 days).

Lonchakov will have logged 178 days in space on this flight for a total time of 201 days over three missions. Simonyi's total will be 13 days in space for this flight for a total of 27 including his first station visit in 2007.

Simonyi's visit was arranged through Space Adventures, a Vienna, Virginia-based company that has brokered seven space tourist flights using available seats on Russian Soyuz capsules beginning in 2001 with U.S. businessman Dennis Tito.

But plans to boost the station's crew size from three to six in late May could mean a hiatus in tourist flights, at least in the near term. While one seat on a Soyuz flight scheduled for launch this fall apparently has opened up, it's not yet clear whether the Russians will fill the slot with a professional cosmonaut or allow Space Adventures to book one of its clients who has gone through training as a backup.

"There is a possibility that one of Space Adventures' clients could launch on Soyuz TMA-16, which is currently scheduled for launch this Sept. 30," Eric Anderson, CEO of Space Adventures, told reporters today. "We have learned from Roskosmos (the Russian space agency) that the third seat aboard Soyuz TMA-16 may not, in fact, be used by the cosmonaut from Kazakhstan and if that seat is not used ... Roskosmos is considering both the possibility of another spaceflight participant opportunity for Space Adventures or using the seat for a professional Russian cosmonaut."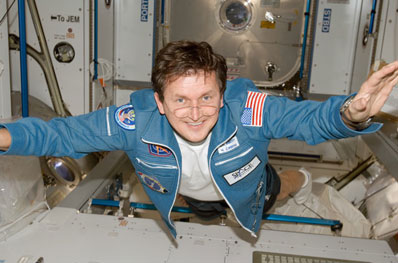 Simonyi floats through the station. Credit: NASA



Esther Dyson, a respected high-tech journalist, entrepreneur and Space Adventures investor, trained as Simonyi's backup and attended his launch at the Baikonur Cosmodrome in Kazakhstan. But it's not clear whether she could fly on such short notice or whether she could complete required training in time. There are no other known clients who are thought to have a realistic shot at the September flight.

Even so, Anderson expressed optimism that additional seats will open up occasionally and he said the company is pressing ahead with plans for privately funded Soyuz missions starting in 2012 that would include a Russian commander and two tourists per mission.

But it's not yet known whether the Russians can build enough Soyuz capsules and rockets to support expanded space station operations as well as tourist flights. Between the end of shuttle operations in 2010 and the debut of its replacement in 2015, the Soyuz flight rate will have to double to support six-person crew operations aboard the space station.

"I am aware of the questions that have been raised regarding the ability of the Russian space industry to supply an increased number of Soyuz missions," Anderson said. "Building rockets is a complicated business, it's certainly challenging, but ... I'm confident by 2012, for example, the prospect of adding a fifth Soyuz is something that is reasonable."

But tickets to space, assuming the seats are available, will be increasingly expensive.

Tito's ticket reportedly cost $20 million. It has since gone up to around $35 million, according to Simonyi. In a pre-launch telephone interview with CBS News, Simonyi said the future of commercial spaceflight is "certainly not my concern." But, he added, "my feeling is the commercial pressures will be toward resolving this and have more flights."

Even at the current list price, he said, the experience of flying in space is worth it for those who can afford the cost.

"The price is going up," Simonyi said. "Future seats that NASA has bought are even more expensive. This has to be put into perspective because other means of getting to space are even more expensive. So this one is actually quite cost effective at the current state of technology."


Additional coverage for subscribers:


VIDEO: FULL EXPERIENCE FROM LIFTOFF TO ORBIT PLAY


VIDEO: SOYUZ ROCKET LAUNCHES EXPEDITION 19 PLAY


VIDEO: THREE CAMERA REPLAYS OF THE LAUNCH PLAY


VIDEO: NARRATED HIGHLIGHTS OF CREW'S LAUNCH PREPS PLAY



VIDEO: CROWD WELCOMES CREW AT BAIKONUR PAD PLAY


VIDEO: CREW DEPARTS SITE 254 FOR LAUNCH PAD PLAY


VIDEO: VIPS MEET THE CREW ON LAUNCH MORNING PLAY


VIDEO: CREW MEMBERS DON THEIR SOKOL SPACESUITS PLAY


VIDEO: LAUNCH MORNING TRADITIONS AT CREW QUARTERS PLAY



VIDEO: SOYUZ MOVED TO LAUNCH PAD FOR EXPEDITION 19 PLAY


VIDEO: ROCKET HOISTED VERTICALLY ONTO LAUNCH PAD PLAY


VIDEO: INTERVIEW WITH ISS DEPUTY PROGRAM MANAGER PLAY


VIDEO: INTERVIEW WITH FORMER ISS COMMANDER PLAY


VIDEO: ASSEMBLY OF SOYUZ ROCKET COMPLETED PLAY


VIDEO: HIGHLIGHTS OF CREW'S ACTIVITIES AT BAIKONUR PLAY


VIDEO: EXPEDITION 19 CREW PRE-FLIGHT BRIEFING PLAY


SUBSCRIBE NOW