Spaceflight Now +





Premium video content for our Spaceflight Now Plus subscribers.

Soyuz moved to pad
The Russian Soyuz rocket that will launch the Expedition 15 crew of Fyodor Yurchikhin and Oleg Kotov, along with tourist Charles Simonyi, is rolled out to the pad at Baikonur Cosmodrome.

Play

Expedition 15 briefing
In advance of launching the Expedition 15 mission to the International Space Station, NASA officials preview the flight's objectives and challenges in this news briefing held March 27 at Johnson Space Center.

Play

Expedition 14 recap
As the International Space Station's Expedition 14 winds down, officials managing the flight from Mission Control in Houston hold this retrospective briefing to talk about the mission.

Play

Running the Boston Marathon in space
NASA astronaut Suni Williams will run the Boston Marathon on a treadmill aboard the International Space Station. To preview the event, Williams, an accomplished marathoner, and Expedition 14 commander Michael Lopez-Alegria talk with The Boston Globe and the New England Sports Network.

Play

Exercising on ISS
International Space Station Expedition 14 commander Michael Lopez-Alegria and flight engineer Suni Williams give a show-and-tell about the exercise equipment and routines aboard the orbiting complex.

Play

Become a subscriber
More video







Soyuz soars into orbit
BY WILLIAM HARWOOD
STORY WRITTEN FOR CBS NEWS "SPACE PLACE" & USED WITH PERMISSION
Posted: April 7, 2007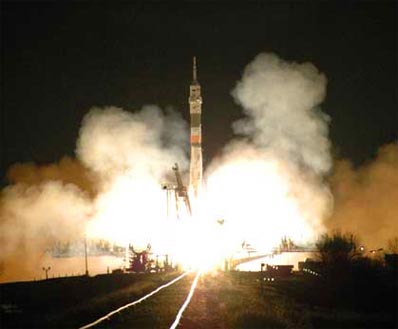 The Soyuz rocket launches from Baikonur Cosmodrome to begin Expedition 15. Credit: Energia



Lighting up the night sky, a Russian Soyuz rocket carrying a wealthy American space tourist and two cosmonauts bound for the international space station blasted off from the Baikonur Cosmodrome in Kazakhstan today and thundered safely into orbit. Liftoff occurred on time at 1:31 p.m. EDT (11:31 p.m. local time) and if all goes well, the Soyuz TMA-10 spacecraft will dock at a downward-facing port on the station's Russian Zarya module around 3:12 p.m. Monday.

On board are Expedition 15 commander Fyodor Yurchikhin, a shuttle veteran, rookie flight engineer Oleg Kotov and American businessman Charles Simonyi, who paid the Russians some $20 million to become history's fifth space tourist. Waiting to greet them aboard the station are Expedition 14 commander Mike Lopez-Alegria, Mikhail Tyurin and Sunita Williams.




Video coverage for subscribers only:


VIDEO: CREW DEPARTS QUARTERS ON LAUNCH MORNING PLAY


VIDEO: AFTER SUITING UP, CREW GOES TO THE PAD PLAY


VIDEO: LAUNCH OF SOYUZ WITH EXPEDITION 15 PLAY


VIDEO: LONGER LENGTH MOVIE OF THE ENTIRE LAUNCH PLAY


VIDEO: REPLAY FROM LAUNCH CAMERA 1 PLAY


VIDEO: REPLAY FROM LAUNCH CAMERA 2 PLAY



VIDEO: THE SOYUZ ROCKET IS ROLLED TO LAUNCH PAD PLAY


VIDEO: EXPEDITION 15 MISSION PREVIEW MOVIE PLAY


VIDEO: BIOGRAPHIES OF EXPEDITION 15 CREW PLAY


VIDEO: PRE-FLIGHT MISSION BRIEFING PLAY


VIDEO: EXPEDITION 14 RECAP PLAY


SUBSCRIBE NOW





Lopez-Alegria, Tyurin and Simonyi will return to Earth on April 20, landing around 9:37 a.m. EDT in Kazakhstan aboard the Soyuz TMA-9 spacecraft that carried them into space Sept. 18. Williams, who flew to the station aboard the shuttle Discovery in December, will remain aboard the station with Yurchikhin and Kotov and return aboard the shuttle Endeavour later this summer.
During 12 days of joint operations aboard the space station, Lopez-Alegria, Tyurin and Williams plan to brief Yurchikhin and Kotov on station operations, review safety procedures and familiarize the new cosmonauts with where critical items are stowed. Simonyi will serve as a research subject in ongoing medical studies and chat with students and well wishers by ham radio. Both crews will participate in a variety of media interviews throughout the handover period.
"My primary goal is going to be to take care of myself so I won't be a burden (to the other astronauts)," Simonyi said during a news conference in December.
Simonyi ranks 374th on the Forbes Magazine list of the 400 richest Americans with assets valued at about $1 billion. His friend Martha Stewart, who recently interviewed the Expedition 14 crew on her television show, flew to Baikonur for launch.
Born in Budapest, Hungary, Simonyi's interest in spaceflight blossomed when, at age 13, he was selected as Hungary's "junior astronaut," flew to Moscow and met cosmonaut Pavel Popovich.


| | |
| --- | --- |
| | The Soyuz ascends through cloudy nighttime skies. Credit: Energia |
He moved to the United States in 1968, earned a bachelor's degree in engineering and mathematics at the University of California at Berkeley and a doctorate in computer science from Stanford University. He became a U.S. citizen in 1982.

After a stint at Xerox Corp.'s Palo Alto Research Center designing one of the first what-you-see-is-what-you-get word processing programs, Simonyi joined Microsoft Corp. and led the development of Word and Excel. He left Microsoft in 2002 and founded Intentional Software Corp. He is an accomplished jet and helicopter pilot with more than 2,000 hours flying time.

"I always had an interest in technology and aerospace, I've been a subscriber to Aviation Week (& Space Technology magazine) for a very long time," he said. "I never thought I would have the opportunity of participating in this process. I was very fortunate to start learning to fly fairly early and gained a number of experiences in different aircraft and I enjoyed that very much. When this opportunity came up, I thought it was very important and unique and just had to do that."

The idea first surfaced during a tour of Baikonur and eventually, contact with Space Adventures, the company that brokers civilian flights with the Russian space agency.

"I went to tour the launch site just out of general interest," he said. "I've been to Cape Canaveral several times, many times actually, and I've seen some launches and I noted that it was possible to go and take a trip to Baikonur and see a launch there. And what I saw impressed me very, very much. And that's how I connected with Space Adventures. Then, of course, one thing led to another."


| | |
| --- | --- |
| | The crew arrives at the launch pad to board the Soyuz a couple of hours before liftoff. Top to bottom: Fyodor Yurchikhin, Charles Simonyi and Oleg Kotov. Credit: Energia |
On his website, Simonyi said he believes the cost of a ticket to the space station is too high, but a boon to the Russian space program and, as a result, good for the rest of the world's space-faring nations.

"The contribution of civilian spaceflight, the financial contribution, should not be underestimated," he said. "The amount of support that the Russians receive from this is significant because the total amounts that are involved in the Russian space program are smaller to begin with. And if you think how important the Russian space program is to the American program and the world's program in terms of providing transportation capability to the space station, the lifeboat capability on the space station ... i think through the support of the Russian space program, it becomes support for everyone.

"If we look to the future, I think it's inevitable that commercial spaceflight, civilian spaceflight will be one day dominant," he said. "You know, when we're looking at 'Star Trek' there has to be some path to get there and I think now is the time to make the incremental steps. ... I'm very fortunate to be in a position to continue these incremental steps."

Asked if he believes less affluent space enthusiasts will ever get a chance to leave the planet, Simonyi said "there's no question that they will, the only question is when and what will the destination be and what will be the carrier? I think suborbital space tourism is going to be an important element that will contribute to great innovation."