Next space station residents rocket to orbit aboard Soyuz
BY WILLIAM HARWOOD
STORY WRITTEN FOR CBS NEWS "SPACE PLACE" & USED WITH PERMISSION
Posted: September 18, 2006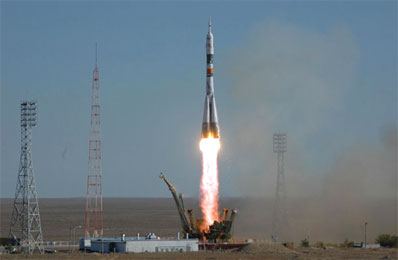 Credit: Energia



A Russian Soyuz spacecraft carrying the international space station's next commander, flight engineer and a U.S. entrepreneur who hopes to pioneer commercial space exploration, blasted off from the Baikonur Cosmodrome in Kazakhstan early Monday and rocketed safely into orbit.

Climbing away from the same launch pad used by Yuri Gagarin 45 years ago, the Soyuz TMA-9 spacecraft climbed away through a clear blue sky, cheered on by Russian and NASA managers, engineers and family members who flew in from Moscow.

At the controls of the Soyuz TMA-9 spacecraft was veteran cosmonaut Mikhail Tyurin and NASA flight engineer Mike Lopez-Alegria. Along for the ride was Anousheh Ansari, an American entrepreneur and long-time space enthusiast who reportedly paid the Russians around $20 million for a visit to the space station.

"Let's go!" one of the crew members exclaimed as the Soyuz roared to life. A few minutes later, Tyurin reported, "We feel fine, insignificant vibration, the G force is rising stably, smoothly."

Nine minutes after liftoff, the spacecraft slipped into its planned preliminary orbit, deployed its two solar panels and radio antennas and set off after the international space station for a linkup early Wednesday.

"Wholeheartedly, guys, I want to extend my congratulations on the successful beginning of your mission," the lead flight director radioed. "Telemetry shows every thing is nominal. Please make sure you all feel well, especially Anousheh, make sure you take good care of her, especially during the first two days of the flight."

"OK, we copy, and we'll do that," Tyurin replied.

About half the men and women who fly in space experience space adaptation syndrome, but nausea and other symptoms typically disappear after the first two days or so in weightlessness.

In an interview with CBS News late last week, Ansari, 40, said she had dreamed of flying in space ever since she was a little girl growing up in pre-revolutionary Iran. That dream now includes a visit to the international space station and while she must first spend two days in the cramped confines of the Soyuz capsule, "it's a means to an end."

"I really want to be in space and that's the only way I can get there," she said. "But it is really small, it is a cramped space for three people.

"Mike Lopez-Alegria is a pretty tall astronaut, so it's even more difficult for him. I'm actually shorter, and I can fit in that cramped space more easily. But there are two compartments, so after the vehicle is in orbit, then we're able to get out of our suits and basically move to the habitation module. That will give us a little bit more space.

"Of course, I don't have any expectation of privacy, but both Michael and Misha are very, very considerate individuals and I'm sure each one of us, when one needs privacy, will probably move to the habitation module or the descent module to give each other the privacy we need."

Docking with the international space station is planned for 1:24 a.m. EDT Wednesday. Once on board, Lopez-Alegria will assume the duties of Expedition 14 commander and Tyurin will serve as flight engineer along with European Space Agency astronaut Thomas Reiter, who was ferried to the station in July aboard the shuttle Discovery.

Expedition 13 commander Pavel Vinogradov and flight engineer Jeff Williams, launched to the outpost March 30, will return to Earth Sept. 28 aboard the Soyuz TMA-8 capsule along with Ansari, the fourth so-called space tourist and the first woman to buy a ticket to space.

Vinogradov, Williams and Reiter were able to watch the Soyuz TMA-9 launch in orbit thanks to a video uplink.

"They're on their way, we're very happy," Williams radioed flight controllers in Houston. "Thanks again."

Williams and his crew mates bid farewell to the shuttle Atlantis' crew Sunday morning after a successful visit to attach a new set of solar arrays.

Monday night, the Expedition 13 crew will oversee the undocking of an unmanned Progress supply craft from the aft port of the Russian Zvezda command module. The Soyuz TMA-9 spacecraft will dock at that same port Wednesday just a few hours before Atlantis lands at the Kennedy Space Center.

"It's a busy week in space!" Williams observed today.

Here is a timeline of upcoming events (in EDT):

12:08:40 AM    Launch of Soyuz TMA-9/ISS-14 from Baikonur Cosmodrome
03:25:00 AM    Atlantis crew carries out final heat shield inspection
08:28:00 PM    Progress M-56 undocking from ISS Zvezda aft port
11:27:00 PM    Progress M-56 deorbit ignition (dT: 2:40; dV: 190 mph)

09/19/06
12:03:00 AM    Progress M-56 falls into the atmosphere
02:35:00 AM    Atlantis crew tests flight control system; cabin stow
       
09/20/06
01:24:00 AM    Soyuz TMA-9 docking with ISS at Zvezda aft port
04:20:00 AM    Soyuz TMA-9 hatch open
04:55:00 AM    Atlantis deorbit ignition
05:57:00 AM    Atlantis lands at the Kennedy Space Center
       
09/28/06
05:51:00 PM    Soyuz TMA-8 undocking command
05:54:00 PM    Hooks open, separation
05:57:00 PM    Separation burn (dT: 8s; dV: 1.2 mph)
08:20:23 PM    Deorbit burn (dT: 4:20; dV: 258 mph)
08:24:43 PM    Deorbit burn complete
08:43:57 PM    Soyuz module separation
08:46:52 PM    Soyuz crew module hits discernible atmosphere
08:53:06 PM    Maximum deceleration
08:55:09 PM    Parachute open command
09:10:09 PM    Landing (17 minutes before sunrise)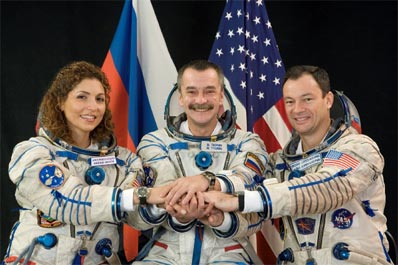 Credit: NASA



Ansari, born in Iran and a naturalized U.S. citizen, developed and sold a successful telecommunications company and helped sponsor the $10 million Ansari X-Prize competition for development of sub-orbital space flight. She hopes to build and launch sub-orbital spacecraft as a commercial venture in the next few years, although she has yet to provide any details.

She first thought about flying in space when reading about American businessman Dennis Tito, the first space tourist who flew to the international space station in April 2001.

"I had been looking for a way to make this happen and when I heard about Dennis Tito, working with Space Adventures and trying to negotiate a seat on the Soyuz, that's when I said the walls are coming down, basically," Ansari said. "If this happens, then the door is open to private citizens.

"I actually was hopeful that soon after that, maybe in a few years, NASA would offer the same thing. ... Unfortunately, I was a little too optimistic in that regard."

She trained with the Expedition 14 backup crew and was added to the prime crew when a Japanese space tourist was disqualified for medical reasons. Asked about the risk of riding a rocket into space, she said it was the means to realize a life-long dream.

"To me, there are certain things worth taking the risk for," she told CBS News in a telephone interview from Baikonur. "I am not a big adventurous person who would take risks just to have an adrenalin rush. So I'm not particularly fond of riding rockets, necessarily, but to me, that's the means for me to get to space, which is my destination.

"The risks involved are what I felt comfortable (with) and the price to pay to be able to realize my dream. It's something that's hard to describe for me. I think space travel is important enough that you can see astronauts and cosmonauts taking risks every day because they believe in it, they believe it's necessary for the future of our species. ... There are people who are the pioneers, people who are moving to take this type of early risk to pave the way for the rest of us. I'm hoping to be one of those people."

Russian willingness to sell seats on the Soyuz to generate needed cash has generated criticism in some circles from observers who believe space travel is best left to professionals. Lopez-Alegria, during a news conference the day before launch, said he initially had the same opinion. But not anymore.

"If you would have asked me that question a couple of years ago, I might have answered quite differently because I was sort of a critic of space tourism," he told a reporter, adding that "sending people to the international space station while it was still under construction was still by no means a place for the light hearted.

"But I recognize the requirements that the Russian space agency has to keep its program alive, we can't do what we're doing without them, so if that's what the correct solution is, and if somebody like Anousheh can be that person, then I have come to the realization that not only is it good from a technical standpoint, just to keep the program going, but it's also good from the standpoint that she represents a great dream and a great hope for a lot of people, not just in our country and iran, but all over the world. I think it was short sighted of me, perhaps, to think the way I did a couple of years ago so I'm somewhat of a convert."

Tyurin agreed, saying it was time for space flight to move beyond government-only sponsorship. As for Ansari's presence on the crew, "I was sincerely surprised when we started working together by the high level of professionalism she has even though she's not a professional cosmonaut. She became such a natural part of our crew we have the impression we've been working together for maybe 10 years."

Ansari pointed out that she would be taking off in a Soyuz spacecraft that is very similar to Russian capsules launched at the dawn of the space age.

"It's been over 45 years since the first human flew to space and over these 45 years, only government agencies have been working toward the goal of space exploration," Ansari said. "In order for us to make giant leaps toward space exploration ... we need private industry to get involved and help the government agencies and work collaboratively together to be able to make that lofty goal come true in the near future for us.

"So I'm hoping to be an ambassador to take this message out and get more people interested and more private investment made into space exploration."


Additional coverage for subscribers:


VIDEO: EXPEDITION 14 BLASTS OFF ABOARD SOYUZ ROCKET PLAY


VIDEO: LAUNCH CAMERA REPLAY 1 PLAY


VIDEO: LAUNCH CAMERA REPLAY 2 PLAY


VIDEO: CROWDS GREET CREW AT LAUNCH PAD PLAY


VIDEO: CREW DONS SPACESUITS FOR LAUNCH PLAY


VIDEO: LAUNCH MORNING TRADITIONS OF THE CREW PLAY


VIDEO: NARRATED PREVIEW MOVIE OF EXPEDITION 14 PLAY


VIDEO: BIOGRAPHY MOVIE OF EXPEDITION 14 CREW PLAY


VIDEO: CREW'S PRE-FLIGHT BRIEFING DIAL-UP | BROADBAND


MORE: EXPEDITION 14 VIDEO INDEX


SUBSCRIBE NOW