The Mission






Mission: Expedition 12
Launch: Sept. 30, 2005
Time: 11:55 p.m. PDT (0355 GMT Oct. 1)
Site: Baikonur Cosmodrome, Kazakhstan

Mission Status Center





NewsAlert





Sign up for our NewsAlert service and have the latest news in astronomy and space e-mailed direct to your desktop.


Privacy note: your e-mail address will not be used for any other purpose.





Spaceflight Now +





Premium video content for our Spaceflight Now Plus subscribers.

Discovery crew's movies
The seven astronauts of space shuttle Discovery's return to flight mission recently gathered for a public celebration of their mission. They narrated an entertaining movie of highlights and personal footage taken during the mission.

Full coverage

GPS satellite launched
The Boeing Delta 2 rocket roars off Cape Canaveral's launch pad 17A carrying the first modernized Global Positioning System satellite for the U.S. Air Force.

Play video

Back to the Moon!
NASA unveils the agency's blueprint for building the future spacecraft and launch vehicles needed for mankind's return to the lunar surface in the next decade.

Full coverage

Distant space explosion
Astronomers announce the detection by NASA's Swift satellite of the most distant explosion yet, a gamma-ray burst from the edge of the visible universe, during this media teleconference held Monday, September 12. (54min 01sec file)

Full coverage

Hill-climbing Mars rover
The Mars Exploration Rover Spirit has reached the summit of Husband Hill, returning a spectacular panorama from the hilltop in the vast Gusev Crater. Scientists held a news conference Sept. 1 to reveal the panorama and give an update on the twin rover mission.

Full coverage

Planes track Discovery
To gain a new perspective on space shuttle Discovery's ascent and gather additional imagery for the return to flight mission, NASA dispatched a pair of high-flying WB-57 aircraft equipped with sharp video cameras in their noses.

Full coverage

Rocket booster cams
When space shuttle Discovery launched its two solid-fuel booster rockets were equipped with video cameras, providing dazzling footage of separation from the external fuel tank, their free fall and splashdown in the sea.

Full coverage

Become a subscriber
More video







New space station resident crew launches to orbit
BY WILLIAM HARWOOD
STORY WRITTEN FOR CBS NEWS "SPACE PLACE" & USED WITH PERMISSION
Posted: October 1, 2005


A Russian Soyuz rocket blasted off from the Baikonur Cosmodrome late Friday, boosting a fresh two-man crew - and history's third space tourist - into orbit for an Oct. 3 rendezvous and docking with the international space station.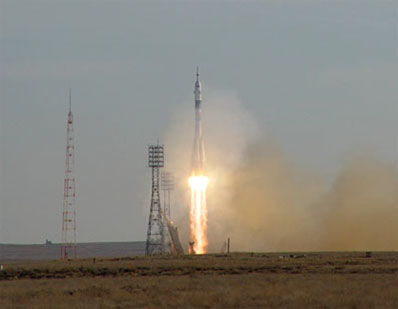 The Soyuz rocket launches Expedition 12. Credit: Energia



Under a partly cloudy sky, the Soyuz rocket roared to life at 11:54:53 p.m. EDT, quickly climbing away toward space atop a tongue of fire from its liquid engines. Nine minutes later, the spacecraft was in orbit. Its solar arrays and antennas deployed normally and the crew reported all systems were operating normally.

On board were Expedition 12 commander Bill McArthur, flight engineer and Soyuz commander Valery Tokarev and U.S. businessman Greg Olsen, who paid the Russians some $20 million to visit the international space station.

"Nowadays, everybody can fly every week," Olsen told reporters before launch. "The same will be true with space flight. There will be more tourists after me."

If all goes well, Tokarev will oversee an automated docking with the space station's Pirs airlock module around 1:32 a.m. Monday. After hatch opening three hours later, the arriving spacemen will be welcomed aboard by Expedition 11 commander Sergei Krikalev and flight engineer John Phillips.

Krikalev and Phillips, accompanied by Olsen, plan to return to Earth Oct. 10 for a touchdown in Kazahstan at 9:08 p.m. Landing will end a six-month stay aboard the orbital outpost. McArthur and Tokarev will remain in orbit until next March when they will be replaced by yet another two-man crew.

McArthur originally hoped to return to Earth aboard a space shuttle. But because of on-going foam insulation problems, and delays caused by Hurricane Katrina, the next shuttle flight is now expected to slip into May at the earliest.

In past years, this would not have been a major problem in and of itself. But a 1996 "balance" agreement that required the Russians to provide 11 Soyuz spacecraft to ferry joint U.S-Russian crews to and from the space station - at no cost to NASA - ended with Friday's launching.

Enter the Iran Nonproliferation Act of 2000, intended to deter the transfer of advanced weaponry and nuclear technology to Iran. The primary target was Russia and section 6 of the INA bars NASA from buying space station-related products or services from the Russians unless the president determines Russia is actively working to prevent proliferation.

Given NASA's current bind, an amendment to the INA is in the works, but as of this writing no changes have been approved and McArthur does not have a designated ride home.


Additional coverage for subscribers:


VIDEO: LAUNCH OF EXPEDITION 12! PLAY | ASCENT TO ORBIT


VIDEO: TRACKING CAMERA 1 | 2


VIDEO: CROWD AT PAD WELCOMES THE CREW PLAY


VIDEO: CREW DEPARTS SUITUP BUILDING FOR LAUNCH PAD PLAY


VIDEO: LAUNCH MORNING TRADITIONS AT CREW QUARTERS PLAY



VIDEO: THE SOYUZ ROCKET IS ROLLED TO LAUNCH PAD PLAY


VIDEO: ROCKET IS ERECTED ON PAD PLAY


VIDEO: PRE-LAUNCH TRAINING AND EXERCISE FOR CREW PLAY


VIDEO: CREWMEMBERS TOUR THE LAUNCH PAD PLAY


VIDEO: BRIEF INTERVIEW WITH COMMANDER MCARTHUR PLAY


VIDEO: CREW INSPECTS SOYUZ TMA-7 CAPSULE PLAY



VIDEO: OVERVIEW OF EXPEDITION 12 MISSION PLAY


VIDEO: PRE-FLIGHT MISSION BRIEFING DIAL-UP | BROADBAND


AUDIO: LISTEN TO THE BRIEFING FOR IPOD


VIDEO: CREW'S PRE-FLIGHT BRIEFING DIAL-UP | BROADBAND


VIDEO: TRAINING OF CREW IN HOUSTON PLAY


VIDEO: U.S. SPACEWALK TRAINING PLAY


VIDEO: GREG OLSEN TRAINING ON NASA SYSTEMS PLAY


MORE: EXPEDITION 12 VIDEO INDEX


SUBSCRIBE NOW