Galileo navigation system gets spark with Soyuz launch
BY STEPHEN CLARK
SPACEFLIGHT NOW
Posted: August 22, 2014


The operational deployment of Europe's $7.2 billion Galileo satellite navigation network began Friday with the flawless launch of two spacecraft to expand the network billed as an independent alternative to the Global Positioning System run by the U.S. Air Force.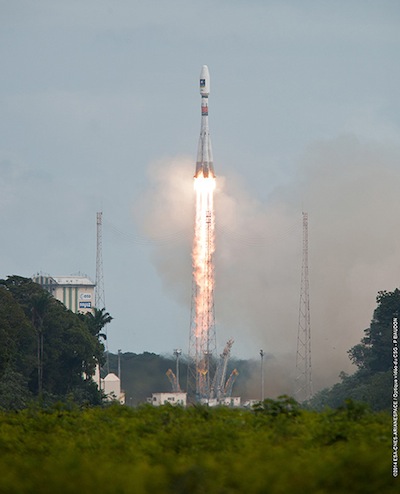 Carrying two satellites for Europe's Galileo navigation system, a Soyuz rocket blasted off from French Guiana at 1227 GMT (8:27 a.m. EDT; 9:27 a.m. French Guiana time). Photo credit: ESA/CNES/Arianespace - Optique video du CSG - P Baudon

Led by the European Commission, the EU's executive body, the Galileo navigation system will eventually comprise 30 satellites circling nearly 15,000 miles above Earth to help airliners, cars, boats and billions of people find their destinations.
Friday's launch kicks off a rapid-fire series of launches to bring the Galileo network to full operational capability by the end of 2017, when the system will match or exceed positioning services offered via GPS satellites.
Perched at the tip of a 15-story-tall Russian-made Soyuz launcher, the two 1,609-pound Galileo satellites took off from the Guiana Space Center on the northern coastline of South America at 1227:11 GMT (8:27:11 a.m. EDT).
The Soyuz booster rocketed through scattered clouds hanging over the tropical spaceport, streaking into the upper atmosphere trailing a orange tongue of flame from its 32 engine nozzles.
Spectacular video from a long-range optical tracking camera showed the rocket releasing four strap-on boosters and its aerodynamic nose cone before fading from view.
The Soyuz rocket's three main stages finished their engine firings less than 10 minutes after liftoff, leaving a Russian Fregat upper stage to put the Galileo satellites into an orbit approximately 23,500 kilometers, or 14,600 miles, above Earth.
The Fregat main engine completed two burns as planned before deploying the twin payloads into space at 1615 GMT (12:15 p.m. EDT).
The satellites launched Friday are nicknamed Doresa and Milena, the names of children from Germany and Estonia who won a European painting competition in 2011.
"I am delighted to confirm the Doresa and Milena have been safely separated in their targeted medium Earth orbit," said Stephane Israel, chairman and CEO of Arianespace, the French launch services firm responsible for the Soyuz mission. "Arianespace and Soyuz have now provided new momentum to the Galileo constellation with the launch of the first two Full Operational Capability satellites."
"Thanks to our Russian friends for that launch, and thanks to Arianespace for their excellent service," said Didier Faivre, director of navigation programs at the European Space Agency. You will see us again. We have 20 satellites ahead of us [on] four Soyuz and three Ariane 5s."
"With this launch, we're entering the operational phase and the deployment of our Galileo system, so it's a very important time," said Daniel Calleja Crespo, the European Commission's director general for enterprise and industry. "We are turning a dream into reality, and that dream was to provide Europe with the first civilian global navigation system, and provide EU citizens and EU enterprises with new services. This is an historical and emotional moment."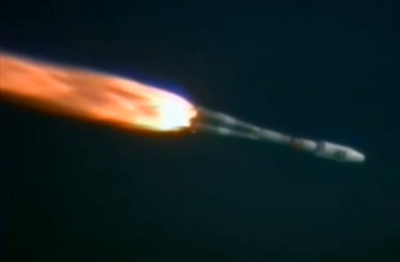 The Soyuz rocket streaks northeast from the Guiana Space Center in this view from a long-range optical tracking camera. Photo credit: Arianespace/Spaceflight Now

Faivre said ground controllers received signals from the satellites, confirming they were functioning after the ride into orbit. The satellites were programmed to automatically deploy their solar panels and begin charging their batteries later Friday.
Next up for the satellites is a week-long series of activations and tests, then a commissioning phase to tune the spacecraft to beam positioning and timing signals down to Earth.
"We will then start the drift maneuvers from the injection point to their final orbital slots," said Javier Benedicto, ESA's Galileo project manager. "This will take a couple of weeks. While we do that, we activate the platform and we start the platform and later the payload in-orbit test activities."
ESA acts as a contracting agent for the European Commission's Galileo program.
"We are now entering a new phase we call FOC -- Full Operational Capability -- which is devoted to the full completion of the constellation," Faivre said.
The satellites will broadcast signals on three L-band frequency bands. The 10 signals are tailored for the global public, European law enforcement and security services, commercial users and search-and-rescue applications.
Surrey Satellite Technology Ltd. of the United Kingdom supplied the navigation payloads.
"We have about 73 days of test activities all together. By mid-November, it will be about that point in time when we will declare the spacecraft operational from a user point-of-view and we will broadcast the navigation messages," Benedicto said.
Built by OHB System of Bremen, Germany, the satellites join four other Galileo satellites launched in 2011 and 2012 to validate the network's design -- in space and on the ground. One of the Galileo in-orbit validation, or IOV, satellites is currently offline as engineers investigate a problem that caused "permanent degradation" on two of its three navigation bands, according to Benedicto.
But officials cleared the satellites on Friday's launch of any faults that may have caused the problem on the validation spacecraft.
Fitted with hydrogen maser atomic clocks -- the most precise timekeepers ever flown on a navigation satellite -- the Galileo spacecraft offer better accuracy than the U.S. Air Force's GPS network or the Russian government's Glonass system, according to European officials. The accurate timekeeping is necessary to gauge the distance between the satellites and users on the ground.

Artist's concept of a Galileo navigation satellite in orbit. Photo credit: ESA

"The two Galileo satellites are part of a constellation which will comprise 30 satellites," said Jean-Jacques Dordain, ESA's director general. "It's a unique program since it's made to serve the European Union transport policy, thus at its roots are services for citizens in the transport area."
With four satellites visible to a ground user -- one for latitude, longitude, elevation and time -- the Galileo system can render a position and time estimate independent of GPS satellites.
But European officials do not sell the Galileo system -- one of Europe's most costly space programs ever -- as a rival to the American GPS network. The Galileo system is designed to be interoperable with GPS and Russia's Glonass navigation satellites.
Working together, the GPS and Galileo satellites could offer the global population positioning information with an accuracy of just a few centimeters, an improvement from the several-meter error publicly available with GPS today.
The best GPS signals are reserved for military use, just as Galileo's most accurate positioniong estimates will be regulated.
The Galileo network is a civilian-run system, addressing concerns the U.S. or Russian militaries could cut off access to GPS and Glonass navigation signals in a time of war.
With each new Glonass satellite launched and commissioned, users will see accuracy improve as more navigation satellites are in the sky at one time, according to Benedicto.
"A combined GPS-Galileo receiver can bring a specific spacecraft into a navigation position solution," Benedicto said. "There is no need to wait for a declaration or such. You can use the spacecraft one-by-one as they're being declared operational."
The Galileo satellites also host search-and-rescue antennas to receive distress signals worldwide. Using Galileo's navigation payload, officials say the constellation can ensure first responders know the location of the source of the distress signal with an accuracy of 3 meters, or about 10 feet.
"The advantage of the search-and-rescue payload on Galileo provides for real-time detection of distress beacons and the real-time determination of the location of a person [in distress] with a very high level of accuracy, which will improve significantly the rescue operations," Benedicto said.
The European Commission and ESA have launched or contracted for 26 Galileo satellites. With Friday's launch, 20 more satellites are on the ground in various states of assembly and testing for launches over the next three years.
Officials say the network needs 24 satellites to be fully operational. With a full complement of spare spacecraft in orbit, the fleet will be consist of 30 satellites.
The satellites will be spread into three orbital pathways to ensure global coverage.
Pending good performance of the satellites launched Friday, the next two spacecraft will be shipped to the Guiana Space Center this fall for launch on another Soyuz rocket in December.
Then up to eight satellites are on track for launches on Soyuz or Ariane 5 rockets next year, according to Faivre.
"The challenge today is more on operations, cadence, continuity and maintaining such a constellation, which is quite new for Europe," Faivre told reporters before Friday's launch.
Follow Stephen Clark on Twitter: @StephenClark1.