First Sentinel satellite in orbit after successful Soyuz launch
BY STEPHEN CLARK
SPACEFLIGHT NOW
Posted: April 4, 2014


Europe's first Sentinel satellite blasted off Thursday and deployed its radar antenna and solar panels overnight, inaugurating a multi-billion dollar series of satellites to take the pulse of Earth's land surfaces, oceans and atmosphere with unmatched regularity.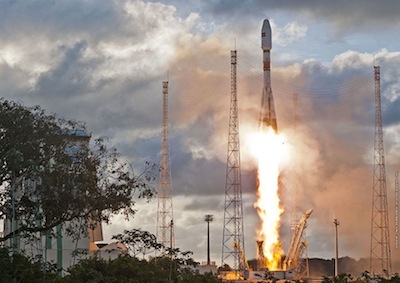 Liftoff of the Soyuz ST-A rocket with Sentinel 1A occurred at 6:02 p.m. local time in French Guiana. Photo credit: ESA/CNES/Arianespace - Photo Optique Video du CSG



Fitted with a C-band radar antenna, the $383 million Sentinel 1A satellite launched at 2102:26 GMT (5:02:26 p.m. EDT; 6:02:26 p.m. local time) from the Guiana Space Center on South American's northern coastline.

A Russian Soyuz rocket boosted the spacecraft north from French Guiana, streaking through low-level clouds and into the upper atmosphere as ground-based tracking cameras recorded dazzling views of the 151-foot-tall launcher shedding its boosters and disappearing into the evening sky.

The Soyuz rocket's Fregat upper stage ignited for a 10-minute firing to put the Sentinel 1A spacecraft into a 425-mile-high orbit over Earth's poles.

The Fregat upper stage deployed the Sentinel 1A satellite about 23 minutes after liftoff. After a slight delay to receive data confirming the separation, officials declared the launch a success.

"Tonight was the seventh success of Soyuz from the Guiana Space Center," said Stephane Israel, chairman and CEO of Arianespace, operator of Soyuz missions from French Guiana. "As its heavy-lift Ariane 5 and lightweight Vega siblings in the Arianespace family, Soyuz provides unrivaled quality, reliability and schedule assurance to our customers."

Manufactured by Thales Alenia Space in Italy and France, the Sentinel 1A satellite is the first of five spacecraft set for launch before the end of 2015 under the auspices of the Copernicus program, a joint initiative between the European Space Agency and the European Commission, the EU's executive body.

"The launch of the Sentinel 1A satellite from the European space center marks the takeoff of the Copernicus program," said Jose Manuel Barroso, president of the European Commission. "It's an important step forward for the European Union."

European governments have spent or committed 7.2 billion euros, or about $10 billion, covering Copernicus planning and development since 1998 and satellite operations through 2020.

The Sentinel satellites were conceived to be primarily operational spacecraft, extending many observations pioneered by Europe's flagship Envisat environmental research satellite which failed in 2012.

"Once all the Sentinel satellites have been launched, the Copernicus program will be the most efficient and fullest Earth observation program in the world," Barroso said. "It will have specific and tangible economic, social and environmental consequences in Europe."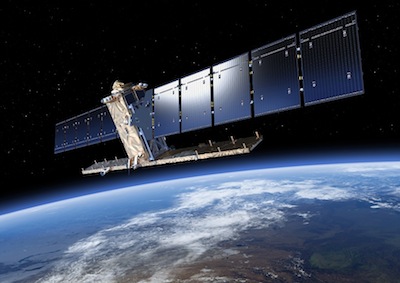 Artist's concept of the Sentinel 1A satellite. Photo credit: Airbus Defence and Space



Sentinel 1A's radar instrument, built by Airbus Defence and Space, will map the entire planet every 12 days and achieve full coverage of European territories in about three days. With the launch of the identical Sentinel 1B satellite at the end of 2015, the revisit time will be cut to six days globally and less than two days for Europe, according to Guido Levrini, manager of the Copernicus space segment for ESA.

Such a rapid revisit time is feasible because of the spacecraft's wide viewing swath as Sentinel 1A flies through space at a speed of more than 17,000 mph, or nearly 8 kilometers per second. Its radar will scan Earth in strips as the spacecraft circles the planet from the North Pole to the South Pole in less than 100 minutes.

In its most high-resolution mapping mode, the Sentinel radar returns images with a pixel size of 5 meters, or about 16 feet, with a swath width of 80 kilometers, or about 50 miles.

But the satellite can adjust the radar sensor to a wide-angle mode to see a strip of Earth as wide as 450 kilometers, or 280 miles, trading resolution for viewing area.

"The revisit is the parameter in which all Sentinels excel," Levrini said.

The sophisticated radar antenna, comprised of five panels folded around the satellite's main body for launch, completed a complex deployment sequence about 10 hours after liftoff.

Sentinel 1A's two solar array wings also unfurled to charge the satellite's batteries.

Engineers choreographed the deployments so the most critical steps occurred while the satellite was over ground stations, giving controllers real-time insight into the status of the spacecraft.

When the antenna and arrays were extended, Sentinel 1A radioed home a "space selfie" showing one of its solar panels and half of the rectangular radar backdropped by Earth more than 400 miles below.

The 40-foot by 3-foot rectangular C-band radar antenna array is comprised of 560 dual-polarized small transmitters and receivers to detect radar waves reflected from Earth's surface. The instrument will be switched on early Sunday and ESA plans to release its first images in about three weeks. Officials expect Sentinel 1A to be returning operational data by July.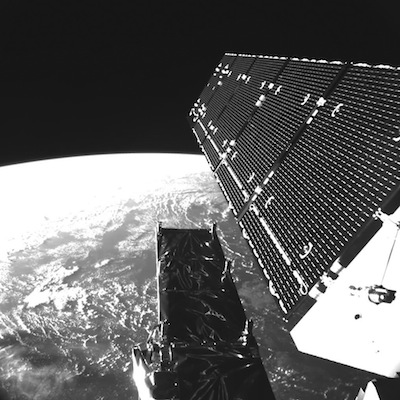 A camera on-board the Sentinel 1A spacecraft took this image of the satellite's solar panel and radar antenna Friday after completing their 10-hour deployment sequence. Photo credit: ESA



Levrini said the next Copernicus satellite set for launch is Sentinel 2A in early 2015, followed by the launch of Sentinel 3A in mid-2015. The Sentinel 2 and Sentinel 3 series of satellites are smaller than Sentinel 1 and able to fit on light-class European Vega or Russian Rockot launchers.

Sentinel 2 satellites carry a multi-spectral optical camera, and the first two Sentinel 3 spacecraft will measure sea-surface topography, temperatures, and ocean and land color.

A small spacecraft named Sentinel 5 Precursor is also scheduled to launch at the end of next year to bridge a data gap between the failed Envisat satellite's atmospheric chemistry instrument and the next generation of European MetOp polar-orbiting weather observatories.

Around the end of 2015, Sentinel 1B will be launched on another Soyuz rocket to join Sentinel 1A. Levrini said the Sentinel 1B schedule is holding on to a launch opportunity in late 2015, but the flight may delay to early 2016.

The Sentinel 4 family includes hosted payloads on Europe's Meteosat Third Generation geostationary weather satellites to study the atmosphere.

Each class of Sentinel satellite -- Sentinels 1, 2, 3, 4 and 5 -- are designed to always have two spacecraft in orbit at the same time.

The satellites will collectively monitor Earth's land surfaces, maritime zones and the atmosphere, beaming back data through a laser communications link with satellites orbiting overhead in geostationary orbit.

Officials plan to provide data to users within an hour, but Copernicus will supply some expedited data to security forces, emergency responders and other institutions within minutes, if necessary.

"This will be a complete coverage in every frequency band, which will be operational at the end of the decade," said Jean-Jacques Dordain. "This first of the dedicated satellites for the Copernicus program is a major step to put it into orbit."

European officials adopted an open data policy to share measurements from the Sentinel satellites to the global community free of charge, much like the data distribution models established by the U.S. Geological Survey's Landsat program and the U.S. Air Force's GPS navigation constellation.

"Our fellow citizens will benefit from the wide range of services to protect their environment, their quality of life and their security," Barroso said. "For example, the data collected will contribute to the monitoring of climate change on the Earth's surfaces, including forests and oceans. It will also provide support in emergency situations, which do not spare our continent."

Follow Stephen Clark on Twitter: @StephenClark1.