Arianespace shifts manifest to make room for Gaia
BY STEPHEN CLARK
SPACEFLIGHT NOW
Posted: October 30, 2013


Arianespace has shuffled its launch manifest to make room for the launch of Europe's Gaia galactic survey mission, moving up the next commercial Ariane 5 flight by one week and setting Dec. 20 as Gaia's target launch date.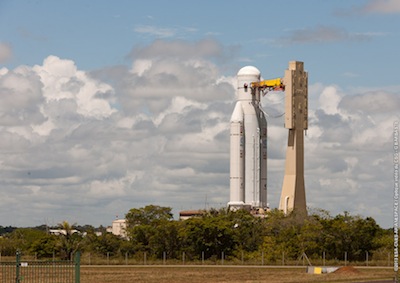 The Ariane 5 rocket set for launch Dec. 6 moved from its launcher integration building to the final assembly building in Kourou, French Guiana, earlier this month. Credit: ESA/CNES/Arianespace - G. Barbaste

The adjustment ensures both missions get off the ground before Christmas after a three-month hiatus in launches from French Guiana caused by delays in payload readiness.
The next Ariane 5 launch is now scheduled for Dec. 6, one week earlier than previously planned, with the ASTRA 5B and Amazonas 4A communications satellites for SES of Luxembourg and Hispasat of Madrid, respectively, according to Evry, France-based Arianespace.
The launch window Dec. 6 opens at 2157 GMT (4:57 p.m. EST) and extends for 66 minutes.
Two weeks later, on Dec. 20, a Soyuz rocket will blast off at 0908:14 GMT (4:08:14 a.m. EST) with Gaia from a Russian-operated launch pad about 6 miles northwest of the Ariane launch zone.
It takes a minimum of two weeks to reconfigure tracking, safety and communications assets at the Guiana Space Center and at downrange sites to switch between Ariane 5 and Soyuz flights.
Gaia's launch was scheduled for Nov. 20, but an alert from industry raised concerns about a digital component inside Gaia's two timing transponders, which generate "timing signals" for downlinking the mission's science data, according to ESA.
The suspect components have been removed from Gaia for shipment back to Thales Alenia Space in Italy for repairs and retesting.
The Soyuz 2-1b rocket, also known by its European designation Soyuz ST-B, and a Fregat upper stage will propel Gaia toward its observing position around the L2 Lagrange point about a million miles from the night side of Earth, a thermally-stable position where gravity from the Earth and sun help balance a satellite's motion.
The Soyuz can only launch to the L2 point at certain times, and Gaia's earlier launch window closes Dec. 5 and launch opportunities resume Dec. 17.
L2 is a popular location for astronomy missions because it is far away the temperature swings and observing obstructions caused by proximity to Earth, but close enough to permit high-speed communications for the downloading of science data.
Gaia's twin scanning telescopes will map the locations and movements of a billion stars in the Milky Way, helping astronomers study the galaxy's history and evolution.
Follow Stephen Clark on Twitter: @StephenClark1.