Soyuz set to launch French reconnaissance satellite
BY STEPHEN CLARK
SPACEFLIGHT NOW
Posted: November 29, 2012


Launching from the Guiana Space Center at the edge of the Amazon jungle, a Russian Soyuz rocket is set for liftoff Friday with a sharp-eyed Earth observation satellite to collect high-resolution imagery for French and European security services.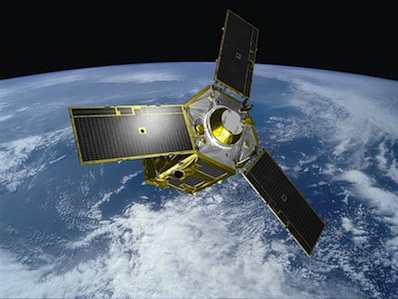 Artist's concept of a Pleiades satellite in orbit. Credit: EADS Astrium



The rocket's French-owned payload, the Pleiades 1B satellite, will serve the French military, other European governments and commercial customers for the next five years.

Owned by the French space agency, CNES, the craft will join the identical Pleiades 1A satellite launched in December 2011, forming a two-spacecraft constellation placing every part of Earth in range of their cameras each day.

The satellite is fitted with a Korsch telescope with a primary mirror 2.1 feet in diameter. Its CCD detectors are 40 times more sensitive to light than those in standard consumer digital cameras, according to CNES.

The Pleiades optics, provided by Thales Alenia Space, can resolve objects as small as 70 centimeters, or about 2.3 feet. CNES says special processing can sharpen the images to a resolution of 50 centimeters, or less than 20 inches, placing the satellite among the top commercial observation platforms worldwide.

The 2,138-pound satellite is fastened to a Soyuz rocket awaiting liftoff at 0202:50 GMT Saturday (9:02:50 p.m. EST Friday) from the Guiana Space Center, a European-run spaceport in French Guiana.

The weather forecast is favorable for Friday's countdown and launch, which will mark the fourth flight of Russia's Soyuz booster from French Guiana. Europe financed construction of rocket's French Guiana launch pad, which hosted its first mission in October 2011.

Arianespace is the Soyuz rocket's commercial operator in French Guiana.

Following a state commission meeting of senior managers, the launch team will command the start of fueling about four hours before liftoff. The three-stage Soyuz 2-1a rocket - also known as the Soyuz ST-A configuration - consumes kerosene and liquid oxygen propellants.

The launch pad's 174-foot-tall mobile gantry, which shields the Soyuz from bad weather during final preparations, will be retracted to the launch position about one hour before liftoff.

After a computerized countdown sequence, the 151-foot-tall rocket will ignite its main engines and blast off, turning north from the French Guiana spaceport and shedding strap-on boosters less than two minutes into the mission.

The Soyuz rocket's second and third stages will accelerate the Pleiades 1B satellite and a Fregat upper stage on a suborbital path, and the Fregat engine will place the satellite in an orbit 431 miles high.

The Fregat will release the Pleiades satellite about 55 minutes after launch.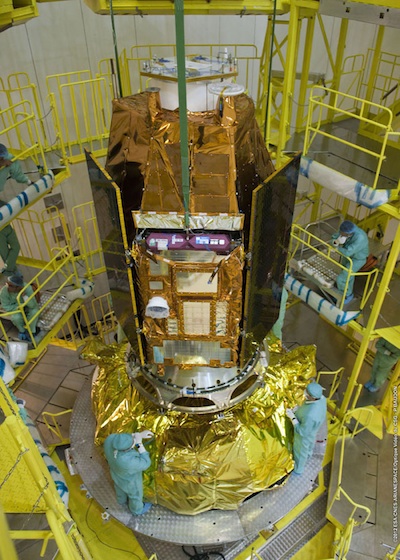 Photo of the Pleiades 1B satellite attached to its Fregat upper stage. Credit: ESA/CNES/Arianespace



The spacecraft - about the size of an SUV - will be activated and maneuvered into a sun-synchronous orbit 180 degrees opposite from the orbit of the twin Pleiades 1A satellite.

"They will be in a constellation, so we can come up to a revisit time of one day," said Rob Postma, sales director at Astrium Geo-Information Services, which will oversee commercial sales of Pleiades imagery. "So every day we can take an image of the same site with a very precise resolution."

Assembled by Astrium Satellites in Toulouse, France, the spacecraft carries control moment gyroscopes to turn side-to-side and snap images on each side of its ground track. The agility gives the Pleiades satellites flexibility to observe multiple targets in a region during one pass.

"Agility means that you can aim the satellite, meaning banking the satellite by a few tens of degrees - 60 degrees or even more - from part of the scene to another part of the scene," said Jean Dauphin, director of Astrium's Earth observation program.

While Astrium Geo-Information Services will market Pleiades imagery to compete with GeoEye and DigitalGlobe, two U.S. commercial remote sensing satellite operators, the French military will receive priority.

The Pleiades system is also partially funded by Belgium, Sweden, Spain and Austria. It will complement France's Helios government spy satellites and the Spot series of commercial imaging craft.

Spain and Italy will receive data for military needs under separate agreements with the French defense ministry. Civil users will receive about 95 percent of the capacity from the Pleiades system through Astrium Services, the company responsible for commercial imagery dissemination, but time-sensitive military requests will be expedited.

Italy and France share data from radar and optical reconnaissance satellites. The Pleiades constellation will fulfill France's commitment under the data-sharing accord, while Italy's COSMO-SkyMed satellites supply radar imagery to the French government.

Charlotte Gabriel-Robez, Pleiades marketing manager at Astrium Geo-Information Services, said controllers can upload tasking orders to the satellites three times per day.

"Any country in the world is accessible by Pleiades in one day," Dauphin said.