Six new Globalstar satellites ride Soyuz rocket to orbit
BY STEPHEN CLARK
SPACEFLIGHT NOW
Posted: February 6, 2013


Launching into a clear dark sky over the deserts of Kazakhstan, a Soyuz booster rocketed into space Wednesday with six satellites for Globalstar's mobile communications network.
The satellites will help keep Globalstar's two-way voice and data service going through the 2020s for the company's subscribers in 120 countries.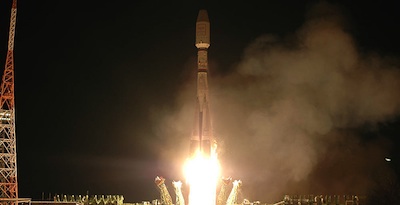 Liftoff occurred at 1604 GMT (11:04 a.m. EST), or 10:04 p.m. local time at the Baikonur Cosmodrome in Kazakhstan. Credit: Arianespace

The mission completes Globalstar's second-generation satellite fleet, which began launching in 2010. Four Soyuz launches, including Wednesday's mission, sent 24 Globalstar satellites into orbit, supplementing and replacing the Louisiana-based company's first-generation satellites, most of which launched from 1998 to 2000.
"I am pleased to announce the successful final launch of our second-generation constellation," said Tony Navarra, president of global operations for Globalstar Inc., in a statement. "In 2006, we set out to be the first mobile satellite services company to successfully deploy a second-generation constellation of LEO satellites. This extraordinary undertaking took years of dedicated effort and a singularly focused mindset to complete the mission."
Globalstar says the satellites, which are designed to last 15 years, will restore two-way "Duplex" voice communications services, which was disrupted by degraded S-band antennas on the company's older spacecraft, forcing Globalstar to focus on data services.
"We fully expect Duplex service to be restored to the high level of quality that Globalstar customers historically enjoyed," said Jay Monroe, Globalstar's CEO. "We thank all of our employees and partners who were able to make this successful launch possible, including launch services provider Arianespace and satellite contractor Thales Alenia Space."
Launch from the Baikonur Cosmodrome in Kazakhstan occurred at 1604 GMT (11:04 a.m. EST) aboard a Soyuz 2-1a booster. Using a modernized configuration with a digital control system, the kerosene-burning Soyuz launcher rocketed through a starry sky and into space, leaving a glowing trail of exhaust as it raced east from Baikonur.
The three-stage Soyuz finished its job in less than 9 minutes, leaving a Fregat upper stage to place the satellites in a 572-mile-high orbit with an inclination of 52 degrees.
Two satellites attached to the upper section of a dispenser specially designed for Globalstar launches separated first, followed less than 2 minutes later by the release of the other four 1,433-pound spacecraft at 1744 GMT (12:44 p.m. EST).
Starsem, which sells commercial Soyuz launches from Baikonur, declared the mission a success. Starsem is owned by aerospace firms in Russia and France, including Arianespace.
The Globalstar satellites will use on-board propulsion to raise their orbits to an altitude of 878 miles and enter the Globalstar constellation. Two of the satellites will be operational by the end of February, according to Globalstar, while the other four craft will drift to other locations within the company's constellation, which is divided into eight orbital planes to provide global coverage.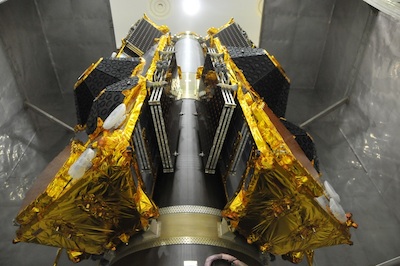 Photo of the six Globalstar satellites assembled on a dispenser before launch. Credit: Thales Alenia Space

"I would like to express my sincere appreciation to Globalstar for its constant confidence and support," said Jean-Yves Le Gall, chairman and CEO of Arianespace and Starsem. "Globalstar and Starsem have definitely formed close ties together on the path to success."
Wednesday's launch was the 12th flight of Globalstar satellites on a Starsem Soyuz rocket.
Globalstar and Thales Alenia Space signed a $200 million contract in September for the construction six identical satellites for launch in 2015 to replenish the constellation. The contract with Thales, along with a launch services agreement, is pending the closure of financing.
"Today's successful launch underlines a major milestone for both Globalstar and Thales Alenia Space in the full deployment of the constellation," said Nathalie Smirnov, executive vice president of telecommunications for Thales Alenia Space. "We sincerely hope that, due to this successful launch, Globalstar and Thales Alenia Space can proceed with their agreement to manufacture six additional second-generation satellites.
Globalstar expects to announce a launch contract for the next six satellites before the end of March, Navarra told Spaceflight Now in an email.
Mario de Lepine, an Arianespace spokesperson, said Globalstar has a contract option with Starsem for the launch of six more satellites.
Besides the Globalstar option, Starsem has no more contracts on the books, but the firm is still negotiating potential deals, de Lepine said.
Starsem has conducted 26 launches since 1999, and all firm commercial Soyuz launches on the manifest now will be based from the European-run Guiana Space Center in French Guiana, which inaugurated a Soyuz launch pad in 2011.
Starsem's shareholders are Arianespace, EADS Astrium, the Russian Federal Space Agency, and the Samara Space Center, builder of the Soyuz rocket.