Kazakhstan grants approval for grounded Soyuz launches
BY STEPHEN CLARK
SPACEFLIGHT NOW
Posted: June 28, 2012


Soyuz rocket launches stalled by a dispute between Russia and Kazakhstan over booster drop zones are scheduled to go forward in the second half of this year, beginning in July with the liftoff of several international satellites and continuing in September with the launch of a European weather observatory.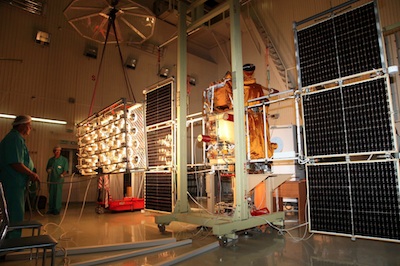 Technicians prepare the Kanopus-Vulkan 1 satellite for launch at the Baikonur Cosmodrome in Kazakhstan. Credit: Roscosmos

The terms of the agreement between Russia and Kazakhstan were not disclosed, but Russia has set launch dates for two Soyuz missions due to lift off from the Baikonur Cosmodrome.
The missions will fly north from the Kazakh launch site on a unique trajectory to reach polar orbit. Most Russian launchers bound for polar orbits lift off from the Plesetsk Cosmodrome in northern Russia, while Baikonur primarily handles launches to the east.
On each mission, four strap-on boosters comprising the Soyuz first stage will fall on Kazakh territory north of Baikonur. First stages from other Soyuz launchers also drop downrange on Kazakhstan, but in a different location east of Baikonur.
Russia has set a July 22 launch date for a cache of satellites for Russia, Belarus, Germany, and Canada.
A Soyuz booster and Fregat upper stage will launch the Kanopus-Vulkan 1 remote sensing payload, which carries two imaging cameras and a geophysical instrument suite designed monitor Earth's surface, atmosphere, ionosphere and magnetosphere. One of the craft's objectives is to investigate the viability of earthquake prediction.
The mission will also orbit the BelKA 2 observing satellite for Belarus, Russia's Zond PP soil moisture and ocean salinity mission, the TET 1 technology demonstration payload for DLR - the German space agency - and the exactView 1 ship-monitoring satellite for Com Dev of Canada.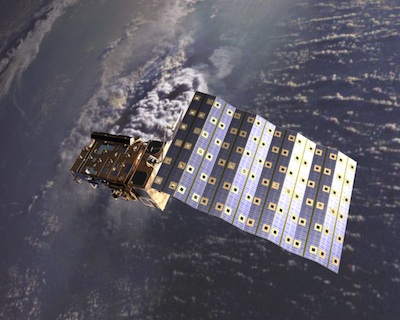 Artist's concept of the MetOp B satellite in orbit. Credit: ESA

Another polar orbit Soyuz launch is scheduled for Sept. 19 with Europe's MetOp B meteorological satellite.
Heading for a 507-mile-high orbit, MetOp B is the second of three almost identical polar-orbiting weather satellites to provide meteorological data to European and U.S. forecasters and scientists.
The launch of MetOp A in October 2006 followed the same trajectory north from Baikonur as planned for MetOp B.
MetOp B's launch had been set for May 23 before officials ordered a delay when it became clear the drop zone dispute would not be resolved in time.
The European Space Agency and Eumetsat - Europe's weather satellite agency - announced Thursday the launch campaign will restart July 10 and the MetOp B satellite will be fueled in August.
At least two more Soyuz flights from Baikonur to polar orbit will follow by the end of 2012, launching Russia's Meteor M2 weather satellite and the Resurs P1 Earth observation craft.