Strife over rocket drop zones delays MetOp satellite launch
BY STEPHEN CLARK
SPACEFLIGHT NOW
Posted: April 27, 2012


Launch of Europe's second MetOp weather observatory has been delayed, potentially until late July, by a squabble between Russia and Kazakhstan over drop zones for the lower stages of the satellite's Soyuz rocket, the European Space Agency announced Friday.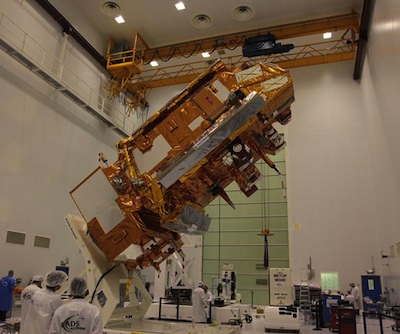 The MetOp B satellite was delivered to the Baikonur Cosmodrome in March. Credit: ESA

The mission was preparing to lift off May 23 from the Baikonur Cosmodrome in Kazakhstan. A Soyuz 2-1a rocket and Fregat upper stage will launch the MetOp B meteorological satellite into a near-polar orbit.
In order to reach MetOp B's target orbit, the three-stage Soyuz rocket must fly north from Baikonur, a unique trajectory for launches from the Kazakhstan space center. Most Russian launchers bound for polar orbits lift off from the Plesetsk Cosmodrome in northern Russia.
Four strap-on boosters comprising the Soyuz first stage would fall on Kazakh territory north of Baikonur. First stages from other Soyuz launchers also drop downrange on Kazakhstan, but in a different location east of Baikonur.
A statement released Friday by Starsem, the French-Russian commercial Soyuz sales firm, said the launch would be delayed "by several weeks" because "additional measures are needed to ensure the drop zone availability" for the Soyuz stages.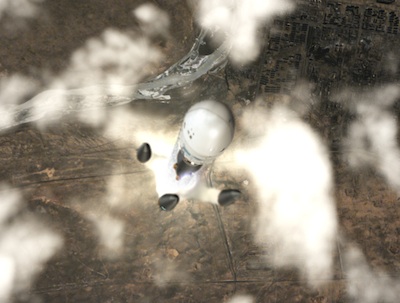 Artist's concept of the four strap-on boosters separating from the Soyuz rocket. Credit: ESA/AOES Medialab

ESA officials expect the launch could be rescheduled for the second half of July, after the launch of another European weather satellite - MSG 3 - aboard an Ariane 5 rocket from the Guiana Space Center in South America.
MetOp B will remain secured in a clean room facility at Baikonur ready for fueling once officials select a launch date, according to ESA.
Heading for a 507-mile-high orbit, MetOp B is the second of three almost identical polar-orbiting weather satellites to provide meteorological data to European and U.S. forecasters and scientists.
The launch of MetOp A in October 2006 followed the same trajectory north from Baikonur as planned for MetOp B.
The MetOp weather satellite program is a joint effort between ESA and the Eumetsat, or the European Organization for the Exploitation of Meteorological Satellites. The program's three satellites, launch vehicles, ground segment and flight operations are projected to cost 2.7 billion euros, or nearly $3.6 billion, adjusted for inflation to 2011 levels.
ESA paid for development of the first MetOp satellite, while Eumetsat funds launch services, ground systems, operations, and procurement of follow-on satellites through ESA.
Europe's MetOp constellation is part of a collaborative program with NOAA, the U.S. weather agency, to share data from polar-orbiting satellites. Observations from two types of polar orbits, timed to cross the equator at 9:30 a.m. and 1:30 p.m. local time, are useful in obtaining data to improve weather prediction and the understanding of climate change.
Polar-orbiting meteorological satellites fly in sun-synchronous orbits to ensure weather data are collected under the same solar conditions worldwide each day.
The MetOp fleet covers the morning orbit, while NOAA's satellites fly in the afternoon orbit.
Instruments aboard the MetOp satellites come from ESA, Eumetsat, NOAA and CNES, the French space agency.