Atlantis museum transfer a final ending to shuttle era
BY JUSTIN RAY
SPACEFLIGHT NOW
Posted: November 1, 2012


Looking to leave before sunup Friday, Atlantis will be hauled away from Kennedy Space Center's Complex 39 and leave the hub of space shuttle operations barren for the first time since 1979.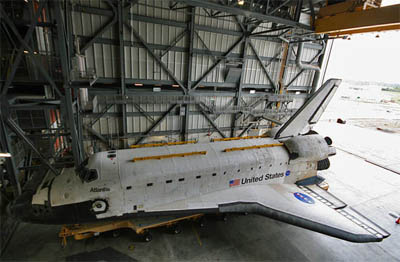 Credit: Justin Ray/Spaceflight Now



Atlantis is headed to the nearby Visitor Complex, the privately-run tourist attraction outside the gates of KSC for public display in a $100 million exhibit that opens next July.

"It's only a priceless artifact driving 9.8 miles and weighing about 154,000 pounds. Other than that, no pressure at all. Only the eyes of the country, world and everybody at NASA is watching us but we don't feel any pressure. Of course we feel pressure," quipped Tim Macy, director of project development and construction for Delaware North Companies Parks & Resorts, which operates the Kennedy Space Center Visitor Complex.

"We've been planning for this a long, long time. We've got the smartest people who work on this orbiter. It's not like it's Tim and his buddies pulling this off, we're using the expertise of NASA and USA. They've worked on the orbiter for 35 years."

Trip gets underway around 6:30 a.m. EDT as space shuttle technicians pull Atlantis out of storage in the Vehicle Assembly Building's high bay 4. The museum team then takes over responsibility to drive the 76-wheel Orbiter Transporter on the 9.8-mile trek to the Kennedy Space Center Visitor Complex.

Arrival is expected around 6 p.m. EDT as the sun sets on the final space shuttle delivery to its final resting place.

Starting with Columbia's shipment to KSC on March 24, 1979, the Kennedy Space Center has been in the business of operating and maintaining the space shuttle fleet for more than three decades. But the program's final mission was completed last summer and the subsequent 15 months have been spent decommissioning the spacecraft for transfer to museums in New York, Northern Virginia, Los Angeles and the Florida spaceport.

Although Atlantis won't be going far, she will be outside the confines of the space center and marks the formal completion of orbiter work for Complex 39. The next major round of layoffs is looming by year's end.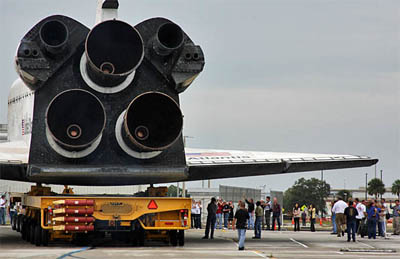 Credit: Justin Ray/Spaceflight Now



For the museum construction crews, they are awaiting Atlantis' arrival so that the final wall can be built behind the orbiter. The open hole is how the winged spaceship gets inside the facility that will include 60 exhibits and tell the full story of the space shuttle program.

"The backside of the building on what would be the northeast side is wide open and allows us drive in. It is more like a carport right now. It is like a garage without the door. As soon as we get it in, we start filling in behind it. We work simultaneously with getting Atlantis ready to be lifted in place," Macy said.

Getting Atlantis moved is the job of the motorized Orbiter Transporter System. Originally designed and built for use at Vandenberg Air Force Base in California, the transporter was brought to Kennedy Space Center in 1989 after the West Coast space shuttle launch site was mothballed.

"It moves at a breakneck speed of about 2 miles per hour, so we have to cover the 9.8 miles in that time," Macy said.

"9.8 miles is a long way for us to travel, but it is not inconceivable. There are no real changes that we have to do. We're taking down about 120 light poles, which is pretty easy to do. 23 traffic signals. We'll take the traffic signals down earlier and then put them back up just as the orbiter passes. 66 traffic signs and then one high voltage line, that Florida Power and Light is going to take down and that is at the entrance to Exploration Park. Overall we have some logistics we're handling, but actually it's really manageable."

Unlike the three-day procession by Endeavour through the city streets of Los Angeles and Inglewood to reach the California Science Center a few weeks ago, Atlantis' trek is a flat stretch of roads.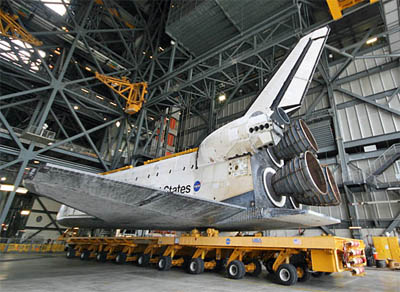 Credit: Justin Ray/Spaceflight Now



"We don't have any topographical regions going up and down. We have one small exit ramp to go up and we didn't have to clear anything. We don't have the security concerns they had driving through downtown streets," Macy said.

The transporter is 106 feet in length, weighs 167,000 pounds unloaded and about 300,000 pounds with an orbiter on top. It sports 76 wheels and has a turning radius of 66 feet.

You can envision the OTS as a yellow motorized trailer. At Vandenberg, shuttles were supposed to be prepared for flight in a hangar on the military installation's north side, then ferried aboard the OTS transporter about 17 miles across the hilly terrain to the Space Launch Complex-6 pad on South Base.

In contrast, shuttles in the program's early years at KSC were towed between the hangars and Vehicle Assembly Building with the orbiters' landing gear down.

But with Vandenberg's shuttle plans cancelled after Challenger, the transporter was brought to Florida and pressed into service. It allowed NASA to retract a shuttle's landing gear and seal the critical heat-protection tiles around the doors while still in the hangar before rolling out.

The V12 engine generates about 335 horsepower, which Macy called "the Ferrari of the OTS family."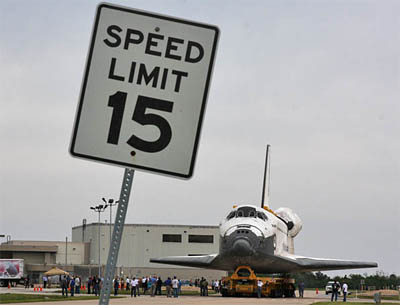 Credit: Justin Ray/Spaceflight Now



The trek will take "the scenic route" to bypass the guard shack at the western entrance to the space center, instead going south on State Road 3, then turning east to go by KSC Headquarters, south on Avenue C, back westward on 5th Street to reach Exploration Park around 11:45 a.m. Atlantis will stop there for about three hours on public display before resuming the drive along Space Commerce Way to loop around to the NASA Parkway for the homestretch to the museum. The turn onto State Road 405 is expected around 5 p.m. with over 30 astronauts from Mercury, Gemini, Apollo and shuttle programs escorting Atlantis.

Also on tap, around 9:45 a.m., the procession will stop with KSC proper for a NASA ceremony at KSC Headquarters with Administrator Charlie Bolden, KSC Director Bob Cabana, members of Atlantis' final crew and KSCVC Chief Operating Officer Bill Moore.

The day wraps up with a fireworks show at 7 p.m. EDT.

The current weather forecast looks good, and any troubles would force only a 24-hour delay.

"Once we commit at 7 a.m. in the morning, and are going south on 3, we're go for the day. So we're working closely with the 45th (Space) Wing and the same meteorologists who worked on the launches who will help us with the criteria. If it is not squally or intense rain, then we're in pretty good shape to move it," Macy said.