Raffaello cargo module returned to shuttle bay
BY WILLIAM HARWOOD
STORY WRITTEN FOR CBS NEWS "SPACE PLACE" & USED WITH PERMISSION
Posted: July 18, 2011


KENNEDY SPACE CENTER, FL--In the dwindling hours of the shuttle program's last visit to the International Space Station, the Atlantis astronauts detached the bus-size Raffaello cargo module and moved it back to the shuttle's payload bay, wrapping up NASA's final shuttle-station resupply mission. The astronauts then gathered for a brief farewell to the lab crew before moving back aboard Atlantis to rig the ship for undocking early Tuesday. Landing at the Kennedy Space Center is targeted for 5:57 a.m. EDT (GMT-4) Thursday.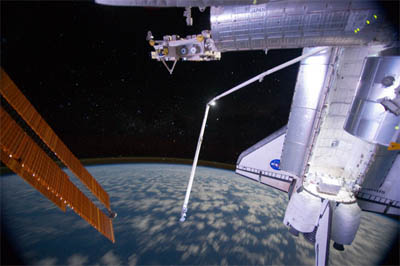 Credit: NASA



"I'd like to thank the commander of International Space Station, Andrey Borisenko, for your hospitality, you've been absolutely fantastic to us," shuttle commander Christopher Ferguson said as the two crews floated in the forward Harmony module. "You and your crew have demonstrated not only ISS hospitality, but you've demonstrated fantastic Russian hospitality. It's been wonderful to be here with you, you have a wonderful home, you're taking fantastic care of it, and you're going to keep it looking good for generations of space travelers to come."

Space station flight engineer Ronald Garan spoke for the station's six-member crew, saying "It's been an honor having you guys on board. It's great being a part of this really important and historic mission. We just want to thank you guys so much for leaving the space station in a posture for continued use for the rest of the decade. It's been really great."

Garan thanked Ferguson, pilot Douglas "Chunky" Hurley and flight engineer Rex Walheim before turning his attention to Sandra Magnus, the "loadmaster" in charge of orchestrating the transfer of five tons of equipment and supplies from Atlantis to the space station.

"And Fergie, thank you for your leadership, thank you for bringing the guys here," Garan said. "But of all your many, many accomplishments that you did on this mission, for us, from our perspective, the most important thing you did was bring Sandy here. Sandy, we cannot thank you enough for always keeping the big picture in mind. You were just absolutely amazing, we just cannot thank you enough for everything you've done for us. ... we tried to trade Mike (Fossum) for Sandy, but Fergie wouldn't take us up on the deal."

Before the departure ceremony, a shuttle model signed by senior program managers was presented to the station crew, along with a U.S. flag that flew aboard the shuttle Columbia during the first shuttle mission in 1981. Mounted on the station's forward hatch, the longtime gateway between the station and visiting shuttle crews, the flag will remain aboard the lab complex until U.S. astronauts launched aboard new commercial vehicles retrieve it later this decade.

"When we close that hatch, when these guys go by, we're closing a chapter in the history of our nation," Garan said. "But in the future, when another spacecraft docks to that hatch with crew members on board and we open that hatch, we are going to be raising the flag on a new era of exploration beyond low-Earth orbit."

Said Ferguson: "When this flag returns again someday to Earth by astronauts that came up on an American spacecraft, its journey will not end there. Its journey will continue, it will ... leave low-Earth orbit once again, perhaps to a lunar destination, perhaps to Mars. It is our honor to have brought this flag here."

A few minutes later, after a final round of hugs and handshakes, the shuttle astronauts floated back aboard Atlantis for the last time. The main hatch between the two spacecraft was closed at 10:28 a.m., officially ending seven days, 21 hours and 41 minutes of joint activity.

Atlantis delivered 9,403 pounds of equipment and supplies to the station inside the Raffaello multi-purpose logistics module and more than a ton in the orbiter's crew cabin. By the end of the day Sunday, the astronauts had re-packed the cargo carrier with 5,666 pounds of trash, packing material and no-longer-needed equipment. Experiment samples and a few other last-minute items were moved into the shuttle's crew cabin early Monday.

"One thing to note, we had a new item added to the transfer list today, that was item 9,006 and that was (loadmaster) Sandy Magnus, to make sure she gets on the right side of the hatch when the mission is complete," space station Flight Director Courtenay McMillan joked. "But it turns out 9,006 is the total number of line items that have been tracked in (space station resupply) transfer lists over the course of the shuttle program, to the space station. So it's quite a lot.

"You imagine all the work that goes into each line item and doing that 9,006 times over the course of the program, that's huge. It's going to be a very odd morning to wake up and think we're not doing that part of the program again. All along the way there's going to be little moments like that where we realize, oh, we're not going another docking like this. We'll be doing other dockings, there are other vehicles coming, but it's never going to be quite the same. It's a strange feeling."

Along with overseeing the transfer work in her role as loadmaster, Magnus took time out to cheer for the U.S. women's soccer team, which lost to Japan Sunday in the Women's World Cup final. Shortly after wakeup, she congratulated Japanese astronaut Satoshi Furukawa, a space station flight engineer.

"I just wanted to say, there was a lot of trash talk yesterday going on, and I don't mean debating the nuances between payload trash and common trash," Garan said in a morning tagup with mission control. "But I have to say, first thing this morning Sandy came over and congratulated Satoshi. She was a really good sport."

"Yeah, we knew she was a good sport, and I'm happy to hear we have international harmony on the station," astronaut Dan Tani replied from Houston.

"Only in node two," Garan joked. Node two's official name is Harmony.

With the station's robot arm locked onto Raffaello, commands were sent at 6:14 a.m. to begin driving the 16 motorized bolts holding the module in place on the station's forward Harmony compartment. Magnus and Hurley, operating the robot arm from a work station in the Tranquility module's multi-window cupola, pulled the cargo module away at 6:48 a.m. and carefully moved it to its mounting point in the back of Atlantis' cargo bay. The move was complete by around 7:48 a.m.

It was the 10th and final transfer of a multi-purpose logistics module in a decade of shuttle resupply missions.

"I think it's fair to say we experience vacillations between intense pride at how well this mission has gone and sometimes being somewhat freaked out, for lack of a more technical term," said shuttle Flight Director Kwatsi Alibaruho, "The finality of our service in this mission, the finality of the program, it hits you with greater force the closer you get to the end.

"My team has been absolutely fantastic, I couldn't be more proud of them. And in the midst of these emotions, from time to time I have that thought, oh wow, tomorrow's going to be my last shift as a space shuttle flight director. I get kind of freaked out and have this sinking feeling in my stomach that lasts about five or 10 seconds, then I go back to doing an impersonation of a steely-eyed missile man. So that's kind of what it's been like for me."


Additional coverage for subscribers:


VIDEO: MODULE RETURNED TO SHUTTLE BAY PLAY


VIDEO: RAFFAELLO DETACHED FROM STATION PLAY


VIDEO: ROBOT ARM GRAPPLES CARGO MODULE PLAY


VIDEO: MONDAY MORNING FLIGHT DIRECTOR UPDATE PLAY



VIDEO: FLIGHT DAY 10 HIGHLIGHTS REEL PLAY


VIDEO: SUNDAY'S MISSION STATUS BRIEFING PLAY


VIDEO: SUNDAY MORNING FLIGHT DIRECTOR UPDATE PLAY



VIDEO: FLIGHT DAY 9 HIGHLIGHTS REEL PLAY


VIDEO: SATURDAY MORNING FLIGHT DIRECTOR UPDATE PLAY



VIDEO: FLIGHT DAY 8 HIGHLIGHTS REEL PLAY


VIDEO: PRESIDENT OBAMA CALLS THE ASTRONAUTS IN SPACE PLAY


VIDEO: SHUTTLE AND STATION CREW NEWS CONFERENCE PLAY


VIDEO: FRIDAY'S MISSION STATUS BRIEFING PLAY


VIDEO: PHILLY TV AND RADIO AND REUTERS INTERVIEWS PLAY


VIDEO: CBS NEWS RADIO, PHILLY TV AND THE AP INTERVIEWS PLAY


VIDEO: FRIDAY MORNING FLIGHT DIRECTOR UPDATE PLAY



VIDEO: FLIGHT DAY 7 HIGHLIGHTS REEL PLAY


VIDEO: CHICAGO, OAKLAND AND PHILLY TV INTERVIEWS PLAY


VIDEO: FOX NEWS RADIO AND ST. LOUIS TV INTERVIEWS PLAY


VIDEO: THURSDAY MORNING FLIGHT DIRECTOR UPDATE PLAY



VIDEO: FLIGHT DAY 6 HIGHLIGHTS REEL PLAY


VIDEO: WEDNESDAY'S MISSION STATUS BRIEFING PLAY


VIDEO: WEDNESDAY MORNING FLIGHT DIRECTOR UPDATE PLAY



VIDEO: FLIGHT DAY 5 HIGHLIGHTS REEL PLAY


VIDEO: TUESDAY'S MISSION STATUS BRIEFING PLAY


VIDEO: FINAL SHUTTLE-ERA SPACEWALK CONCLUDES PLAY


VIDEO: PROTECTIVE COVER PUT ON VACANT DOCKING PORT PLAY


VIDEO: FIXING SNAGGED WIRE ON ZARYA GRAPPLE FIXTURE PLAY


VIDEO: SPACEWALKER GOES SIGHT-SEEING HIGH ABOVE EARTH PLAY


VIDEO: SATELLITE SERVICING DEMONSTRATOR GIVEN TO DEXTRE PLAY


VIDEO: ROBOTIC REFUELING MISSION MOVED TO THE STATION PLAY


VIDEO: SPACEWALKERS SWAP POSITIONS ABOARD ROBOT ARM PLAY


VIDEO: PUMP STOWED IN ATLANTIS BAY FOR RETURN TO EARTH PLAY


VIDEO: STUNNING VIEWS OF ASTRONAUT RIDING ROBOT ARM PLAY


VIDEO: FAILED PUMP FREED FROM STORAGE BOX PLAY


VIDEO: SPACEWALK NO. 1 GETS UNDERWAY PLAY


VIDEO: STEP-BY-STEP PREVIEW OF SPACEWALK PLAY


VIDEO: TUESDAY MORNING FLIGHT DIRECTOR UPDATE PLAY



VIDEO: FLIGHT DAY 4 HIGHLIGHTS REEL PLAY


VIDEO: MONDAY'S MISSION MANAGEMENT TEAM UPDATE PLAY


VIDEO: MONDAY'S MISSION STATUS BRIEFING PLAY


VIDEO: RAFFAELLO MODULE CONNECTED TO STATION PLAY


VIDEO: CARGO-DELIVERY MODULE UNBERTHED FROM ATLANTIS PLAY


VIDEO: ROBOT ARM GRAPPLES MODULE IN SHUTTLE BAY PLAY


VIDEO: MONDAY MORNING FLIGHT DIRECTOR UPDATE PLAY



VIDEO: FLIGHT DAY 3 HIGHLIGHTS REEL PLAY


VIDEO: SUNDAY'S MISSION MANAGEMENT TEAM UPDATE PLAY


VIDEO: SUNDAY'S MISSION STATUS BRIEFING PLAY


VIDEO: ATLANTIS CREW WELCOMED ABOARD STATION PLAY


VIDEO: DOCKING OF SHUTTLE TO STATION AS SEEN LIVE PLAY


VIDEO: SHUTTLE ARCS OUT IN FRONT OF SPACE STATION PLAY


VIDEO: ATLANTIS PERFORMS THE 360-DEGREE BACKFLIP PLAY



VIDEO: FLIGHT DAY 2 HIGHLIGHTS REEL PLAY


VIDEO: SATURDAY'S MISSION MANAGEMENT TEAM UPDATE PLAY


VIDEO: SATURDAY'S MISSION STATUS BRIEFING PLAY




VIDEO: FLIGHT DAY 1 HIGHLIGHTS REEL PLAY


VIDEO: THE FULL STS-135 LAUNCH EXPERIENCE PLAY


VIDEO: SHUTTLE ATLANTIS BLASTS OFF! PLAY | HI-DEF


VIDEO: GO INSIDE MISSION CONTROL DURING LAUNCH PLAY | HI-DEF


VIDEO: THE POST-LAUNCH NEWS CONFERENCE PLAY



VIDEO: LAUNCH REPLAY: VAB ROOF PLAY | HI-DEF


VIDEO: LAUNCH REPLAY: PRESS SITE PLAY | HI-DEF


VIDEO: LAUNCH REPLAY: PAD PERIMETER PLAY | HI-DEF


VIDEO: LAUNCH REPLAY: BEACH TRACKER PLAY | HI-DEF


VIDEO: LAUNCH REPLAY: PAD FRONT CAMERA PLAY | HI-DEF


VIDEO: LAUNCH REPLAY: PAD CAMERA 070 PLAY | HI-DEF


VIDEO: LAUNCH REPLAY: PAD CAMERA 071 PLAY | HI-DEF


VIDEO: LAUNCH REPLAY: UCS-23 TRACKER PLAY | HI-DEF


VIDEO: LAUNCH REPLAY: WEST TOWER PLAY | HI-DEF



VIDEO: COUNTDOWN PREVIEW AND WEATHER FORECAST BRIEFING PLAY


VIDEO: ASTRONAUTS ARRIVE AT LAUNCH SITE PLAY


VIDEO: PRE-FLIGHT INTERVIEW WITH CHRIS FERGUSON PLAY


VIDEO: PRE-FLIGHT INTERVIEW WITH DOUG HURLEY PLAY


VIDEO: PRE-FLIGHT INTERVIEW WITH SANDY MAGNUS PLAY


VIDEO: PRE-FLIGHT INTERVIEW WITH REX WALHEIM PLAY



VIDEO: SHUTTLE AND STATION PROGRAM BRIEFING PLAY


VIDEO: THE STS-135 MISSION OVERVIEW PRESENTATIONS PLAY


VIDEO: PREVIEW BRIEFING ON MISSION'S SPACEWALK PLAY


VIDEO: THE ASTRONAUTS' PRE-FLIGHT NEWS BRIEFING PLAY



VIDEO: CREW CHATS WITH PRESS AT LAUNCH PAD PLAY


VIDEO: ASTRONAUTS ARRIVE FOR PRACTICE COUNT PLAY | HI-DEF



VIDEO: HEAR FROM ATLANTIS' CREW DURING ROLLOUT PLAY


VIDEO: ATLANTIS ARRIVES ATOP LAUNCH PAD PLAY | HI-DEF


VIDEO: CROWDS WITNESS FINAL SHUTTLE ROLLOUT PLAY | HI-DEF


VIDEO: ROLLOUT FROM VEHICLE ASSEMBLY BUILDING PLAY | HI-DEF



VIDEO: HOISTING ATLANTIS TO TANK AND SRBS PLAY | HI-DEF


VIDEO: ORBITER GOES VERTICAL PLAY | HI-DEF


VIDEO: SLING CAPTURES ATLANTIS PLAY | HI-DEF


VIDEO: ATLANTIS LEAVES PROCESSING HANGAR PLAY | HI-DEF


VIDEO: ORBITER TRANSPORTER PICKS UP ATLANTIS PLAY | HI-DEF



SUBSCRIBE NOW