Space station resupply pod hoisted from Atlantis' bay
BY WILLIAM HARWOOD
STORY WRITTEN FOR CBS NEWS "SPACE PLACE" & USED WITH PERMISSION
Posted: July 11, 2011;
Shuttle mission extended one day; heat shield in good shape


Using the International Space Station's robot arm, the Atlantis astronauts pulled a bus-size cargo module from the shuttle's payload bay early Monday and attached it to the lab's forward Harmony module to clear the way for a busy week of logistics transfers. The Italian-built Raffaello module is loaded with 9,403 pounds of supplies and equipment, including 2,677 pounds of food, that will help keep the station crew supplied through 2012.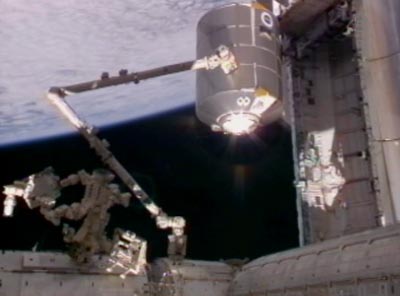 Raffaello is lifted from Atlantis' bay. Credit: NASA TV



Because Atlantis launched on time last Friday with a full load of onboard hydrogen and oxygen for its electricity-generating fuel cells, NASA's mission management team Monday approved a one-day mission extension to give the combined shuttle-station crew an extra docked day to fully unload Raffaello and to re-pack it with trash and no-longer-needed equipment for return to Earth aboard the shuttle.

"Guys, I wanted to let you know that the MMT has voted and you're now officially a 13-day mission," astronaut Megan McArthur radioed from mission control in Houston. "They have added the extra day to your flight."

"Great news, Megan. From Atlantis, thanks," commander Christopher Ferguson replied from the shuttle-station complex. "I'm sure we will fill it up in a very useful fashion for the station folks."

"And that's great news from the station side as well," added station flight engineer Ronald Garan. "These guys have been outstanding house guests. We'd like them to stay as long as they want."

The revised flight plan calls for Atlantis to undock from the space station at 12:56 a.m. EDT (GMT-4) Tuesday, July 19, setting up a pre-dawn landing back at the Kennedy Space Center at 5:56 a.m. on July 21, 41 minutes before sunrise. A second landing opportunity will be available on orbit later at 7:32 a.m.

Thanks in part to power conservation measures, Atlantis currently has six hours of margin above the additional day approved Monday and not counting two days always held in reserve in case of weather-related landing delays.

"That margin is expected to continue to grow, somewhere on the order of one to two hours a day for the remainder of the docked period," said LeRoy Cain, chairman of the mission management team. "So, we went around the room and talked to each one of the projects and the elements and reviewed the plus-one day recommendation and everyone was 'go' to add a day. This is exactly the right thing to do on this mission, there's a lot of good work we can help the space station program with."

NASA's Damage Assessment Team, meanwhile, is wrapping up its post-launch analysis of Atlantis' heat shield. So far, only one tile ding has been found, Cain said, along with four areas of minor damage to insulating blankets. While the analysis is not yet complete, Atlantis appears to be chalking up the most trouble-free performance of any post-Columbia shuttle mission.

"At this point there are no areas of concern ... but per the standard process, the DAT is finishing up with the data review and will report out to the MMT tomorrow," the mission management team said in an afternoon update to the crew. "For completeness, there are a few frayed blankets and minor damage to a tile outboard of the (starboard external tank feedline) door that pose no liberation or entry heating concerns. ... Overall, the TPS (thermal protection system) looks excellent this mission and is a testament to the team's diligence to assure this level of success!"

As such, the astronauts were told they will not need to carry out a time-consuming re-examination -- a so-called "focused" inspection -- of any areas of interest on the heat shield.

"That's awesome news," Ferguson radioed mission control. "Thanks so much."

Along with attaching Raffaello to the space station, the astronauts and flight controllers successfully restarted one of Atlantis' four general purpose computers that was inadvertently shut down during rendezvous with the station Sunday. As it turned out, the shutdown was caused by a temperamental switch and the crew successfully rebooted GPC-3 early Monday.

Earlier in the day, flight controllers tracking a piece of debris from an old Soviet satellite breakup conclude there was no threat to the shuttle-station complex. Initial tracking passes indicated the debris might pass relatively close to the station Tuesday, but follow-on observations show it will not come closer than about 11 miles, well outside the station safety zone.

"We got a couple of more opportunities to get some data on this shift and decided the probabilities are trending really low," said overnight Flight Director Courtenay McMillan. "So we are not currently planning to do any debris avoidance maneuver. It looks pretty good, this is something we see a lot on the station side. We followed our normal process and we're going to continue to track it. But right now, it's looking really good."

Pilot Douglas Hurley and Sandra Magnus, operating the space station's robot arm, began Raffaello's unberthing from Atlantis' payload bay around 5:47 a.m. The multi-purpose logistics module, or MPLM, was carefully maneuvered to the Earth-facing port of the station's forward Harmony module and locked in place with 16 motor-driven bolts in the port's common berthing mechanism.

The attachment was completed at 6:45 a.m. Five-and-a-half hours later, at 12:10 p.m., Raffaello's main hatch was opened and the astronauts, running more than an hour and a half ahead of schedule, floated inside.

Atlantis' mission was added to NASA's shuttle manifest to deliver enough supplies, spare parts and other gear, in concert with Russian, European and Japanese cargo ships, to support the station's six-person crew through 2012 even if new commercial cargo carriers designed to take over resupply duties from the shuttle run into problems.

Raffaello is packed with "one year's worth of food, we're taking about 2,000 pounds of science equipment, we're taking hygiene items, we're taking clothing, we're taking thousands of pounds of spare parts for the different systems, life support system, the electrical system, the computer system and so forth," Magnus said in a NASA interview. "We're trying to supply the station for a whole year, and that hedges our bets against when the commercial follow-on cargo contracts will be available up and running."

It will take the combined shuttle-station crew a full week to unload Raffaello and to reload it with 5,660 pounds of trash, packing material and other no-longer-needed equipment that will be returned to Earth aboard Atlantis.

"Basically, all the crew members at some point are going to be helping us do the transfer and pack of the MPLM during the next couple of days," said Flight Director Jerry Jason. "It is pretty much an all hands on deck (process), we have about 10,000 pounds of cargo we need to move out of the MPLM and then we have to move all the items we are returning back (to Earth) into the MPLM. So it's going to be a very busy time period. That's what this mission's for, it's a utilization and logistics mission, and we want to make sure we get all that cargo out of there."

Later today, the astronauts reviewed plans for a spacewalk Tuesday by Garan and station flight engineer Michael Fossum. The primary goals of the excursion, the only EVA planned during Atlantis' visit, are to move a failed ammonia coolant pump to the shuttle for return to Earth and to install an experimental robotic refueling experiment on the station. The six-and-a-half-hour spacewalk is scheduled to begin at 8:44 a.m. Tuesday.

"The most important (objective) is getting the pump module back into the payload bay to return it home so we can do (an) evaluation of why the pump module failed," Jason said. "Back last year in July, we had the pump module fail, that took down half the external cooling on the station. So we pulled that out, we've been keeping it stored on the outside of the station. We're going to put it back in the payload bay and return it. Getting that back and understanding what the cause of that failure is will help us in the long run."


Additional coverage for subscribers:


VIDEO: MONDAY'S MISSION MANAGEMENT TEAM UPDATE PLAY


VIDEO: MONDAY'S MISSION STATUS BRIEFING PLAY


VIDEO: RAFFAELLO MODULE CONNECTED TO STATION PLAY


VIDEO: CARGO-DELIVERY MODULE UNBERTHED FROM ATLANTIS PLAY


VIDEO: ROBOT ARM GRAPPLES MODULE IN SHUTTLE BAY PLAY


VIDEO: MONDAY MORNING FLIGHT DIRECTOR UPDATE PLAY



VIDEO: FLIGHT DAY 3 HIGHLIGHTS REEL PLAY


VIDEO: SUNDAY'S MISSION MANAGEMENT TEAM UPDATE PLAY


VIDEO: SUNDAY'S MISSION STATUS BRIEFING PLAY


VIDEO: ATLANTIS CREW WELCOMED ABOARD STATION PLAY


VIDEO: DOCKING OF SHUTTLE TO STATION AS SEEN LIVE PLAY


VIDEO: SHUTTLE ARCS OUT IN FRONT OF SPACE STATION PLAY


VIDEO: ATLANTIS PERFORMS THE 360-DEGREE BACKFLIP PLAY



VIDEO: FLIGHT DAY 2 HIGHLIGHTS REEL PLAY


VIDEO: SATURDAY'S MISSION MANAGEMENT TEAM UPDATE PLAY


VIDEO: SATURDAY'S MISSION STATUS BRIEFING PLAY




VIDEO: FLIGHT DAY 1 HIGHLIGHTS REEL PLAY


VIDEO: THE FULL STS-135 LAUNCH EXPERIENCE PLAY


VIDEO: SHUTTLE ATLANTIS BLASTS OFF! PLAY | HI-DEF


VIDEO: GO INSIDE MISSION CONTROL DURING LAUNCH PLAY | HI-DEF


VIDEO: THE POST-LAUNCH NEWS CONFERENCE PLAY



VIDEO: LAUNCH REPLAY: VAB ROOF PLAY | HI-DEF


VIDEO: LAUNCH REPLAY: PRESS SITE PLAY | HI-DEF


VIDEO: LAUNCH REPLAY: PAD PERIMETER PLAY | HI-DEF


VIDEO: LAUNCH REPLAY: BEACH TRACKER PLAY | HI-DEF


VIDEO: LAUNCH REPLAY: PAD FRONT CAMERA PLAY | HI-DEF


VIDEO: LAUNCH REPLAY: PAD CAMERA 070 PLAY | HI-DEF


VIDEO: LAUNCH REPLAY: PAD CAMERA 071 PLAY | HI-DEF


VIDEO: LAUNCH REPLAY: UCS-23 TRACKER PLAY | HI-DEF


VIDEO: LAUNCH REPLAY: WEST TOWER PLAY | HI-DEF



VIDEO: COUNTDOWN PREVIEW AND WEATHER FORECAST BRIEFING PLAY


VIDEO: ASTRONAUTS ARRIVE AT LAUNCH SITE PLAY


VIDEO: PRE-FLIGHT INTERVIEW WITH CHRIS FERGUSON PLAY


VIDEO: PRE-FLIGHT INTERVIEW WITH DOUG HURLEY PLAY


VIDEO: PRE-FLIGHT INTERVIEW WITH SANDY MAGNUS PLAY


VIDEO: PRE-FLIGHT INTERVIEW WITH REX WALHEIM PLAY



VIDEO: SHUTTLE AND STATION PROGRAM BRIEFING PLAY


VIDEO: THE STS-135 MISSION OVERVIEW PRESENTATIONS PLAY


VIDEO: PREVIEW BRIEFING ON MISSION'S SPACEWALK PLAY


VIDEO: THE ASTRONAUTS' PRE-FLIGHT NEWS BRIEFING PLAY



VIDEO: CREW CHATS WITH PRESS AT LAUNCH PAD PLAY


VIDEO: ASTRONAUTS ARRIVE FOR PRACTICE COUNT PLAY | HI-DEF



VIDEO: HEAR FROM ATLANTIS' CREW DURING ROLLOUT PLAY


VIDEO: ATLANTIS ARRIVES ATOP LAUNCH PAD PLAY | HI-DEF


VIDEO: CROWDS WITNESS FINAL SHUTTLE ROLLOUT PLAY | HI-DEF


VIDEO: ROLLOUT FROM VEHICLE ASSEMBLY BUILDING PLAY | HI-DEF



VIDEO: HOISTING ATLANTIS TO TANK AND SRBS PLAY | HI-DEF


VIDEO: ORBITER GOES VERTICAL PLAY | HI-DEF


VIDEO: SLING CAPTURES ATLANTIS PLAY | HI-DEF


VIDEO: ATLANTIS LEAVES PROCESSING HANGAR PLAY | HI-DEF


VIDEO: ORBITER TRANSPORTER PICKS UP ATLANTIS PLAY | HI-DEF



SUBSCRIBE NOW