Atlantis gracefully docks to International Space Station
BY WILLIAM HARWOOD
STORY WRITTEN FOR CBS NEWS "SPACE PLACE" & USED WITH PERMISSION
Posted: July 10, 2011


Bringing more than five tons of supplies and equipment, the shuttle Atlantis caught up with the International Space Station Sunday, pausing 600 feet below the lab complex for a spectacular, never-to-be-seen-again back-flip maneuver before pressing ahead for a flawless docking, the 37th and final shuttle-station linkup.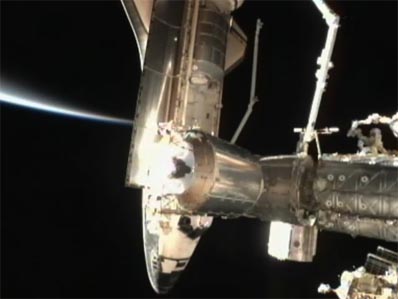 Atlantis docked to the station today. Credit: NASA



With commander Christopher Ferguson at the controls, Atlantis' docking mechanism engaged its counterpart on the station's forward port at 11:07 a.m. EDT (GMT-4) as the two spacecraft, with a combined weight of more than a million pounds, sailed 240 miles above the south Pacific Ocean at more than 5 miles per second.

"Houston, station, Atlantis, capture confirmed and we see free drift," radioed pilot Douglas Hurley, confirming a successful docking.

Following naval tradition, station flight engineer Ronald Garan rang the ship's bell, saying "Atlantis, arriving. Welcome to the International Space Station for the last time."

"It's great to be here, station, we'll see you shortly," Ferguson replied.

After extensive leak checks, hatches were opened and Ferguson, Hurley, Sandra Magnus and flight engineer Rex Walheim floated into the station's Harmony module at 12:55 p.m., welcomed aboard by Garan, Expedition 28 commander Andre Borisenko, Alexander Samokutyaev, Sergei Volkov, Michael Fossum and Satoshi Furukawa.

"A real customs officer is supposed to ask them several questions about alcohol, drugs, weapons and the purpose of the visit," Volkov joked in English a few minutes before hatch opening.

LeRoy Cain, chairman of NASA's mission management team, told reporters Sunday afternoon that engineers were optimistic Atlantis will have enough hydrogen and oxygen to power the shuttle's electricity producing fuel cells to extend the mission one day, giving the astronauts more time to transfer supplies and equipment to and from the space station.

If all goes well, the astronauts will use the space station's robot arm Monday to move a bus-size cargo module from Atlantis' cargo bay to an Earth-facing port on the Harmony segment, setting the stage for a busy week of logistics transfer work. A spacewalk is planned Tuesday by Garan and Fossum.

But Cain said flight controllers are closely tracking a piece of debris from an old Russian satellite that may pass relatively close to the shuttle-station complex around mid-day Tuesday, during the planned spacewalk.The size of the debris and its distance at closest approach was not immediately known.

"In all likelihood, it will not interfere with what we're doing on the spacewalk," Cain said. "If we do a debris avoidance maneuver to get away from the object, we would do it using the shuttle VRCS (vernier reaction control system), the (shuttle's) small little thrusters. In all likelihood, we could do that in an operation where it's not going to impact what we're trying to do ... on that day."

The debris is from a Soviet military satellite known as Cosmos 375. According to NASA's National Space Science Data Center, Cosmos 375 was launched Oct. 30, 1970. The satellite "maneuvered from its initial orbit into a more extreme eccentric orbit, made a flyby of Cosmos 373, and was exploded into many pieces."

NASA protects an imaginary box around the station measuring roughly 2,500 feet thick and 15.5 miles on a side. If continued tracking indicates a probability of collision greater than 1-in-100,000, NASA managers will begin considering evasive action. But Cain said it was too early to say what, if anything, might need to be done in this case.

Ferguson and his crewmates carried out a textbook rendezvous with the station, catching up from behind and below with a series of carefully timed rocket firings. Pausing directly below the station, Ferguson guided Atlantis through a spectacular rendezvous pitch maneuver, or RPM, just after 10 a.m., exposing the shuttle's belly to the station.

As Atlantis slowly flipped about, Volkov photographed the shuttle's heat shield with a 1,000-mm telephoto lens, capturing details as small as one inch across, while Fossum and Furukawa "shot" the spaceplane with 800-mm and 400-mm lenses respectively.

The dramatic rendezvous pitch maneuver is a standard post-Columbia procedure to help analysts make sure the shuttle's heat shield came through launch in good shape and is up to the rigors of re-entry. The RPM imagery will be combined with ascent photography and radar data, along with readings from impact sensors and the results of laser scans of Atlantis' nose cap and wing leading edge panels that were collected Saturday to provide a detailed assessment of the heat shield before Atlantis is cleared for return to Earth.

With the rendezvous pitch maneuver complete, Ferguson guided Atlantis up to a point about 350 feet directly in front of the space station with the shuttle's nose pointed toward deep space and payload bay docking module pointed toward the lab's forward port. From there, he manually piloted the shuttle to a textbook docking, wrapping up the 37th and final planned rendezvous in the shuttle program's 30-year history,.

"Everybody on the flight control team was feeling it," Flight Director Kwatsi Alibaruho told reporters later. "On the one hand, I know we all felt a great sense of excitement and a great sense of anticipation as we came to participate in this highly complex, highly technical and very precise series of operations. But at the same time, I think it did start to weigh on the team, that it was going to be the last one.

"My team is filled with consummate professionals, some of the best I've ever worked with. There was certainly no emotional impediment to good performance today. But I think it's fair to say the finality of our executing this particular series of operations was felt."

Space station assembly began in 1998. Over the course of 74 Russian flights, 37 shuttle missions and 159 spacewalks, an international team of astronauts and engineers built an orbiting laboratory with a mass of 919,776 pounds and a pressurized volume of 32,333 cubic feet, roughly the same as a 747 jumbo jet.

"So here we are 13 years later, the space station is now over 900,000 pounds, it's bigger than a football field from end to end, it's home to a multi-national crew of six doing cutting edge research in biology and medical science, astronomy, physics, fluid and materials science," said station Flight Director Chris Edelen.

"Space station largely has been lifted into orbit by the space shuttle," he said. "It's been assembled by spacewalking crews from the space shuttle and its been resupplied by the space shuttle over the years. The space station literally would not have been possible without the contribution of the space shuttle."

But keeping the station supplied after the shuttle fleet is retired will be a major challenge for NASA and its international partners. Two companies, SpaceX and Orbital Sciences, are building unmanned cargo ships to take over U.S. logistics deliveries after a series of test flights late this year and early in 2012.

Atlantis' mission was added to the shuttle manifest earlier this year to deliver a final load of supplies and equipment as a hedge against problems that might delay the commercial cargo ships. The supplies and equipment delivered by Atlantis, along with provisions delivered by unmanned European, Japanese and Russian cargo ships, will support normal station operations through 2012.

"The main purpose of STS-135 is logistics, bringing up supplies to provision the space station through 2012," Edelen said. "That's a key date because our commercial cargo providers are going to be coming on line in early 2012 and by providing the supplies we need to get through all of next year that will provide a little bit of breathing room as those companies enter the challenging flight test phase."

After a brief post-docking safety briefing, the combined crews planned to get to work transferring equipment from the shuttle to the station and using the lab's robot arm to pull Atlantis' heat shield inspection boom out of the cargo bay so it can be handed off to the shuttle's arm. The boom is being moved to provide extra clearance when Atlantis' main payload, an Italian-built cargo module, is pulled from the bay Monday and attached to the forward Harmony module's Earth-facing port for unloading.

Atlantis has chalked up a near-flawless performance during its 33rd and final mission. But around 6 a.m., one of the shuttle's four general purpose computers -- GPC-3 -- was inadvertently shut down during a "wakeup" procedure, and flight controllers told the crew to press ahead without it. As it turns out, GPC-3 experienced a similar shutdown during a 2008 flight.

"It turns out we have seen something like this fairly recently on (shuttle mission) STS-122," astronaut Steve Robinson radioed from mission control. "I don't know what you want to make of the common factors, but it was the same orbiter, the same GPC and the same MS-2." He was referring to Walheim, mission specialist No. 2.

"Yeah, Rex was telling me the story," Ferguson replied.

Alibaruho blamed the shutdown on a temperamental switch that disengaged for an instant, fooling the other computers in the set to declaring GPC-3 failed.

"As we're powering up those computers to prepare for the rendezvous and dock, we physically flip a switch in the cockpit that takes the computers that were asleep into an active state," he said. "The switches on those computers have detents that can be a little bit temperamental from time to time. If you don't decisively and carefully move the switch from one position to the other, there can be a slight rebounding effect that makes the contacts in the switch come off the detent ever so slightly.

"That happened with our computer number three. The switch came off the detent for a split second, just long enough for the other two computers that were up to see a change in its state and vote that computer to a failed state. We don't think there's anything physically wrong with the computer."

Flight controllers plan to restart the computer Monday.


Additional coverage for subscribers:


VIDEO: SUNDAY'S MISSION MANAGEMENT TEAM UPDATE PLAY


VIDEO: SUNDAY'S MISSION STATUS BRIEFING PLAY


VIDEO: ATLANTIS CREW WELCOMED ABOARD STATION PLAY


VIDEO: DOCKING OF SHUTTLE TO STATION AS SEEN LIVE PLAY


VIDEO: SHUTTLE ARCS OUT IN FRONT OF SPACE STATION PLAY


VIDEO: ATLANTIS PERFORMS THE 360-DEGREE BACKFLIP PLAY



VIDEO: SATURDAY'S MISSION MANAGEMENT TEAM UPDATE PLAY


VIDEO: SATURDAY'S MISSION STATUS BRIEFING PLAY



VIDEO: COUNTDOWN PREVIEW AND WEATHER FORECAST BRIEFING PLAY


VIDEO: ASTRONAUTS ARRIVE AT LAUNCH SITE PLAY


VIDEO: PRE-FLIGHT INTERVIEW WITH CHRIS FERGUSON PLAY


VIDEO: PRE-FLIGHT INTERVIEW WITH DOUG HURLEY PLAY


VIDEO: PRE-FLIGHT INTERVIEW WITH SANDY MAGNUS PLAY


VIDEO: PRE-FLIGHT INTERVIEW WITH REX WALHEIM PLAY



VIDEO: SHUTTLE AND STATION PROGRAM BRIEFING PLAY


VIDEO: THE STS-135 MISSION OVERVIEW PRESENTATIONS PLAY


VIDEO: PREVIEW BRIEFING ON MISSION'S SPACEWALK PLAY


VIDEO: THE ASTRONAUTS' PRE-FLIGHT NEWS BRIEFING PLAY



SUBSCRIBE NOW