The final shuttle re-entry
BY WILLIAM HARWOOD
STORY WRITTEN FOR CBS NEWS "SPACE PLACE" & USED WITH PERMISSION
Posted: July 6, 2011


Flying upside down and backward over the Indian Ocean, Ferguson and Hurley will fire Atlantis' twin orbital maneuvering system braking rockets around 6:02 a.m. on July 20, dropping the far side of the ship's orbit into the atmosphere to set up a final landing back at the Kennedy Space Center.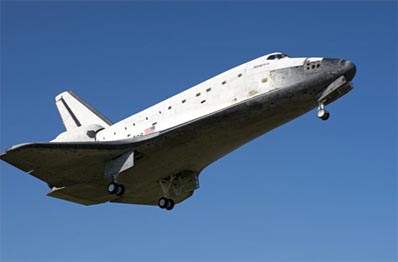 Credit: NASA



As the spaceplane drops to subsonic velocities and Ferguson takes over manual control 50,000 feet above the Florida spaceport, the shuttle's signature double sonic boom will rumble across the Space Coast for the last time. A few moments later, following a steep 18-to-21-degree glide slope, Hurley will deploy Atlantis' landing gear and Ferguson will guide the ship to a high-speed touchdown on NASA's 3-mile-long shuttle runway.

Hundreds of engineers, technicians, astronauts and NASA managers will be standing by to welcome Atlantis and its crew home and to "share the moment" as the shuttle program comes to an end after three decades.

"The landing task, you are hyper focused on getting Atlantis back safely," Hurley said. "But I'm really looking forward, after they pry all four of us out of the orbiter, to just get down and share that moment with the folks who have literally been here since the first orbiter showed up, to be on the runway with them ... and just kind of share those memories."

Added Magnus: "It's going to be very sad. I told Fergie, I'm probably going to be crying when we land just because it's just so sad!"

"The shuttle's given so much to the country," she said. "When you look at the different kinds of missions it can do, it built the space station, it's done science missions that ranged from taking the Spacelab up to the big radar missions we've done, it's done astronomy, it's done biological science, materials science and then it's done satellite deploy, repair and retrieve. It's an incredible legacy this vehicle has given us. And while we do have to retire it, it's still going to be very sad to see it go."

NASA already is in the process of "safing" the shuttles Discovery and Endeavour, which completed their final flights March 9 and June 1 respectively. Atlantis will soon join them for decommissioning and preparation for eventual museum duty.

Discovery, NASA's oldest orbiter, will be displayed near Washington at the Smithsonian National Air and Space Museum's Steven F. Udvar-Hazy Center. Atlantis will remain at the Kennedy Space Center visitor's complex, while the Endeavour will be displayed at the California Science Center in Los Angeles.

Shannon said the shuttle program will come to an official end one month after Atlantis touches down. But it will take more than two years to tie up loose ends and disposition shuttle hardware.

"Will we be a hundred percent done with everything associated with the shuttle in two years? No, that would be not reasonable to expect," he said. "I think all of the big things will be done and then the smaller activities will just be handed over to individual centers where those resources are located for them to disposition. We'll concentrate over the next two years on things that are outside of the fences of the centers at contractor sites, making sure they're all squared away and we've dispositioned all the resources.

"So we're projecting probably about two years. (But) the shuttle program will end 30 days after wheels stopped on Atlantis. That will be the official end of the shuttle program."