Dismantling remaining shuttle team looms
BY WILLIAM HARWOOD
STORY WRITTEN FOR CBS NEWS "SPACE PLACE" & USED WITH PERMISSION
Posted: July 6, 2011


As NASA's fortunes have waxed and waned, buffeted by political upheaval, an economic crisis and uncertain public support, the one constant has been the shuttle's looming retirement and the slow but steady elimination of the program's highly skilled workforce.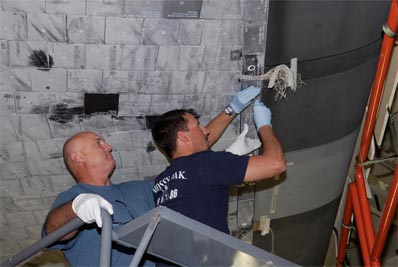 Technicians works on the shuttle's heat shield between flights. Credit: NASA



In 2006, about 14,000 contractors and 1,800 civil servants worked on the shuttle program, most of them in Florida, Texas and Alabama. Going into the Atlantis launch campaign, the contractor workforce had been reduced to 5,615. Half of the remaining employees will be laid off after landing.

"Right now, we're down to those required just for sustaining engineering and operation of the last flight, so it's about 5,500 contractor employees spread across Texas, Utah, Louisiana, Alabama, Florida," said shuttle Program Manager John Shannon. "And a little bit under 1,200 civil servants, so we're at about 6,700 total people working in the shuttle program.

"The big layoff is really right after the shuttle landing and then we will keep some people in Florida for down-mission processing. So on July 22, if we launch on July 8, there will be a significant loss, about 3,200 contractors. There are other layoffs in August for all of our prime contractors and the subs, so they will go into the transition-retirement, which is just the configuration of the vehicles and the dispositioning of hardware. That's under 1,000 people total. That's where we are right now and where we should be in a month and a half."

The reality of widespread layoffs has fueled a widely-held feeling of abandonment, if not betrayal, by the national's leadership among the dwindling shuttle work force. Launch Director Mike Leinbach summed up the feelings of many in comments to his team after a recent launch simulation.

"What I'm about to say would not be appropriate on launch day and this is our last chance to talk together," he said in a recording obtained by CBS News. "You know, the end of the shuttle program is a tough thing to swallow and we're all victims of poor policy out of Washington DC, both at the NASA level and the executive branch of the government. It affects all of us, it affects most of you severely. I'm embarrassed we don't have better guidance out of Washington DC.

"Throughout the history of the manned spaceflight program, we've always had another program to transition into -- from Mercury to Gemini to Apollo, Apollo Soyuz Test Program to Skylab, and then to shuttle -- we always had something to transition into. And we had that (with Constellation) and it got canceled and now we don't have anything, and I'm embarrassed that we don't.

"As a senior NASA manager I would like to apologize to you all that we don't have that. So. There you are. I love you all, I wish you all the best, we will press on through this flow and this launch in the way we always do, we're going to play this game to the final out and then we'll be done. I just wish you all the best. Godspeed to you all."

Bolden, not surprisingly, disagrees.

"When I hear people say -- or listen to media reports -- that the final shuttle flight marks the end of U.S. human spaceflight, I have to say these folks must be living on another planet," he said in a speech at the National Press Club. "We are not ending human spaceflight, we are recommitting ourselves to it and taking the necessary and difficult steps today to ensure America's pre-eminence in human spaceflight for years to come.

"I spent 14 years at NASA before leaving and then returning to head the agency. Some of the people I respect most in the world are my fellow astronauts. Some of my best friends died flying on the shuttle. I'm not about to let human spaceflight go away on my watch. And I'm not going to let it flounder because we pursued a path that we couldn't sustain."

He said NASA must "get out of the business of owning and operating low Earth orbit transportation systems and hand that off to the private sector." He said NASA will build a new heavy-lift rocket and eventually launch astronauts on voyages to the moon, near-Earth asteroids and, eventually, Mars.

"The debate is not if we will explore, but how we'll do it," he said. "The International Space Station is the centerpiece of our human spaceflight for the coming decade. Every research investigation and all of the systems that keep the ISS operational help us figure out how to explore farther from our planet and improve life here."

But under the current program, it's not yet clear when those missions might get underway or where they will go.

"There's an old saying, the difference between a dream and a goal is a schedule," Griffin said. "Mars will always be a dream, and a human outpost on the moon will always be a dream, anything beyond the space station will always be a dream unless we have a schedule. We have to adjust our schedules in response to the funding Congress actually appropriates. But to adjust a schedule is an entirely different thing from not having one at all."

Regardless of how NASA's long-range plans pan out, the shuttle's retirement heralds gut-wrenching near-term changes for thousands of men and women who have devoted their careers to the servicing and maintaining the most complex and powerful flying machines ever built.

"It's not just the folks at KSC we're losing," Ferguson told CBS News. "We're losing a lot of our close personal friends who have been involved in the shuttle program for decades here at the Johnson Space Center, a lot of good friends who even work in our office, we're going to be saying goodbye to a couple of weeks after wheels stop.

"Does it concern us that our vehicle's being processed by a lot of people who essentially have pink slips in their hands? You know, early on, I'd say there is a certain element there, you know, you want to make sure everybody is focused until the very last moment. But ... we've worked hand in hand with these folks, we've talked to them and I have never been more assured than I am right now that these folks are going to be focused and positively engaged until the very end."

As the Atlantis launch campaign has proceeded, space workers have marked a steady stream of "lasts" -- the last shuttle rollout to the launch pad, the last practice countdown, the last payload transfer -- as the final launch approaches.

On July 1, Ferguson, his crewmates strapped into a shuttle simulator at the Johnson Space Center for the program's final ascent training runs, working through make believe aborts and hardware failures. When the training session was over, simulation supervisor Lisa Martignetti thanked the crew, ascent flight director Richard Jones and the shuttle flight control team for a job well done.

Choking back tears, she added that her team had "over 200 years of training experience. Due to circumstances beyond our control, all of that experience may be walking out the door. Every one of us has gotten notice that we're being laid off in about six weeks. And the folks supporting the sim are really just a small subset of all the instructors being let go.

"The point of me telling you this is that given the circumstances, I really wanted to take an opportunity to tell everybody publicly just how proud I am of the training personnel involved in this mission. We've all known for months that we were getting laid off. It would have been really easy to get a little lackadaisical and maybe not put forth our best effort. We would have been justified to get angry or depressed or even bitter and because of that, maybe turn in an uninspired performance.

"While we have all probably had a little bit of those emotions over the last two months, not one person on either training team -- ever -- exhibited the slightest decrease in their performance," she said. "Every single person put forth their best effort every single day. They were professional, hard working, creative, engaged and gave a hundred percent to every sim. In my 22 years as an instructor, the last 12 of which were as a team leader, I don't remember ever being prouder of a training team.

"I spent nearly half my life here training crews and flight controllers and my heart is breaking now that it is over. But I wouldn't have traded one minute of it for any other job on the planet. It's been an amazing ride, and I'm so glad I got to play my part in it."

After thanking Martignetti, Jones took a moment to state the obvious:

"Emotions are running high, folks. I understand that. And we have to take it one day at a time, one minute at a time. And there's one final thing for at least this ascent team, and that is to come in on launch day, on the eighth, and give everything that we have. I know you guys are going to be able to put that first and foremost and I will be doing the same with you. So, let's walk out of here ... and do everything like we've done before. It's been an honor working with you."