Mission preview: Shuttle finale brings uncertain future
BY WILLIAM HARWOOD
STORY WRITTEN FOR CBS NEWS "SPACE PLACE" & USED WITH PERMISSION
Posted: July 6, 2011


NASA is readying the shuttle Atlantis for launch Friday on the iconic program's 135th and final flight, bringing the curtain down on one of the nation's greatest technological triumphs after more than three decades at the apex of manned spaceflight.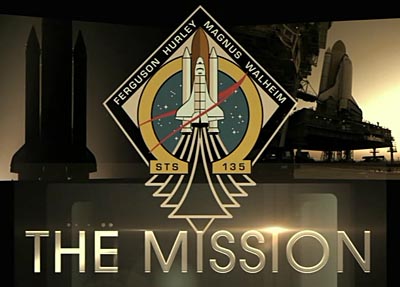 Credit: NASA



Carrying a minimal crew of four to minimize post-launch rescue complications, Atlantis is scheduled for liftoff at 11:26:46 a.m. EDT (GMT-4), roughly the moment Earth's rotation carries launch complex 39A into the plane of the International Space Station's orbit.

Strapped in on Atlantis' upper flight deck will be commander Christopher Ferguson, pilot Douglas Hurley, flight engineer Rex Walheim and space station veteran Sandra Magnus. All four are spaceflight veterans and all four clearly recognize the historic nature of their voyage.

"This is the right crew for the right time," Ferguson said last week. "We've had only nine months to train, we've had only four crew members to do it with. In that short period of time, we've managed to have a lot of fun, we've managed to laugh and we've managed to get an awful, awful lot of work done. What a great group of people. It's been my honor and pleasure to work with them, and it's going to be absolutely a joy to fly with them."

Huge crowds are expected as space aficionados, tourists and area residents turn out for a final chance to see the world's most powerful manned spaceship blast off for the last time. Brevard County officials expect between a half million and 750,000 spectators to jam area roads and beaches.

"That is the most graceful, beautiful vehicle we've had to fly in space, ever, and it's going to be a long time until you see a vehicle roll out to the pad that looks as beautiful as that," Walheim said during Atlantis' move to the launch pad May 31. "How can you beat that? An airplane on the side of a rocket. It's absolutely stunning.

"So I think we lose a little bit of grace, of beauty, and also a little bit of majesty. You can't watch that vehicle roll by without thinking what an amazing achievement America has, that America can build something like that, put people inside and sling them off this Earth into space. It's absolutely amazing."

Assuming an on-time liftoff, Ferguson will guide Atlantis to a docking at the space station's forward port at 11:09 a.m. Sunday. The next day, an Italian-built cargo module will be attached to the Earth-facing port of the forward Harmony module and the combined 10-member shuttle-station crew will begin a hectic week of work to move 8,640 pounds of equipment and supplies into the lab complex.

The supplies are critical to the space station program. Two companies, Space Exploration Technologies -- SpaceX -- and Orbital Sciences, are building unmanned cargo ships to take over from the shuttle after the fleet is retired with initial test flights expected later this year or early next.

Atlantis' mission was added to the shuttle manifest to deliver enough supplies to keep the station provisioned through 2012 as a hedge against development problems that might delay the commercial cargo ships.

"Some folks look at this flight and perhaps don't see the excitement because we don't have a piece of our assembly hardware going up," said Michael Suffredini, the space station program manager at the Johnson Space Center in Houston.

"But we've got the (cargo module) as full as we've ever had it, we've got the middeck. All of these supplies are going to be the lifeline to help us extend the period of time we can go on orbit before our commercial providers start flying regularly to ISS. That's critical to us, to give them the time they need to make sure their vehicles are ready to go fly, finish their development and get their test fights behind them and then start servicing ISS.

"From our perspective, although it doesn't look very sexy, it's one of the most important fights that we've ever had come to ISS."

With a reduced crew of four, only one spacewalk is planned during Atlantis' visit, a six-and-a-half-hour excursion by station flight engineers Ronald Garan and Michael Fossum. Their primary objectives are to move an experimental robotic refueling package from Atlantis to the station and to mount a failed ammonia coolant pump in the shuttle's cargo bay for return to Earth.

If Atlantis takes off on time Friday, NASA managers may extend the mission one day to give the crew more time to pack up the cargo module with no-longer-needed equipment and trash. But as of this writing, the astronauts plan to undock from the station around 2 a.m. on July 18. Landing back at the Kennedy Space Center is expected around 6:56 a.m. on July 20, the 42nd anniversary of Apollo 11's touchdown on the moon.