Shuttle Atlantis prepares to take flight for a final journey
BY JUSTIN RAY
SPACEFLIGHT NOW
Posted: July 5, 2011


As we prepare to say goodbye to the space shuttle, let's take a moment to reflect on the ship that will sail the final voyage this week with a look at Atlantis' history and a special photo tribute as she stands on the launch pad one last time.

Whether it was launching satellites to orbit our planet and even other worlds, breathing new life into humanity's telescope, fostering international relationships or building a laboratory in the sky, the space shuttle Atlantis has been a workhorse for mankind over the past quarter century.

And now it will be Atlantis capping the space shuttle program with the 135th and final mission, blasting off Friday at 11:26 a.m. EDT (1526 GMT) from the Kennedy Space Center's launch pad 39A.

"As a country, I think we will look back and say to our grandkids 'my gosh, I remember when we flew the space shuttle and I remember the proud moment when I felt the rumble in my chest when I watched the space shuttle launch, and I long for those days again," says Atlantis commander Chris Ferguson.

Atlantis will be taking her 33rd spaceflight, adding to the vehicle's rich history that includes 293 days, 18 hours, 29 minutes and 37 seconds spent in flight. The missions have spanned 4,648 orbits of Earth and accumulated 120,650,907 miles.

Construction of the spaceplane began in March 1980. She emerged from the Rockwell assembly plant in Palmdale, California, as America's fourth flight-worthy shuttle on April 6, 1985 and was towed over land to Edwards Air Force Base on April 9 for mounting atop the 747 carrier jet. The cross-country piggyback ride flew to Ellington Field in Houston on April 12 for an overnight stay before continuing onward to reach the ship's homeport at the Kennedy Space Center on April 13, 1985.

Atlantis underwent preparations for an inaugural voyage, moving to launch pad 39A for the first time on August 30 and blasting off October 3 on a four-day classified military mission that deployed a pair of Defense Satellite Communications System spacecraft aboard an inertial upper stage booster.

Several hush-hush missions for the Defense Department used Atlantis to haul a Lacrosse radar-imaging satellite into orbit in 1988, a stealthy bird and another top-secret payload on two 1990 launches and an early warning missile-detection spacecraft in 1991.

Memorable scientific probes for interplanetary adventures -- the Magellan radar mapper to Venus and Galileo to tour the king of planets, Jupiter -- were launched in 1989. And the Compton Gamma Ray Observatory was put into orbit around Earth in 1991 to unravel mysteries of the Universe's most extreme and powerful objects.

Atlantis' payload bay also served as the operating base for scientific investigations to study the atmosphere during NASA's Mission to Planet Earth program and experimented with the first tethered satellite system.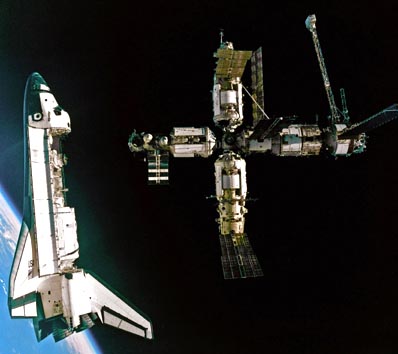 Atlantis undocks after its first visit at Mir. Credit: Roscosmos/NASA



The new era of cooperative spaceflight between the United States and Russia saw Atlantis at the forefront, flying seven trips to dock with the orbiting space station Mir for the delivery of goods and the exchange of American astronauts staying there for scientific tours-of-duty.

That partnership blossomed into the International Space Station effort, and building the massive complex more than 200 miles above the planet has used Atlantis to lift the American laboratory module Destiny, Europe's laboratory module Columbus, the airlock named Quest, plus major sections of the outpost's truss backbone and power grid. And just last year she added a Russian module -- the Rassvet docking compartment -- to the complex.

Atlantis also made the final service call to the Hubble Space Telescope, accomplishing a dramatic five-spacewalk mission that overhauled the iconic observatory with new scientific instruments and internal gear to bring about another revolution in discovery.

This upcoming mission to the International Space Station is a final run to deliver a year's worth of supplies to the complex and return large equipment back to Earth.

It will be the final time a shuttle orbits the planet, ending a project that has been the centerpiece of the United States' space program for more than 30 years.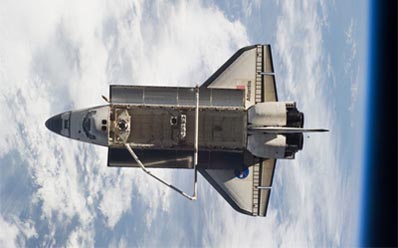 Credit: NASA



"This is a quintessential American vehicle. You point to that and people know it's from the United States. So I think we're losing that piece of identity," says Atlantis mission specialist Rex Walheim.

"As much as the space shuttle has done, its mission to launch the interplanetary probes, to launch the Hubble Space Telescope, to build the space station is completed. So it has done its job, and it has done its job admirably. Now it is time to move on to something else, to get on past low-Earth orbit. We got to get out of low-Earth orbit, and to do that we need a new vehicle."

It is this change of direction and the desire to build a spacecraft capable of ferrying humans to other destinations in the solar system that made the space shuttles into museum pieces. Once retired from service after the STS-135 mission, Atlantis will be safed and readied for display at the Kennedy Space Center's visitor area.

"The space shuttle won't stop inspiring people. They are going to park Atlantis down at the Kennedy Space Center and little kids are going to go up real close for the first time to see the Atlantis and they're going to say 'wow, they could launch those into space?!'" says Walheim.