Get to know Atlantis' crew: The final shuttle astronauts
BY JUSTIN RAY
SPACEFLIGHT NOW
Posted: July 3, 2011


Fergie, Chunky, Sandy and Rex. You can call them "the final four." They are the astronauts chosen to launch Atlantis into orbit Friday for the space shuttle program's grand finale.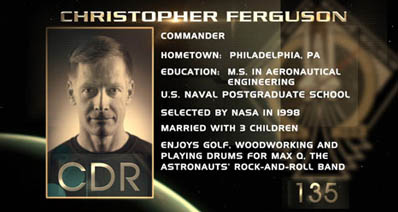 Credit: NASA



The man leading the four-person crew of the final shuttle mission is commander Chris "Fergie" Ferguson, a 49-year-old retired Navy captain born in Philadelphia.

"The realization and the significance of being on the last space shuttle flight, it's an honor," he says. "We'll rise to the occasion and we do consider ourselves extraordinarily fortunate."

Original schedules called for the space shuttle program to be retired by now, but NASA made a relatively late decision to formally approve launching this extra mission to deliver a year's worth of provisions to the International Space Station, taking advantage of the last available external fuel tank and hedging the agency's bets on future transportation plans.

Once the shuttles are done flying, NASA must rely upon the commercial firms SpaceX and Orbital Sciences to conduct resupply missions to the space station with the new capsules and rockets being developed. But to give those start-up systems some breathing room in case they fall further behind in beginning routine servicing of the outpost, Atlantis will deliver several tons of food, spare parts and equipment to the complex.

"This came in a whisper that perhaps we would try to fly this last flight but it wasn't funded, it was a long shot," Ferguson recalls when NASA started formulating the mission last year.

It will be his third spaceflight after serving as pilot on Atlantis' STS-115 mission in 2006 that installed another solar power truss on the International Space Station and commander of Endeavour's STS-126 mission in 2008 that brought up critical equipment to remodel the outpost's interior in preparation for doubling the size of its resident crews.
| | |
| --- | --- |
| | Ferguson sits in the commander's seat on STS-126. Credit: NASA |
"We've brought the globe together in space in the form of the International Space Station," he says. "I was inspired by what we did in Apollo. I can hope that young folks today see what's happening on the space station, the medical research that we're doing, the research that we're doing on the environment, our ability to clean our own air, to take urine and recycle it and reuse it, these closed system things, are very consistent with some of the environmental issues that we're going to face on the planet Earth over the next hundred years or so, and we're pioneering all these in space right now. We're learning how to support humans in very unforgiving environments.

"We have a home up there and we're destined to be up there and we're destined to go beyond low Earth orbit, perhaps set up a colony on the moon and go on to Mars."

After earning a mechanical engineering from Drexel University in 1984 and his commission to the Navy ROTC program at the University of Pennsylvania, Ferguson received Navy Wings in 1986 and joined the F-14 Tomcat training squadron.

He was deployed aboard the USS Forrestal and later attended the TOPGUN fighter weapon school before getting a master's degree in aeronautical engineering from the Naval Postgraduate School. In the early 90's, Ferguson served as the F-14D weapon separation project officer, becoming the first pilot to release several types of air-to-ground weapons from the Tomcat. Another deployment, this time to the Persian Gulf aboard the USS Nimitz, came in defense of the Iraqi no-fly zone.

Ferguson was selected as an astronaut in 1998 and has since logged over 28 days in space.

Married with three children, his hobbies include golf, woodworking and drumming for Max Q, an astronaut rock and roll band.

Now, he is poised to be the final space shuttle commander.

"I don't think that the full magnitude of the moment will really hit us until the wheels have stopped on the runway. I'm not sure words will really be able to capture for the crew and for the entire shuttle workforce just how much the shuttle program has meant to us for the last 30 years," Ferguson says.

Read his NASA biography here and Spaceflight Now+Plus subscribers can watch an extended pre-launch interview.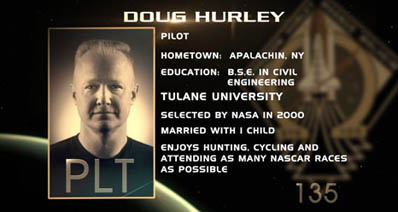 Credit: NASA



Doug "Chunky" Hurley, a 44-year-old colonel in the Marine Corps, will be Atlantis' pilot. Married with one child, he enjoys hunting, cycling and attending NASCAR races.

Born in the small town of Endicott, New York, he grew up nearby in Apalachin. His interests in engineering and flying led Hurley on a path to becoming an astronaut.

Hurley graduated Magna Cum Laude with honors from Tulane University with a civil engineering degree under a Navy ROTC scholarship. He was commissioned in the Marine Corps in 1988, became a Naval aviator in 1991 and served three overseas deployments in an F/A-18 squadron. He then went to test pilot school and became the first Marine pilot to fly the F/A-18 E/F Super Hornet.

The next career turn took Hurley to NASA in 2000 to become a space shuttle pilot, eventually flying aboard Endeavour's STS-127 mission in 2009 that delivered the final piece of Japan's scientific facilities at the International Space Station.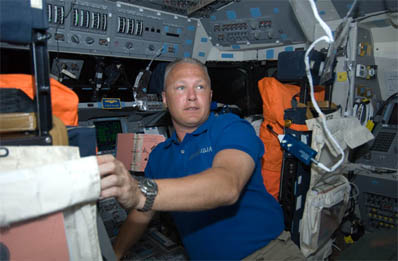 Hurley on Endeavour's flight deck on STS-127. Credit: NASA



Hurley was a freshman in high school when the very first space shuttle blasted off with John Young and Bob Crippen in 1981 on the most-daring test flight in history.

"An unflown vehicle, and those two men getting on board and flying that, trusting that the engineering was correct, trusting that the design was correct, trusting that all the safety measures were in place. To me it's just amazing," he recalls.

"It was just unbelievable to see what looked like to a teenager an airplane that was going to go into space, I've been mesmerized with it ever since, fascinated with it and obviously I was very interested in heading that direction a little bit later in life."

As he gets ready to strap aboard the final space shuttle, Hurley acknowledges the dangers of the adventure but doesn't second guess his decisions.

"All this technology that we gain from spaceflight has become such a fabric of our lives that it's just incredible to see, and that alone, in my mind, is worth the risk."

He has over 4,000 hours in more than 25 different kinds of aircraft, plus 16 days in space.

Read his NASA biography here and Spaceflight Now+Plus subscribers can watch an extended pre-launch interview.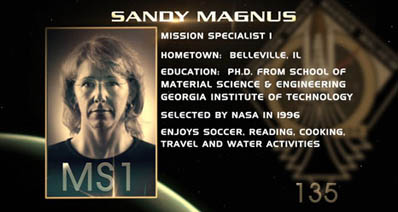 Credit: NASA



Sandy Magnus gets to launch aboard the space shuttle for a third time, something the 46-year-old never thought would be possible.

"I have to say being assigned to a shuttle mission again, of any kind, was a big surprise for me," she says. "I was actually working in Washington, D.C. when I got the phone call to come back to Houston and train for this. I was surprised just in general to be assigned."

A native of Belleville, Illinois, she received a bachelor degree in physics from the University of Missouri-Rolla in 1986 and then worked for McDonnell Douglas as a stealth engineer on aircraft design and the Navy's A-12 program while also earning a master's degree in electrical engineering from Missouri-Rolla. Magnus later moved to the Georgia Institute of Technology to gain a doctorate from the School of Material Science and Engineering.

NASA selected Magnus as an astronaut in 1996 and she flew as a rookie aboard shuttle Atlantis' STS-112 mission in 2002 that installed the Starboard 1 truss on the International Space Station. Then came assignment as an Expedition 18 flight engineer and science officer aboard the station, launching with Ferguson on Endeavour's STS-126 and spending four-and-a-half months living in the outpost before returning to Earth on Discovery's STS-119 mission in 2009.

Magnus has accumulated 145 days in space thus far.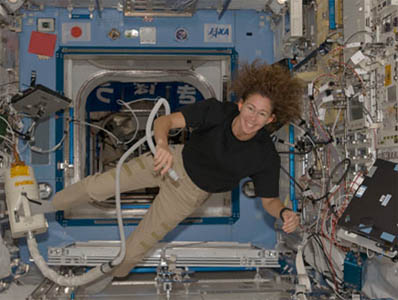 Magnus works inside the station's Japanese laboratory module during Expedition 18. Credit: NASA



She will serve as the "load master" on Atlantis' flight, the person responsible for keeping track of the massive amounts of cargo being transferred to and from the International Space Station.

"We're taking a year's worth of food," says Magnus. "We're taking about 2,000 pounds of science equipment, we're taking hygiene items, we're taking clothing, we're taking thousands of pounds of spare parts for the different systems, life support system, the electrical system, the computer system and so forth. These are the big things that we're taking because we're trying to supply the station for a whole year, and that hedges our bets against when the commercial follow-on cargo contracts will be available up and running."

But Magnus foresees tears and emotions when Atlantis returns to Earth, bringing the space shuttle program to completion.

"It's going to be very sad. Actually, I told Fergie that I'm probably going to be crying when we land just because it's just so sad," she told reporters.

"The shuttle has given so much to the country. You look at the different kind of missions it can do, and it built the space station, it's done science missions that range from taking the Spacelab up to big radar missions we've done, it's done astronomy, it's done biological science, material science, and then it's done satellite deploy, repair and retrieve. It's an incredible legacy that this vehicle has given us."

Magnus enjoys soccer, reading, cooking, travel and water activities. She is single.

Read her NASA biography here and Spaceflight Now+Plus subscribers can watch an extended pre-launch interview.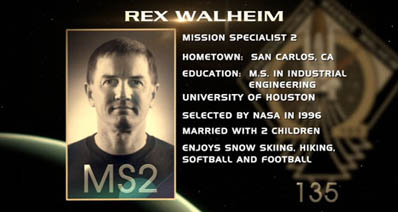 Credit: NASA



Rex Walheim, a retired Air Force colonel, serves as space shuttle Atlantis' flight engineer, riding in the flight deck's aft-center seat to help the commander and pilot during ascent and entry.

It is a job he has done before on his previous STS-122 flight aboard Atlantis in 2008 that brought the European Space Agency's Columbus science laboratory to the International Space Station.

Walheim's first spaceflight also occurred aboard Atlantis on the STS-110 mission that installed the center section of the space station's truss backbone in 2002.

"That's my policy. I only fly on Atlantis! I do have a special bond with it, it's a beautiful vehicle and it just works great," he says.

"Atlantis has 120 million miles on her and I think she can handle five million more without a problem at all. She's taken me safely to orbit twice and I think it's an absolutely great ship."

The 48-year-old California native was born in Redwood City but considers San Carlos his hometown. Married with two children, he enjoys snow skiing, hiking, softball and football.

After getting mechanical engineering degree from the University of California, Berkeley, he set his sights on Air Force pilot training before a heart murmur derailed that plan. Instead, Walheim became a flight test engineer and worked as a missile warning operations crew commander before being assigned to the Johnson Space Center as a space shuttle mechanical systems controller and lead operations engineer for the orbiter's landing gear and brakes. He earned a master's in industrial engineering from the University of Houston.

Walheim then transferred to Air Force Space Command to manage a program upgrading missile warning radars before doctors gave him a medical clearance, allowing Walheim to attend test pilot school and work on F-16 avionics and armament. He became an instructor there until being selected as an astronaut in 1996.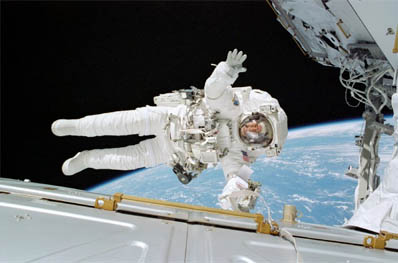 Walheim floats along the International Space Station during his STS-110 mission. Credit: NASA



He has logged 24 days in space and 36 hours of spacewalking time on five EVAs.

Although he won't be stepping outside the spacecraft this time, Walheim will serve as the choreographer during the flight's single spacewalk by overseeing and directing station residents Ron Garan and Mike Fossum as they pack a failed coolant pump into Atlantis' payload bay for return to Earth and give the outpost a new robotics testbed.

"The first thing we're going to do is bring back the pump module that failed on the space station. Last summer we had a pump module that failed and it was a big deal...They put a new one in there, but the old one that failed has been sitting up in the space station ever since, and we'd like to bring that home to, number one, find out what happened, because you learn a lot from failures of equipment in space," he says.

"Once we get into the payload bay of the shuttle, Ron and Mike are going to take what's called the Robotics Refueling Module and take this payload and put it onto the space station."

Engineers have developed the experiment using the station's Dextre robot to test the tools and techniques for robotically servicing and repairing satellites, particularly spacecraft that weren't originally designed to be refueled in orbit.

"It's got a bunch of places where the space station's Special Purpose Dexterous Manipulator can grab on to it, take off caps, try different things that normally we'd have a human spacewalker do, and see if it can be done remotely. For instance, pulling up flaps, cutting insulation, and taking caps off or even potentially moving fuel from one vehicle to another."

Read his NASA biography here and Spaceflight Now+Plus subscribers can watch an extended pre-launch interview.