Final shuttle astronauts practice their countdown
BY JUSTIN RAY
SPACEFLIGHT NOW
Posted: June 23, 2011


The Atlantis astronauts followed a realistic countdown sequence today, getting suited up and strapping inside the space shuttle for a thorough dress rehearsal that culminated with a pretend ignition and shutdown of the three main engines at T-minus 4 seconds.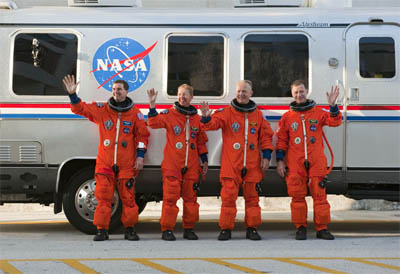 The astronauts depart the crew quarters building for the pad. Credit: NASA
SEE PHOTO GALLERY



Commander Chris Ferguson, pilot Doug Hurley and mission specialists Sandy Magnus and Rex Walheim got dressed in their bright orange spacesuits and emerged from crew quarters at 7:45 a.m.

The Astrovan delivered the astronauts to the seaside pad to begin entering the orbiter and taking their assigned seats for the "dry" countdown, which did not involve fueling the shuttle.

The final count also practiced holds at the intermediate way points of T-minus 5 minutes and T-minus 1 minute, 57 seconds before eventually ticking down to the simulated pad abort at 11:05 a.m. EDT.

The Terminal Countdown Demonstration Test concluded with the astronauts exiting the shuttle at 11:25 p.m. to rehearse the "Mode 1" emergency evacuation procedures and hopping in the escape baskets hanging on the launch tower.

Every shuttle crew undergoes the TCDT before a planned launch. While in Florida, the astronauts spent time learning about emergency equipment, test-drove an armored tank for evacuating the pad, got some landing practice in the training aircraft and toured the payload bay.

The astronauts will return to Kennedy Space Center on July 4 to begin their true countdown activities to launch.

"Spent the morning strapped into Space Shuttle Atlantis on a dry-run. Next up: the real thing. Atlantis looks great!" Ferguson tweeted after returning to Houston.

"Great time at TCDT today. Can't wait to fly her for real in about 15 days!" Walheim also tweeted.

Liftoff remains targeted for July 8 at 11:26 a.m. EDT on a two-week flight to deliver a final shuttle-delivered load of supplies, spare part and science equipment to the International Space Station.