Federal budget pays for summer shuttle flight
BY STEPHEN CLARK
SPACEFLIGHT NOW
Posted: April 21, 2011


The U.S. government budget approved last week all but validates NASA's hope to fly the shuttle Atlantis on a much-needed bonus mission as soon as June 28, according to agency officials.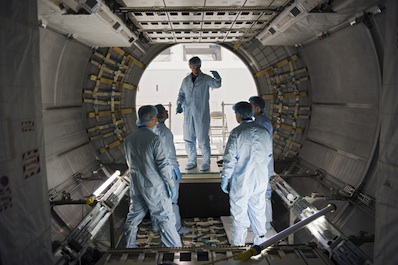 The Atlantis crew visited the Kennedy Space Center earlier this month to check out the Raffaello logistics module they will haul into orbit. Credit: NASA-KSC



"We're not overly-constrained budget-wise," said Bill Gerstenmaier, NASA's associate administrator for space operations.

Stephanie Schierholz, an agency spokesperson, said the budget signed into law last week "essentially" puts to rest concerns about funding the June mission of Atlantis. The extra flight, numbered STS-135, was added to the shuttle manifest to stock the International Space Station for continued operations after the shuttle's retirement.

Before last week's budget passage, NASA was working on short-term funding plans and trying to accumulate money to pay for the June flight. The additional mission wasn't part of the last yearlong budget passed by Congress, but NASA was directed to fly STS-135 in the authorization act signed into law in October, which set agency priorities for the next three years.

NASA now has a budget running through Sept. 30, giving the agency confidence it can afford the flight.

"We have sufficient budget to do what we need to do," Gerstenmaier said this week.

NASA still has to submit an operating plan to Congress, Schierholz said, but that is often just a formality.

"We expect the budget will fully fund STS-135," Schierholz told Spaceflight Now.

The budget calls for $5.5 billion for NASA's space operations division, which includes the space shuttle and space station programs.

Atlantis is scheduled to blast off June 28 with a full load of supplies and experiments packed inside the Italian-built Raffaello logistics module. After transferring cargo aboard the space station, the four-person shuttle crew will return to Earth with Raffaello filled with trash and other items NASA wants back on the ground.

The shuttle will also return a failed ammonia pump for inspections and potential repair.

"We think the end of June is about the right time to go fly," Gerstenmaier said, noting any delay of Atlantis' launch would be based solely on technical readiness.

The mission is all about getting the space station in the best shape possible in the post-shuttle era, when regular two-way resupply visits will come to an end. Commercial spaceships being built by SpaceX and Orbital Sciences Corp., along with proven Russian, European and Japanese vessels, will continue servicing the complex, but none offer the range of capabilities of the shuttle.

The supplies delivered by the STS-135 mission will keep the space station operating until the end of 2012 in case the commercial operators delay their first cargo flights.

Both companies aim to have their vehicles operational in early 2012.