Booster stacking finished for final shuttle flight
BY JUSTIN RAY
SPACEFLIGHT NOW
Posted: April 18, 2011


The past week saw the upper solid-fuel motor segments attached and the nose caps set in place atop the final space shuttle rocket boosters, completing the last buildup in the program's three-decade history.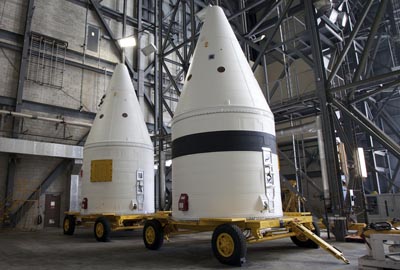 File image of solid rocket booster nose cones. Credit: NASA



Lifting of the motor segments occurred as planned last Monday and Wednesday, followed by the forward assemblies on Thursday night and Friday morning. The completed boosters now await the planned April 25 mating of the external fuel tank.

The reusable boosters, built by ATK, will provide the primary thrust to propel the space shuttle Atlantis away from Earth during the initial two minutes of flight on June 28.

The 11 sections on each Atlantis booster are a mixture of refurbished and unflown elements. The forward dome for the right-hand booster, for example, hasn't launched before.

There's even historic hardware dating back to the very first space shuttle mission in 1981 incorporated into Atlantis' boosters to fly on the final launch 30 years later.

The upper cylinder on Atlantis' left booster flew with Columbia on STS-1, powering the program's maiden voyage with John Young and Bob Crippen.

In all, Atlantis' twin boosters have reused segments and pieces that trace back to 59 previous shuttle launches and 12 ground test-firings.

Detailed history information about Atlantis' two boosters can be seen in this PDF download here.


Additional coverage for subscribers:


VIDEO: ASTRONAUTS INSPECT ATLANTIS PLAY | HI-DEF


VIDEO: CREW CHECKS OUT PAYLOADS PLAY | HI-DEF


SUBSCRIBE NOW