Stacking of final shuttle rocket boosters underway
BY JUSTIN RAY
SPACEFLIGHT NOW
Posted: March 29, 2011


The last-ever set of space shuttle solid-fuel rockets began taking shape Tuesday evening as technicians started stacking the boosters that will power Atlantis this summer.
Inside Kennedy Space Center's cavernous Vehicle Assembly Building, the left-aft segment was hoisted out of the handling crate around 5:30 p.m., slowly maneuvering into high bay No. 1 and then onto the mobile launch platform.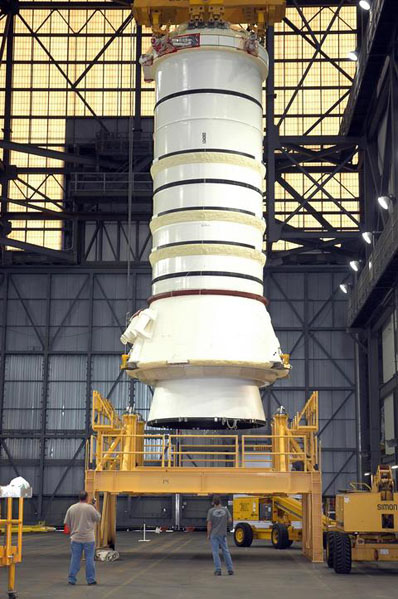 File image of lower booster segment in Vehicle Assembly Building. Credit: NASA



The assembly process will take a couple of weeks to complete. When the work is finished, the twin boosters will stand 149 feet tall and 12 feet in diameter.

Each motor is packed with 1.1 million pounds of propellant and burns about five tons per second. The rubber-like fuel, poured in like cookie dough and hardened to resemble the texture of a pencil eraser, is a blend of aluminum powder, ammonium perchlorate, HB polymer, iron oxide and an epoxy curing.

Built by Alliant Techsystems, the rockets provide 80 percent of the thrust that propel the space shuttle off the ground. A single shuttle solid rocket booster generates up to 3.3 million pounds of thrust during ascent.

The external fuel tank is in the Vehicle Assembly Building awaiting the its next move. Currently located across the aisle in the high bay No. 2-East checkout cell being readied for flight, the tank will be mated to the solids by month's end.

Atlantis is undergoing final testing at the nearby orbiter processing facility for her 33rd voyage. She will be rolled to the VAB for mounting to the tank and boosters in early May.

Launch of this final space shuttle mission is targeted for June 28 at 3:40 p.m. EDT to deliver a massive amount of supplies to the International Space Station using the Italian-made Raffaello cargo vessel.

Speaking with reporters in Houston last week, Atlantis astronaut Sandy Magnus said bringing the shuttle home for landing one last time will be a highly emotional event.

"It's going to be very sad. Actually, I told (commander Chris Ferguson) that I'm probably going to be crying when we land just because it's just so sad," she said.

"The shuttle has given so much to the country. You look at the different kind of missions it can do, and it built the space station, it's done science missions that range from taking the Spacelab up to big radar missions we've done, it's done astronomy, it's done biological science, material science, and then it's done satellite deploy, repair and retrieve. It's an incredible legacy that this vehicle has given us."

Ferguson and Magnus will be joined by pilot Doug Hurley and flight engineer Rex Walheim on the 12-day flight, returning to KSC for landing July 10 around 11 a.m. EDT.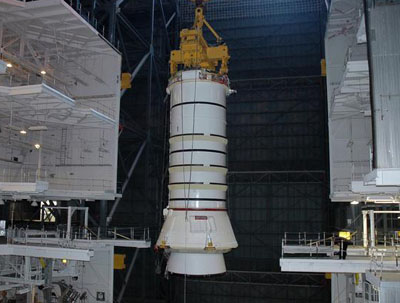 File image of booster stacking. Credit: NASA