Decision on extra shuttle flight remains in limbo
BY WILLIAM HARWOOD
STORY WRITTEN FOR CBS NEWS "SPACE PLACE" & USED WITH PERMISSION
Posted: September 3, 2010


Protecting their options while awaiting word on funding for a final shuttle mission next June, NASA managers believe flight processing probably can continue through the end of the year with the shuttle program's current budget or under a continuing resolution. But after that, sources say, additional money will be required or the hoped-for flight may not be possible.
"For the most part, we can go a pretty long time without having additional money," a senior manager said recently. "We're not building a lot of new stuff for this."
Funding is "probably not an issue until end of year," he said.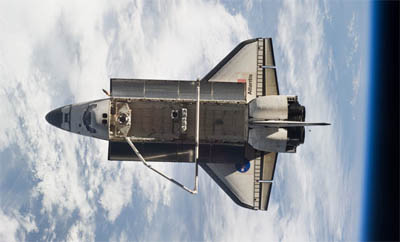 Credit: NASA



NASA's 2010 shuttle budget, and $600 million promised by Congress to ease concerns about schedule pressure, currently supports two final shuttle missions, a space station resupply flight in November by the shuttle Discovery and a mission in February with Endeavour to deliver supplies and a $2 billion particle physics experiment.

But agency managers have been lobbying for months to convert a "launch-on-need" rescue mission for the February flight into an actual space station resupply mission. Senior managers meeting this week at the Johnson Space Center in Houston officially retargeted the rescue mission -- or the actual flight, if approved -- for launch June 28.

By launching the shuttle Atlantis with a crew of four, another standby rescue mission, including another set of solid-fuel boosters and an external tank, would not be needed. If a major problem stranded the Atlantis astronauts in orbit, they could seek safe haven aboard the station and rotate back to Earth aboard Russian Soyuz spacecraft.

It would not be easy and it could take up to a year to get all four astronauts home. But NASA managers believe a crew rescue, while drawn out, would be safe and that the benefits of a final space station resupply mission justify the additional risk and expense.

But it is not yet clear how, or even if, a final shuttle mission will be funded. The external tank and solid-fuel booster segments needed for the launch-on-need mission are already built, but keeping the shuttle processing and flight control teams intact for an additional few months would require several hundred million dollars.

The Senate version of NASA's fiscal 2011 budget includes funding for the additional mission, known as STS-135, while the House version includes "contingent authorization" that would allow the agency to redirect space station and exploration funds to cover the cost if NASA Administrator Charles Bolden determines the flight is necessary and safe to carry out.

But is not clear how the reconciliation process will play out, when a compromise might be reached or whether NASA would proceed with the flight if the agency had to pay for it without additional money.

NASA originally planned to complete shuttle operations by the close of fiscal year 2010 at the end of this month. But Congress earlier promised an additional $600 million to cover operations through the end of the calendar year to ease concerns about the potential effects of schedule pressure on flight safety.

Shuttle managers later said could stretch the funding to cover operations through Endeavour's mission in February. While NASA originally intended to launch Discovery and Endeavour before the end of fiscal 2010, payload issues and conflicts with other missions prompted slips to November and February.

The four-person crew of the launch-on-need rescue mission for Endeavour's flight is expected to be named in the next few weeks and to begin training shortly thereafter. That crew would fly the real STS-135 mission aboard Atlantis if the flight is eventually funded. But the issue needs to be resolved by early January at the latest, before the next major round of shuttle program contractor layoffs.

In notes from a recent shuttle management meeting, senior managers were told "we could be in limbo on STS-135 until the New Year starts, until we see what the CR (continuing resolution) language is, talk about funding, and talk more about mission content."

"The team should really focus on making sure we have preserved the options, and have done the work required to be able to fly," the notes said. "Actually getting the agreement among all the different stakeholders to go fly it is still a ways away."