NewsAlert





Sign up for our NewsAlert service and have the latest news in astronomy and space e-mailed direct to your desktop.


Privacy note: your e-mail address will not be used for any other purpose.





Meet shuttle Endeavour's six-man crew
BY JUSTIN RAY
SPACEFLIGHT NOW
Posted: April 25, 2011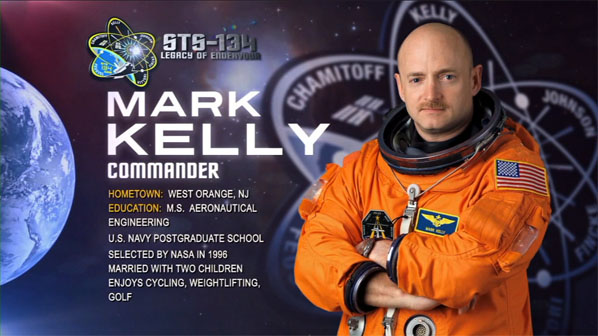 Image credit: NASA



At the controls of space shuttle Endeavour for her 25th and final journey is commander Mark Kelly. The 47-year-old Navy captain from Orange, New Jersey, has 5,000 flight hours in more than 50 different aircraft and logged over 375 carrier landings, plus performed 39 combat missions in Operation Desert Storm.

A veteran of three previous space shuttle missions, Kelly initially flew as pilot of Endeavour on the STS-108 logistics servicing to the International Space Station in 2001 and Discovery's STS-121 test flight in 2006. His first command came in 2008 as Discovery's skipper on STS-124 that launched the Japanese laboratory module to the space station.

"I remember thinking about being an astronaut during Apollo," Kelly says. "I remember thinking, boy, that would be something to be able to fly a rocketship into space."

Now, Kelly flies on Endeavour again for the ship's retirement voyage.

"We've got a whole list of mission objectives, probably 30 things on the list, but the big objective is to get the Alpha Magnetic Spectrometer installed on the outside of the space station. It's the premier physics experiment; it's probably the most expensive thing ever flown by the space shuttle. We also have a pallet of external spares called ELC-3 (Express Logistics Carrier) that has some spare parts. We're going to do four spacewalks with really critical ISS assembly/maintenance tasks during the mission, and then a host of other things, primarily cargo transfer is a big part of it, and then we have an objective called the STORRM (Sensor Test for Orion Relative Navigation Risk Mitigation), which is a sensor for follow-on spacecraft."

Read his NASA biography here and Spaceflight Now+Plus subscribers can watch an extended pre-launch interview.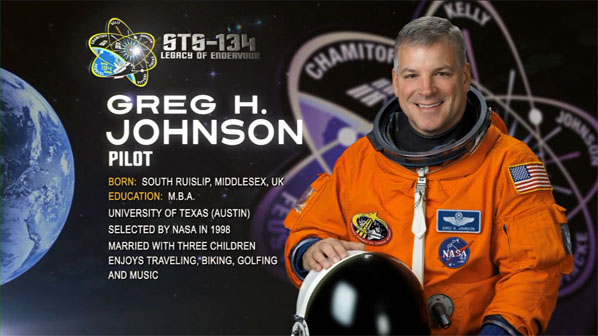 Image credit: NASA



Pilot Greg Johnson is making his second spaceflight aboard this particular spacecraft. The retired Air Force colonel has combat experience from Operation Desert Storm and Operation Southern Watch, plus flight test credentials and over 4,000 flight hours in more than 40 different aircraft.

"I know the day that I was inspired to be an astronaut, and that was July 20th, 1969. I was seven years old, in Michigan at my grandparents' house watching a black and white TV with my brother and sister and parents, and we watched with great interest on a fuzzy black and white TV as Neil Armstrong stepped on the moon and made his first speech as he stepped on the moon," he recalls.

Johnson arrived at NASA in 1998 and flew on the Endeavour mission in 2008 that delivered Japan's first module and constructed Canada's Dextre handyman robot.

"When I first became an astronaut a dozen years ago, one of my early jobs was to help prepare the vehicle and the crews for launch at the Cape, flipping switches, setting up procedures, taping things down. And so I became familiar with all of the different shuttles that I spent a lot of time in all of them. And Endeavour always looked the cleanest, it was the most pristine, and it was my favorite vehicle from the very start," he says.

Read his NASA biography here and Spaceflight Now+Plus subscribers can watch an extended pre-launch interview.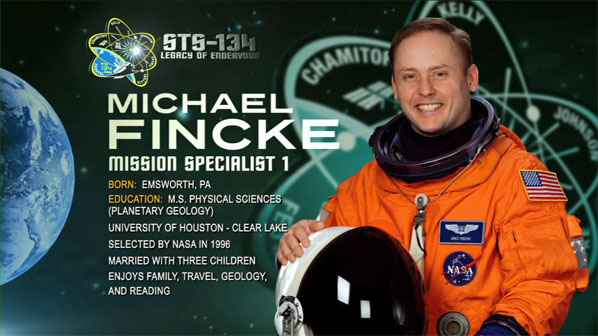 Image credit: NASA



Air Force Col. Mike Fincke is poised to break the U.S. space endurance record during Endeavour's flight by eclipsing the current 377-day cumulative mark held by Peggy Whitson.

But after spending two tours of duty on the International Space Station using Russian Soyuz capsules for transportion, Fincke is taking his very first space shuttle voyage as Endeavour's mission specialist No. 1 and a spacewalker.

"I spent a year in space, but I've never launched on, or landed on, a space shuttle before, so it was with great surprise and pleasure that I got assigned to STS-134," says Fincke.

The native of Pittsburgh holds master degrees in aeronautics and astronautics from Stanford and planetary geology from the University of Houston. In the Air Force, he was a test engineer and logged 1,000 flight hours in more than 30 different aircraft.

His first trip to the space station came in 2004 as the flight engineer on Expedition 9 and he followed that with the 2009 mission as commander of Expedition 18, accumulating 366 days of spaceflight and six Russian-based spacewalks.

"The sky's the limit, and I really hope our country understands the value of exploration and the value of the unknown that's out there. I've had the blessing of being able to be in space a whole year of my life; 10 percent of the space station's lifetime I've been there, and I've had a chance to reflect and look how big the universe is and how small our planet is, and looking, saying, 'Wow, my goodness, why are we fighting down here when we could be exploring and finding new things and making life better for human beings?' And, as well as the principles that we stand for in the United States in terms of democracy and individual freedoms and rights, heck, that's something I think would be good for the rest of the solar system, too."

Read his NASA biography here and Spaceflight Now+Plus subscribers can watch an extended pre-launch interview.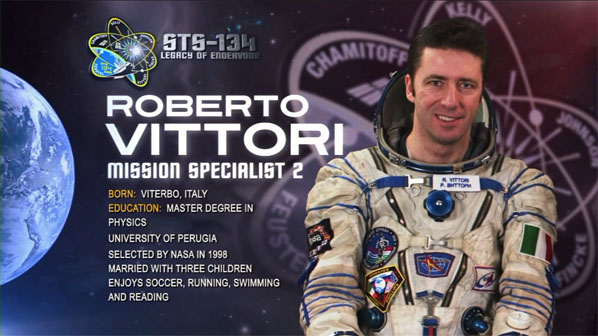 Image credit: NASA



The mission's other shuttle rookie, flight engineer Roberto Vittori, comes to Endeavour as a spaceflight veteran having flown before on Russian Soyuz vehicles.

The European Space Agency astronaut representing Italy holds master degrees in aeronautical sciences from the University of Naples and physics from the University of Perugia. He is a colonel in the Italian Air Force with nearly 2,500 hours in over 40 different aircraft.

He has visited the International Space Station twice aboard Soyuz spacecraft in 2002 and 2005. Now he's getting a chance to fly on the space shuttle to operate the robotic arm that will deliver the Alpha Magnetic Spectrometer instrument to the station.

"It's almost unbelievable today to realize that I am here, ready to fly on STS-134. In fact there is a long story behind my assignment that goes back with my origin. I was initially a student I was trying to get a major in physics, and then at a certain point I switched my path and I went and became a pilot and then a test pilot with the Italian air force, but my passion for physics continued all along and soon after I achieved my degree as a test pilot I went back and completed my degree at the university -- it was in Perugia -- and I finished my studies and ironically, my teacher was a professor (Roberto) Battiston that is the deputy chief of the AMS (Alpha Magnetic Spectrometer) experiment. After this long career, air force and then NASA -- I started with NASA in '98 -- I found myself on possibly what could be the last flight, and on board the Alpha Magnetic Spectrometer. That is the merging of my passions, physics and flying aircraft or flying in space."

Read his NASA biography here and Spaceflight Now+Plus subscribers can watch an extended pre-launch interview.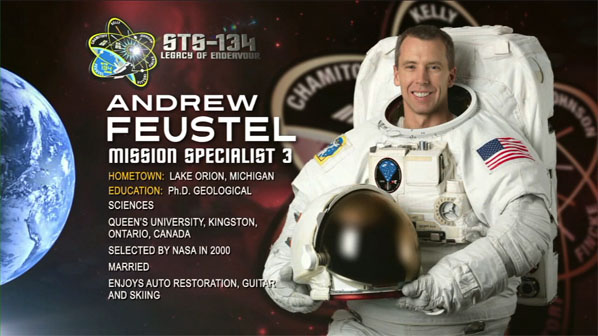 Image credit: NASA



Mission specialist No. 3 Drew Feustel went to the Hubble Space Telescope on his previous spaceflight in 2009 and conducted three spacewalks are part of rejuvenating the observatory one last time. For this shuttle flight to the International Space Station, he serves as the lead spacewalker and plans three excursions outside the outpost.

Raised in Lake Orion, Michigan, he earned a Ph.D. in geological sciences from Queen's University in Ontario, Canada, and worked as a geophysicist for Exxon Mobil before becoming an astronaut.

"I believed growing up that we would all be astronauts by the time I was an adult. That's not true, obviously, and we're not as advanced as I thought we would be," Feustel says. "I think when I went through university...I thought, well, wouldn't it be great if I learned about rocks, minerals and geology and then we went to the moon and I could help utilize resources on the moon because of my geological experiences and background. I was always interested in jets and flying and watching the Apollo guys walk on the moon. Those were the things that interested me and that really caught my attention, so I just thought that we would all, as a race, be advancing to where it was standard for people to be spacefarers, space explorers."

Read his NASA biography here and Spaceflight Now+Plus subscribers can watch an extended pre-launch interview.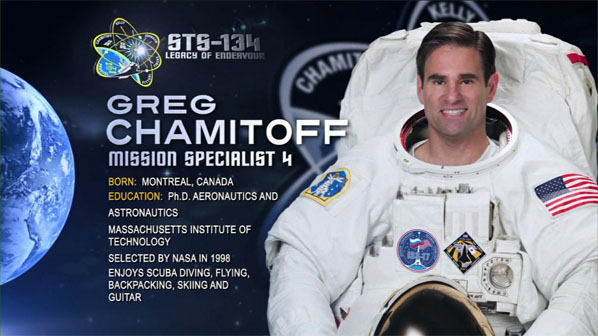 Image credit: NASA



Previous long-duration resident of the International Space Station, Greg Chamitoff, serves as Endeavour's mission specialist No. 4 and another of the spacewalkers on the flight.

Born in Montreal, Canada, he earned degrees from CalPoly and Caltech and has a Ph.D. in aeronautics and astronautics from MIT.

His station voyage as flight engineer and science officer on the Expedition 17 and 18 crews in 2008 started by launching on Discovery's STS-124 mission and returning to Earth some 183 days later on Endeavour's STS-126 flight.

Read his NASA biography here and Spaceflight Now+Plus subscribers can watch an extended pre-launch interview.

This flight comes during the 50th anniversaries of the first humans -- Yuri Gagarin and Alan Shepard -- venturing into space. "Yeah, it's amazing. I feel very lucky. It's a whole generation of dreamers like me, who, grew up on 'Star Trek,' and saw Apollo and watched all this happen. It's amazing what we've accomplished in that time," Chamitoff says.

"You can look back a hundred years and look at Kitty Hawk, the first powered flight, and the Wright Flyer, it almost kind of looks similar to the space station in its shape. The first flight of the Wright Flyer would only been half the distance of the size of the space station. In a hundred years we've gone from that to this incredible facility flying in space. We've accomplished a lot. I mean I think a lot of people wish we were back on the moon and on to Mars by now and so do I -- I hoped that I would walk on Mars in my career time -- but it is amazing how much we've accomplished in 50 years. It took so many people to make all that possible and it's an unbelievable honor to kind of be the representative of that generation of dreamers for me."

Asked how space travel will evolve in the next 50 years, Chamitoff predicted: "Well I think the key is going to be the time when it becomes profitable for more than just governments to be operating in space. That time is coming. Once we kind of pass that transition, I think there'll be a lot more traffic. I'd like to have walked on Mars in my career time but maybe I can go for retirement vacation some day. I think we're going to see many more people getting a chance to fly in space and I'm sure we'll see bases starting to grow throughout the solar system, starting on the moon, Mars and first colony. We'll have the first people born in space and I think our future history will have more and more happening away from Earth and that'll be very interesting."


Additional coverage for subscribers:


VIDEO: GUIDED TOUR OF SPACE STATION PLAY | HI-DEF


VIDEO: ENDEAVOUR MISSION PREVIEW MOVIE PLAY | HI-DEF


VIDEO: GET TO KNOW ENDEAVOUR'S ASTRONAUTS PLAY | HI-DEF



VIDEO: PRE-FLIGHT INTERVIEW WITH MARK KELLY PLAY


VIDEO: PRE-FLIGHT INTERVIEW WITH GREG JOHNSON PLAY


VIDEO: PRE-FLIGHT INTERVIEW WITH MIKE FINCKE PLAY


VIDEO: PRE-FLIGHT INTERVIEW WITH ROBERTO VITTORI PLAY


VIDEO: PRE-FLIGHT INTERVIEW WITH DREW FEUSTEL PLAY


VIDEO: PRE-FLIGHT INTERVIEW WITH GREG CHAMITOFF PLAY



VIDEO: ENDEAVOUR CLEARED FOR APRIL 29 LAUNCH PLAY



VIDEO: EVACUATION DRESS REHEARSAL PLAY | HI-DEF


VIDEO: ASTRONAUTS BOARD ENDEAVOUR PLAY | HI-DEF


VIDEO: SUITING UP FOR PRACTICE COUNT PLAY | HI-DEF


VIDEO: SHUTTLE INSPECTED FOR STORM DAMAGE PLAY | HI-DEF


VIDEO: CREW TEST-DRIVES PAD ESCAPE VEHICLE PLAY | HI-DEF


VIDEO: ASTRONAUT CHAT AT THE PRESS SITE PLAY | HI-DEF


VIDEO: CREW ARRIVES FOR PRACTICE COUNT PLAY | HI-DEF



VIDEO: PAYLOADS ARRIVE AT LAUNCH PAD 39A PLAY | HI-DEF


VIDEO: CANISTER ROTATED UPRIGHT FOR PAD PLAY | HI-DEF


VIDEO: PALLET OF SPARE PARTS INTO CANISTER PLAY | HI-DEF


VIDEO: AMS PAYLOAD PUT INTO TRANSPORTER PLAY | HI-DEF



VIDEO: SHUTTLE AND STATION PROGRAM BRIEFING PLAY


VIDEO: THE STS-134 MISSION OVERVIEW PRESENTATIONS PLAY


VIDEO: IN-DEPTH WITH ALPHA MAGNETIC SPECTROMETER PLAY


VIDEO: PREVIEW BRIEFING ON MISSION'S SPACEWALKS PLAY


VIDEO: THE ASTRONAUTS' PRE-FLIGHT NEWS BRIEFING PLAY



VIDEO: SUN RISES OVER THE LAUNCH PAD PLAY | HI-DEF


VIDEO: ENDEAVOUR ARRIVES ATOP PAD 39A PLAY | HI-DEF


VIDEO: ROLLOUT FROM VEHICLE ASSEMBLY BUILDING PLAY | HI-DEF



VIDEO: HOISTING ENDEAVOUR TO TANK AND SRBS PLAY | HI-DEF


VIDEO: ORBITER GOES VERTICAL PLAY | HI-DEF


VIDEO: ENDEAVOUR LEAVES PROCESSING HANGAR PLAY | HI-DEF



VIDEO: PAYLOAD MEDIA DAY PLAY | HI-DEF


VIDEO: THE ALPHA MAGNETIC SPECTROMETER PLAY | HI-DEF


VIDEO: PAYLOAD REMOVED FROM C-5 PLAY | HI-DEF


VIDEO: AMS ARRIVES FROM EUROPE PLAY | HI-DEF



VIDEO: EXPRESS LOGISTICS CARRIER NO. 3 PLAY | HI-DEF


VIDEO: HIGH-PRESSURE OXYGEN GAS TANK PLAY | HI-DEF


VIDEO: PUTTING STATION ANTENNA ON CARRIER PLAY | HI-DEF



VIDEO: TANK UNLOADED TO ASSEMBLY BUILDING PLAY | HI-DEF


VIDEO: THE EXTERNAL FUEL TANK ARRIVES PLAY | HI-DEF


VIDEO: BOOSTER SEGMENT MOVED TO VAB PLAY | HI-DEF


VIDEO: KENNEDY SPACE CENTER SRB CEREMONY PLAY | HI-DEF


VIDEO: ENDEAVOUR FITTED WITH MAIN ENGINES PLAY | HI-DEF


VIDEO: ORBITER TOWED OFF RUNWAY PLAY | HI-DEF



MORE: STS-134 VIDEO ARCHIVE


HDTV: HIGH-DEFINITION COVERAGE


SUBSCRIBE NOW