Journey of shuttle Endeavour through Los Angeles begins
BY JUSTIN RAY
SPACEFLIGHT NOW
Posted: October 12, 2012


After flying in space 25 times and logging 123 million miles, the final journey of the shuttle Endeavour that promises to be a grand spectacle got underway today as the retired spaceplane began a 12-mile procession through the city streets of Los Angeles.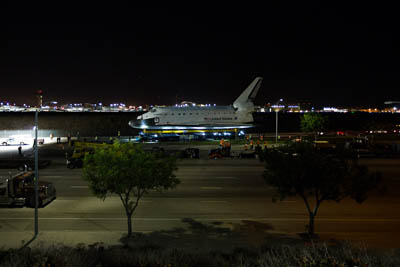 Endeavour traverses along LAX. Credit: Walter Scriptunas II/Spaceflight Now
See larger image



Endeavour is headed for display at the California Science Center, a children's learning complex in Exposition Park that will showcase the decommissioned spacecraft as a tool of inspiration to kids.

"These vehicles have never been been in a mass population like that before, in a somewhat uncontrolled environment. That makes me a little nervous. California Science Center, they respect and love these vehicles just as much as we do, so they are going to do everything they can and need to do to protect them," Stephanie Stilson, the NASA official in charge of decommissioning the space shuttle orbiters, said in a recent interview.

"Nearly 700 Los Angeles Police Department's Cadets and volunteers from throughout the community have been dedicated to assist with ensuring Endeavour reaches its destination," Los Angeles Police Chief Charlie Beck said. "This event allows us to both show case the Endeavour and the remarkable youth of our community that have dedicated their weekend to keeping us safe."

We will be posting updates as events occur in our mission status center journal.

If you will be away from your computer but would like to receive occasional updates, sign up for our Twitter feed to get text message updates sent to your cellphone. U.S. readers can also sign up from their phone by texting "follow spaceflightnow" to 40404. (Standard text messaging charges apply.)

Mobile pictures and quick updates will be posted on our Facebook page!

The trip departed the United Airlines hangar that had stored Endeavour at 11:25 p.m. local and turned into the streets began at 2:30 a.m. as Endeavour emerged from the Los Angeles International Airport, where the ship was delivered piggyback atop a 747 carrier aircraft on Sept. 21 and had spent the subsequent weeks waiting for this date that was coordinated long in advance.

"Endeavour is a unique item and its transportation presents a unique challenge," LA Mayor Antonio Villaraigosa said. "Never before has an item of this size traversed our City streets. While this once-in-a-lifetime event is a cause for celebration, public safety remains the city's top priority. We encourage the public to view Endeavour as it travels through the streets of Los Angeles, but urge that we do so in the safest manner possible."

With an international contingent of news media clamoring for a spot along chainlink fencing to image the shuttle and hundreds of citizens clustered to catch a glimpse of the space shuttle as it exited LAX and made her way down Westchester Parkway.

Complex scheduling between local authorities and utility companies agreed on the exact timing to haul Endeavour along the choreographed route, taking down power lines, city lights and traffic signals to get the shuttle through, then restoring the services as quickly as possible to lessen the disruption to residents and businesses.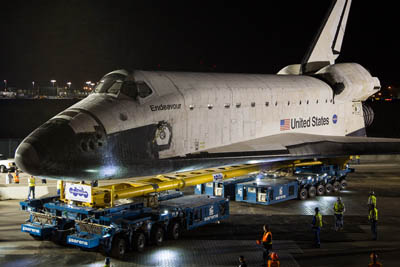 Endeavour traverses along LAX. Credit: Walter Scriptunas II/Spaceflight Now
See larger image



The chopping down of trees, numbering a few hundred and ranging from tiny to towering timbers, however, did not enthuse the locals about the space shuttle's passage. California Science Center will replace the trees on a three-to-one basis and the associated foundation says it will provide two years of maintenance on the new plantings.

"Nothing was done without a lot of consideration. We have worked very closely with the California Science Center and we went with the best option, the only option we had. You can't just go take the wings off, it's not like an airplane. I can confidently say that we evaluated every option and California Science Center picked the one that was the best," Stilson said.

"Once we get through the process, I think everyone are going to be very happy because it is going to be an awesome sight seeing Endeavour going down the streets of Los Angeles and through Inglewood."

While NASA officials are interested observers today and tomorrow, they have no direct responsibility for moving Endeavour. That duty belongs to the California Science Center, which now has sole custody and title ownership of the spaceplane.

"Building Endeavour was a marvel of ingenuity and engineering," Villaraigosa said. "Moving Endeavour will also be a marvel of ingenuity and engineering. Every step of the way, we have worked to mitigate the concerns of the community. Thanks to this hard work, we expect that the transportation of Endeavour will be celebrated as a truly unique event in our city's history. We urge all those who are interested in viewing this once in a lifetime event to visit the shuttle at one of the designated viewing locations or at its new home at the California Science Center."

Public events are planned for Saturday at 9 a.m. outside the Great Western Forum in Inglewood, a Debbie Allen-produced dance celebration at 2 p.m. in the intersection of Crenshaw Blvd. and Martin Luther King Blvd. and the California Science Center arrival itself around 9 p.m.

"Due to the tremendous size of Endeavour, streets along with sidewalks will be closed to vehicles and pedestrians to ensure public safety. The public should anticipate traffic delays on the route and in the surrounding areas throughout the Endeavor's last mission," a statement from the Los Angeles Police Department read.

"Sidewalk closures along the route may be opened as determined by the Unified Command based on street width, fixed obstacles, and public safety issues on a block-by-block basis. Unified Command realizes the inconvenience 'Mission 26' is having on local communities and will make every effort to balance both the needs of the public with the goal of getting Endeavour to its new home."

Authorities says free parking at the Hollywood Park Race Track is available for the Forum event starting at 4 a.m. local. For the MLK Blvd. event, there will be a dedicated area for the public to stand and view the stage, the LAPD says, north on Crenshaw Blvd. from MLK. But space is limited. For the CSC arrival starting at 8:30 p.m., four parking lots have been dedicated for public viewing between Bill Robertson Lane and Vermont Ave., north of MLK. Mass transit is recommended and available via the Expo Rail and bus line running along Exposition Blvd., officials said.

"We urge the public to arrive early, be prepared to stand long hours, and remember to bring water, snacks, sun block, hats, and chairs. In addition, spectators traveling from distant communities are reminded to please be respectful of private property," the LAPD says.