Inside Endeavour, a bond of technology and humanity
BY STEPHEN CLARK
SPACEFLIGHT NOW
Posted: March 7, 2012


A sea of switches, displays, gauges and buttons greets astronauts, engineers and the few lucky visitors who crawl inside a space shuttle.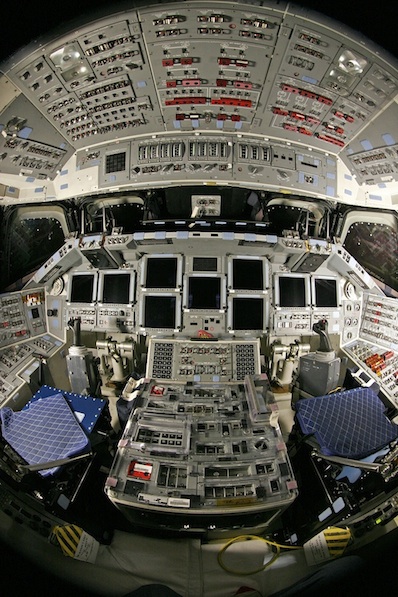 Endeavour's flight deck on Wednesday. Credit: Stephen Clark/Spaceflight Now

See a photo tour of Endeavour's cockpit.
Put aside the nagging worry of bumping into one of those switches. No need to don clean room suits. This ship isn't flying in space anymore.
After getting over the visceral thrill of being inside a spaceship - the real thing - the compactness of the shuttle's crew cabin is quickly evident. Up to seven crew members lived aboard these ships for more than two weeks.
On most shuttle flights, four people rode to and from space on the orbiter's flight deck. Even after removing the cockpit's two rear seats, only three or four people can comfortably fit on the flight deck.
Now stripped of its kitchen, toilet, storage lockers and seats, the shuttle Endeavour's lower deck is spacious compared to the cramped flight deck. It's still not much bigger than a moving truck, but the shuttle's living space eclipses the volume of capsules like Apollo, Soyuz and NASA's new Orion spacecraft.
Next the shuttle's complexity, a source of awe and vexation, hits you.
The shuttle's cockpit switches control a boggling number of systems, computers, pumps, circuits, heaters, valves, rockets and other components. And upon first glance, an observer wonders aloud how astronauts kept track of which switches were where.
The shuttle's array of buttons and dials are distributed in panels identified by letters and numbers. The letter "O" means overhead, "C" stands for center, "F" for front, "A" for aft, "L" for left, and "R" for right.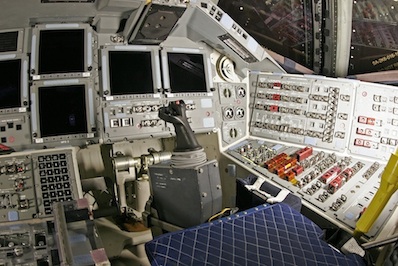 Endeavour's pilot's seat. Credit: Stephen Clark/Spaceflight Now

Travis Thompson is one of the most seasoned members of the shuttle closeout crew, a tight group of technicians who configured the ship's switches and instrument panels before a shuttle crew climbed aboard on launch day. The closeout crew helped strap the astronauts into their seats, and they were always the last members of the ground team to leave the launch pad before liftoff.
Thompson started work on the closeout crew on the STS-8 mission in 1983. He was the closeout team leader on the final space shuttle flight in July 2011.
"There are just so many switches in the vehicle, it really is helpful to remember those panels to know where to look if you need to flip this or that switch," Thompson said.
The shuttle has more than 1,000 toggles to control its myriad systems.
Sitting in the flight deck's right seat, shuttle pilots would arm and deploy the ship's landing gear with buttons on the flight deck's F8 panel. A corresponding set of landing gear buttons and indicators are on panel F6, just above the commander's knees.
The shuttle's launch abort functions are also on panel F6. A turnable dial can be pointed to RTLS, OFF, ATO and TAL. If one of NASA's space planes lost an engine or another key system during launch, the commander would turn the rotating abort knob toward one of the shuttle's abort modes, depending on when the problem occurred.
Launching space shuttles could return to a landing at the Kennedy Space Center, the RTLS mode, abort to a safe, lower-than-planned orbit, known as ATO, or aim for an emergency touchdown at a trans-Atlantic runway. The shuttle never actually had to accomplish an abort landing, and only once did a mission abort to orbit.
Switches for many other systems aren't such common knowledge or as easy to find for a shuttle layperson.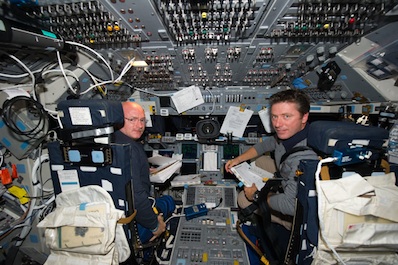 Endeavour's flight deck on the ship's last space flight in 2011. In the left seat is commander Mark Kelly, and Italian astronaut Roberto Vittori sits in the pilot's seat. Credit: NASA

Mission control would often guide astronauts to a specific switch by referencing where it lies in the crew cabin.
On the shuttle's aft flight deck, just a few feet from the front seats, astronauts would tuck their feet into restraints to keep from floating away in microgravity. Satellite deployment switches, controls for the payload bay's docking system, flood lights and cameras, and joysticks for the shuttle's Canadian robotic arm are spread across the aft panels.
Shuttle commanders and pilots would also get stick time here to deftly guide the 100-ton spaceships during dockings and departures from the International Space Station. With overhead and backward-facing windows, plus a network of video cameras and monitors, shuttle crews would have all the visual cues they needed to manually fly around the space station.
But now, between the clicks of camera shutters, Endeavour's crew cabin is silent. No hum of electronics. No astronaut acrobatics in microgravity. No radio chatter.
Endeavour's last mission ended in June 2011.
With 25 missions under its belt, NASA's newest shuttle will be powered up again soon as technicians continue preparing the ship for museum duty. Endeavour will go dark for good in May.
Endeavour will fly piggyback to Los Angeles in September on NASA's shuttle-carrying 747 jumbo jet. The ship will be put on display at the California Science Center.