Pope Benedict XVI calls the space shuttle-station crew
BY WILLIAM HARWOOD
STORY WRITTEN FOR CBS NEWS "SPACE PLACE" & USED WITH PERMISSION
Posted: May 21, 2011


KENNEDY SPACE CENTER, FL--Pope Benedict XVI called the combined crews of the shuttle Endeavour and the International Space Station Saturday, wishing commander Mark Kelly's gravely wounded wife, Gabrielle Giffords, a steady recovery and asking station flight engineer Paolo Nespoli how he endured news of his mother's death in the isolation of space.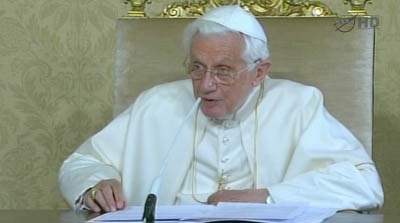 Credit: NASA TV



Speaking from a desk at the Vatican, the pope focused on the role of science and technology in solving problems on Earth and inspiring young people.

"From the space station, you have a very different view of the Earth, you fly over different continents and nations several times a day," he said, reading prepared remarks. "I think it must be obvious to you how we all live together on one Earth and how absurd it is that we fight and kill each (other).

"I know that Mark Kelly's wife was a victim of a serious attack and I hope her health continues to improve. When you're contemplating the Earth from up there, do you ever wonder about the way nations and people live together down here, about how science can contribute to the cause of peace?"

"Thank you for the kind words, your holiness, and thank you for mentioning my wife, Gabby," Kelly replied. "It's a very good question. We fly over most of the world and you don't see borders, but at the same time we realize that people fight with each other and there's a lot of violence in this world and it's really an unfortunate thing."

Kelly said people frequently fight over resources, pointing out that "the science and technology that we put into the space station to develop a solar power capability gives us pretty much an unlimited amount of energy. And if those technologies could be adapted more on Earth, we could possibly reduce some of that violence."

Pope Benedict asked the astronauts about their impression of the environment from the vantage point of space, wondering if "you see signs of phenomena to which we need to be more attentive?"

"It really is an extraordinary vantage point we have up here," station flight engineer Ronald Garan said. "On the one hand, we can see how indescribably beautiful the planet we have been given is. But on the other hand, we can really clearly see how fragile it is. The atmosphere when viewed from space is paper thin. And to think that this paper thin layer is all that separates every living thing from the vacuum of space is really a sobering thought."

The pope spoke in Italian to station flight engineer Paolo Nespoli, who's mother died in Italy May 2.

"Dear Paolo. I know that a few days ago your mom left you and in a few days you will come back home and you will not find her waiting for you," the pope said in translated remarks. "We're all close to you. Me too, I have prayed for her. How have you been living through this time of pain on the International Space Station? Do you feel isolated and alone? Or do you feel united amongst ourselves in a community that follows you with attention and affection?"

"Holy father, I felt your prayers and everyone's prayers arriving up here," Nespoli replied. "My colleagues on board the station were very close to me at this important time for me, a very intense moment, as well as my brothers and sisters, my uncles, my aunts, my relatives were close to my mom in her last moments. I'm very grateful for this. I felt very far, but also very close. And the thought of feeling all of you near me at this time has been a great relief. I also want to thank the Italian and American space agencies that had given me the opportunity so that I was able to speak with her in her last moments."


Additional coverage for subscribers:


VIDEO: FRIDAY NIGHT FLIGHT DIRECTOR UPDATE PLAY



VIDEO: FLIGHT DAY 5 HIGHLIGHTS REEL PLAY


VIDEO: FRIDAY'S MISSION MANAGEMENT TEAM UPDATE PLAY


VIDEO: FRIDAY'S MISSION STATUS BRIEFING PLAY


VIDEO: SPACEWALKER INSTALLS NEW ANTENNA PLAY


VIDEO: WORKING WITH AMMONIA JUMPER LINE PLAY


VIDEO: SCIENCE EXPERIMENT RETRIEVED PLAY


VIDEO: SPACEWALK NO. 1 BEGINS PLAY


VIDEO: AMAZING VIEWS INSIDE SOYUZ CAPSULE PLAY | HI-DEF


VIDEO: STEP-BY-STEP WALKTHROUGH OF EVA NO. 1 PLAY | HI-DEF


VIDEO: THURSDAY NIGHT FLIGHT DIRECTOR UPDATE PLAY | HI-DEF



VIDEO: FLIGHT DAY 4 HIGHLIGHTS REEL PLAY


VIDEO: THURSDAY'S MISSION MANAGEMENT TEAM UPDATE PLAY


VIDEO: THURSDAY'S MISSION STATUS BRIEFING PLAY


VIDEO: INTERVIEWS WITH NPR, AP, REUTERS, FOX NEWS PLAY


VIDEO: MILES O'BRIEN MODERATES CREW INTERVIEW PLAY | HI-DEF


VIDEO: CREW CONGRATULATED BY AMS' LEADER PLAY | HI-DEF


VIDEO: ALPHA MAGNETIC SPECTROMETER INSTALLED PLAY


VIDEO: AMS HANDED FROM SHUTTLE ARM TO STATION ARM PLAY


VIDEO: SPECTROMETER UNBERTHED FROM SHUTTLE BAY PLAY


VIDEO: WEDNESDAY NIGHT FLIGHT DIRECTOR UPDATE PLAY | HI-DEF


VIDEO: NARRATED DESCRIPTION OF AMS INSTALLATION PLAY | HI-DEF


VIDEO: ALPHA MAGNETIC SPECTROMETER ANIMATION PLAY | HI-DEF



VIDEO: FLIGHT DAY 3 HIGHLIGHTS REEL PLAY


VIDEO: WEDNESDAY'S MISSION MANAGEMENT TEAM UPDATE PLAY


VIDEO: EXPRESS LOGISTICS CARRIER NO. 3 INSTALLED PLAY


VIDEO: PALLET HANDED FROM SHUTTLE ARM TO STATION ARM PLAY


VIDEO: SPARE PARTS CARRIER UNBERTHED FROM SHUTTLE PLAY


VIDEO: A LOOK AT SPARE PARTS RIDING ON PALLET PLAY | HI-DEF


VIDEO: ANIMATED EXPLANATION OF ELC NO. 3 INSTALL PLAY | HI-DEF


VIDEO: WEDNESDAY'S MISSION STATUS BRIEFING PLAY | HI-DEF


VIDEO: ENDEAVOUR CREW WELCOMED ABOARD STATION PLAY | HI-DEF


VIDEO: SHUTTLE AND STATION BROUGHT TO FIRM CONNECTION PLAY


VIDEO: DOCKING OF SHUTTLE TO STATION AS SEEN LIVE PLAY


VIDEO: SHUTTLE ARCS OUT IN FRONT OF SPACE STATION PLAY


VIDEO: ENDEAVOUR PERFORMS THE 360-DEGREE BACKFLIP PLAY


VIDEO: NARRATED PREVIEW OF THE DOCKING PLAY | HI-DEF


VIDEO: GUIDED TOUR OF SHUTTLE'S PAYLOAD BAY PLAY | HI-DEF



VIDEO: ASTRONAUTS' FLIGHT DAY 2 HOME MOVIES PLAY | HI-DEF


VIDEO: FLIGHT DAY 2 HIGHLIGHTS REEL PLAY


VIDEO: TUESDAY'S MISSION MANAGEMENT TEAM UPDATE PLAY


VIDEO: INSPECTION BOOM UNBERTHED FROM SHUTTLE BAY PLAY


VIDEO: TUESDAY'S MISSION STATUS BRIEFING PLAY | HI-DEF


VIDEO: PREVIEW OF FLIGHT DAY 2 PLAY | HI-DEF



VIDEO: ASTRONAUTS' FLIGHT DAY 1 HOME MOVIES PLAY | HI-DEF


VIDEO: FLIGHT DAY 1 HIGHLIGHTS REEL PLAY



VIDEO: THE FULL STS-134 LAUNCH EXPERIENCE PLAY


VIDEO: SHUTTLE ENDEAVOUR BLASTS OFF! PLAY | HI-DEF


VIDEO: ASTRONAUTS' VIEW OF JETTISONED FUEL TANK PLAY | HI-DEF


VIDEO: GO INSIDE MISSION CONTROL DURING LAUNCH PLAY | HI-DEF


VIDEO: THE POST-LAUNCH NEWS CONFERENCE PLAY


VIDEO: GIFFORDS' STAFF BRIEF REPORTERS PLAY



VIDEO: LAUNCH REPLAY: VAB ROOF PLAY | HI-DEF


VIDEO: LAUNCH REPLAY: PRESS SITE PLAY | HI-DEF


VIDEO: LAUNCH REPLAY: PAD PERIMETER PLAY | HI-DEF


VIDEO: LAUNCH REPLAY: BEACH TRACKER PLAY | HI-DEF


VIDEO: LAUNCH REPLAY: PLAYALINDA BEACH PLAY | HI-DEF


VIDEO: LAUNCH REPLAY: PAD FRONT CAMERA PLAY | HI-DEF


VIDEO: LAUNCH REPLAY: PAD CAMERA 070 PLAY | HI-DEF


VIDEO: LAUNCH REPLAY: PAD CAMERA 071 PLAY | HI-DEF


VIDEO: LAUNCH REPLAY: UCS-23 TRACKER PLAY | HI-DEF


VIDEO: LAUNCH REPLAY: PATRICK AFB PLAY | HI-DEF



VIDEO: CREW ARRIVES AT LAUNCH PAD 39A PLAY | HI-DEF


VIDEO: ASTRONAUTS LEAVE CREW QUARTERS PLAY | HI-DEF


VIDEO: CREW FINISHES GETTING SUITED UP PLAY | HI-DEF



VIDEO: BEAUTY SHOTS OF ENDEAVOUR ON THE PAD PLAY | HI-DEF


VIDEO: ROTATING SERVICE STRUCTURE RETRACTED PLAY | HI-DEF


VIDEO: TIME-LAPSE OF SUNDAY'S GANTRY ROLLBACK PLAY | HI-DEF


VIDEO: ANOTHER TOWER TIME-LAPSE FROM PAD CAMERA PLAY



VIDEO: LOOK BACK AT ENDEAVOUR'S LAUNCH DELAY PLAY | HI-DEF


VIDEO: RECAP OF HEATER PROBLEM AND THE FIX PLAY | HI-DEF


VIDEO: THE PRE-LAUNCH NEWS CONFERENCE PLAY


VIDEO: COUNTDOWN STATUS AND WEATHER BRIEFING PLAY | HI-DEF


VIDEO: ASTRONAUTS ARRIVE FOR SECOND COUNTDOWN PLAY | HI-DEF



VIDEO: ENDEAVOUR LAUNCH RESCHEDULED FOR MAY 16 PLAY


VIDEO: CHECKING ENDEAVOUR'S WIRING PLAY | HI-DEF


VIDEO: OLD ALCA-2 BOX OPENED UP FOR FORENSICS PLAY | HI-DEF


VIDEO: FAILED ALCA-2 BOX REMOVED FROM ENDEAVOUR PLAY | HI-DEF


VIDEO: WORKING ON OLD AND NEW SWITCHBOXES PLAY | HI-DEF


VIDEO: LAUNCH OF ENDEAVOUR DELAYED FURTHER PLAY



VIDEO: PRESIDENT OBAMA ARRIVES AT THE CAPE PLAY | HI-DEF


VIDEO: TOUR OF ATLANTIS AND ASTRONAUT MEETING PLAY | HI-DEF


VIDEO: FIRST FAMILY DEPARTS AFTER VISIT PLAY | HI-DEF



VIDEO: POST-SCRUB NEWS BRIEFING PLAY


VIDEO: LAUNCH DIRECTOR EXPLAINS SCRUB CALL PLAY | HI-DEF


VIDEO: SCRUB DECLARED FOR APU NO. 1 HEATER GLITCH PLAY | HI-DEF


VIDEO: ASTRONAUTS LEAVE QUARTERS BEFORE SCRUB PLAY | HI-DEF


VIDEO: CREW GETS SUITED UP FOR LAUNCH PLAY | HI-DEF


VIDEO: TIME-LAPSE OF PAD GANTRY RETRACTING PLAY | HI-DEF



VIDEO: ENDEAVOUR'S PRE-FLIGHT CAMPAIGN PLAY | HI-DEF


VIDEO: PAYLOADS' PRE-FLIGHT CAMPAIGN PLAY | HI-DEF


VIDEO: PREPARING ENDEAVOUR FUEL TANK FOR LAUNCH PLAY | HI-DEF



VIDEO: COUNTDOWN UPDATE AND WEATHER BRIEFING PLAY


VIDEO: THE PRE-LAUNCH NEWS CONFERENCE PLAY


VIDEO: ASTRONAUTS ARRIVE AT LAUNCH SITE PLAY | HI-DEF


VIDEO: COUNTDOWN PREVIEW BRIEFING PLAY | HI-DEF



VIDEO: GUIDED TOUR OF SPACE STATION PLAY | HI-DEF


VIDEO: ENDEAVOUR MISSION PREVIEW MOVIE PLAY | HI-DEF


VIDEO: GET TO KNOW ENDEAVOUR'S ASTRONAUTS PLAY | HI-DEF



VIDEO: PRE-FLIGHT INTERVIEW WITH MARK KELLY PLAY


VIDEO: PRE-FLIGHT INTERVIEW WITH GREG JOHNSON PLAY


VIDEO: PRE-FLIGHT INTERVIEW WITH MIKE FINCKE PLAY


VIDEO: PRE-FLIGHT INTERVIEW WITH ROBERTO VITTORI PLAY


VIDEO: PRE-FLIGHT INTERVIEW WITH DREW FEUSTEL PLAY


VIDEO: PRE-FLIGHT INTERVIEW WITH GREG CHAMITOFF PLAY



VIDEO: ENDEAVOUR CLEARED FOR APRIL 29 LAUNCH PLAY



VIDEO: EVACUATION DRESS REHEARSAL PLAY | HI-DEF


VIDEO: ASTRONAUTS BOARD ENDEAVOUR PLAY | HI-DEF


VIDEO: SUITING UP FOR PRACTICE COUNT PLAY | HI-DEF


VIDEO: SHUTTLE INSPECTED FOR STORM DAMAGE PLAY | HI-DEF


VIDEO: CREW TEST-DRIVES PAD ESCAPE VEHICLE PLAY | HI-DEF


VIDEO: ASTRONAUT CHAT AT THE PRESS SITE PLAY | HI-DEF


VIDEO: CREW ARRIVES FOR PRACTICE COUNT PLAY | HI-DEF



VIDEO: PAYLOADS ARRIVE AT LAUNCH PAD 39A PLAY | HI-DEF


VIDEO: CANISTER ROTATED UPRIGHT FOR PAD PLAY | HI-DEF


VIDEO: PALLET OF SPARE PARTS INTO CANISTER PLAY | HI-DEF


VIDEO: AMS PAYLOAD PUT INTO TRANSPORTER PLAY | HI-DEF



VIDEO: SHUTTLE AND STATION PROGRAM BRIEFING PLAY


VIDEO: THE STS-134 MISSION OVERVIEW PRESENTATIONS PLAY


VIDEO: IN-DEPTH WITH ALPHA MAGNETIC SPECTROMETER PLAY


VIDEO: PREVIEW BRIEFING ON MISSION'S SPACEWALKS PLAY


VIDEO: THE ASTRONAUTS' PRE-FLIGHT NEWS BRIEFING PLAY



VIDEO: SUN RISES OVER THE LAUNCH PAD PLAY | HI-DEF


VIDEO: ENDEAVOUR ARRIVES ATOP PAD 39A PLAY | HI-DEF


VIDEO: ROLLOUT FROM VEHICLE ASSEMBLY BUILDING PLAY | HI-DEF



VIDEO: HOISTING ENDEAVOUR TO TANK AND SRBS PLAY | HI-DEF


VIDEO: ORBITER GOES VERTICAL PLAY | HI-DEF


VIDEO: ENDEAVOUR LEAVES PROCESSING HANGAR PLAY | HI-DEF



VIDEO: PAYLOAD MEDIA DAY PLAY | HI-DEF


VIDEO: THE ALPHA MAGNETIC SPECTROMETER PLAY | HI-DEF


VIDEO: PAYLOAD REMOVED FROM C-5 PLAY | HI-DEF


VIDEO: AMS ARRIVES FROM EUROPE PLAY | HI-DEF



VIDEO: EXPRESS LOGISTICS CARRIER NO. 3 PLAY | HI-DEF


VIDEO: HIGH-PRESSURE OXYGEN GAS TANK PLAY | HI-DEF


VIDEO: PUTTING STATION ANTENNA ON CARRIER PLAY | HI-DEF



VIDEO: TANK UNLOADED TO ASSEMBLY BUILDING PLAY | HI-DEF


VIDEO: THE EXTERNAL FUEL TANK ARRIVES PLAY | HI-DEF


VIDEO: BOOSTER SEGMENT MOVED TO VAB PLAY | HI-DEF


VIDEO: KENNEDY SPACE CENTER SRB CEREMONY PLAY | HI-DEF


VIDEO: ENDEAVOUR FITTED WITH MAIN ENGINES PLAY | HI-DEF


VIDEO: ORBITER TOWED OFF RUNWAY PLAY | HI-DEF



MORE: STS-134 VIDEO ARCHIVE


HDTV: HIGH-DEFINITION COVERAGE


SUBSCRIBE NOW