NewsAlert





Sign up for our NewsAlert service and have the latest news in astronomy and space e-mailed direct to your desktop.


Privacy note: your e-mail address will not be used for any other purpose.





Shuttle Endeavour awaits launch
BY SPACEFLIGHT NOW
Posted: May 15, 2011


This collection of images shows the shuttle Endeavour atop pad 39A after the rotating service gantry was rolled back on Sunday afternoon in preparation for the May 16 scheduled launch.
Photo credit: NASA/Bill Ingalls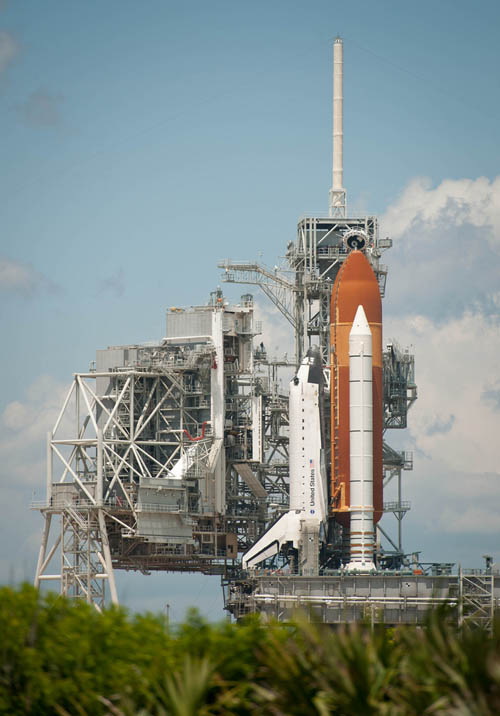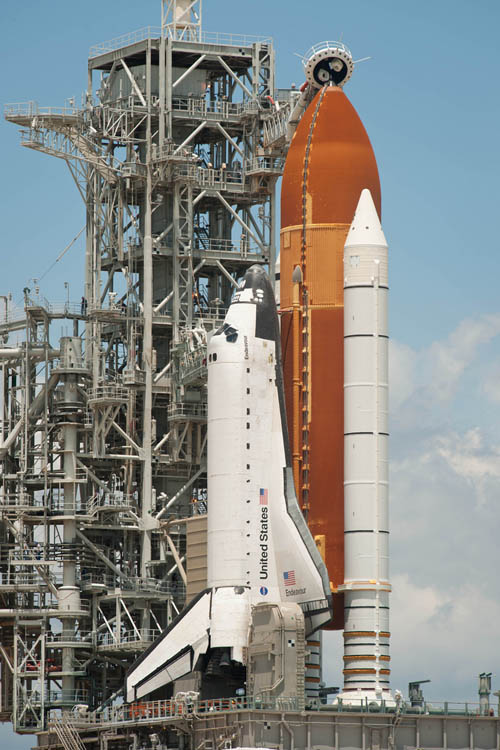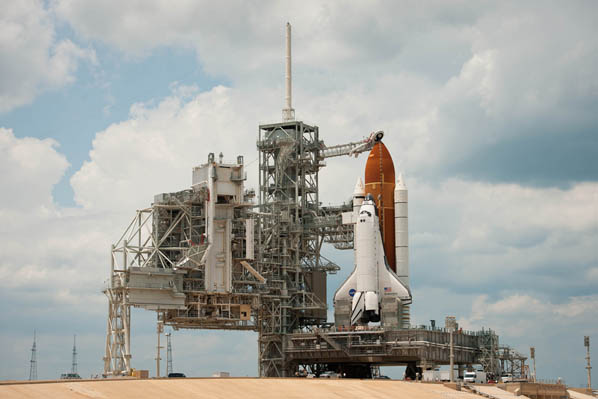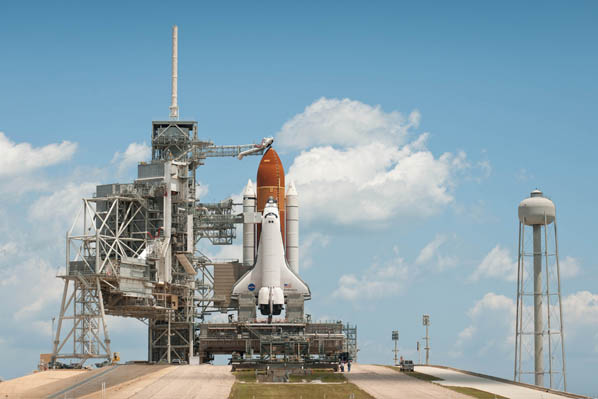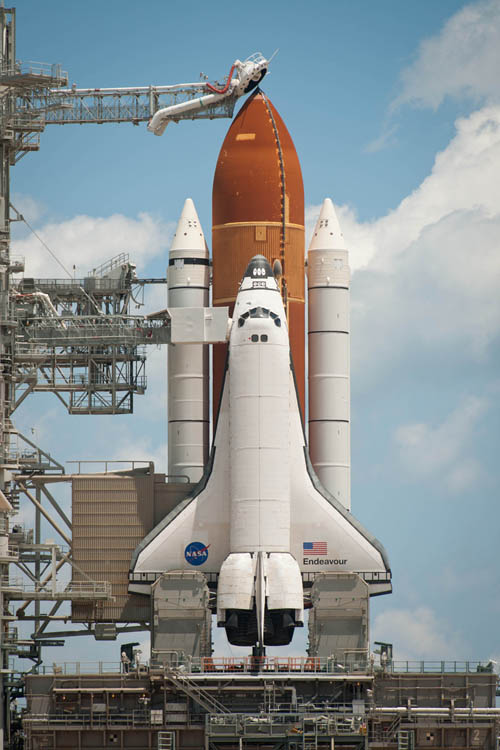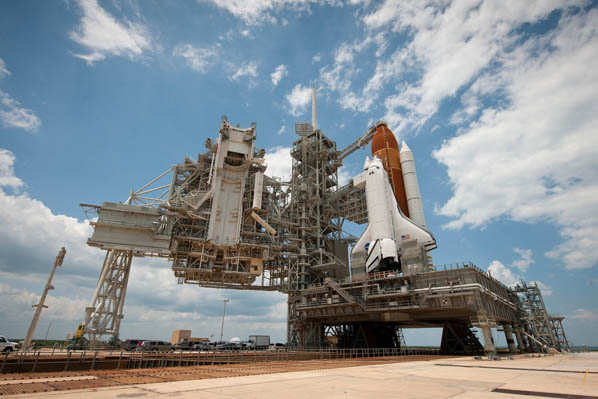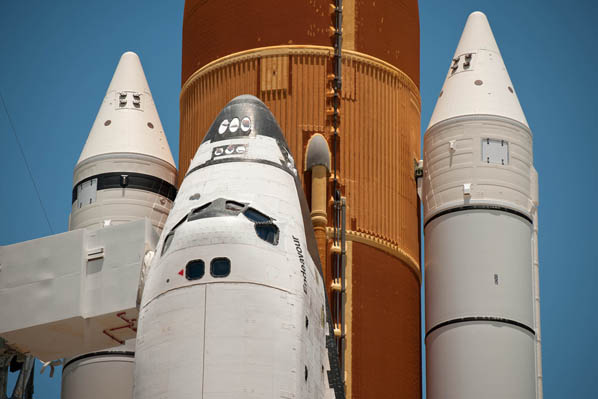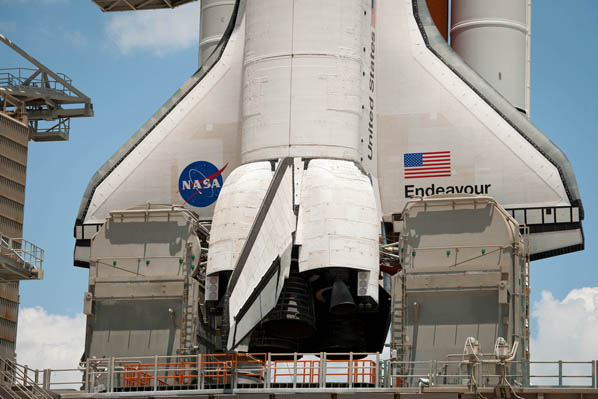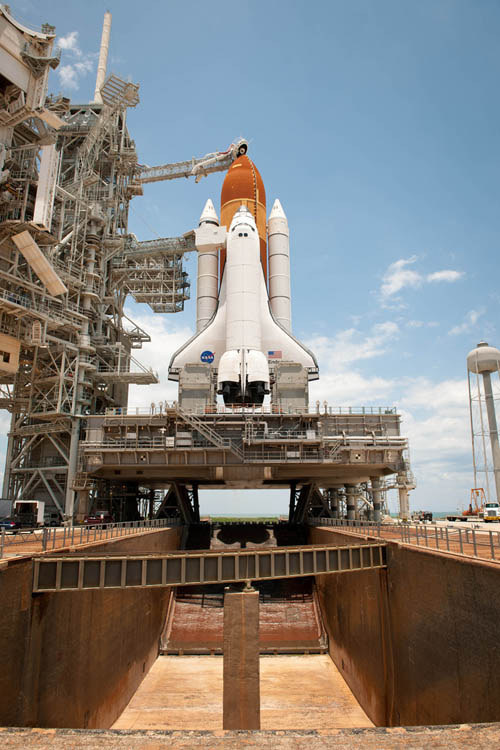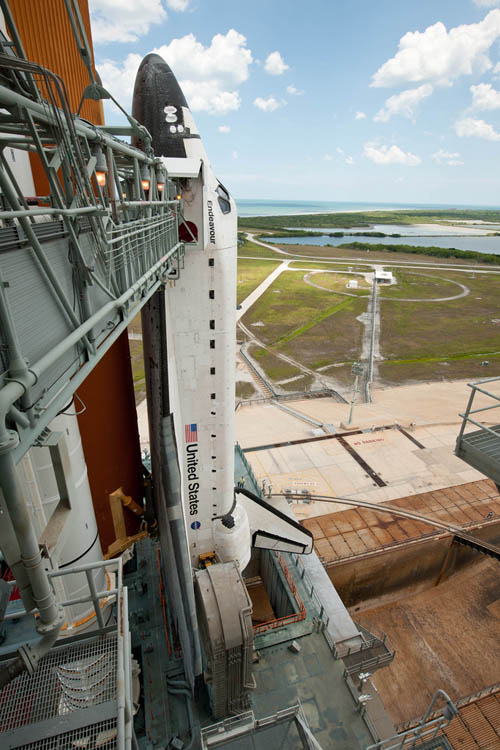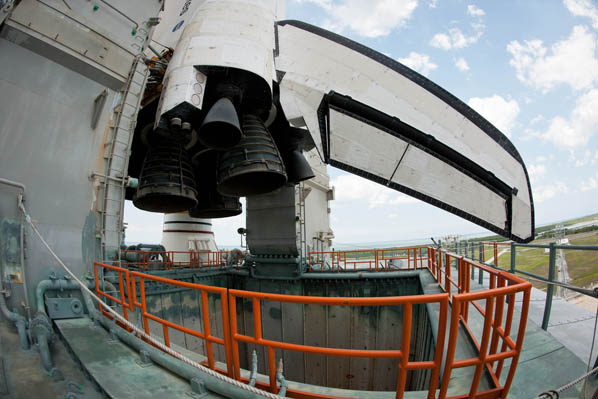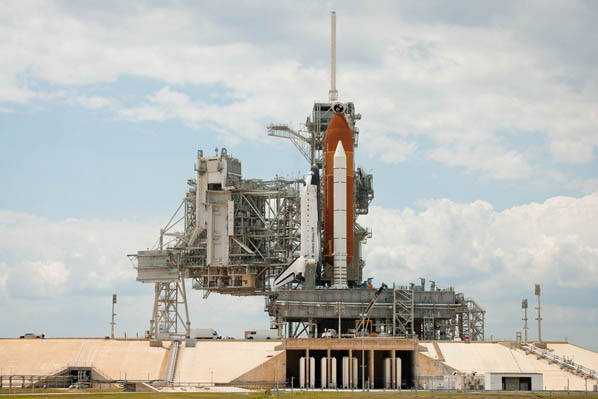 Photo credit: NASA/Bill Ingalls


Additional coverage for subscribers:


VIDEO: TIME-LAPSE OF SUNDAY'S GANTRY ROLLBACK PLAY | HI-DEF


VIDEO: ANOTHER TOWER TIME-LAPSE FROM PAD CAMERA PLAY



VIDEO: RECAP OF HEATER PROBLEM AND THE FIX PLAY | HI-DEF


VIDEO: THE PRE-LAUNCH NEWS CONFERENCE PLAY


VIDEO: COUNTDOWN STATUS AND WEATHER BRIEFING PLAY | HI-DEF


VIDEO: ASTRONAUTS ARRIVE FOR SECOND COUNTDOWN PLAY | HI-DEF



VIDEO: ENDEAVOUR LAUNCH RESCHEDULED FOR MAY 16 PLAY


VIDEO: CHECKING ENDEAVOUR'S WIRING PLAY | HI-DEF


VIDEO: OLD ALCA-2 BOX OPENED UP FOR FORENSICS PLAY | HI-DEF


VIDEO: FAILED ALCA-2 BOX REMOVED FROM ENDEAVOUR PLAY | HI-DEF


VIDEO: WORKING ON OLD AND NEW SWITCHBOXES PLAY | HI-DEF


VIDEO: LAUNCH OF ENDEAVOUR DELAYED FURTHER PLAY



VIDEO: PRESIDENT OBAMA ARRIVES AT THE CAPE PLAY | HI-DEF


VIDEO: TOUR OF ATLANTIS AND ASTRONAUT MEETING PLAY | HI-DEF


VIDEO: FIRST FAMILY DEPARTS AFTER VISIT PLAY | HI-DEF



VIDEO: POST-SCRUB NEWS BRIEFING PLAY


VIDEO: LAUNCH DIRECTOR EXPLAINS SCRUB CALL PLAY | HI-DEF


VIDEO: SCRUB DECLARED FOR APU NO. 1 HEATER GLITCH PLAY | HI-DEF


VIDEO: ASTRONAUTS LEAVE QUARTERS BEFORE SCRUB PLAY | HI-DEF


VIDEO: CREW GETS SUITED UP FOR LAUNCH PLAY | HI-DEF


VIDEO: TIME-LAPSE OF PAD GANTRY RETRACTING PLAY | HI-DEF



VIDEO: ENDEAVOUR'S PRE-FLIGHT CAMPAIGN PLAY | HI-DEF


VIDEO: PAYLOADS' PRE-FLIGHT CAMPAIGN PLAY | HI-DEF


VIDEO: PREPARING ENDEAVOUR FUEL TANK FOR LAUNCH PLAY | HI-DEF



VIDEO: COUNTDOWN UPDATE AND WEATHER BRIEFING PLAY


VIDEO: THE PRE-LAUNCH NEWS CONFERENCE PLAY


VIDEO: ASTRONAUTS ARRIVE AT LAUNCH SITE PLAY | HI-DEF


VIDEO: COUNTDOWN PREVIEW BRIEFING PLAY | HI-DEF



VIDEO: GUIDED TOUR OF SPACE STATION PLAY | HI-DEF


VIDEO: ENDEAVOUR MISSION PREVIEW MOVIE PLAY | HI-DEF


VIDEO: GET TO KNOW ENDEAVOUR'S ASTRONAUTS PLAY | HI-DEF



VIDEO: PRE-FLIGHT INTERVIEW WITH MARK KELLY PLAY


VIDEO: PRE-FLIGHT INTERVIEW WITH GREG JOHNSON PLAY


VIDEO: PRE-FLIGHT INTERVIEW WITH MIKE FINCKE PLAY


VIDEO: PRE-FLIGHT INTERVIEW WITH ROBERTO VITTORI PLAY


VIDEO: PRE-FLIGHT INTERVIEW WITH DREW FEUSTEL PLAY


VIDEO: PRE-FLIGHT INTERVIEW WITH GREG CHAMITOFF PLAY



VIDEO: ENDEAVOUR CLEARED FOR APRIL 29 LAUNCH PLAY



VIDEO: EVACUATION DRESS REHEARSAL PLAY | HI-DEF


VIDEO: ASTRONAUTS BOARD ENDEAVOUR PLAY | HI-DEF


VIDEO: SUITING UP FOR PRACTICE COUNT PLAY | HI-DEF


VIDEO: SHUTTLE INSPECTED FOR STORM DAMAGE PLAY | HI-DEF


VIDEO: CREW TEST-DRIVES PAD ESCAPE VEHICLE PLAY | HI-DEF


VIDEO: ASTRONAUT CHAT AT THE PRESS SITE PLAY | HI-DEF


VIDEO: CREW ARRIVES FOR PRACTICE COUNT PLAY | HI-DEF



VIDEO: PAYLOADS ARRIVE AT LAUNCH PAD 39A PLAY | HI-DEF


VIDEO: CANISTER ROTATED UPRIGHT FOR PAD PLAY | HI-DEF


VIDEO: PALLET OF SPARE PARTS INTO CANISTER PLAY | HI-DEF


VIDEO: AMS PAYLOAD PUT INTO TRANSPORTER PLAY | HI-DEF



VIDEO: SHUTTLE AND STATION PROGRAM BRIEFING PLAY


VIDEO: THE STS-134 MISSION OVERVIEW PRESENTATIONS PLAY


VIDEO: IN-DEPTH WITH ALPHA MAGNETIC SPECTROMETER PLAY


VIDEO: PREVIEW BRIEFING ON MISSION'S SPACEWALKS PLAY


VIDEO: THE ASTRONAUTS' PRE-FLIGHT NEWS BRIEFING PLAY



VIDEO: SUN RISES OVER THE LAUNCH PAD PLAY | HI-DEF


VIDEO: ENDEAVOUR ARRIVES ATOP PAD 39A PLAY | HI-DEF


VIDEO: ROLLOUT FROM VEHICLE ASSEMBLY BUILDING PLAY | HI-DEF



VIDEO: HOISTING ENDEAVOUR TO TANK AND SRBS PLAY | HI-DEF


VIDEO: ORBITER GOES VERTICAL PLAY | HI-DEF


VIDEO: ENDEAVOUR LEAVES PROCESSING HANGAR PLAY | HI-DEF



VIDEO: PAYLOAD MEDIA DAY PLAY | HI-DEF


VIDEO: THE ALPHA MAGNETIC SPECTROMETER PLAY | HI-DEF


VIDEO: PAYLOAD REMOVED FROM C-5 PLAY | HI-DEF


VIDEO: AMS ARRIVES FROM EUROPE PLAY | HI-DEF



VIDEO: EXPRESS LOGISTICS CARRIER NO. 3 PLAY | HI-DEF


VIDEO: HIGH-PRESSURE OXYGEN GAS TANK PLAY | HI-DEF


VIDEO: PUTTING STATION ANTENNA ON CARRIER PLAY | HI-DEF



VIDEO: TANK UNLOADED TO ASSEMBLY BUILDING PLAY | HI-DEF


VIDEO: THE EXTERNAL FUEL TANK ARRIVES PLAY | HI-DEF


VIDEO: BOOSTER SEGMENT MOVED TO VAB PLAY | HI-DEF


VIDEO: KENNEDY SPACE CENTER SRB CEREMONY PLAY | HI-DEF


VIDEO: ENDEAVOUR FITTED WITH MAIN ENGINES PLAY | HI-DEF


VIDEO: ORBITER TOWED OFF RUNWAY PLAY | HI-DEF



MORE: STS-134 VIDEO ARCHIVE


HDTV: HIGH-DEFINITION COVERAGE


SUBSCRIBE NOW