NASA moves Endeavour date amid ongoing repair work
BY WILLIAM HARWOOD
STORY WRITTEN FOR CBS NEWS "SPACE PLACE" & USED WITH PERMISSION
Posted: May 6, 2011


KENNEDY SPACE CENTER, FL--Engineers have not yet pinned down the cause of a short circuit that vaporized fusing in a heater control power switch April 29, delaying launch of the shuttle Endeavour on its 25th and final flight. But a replacement power switching box has been installed and NASA managers have approved a plan to replace wiring between the box and the heaters in question to clear the way for a second launch attempt.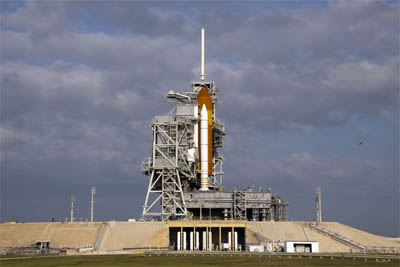 Credit: NASA



Senior shuttle managers planned to meet Friday afternoon to set a new launch target date. The current "no-earlier-than" target is May 10, but sources said the launching is expected to slip another week or so, to around May 16, because of time needed to complete repairs, retesting and to carry out a fresh three-day countdown.

For a launch at 8:56 a.m. EDT (GMT-4) on May 16, Endeavour's countdown would begin around 7 a.m. on Friday, May 13. The shuttle would dock with the International Space Station around 6 a.m. on May 18, undock on May 27 and land back at the Kennedy Space Center around 3:20 a.m. on May 30.

NASA managers are holding open an option to extend the mission by two days to give the shuttle crew time to help out with needed station maintenance. Complicating mission planning, three of the space station's six crew members -- Dmitry Kondratyev, Paolo Nespoli and Catherine Coleman -- are scheduled to return to Earth May 23 aboard a Russian Soyuz spacecraft, leaving the lab understaffed until three replacements arrive June 9.

The primary goals of Endeavour's flight are to deliver a pallet of spare parts and to install a $2 billion particle physics experiment on the station's power truss. The Endeavour astronauts also plan to stage four spacewalks to perform critical maintenance, but the launch delay and Soyuz departure are expected to result in a major flight plan revision and the EVA schedule is not yet clear.

Endeavour was grounded during the final hours of a launch countdown April 29 when one of two "strings" of fuel line heaters used by one of the shuttle's three hydraulic power units failed to power up normally. While the system can safely operate with a single string, a subsequent failure could result in a fuel line rupture, knocking auxiliary power unit No. 1 out of action and possibly contaminating the aft engine compartment with toxic hydrazine.

At the time of the failure, engineers believed there were three possible explanations: trouble with a fuse panel in the shuttle's cockpit that routes power to the APU system; a problem with the aft load control assembly, an electrical distribution box upstream of the heaters; or trouble with downstream heaters or thermostats.

Subsequent testing showed the cockpit fuse panel was working normally and that commands were reaching ALCA No. 2 as required. Additional tests indicated the thermostats in question were healthy but not getting power from the distribution box. As a result, ALCA No. 2 was removed from avionics bay No. 5 in Endeavour's aft engine compartment for a detailed failure analysis.

Engineers quickly found vaporized fuse elements in a so-called "hybrid driver" circuit responsible for routing power to APU 1's B-string fuel line heaters. But it was not immediately clear whether the blown circuitry was the result of a problem inside the power box or the result of a short in external wiring.

At launch pad 39A, meanwhile, a replacement ALCA was installed, but fuel line heater power was not immediately reconnected to make sure whatever caused the initial problem did not damage the replacement box.

Engineers met Thursday and discussed three options: replacing the wiring between ALCA No. 2 and the heater thermostats; replacing all the wiring, thermostats and heaters downstream of ALCA No. 2; and pressing ahead "as is" with the replacement ALCA and the original wiring.

They opted to replace the wiring between ALCA No. 2 and the heaters. The original power line will remain in place but will not be plugged in to protect against the possibility of a short. With a replacement ALCA and new downstream wiring, engineers are hopeful the heaters will work normally.


Additional coverage for subscribers:


VIDEO: OLD ALCA-2 BOX OPENED UP FOR FORENSICS PLAY | HI-DEF


VIDEO: FAILED ALCA-2 BOX REMOVED FROM ENDEAVOUR PLAY | HI-DEF


VIDEO: WORKING ON OLD AND NEW SWITCHBOXES PLAY | HI-DEF


VIDEO: LAUNCH OF ENDEAVOUR DELAYED FURTHER PLAY



VIDEO: PRESIDENT OBAMA ARRIVES AT THE CAPE PLAY | HI-DEF


VIDEO: TOUR OF ATLANTIS AND ASTRONAUT MEETING PLAY | HI-DEF


VIDEO: FIRST FAMILY DEPARTS AFTER VISIT PLAY | HI-DEF



VIDEO: POST-SCRUB NEWS BRIEFING PLAY


VIDEO: LAUNCH DIRECTOR EXPLAINS SCRUB CALL PLAY | HI-DEF


VIDEO: SCRUB DECLARED FOR APU NO. 1 HEATER GLITCH PLAY | HI-DEF


VIDEO: ASTRONAUTS LEAVE QUARTERS BEFORE SCRUB PLAY | HI-DEF


VIDEO: CREW GETS SUITED UP FOR LAUNCH PLAY | HI-DEF


VIDEO: TIME-LAPSE OF PAD GANTRY RETRACTING PLAY | HI-DEF



VIDEO: ENDEAVOUR'S PRE-FLIGHT CAMPAIGN PLAY | HI-DEF


VIDEO: PAYLOADS' PRE-FLIGHT CAMPAIGN PLAY | HI-DEF


VIDEO: PREPARING ENDEAVOUR FUEL TANK FOR LAUNCH PLAY | HI-DEF



VIDEO: COUNTDOWN UPDATE AND WEATHER BRIEFING PLAY


VIDEO: THE PRE-LAUNCH NEWS CONFERENCE PLAY


VIDEO: ASTRONAUTS ARRIVE AT LAUNCH SITE PLAY | HI-DEF


VIDEO: COUNTDOWN PREVIEW BRIEFING PLAY | HI-DEF



VIDEO: GUIDED TOUR OF SPACE STATION PLAY | HI-DEF


VIDEO: ENDEAVOUR MISSION PREVIEW MOVIE PLAY | HI-DEF


VIDEO: GET TO KNOW ENDEAVOUR'S ASTRONAUTS PLAY | HI-DEF



VIDEO: PRE-FLIGHT INTERVIEW WITH MARK KELLY PLAY


VIDEO: PRE-FLIGHT INTERVIEW WITH GREG JOHNSON PLAY


VIDEO: PRE-FLIGHT INTERVIEW WITH MIKE FINCKE PLAY


VIDEO: PRE-FLIGHT INTERVIEW WITH ROBERTO VITTORI PLAY


VIDEO: PRE-FLIGHT INTERVIEW WITH DREW FEUSTEL PLAY


VIDEO: PRE-FLIGHT INTERVIEW WITH GREG CHAMITOFF PLAY



VIDEO: ENDEAVOUR CLEARED FOR APRIL 29 LAUNCH PLAY



VIDEO: EVACUATION DRESS REHEARSAL PLAY | HI-DEF


VIDEO: ASTRONAUTS BOARD ENDEAVOUR PLAY | HI-DEF


VIDEO: SUITING UP FOR PRACTICE COUNT PLAY | HI-DEF


VIDEO: SHUTTLE INSPECTED FOR STORM DAMAGE PLAY | HI-DEF


VIDEO: CREW TEST-DRIVES PAD ESCAPE VEHICLE PLAY | HI-DEF


VIDEO: ASTRONAUT CHAT AT THE PRESS SITE PLAY | HI-DEF


VIDEO: CREW ARRIVES FOR PRACTICE COUNT PLAY | HI-DEF



VIDEO: PAYLOADS ARRIVE AT LAUNCH PAD 39A PLAY | HI-DEF


VIDEO: CANISTER ROTATED UPRIGHT FOR PAD PLAY | HI-DEF


VIDEO: PALLET OF SPARE PARTS INTO CANISTER PLAY | HI-DEF


VIDEO: AMS PAYLOAD PUT INTO TRANSPORTER PLAY | HI-DEF



VIDEO: SHUTTLE AND STATION PROGRAM BRIEFING PLAY


VIDEO: THE STS-134 MISSION OVERVIEW PRESENTATIONS PLAY


VIDEO: IN-DEPTH WITH ALPHA MAGNETIC SPECTROMETER PLAY


VIDEO: PREVIEW BRIEFING ON MISSION'S SPACEWALKS PLAY


VIDEO: THE ASTRONAUTS' PRE-FLIGHT NEWS BRIEFING PLAY



VIDEO: SUN RISES OVER THE LAUNCH PAD PLAY | HI-DEF


VIDEO: ENDEAVOUR ARRIVES ATOP PAD 39A PLAY | HI-DEF


VIDEO: ROLLOUT FROM VEHICLE ASSEMBLY BUILDING PLAY | HI-DEF



VIDEO: HOISTING ENDEAVOUR TO TANK AND SRBS PLAY | HI-DEF


VIDEO: ORBITER GOES VERTICAL PLAY | HI-DEF


VIDEO: ENDEAVOUR LEAVES PROCESSING HANGAR PLAY | HI-DEF



VIDEO: PAYLOAD MEDIA DAY PLAY | HI-DEF


VIDEO: THE ALPHA MAGNETIC SPECTROMETER PLAY | HI-DEF


VIDEO: PAYLOAD REMOVED FROM C-5 PLAY | HI-DEF


VIDEO: AMS ARRIVES FROM EUROPE PLAY | HI-DEF



VIDEO: EXPRESS LOGISTICS CARRIER NO. 3 PLAY | HI-DEF


VIDEO: HIGH-PRESSURE OXYGEN GAS TANK PLAY | HI-DEF


VIDEO: PUTTING STATION ANTENNA ON CARRIER PLAY | HI-DEF



VIDEO: TANK UNLOADED TO ASSEMBLY BUILDING PLAY | HI-DEF


VIDEO: THE EXTERNAL FUEL TANK ARRIVES PLAY | HI-DEF


VIDEO: BOOSTER SEGMENT MOVED TO VAB PLAY | HI-DEF


VIDEO: KENNEDY SPACE CENTER SRB CEREMONY PLAY | HI-DEF


VIDEO: ENDEAVOUR FITTED WITH MAIN ENGINES PLAY | HI-DEF


VIDEO: ORBITER TOWED OFF RUNWAY PLAY | HI-DEF



MORE: STS-134 VIDEO ARCHIVE


HDTV: HIGH-DEFINITION COVERAGE


SUBSCRIBE NOW