Space shuttle Endeavour launch delayed further
BY WILLIAM HARWOOD
STORY WRITTEN FOR CBS NEWS "SPACE PLACE" & USED WITH PERMISSION
Posted: May 1, 2011


Engineers have traced an electrical problem blamed for grounding the shuttle Endeavour Friday to an avionics box in the ship's engine compartment, officials said Sunday. Replacing the box will delay launch past Monday, but NASA managers have not yet determined when another attempt might be possible.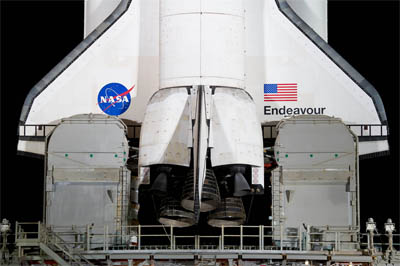 Credit: Bill Ingalls/NASA



An Air Force Atlas 5 rocket carrying a missile early warning satellite is scheduled for launch May 6 with a second day available as a backup. NASA cannot launch Endeavour between May 5 and 7 because the Air Force Eastern Range, which provides tracking and telemetry support for all rockets launched from the East Coast, needs 48 hours between missions to reconfigure equipment.

Whether the Air Force might agree to delay the Atlas launch to make way for Endeavour is not yet known, but work to replace and retest the avionics box is expected to take several days. It appears unlikely NASA could complete that work in time for a launch by May 4, the last available day before the Atlas cutout.

Barring a delay for the Atlas, Endeavour's launch could move to May 8 or, if the Air Force launch slips a day, to May 10. A May 9 launch date is not available for the shuttle because undocking from the International Space Station would come on the same day a Russian Soyuz is scheduled to depart.

Endeavour commander Mark Kelly and his crewmates -- pilot Gregory H. Johnson, Michael Fincke, Gregory Chamitoff, Andrew Feustel and European Space Agency astronaut Roberto Vittori -- flew back to Houston early Sunday aboard a shuttle training aircraft to await developments.

"Things happen fast," Johnson said in a Twitter update. "We are now all aboard an STA for return to Houston. Be back in a few days. More to follow."

Endeavour was grounded Friday during the final hours of the countdown because of telemetry indicating multiple fuel line heaters used by one of the shuttle's three hydraulic power units were not activating normally. The heaters are needed to keep the lines from freezing and possibly rupturing in flight.

The shuttle is equipped with three auxiliary power units, providing the hydraulic muscle to move the ship's engine nozzles, wing elevons, rudder, tail fin speed brake, body flap, landing gear brakes and nose wheel steering system. The shuttle can safely fly with a single APU, but flight rules require full redundancy for a countdown to proceed.

Likewise, each of the shuttle's three APUs is equipped with redundant heater "strings" and only one channel is required for normal operation. But again, the flight rules require redundancy to protect against a subsequent failure that could knock the system out of action.

Early Saturday, engineers ruled out a problem with the fuse panel in the shuttle's cockpit that routes power to the APU circuitry. That left two possible culprits: one or more faulty heater control thermostats or the aft load controller assembly, or ALCA-2, avionics box the heater circuitry runs through.

To find out if a faulty thermostat was to blame, engineers working in Endeavour's cramped engine compartment Saturday afternoon sprayed compressed air on APU No. 1's B-channel heater thermostats to lower their temperature enough to find out whether they would cycle on or not. They did not, but that could have been the result of a wiring problem or a bad connector. Additional tests were carried out overnight and no such problems were found.

Engineers met early Sunday and recommended replacing the ALCA-2 box. It's not yet clear how long that work might take.

"Due to additional troubleshooting required for APU 1 heater issue, Monday's launch attempt has been scrubbed," the launch team was told early Sunday. "Currently in work to secure from launch countdown operations at this time. No new launch date has been determined."


Additional coverage for subscribers:


VIDEO: PRESIDENT OBAMA ARRIVES AT THE CAPE PLAY | HI-DEF


VIDEO: TOUR OF ATLANTIS AND ASTRONAUT MEETING PLAY | HI-DEF


VIDEO: FIRST FAMILY DEPARTS AFTER VISIT PLAY | HI-DEF



VIDEO: POST-SCRUB NEWS BRIEFING PLAY


VIDEO: LAUNCH DIRECTOR EXPLAINS SCRUB CALL PLAY | HI-DEF


VIDEO: SCRUB DECLARED FOR APU NO. 1 HEATER GLITCH PLAY | HI-DEF


VIDEO: ASTRONAUTS LEAVE QUARTERS BEFORE SCRUB PLAY | HI-DEF


VIDEO: CREW GETS SUITED UP FOR LAUNCH PLAY | HI-DEF


VIDEO: TIME-LAPSE OF PAD GANTRY RETRACTING PLAY | HI-DEF



VIDEO: ENDEAVOUR'S PRE-FLIGHT CAMPAIGN PLAY | HI-DEF


VIDEO: PAYLOADS' PRE-FLIGHT CAMPAIGN PLAY | HI-DEF


VIDEO: PREPARING ENDEAVOUR FUEL TANK FOR LAUNCH PLAY | HI-DEF



VIDEO: COUNTDOWN UPDATE AND WEATHER BRIEFING PLAY


VIDEO: THE PRE-LAUNCH NEWS CONFERENCE PLAY


VIDEO: ASTRONAUTS ARRIVE AT LAUNCH SITE PLAY | HI-DEF


VIDEO: COUNTDOWN PREVIEW BRIEFING PLAY | HI-DEF



VIDEO: GUIDED TOUR OF SPACE STATION PLAY | HI-DEF


VIDEO: ENDEAVOUR MISSION PREVIEW MOVIE PLAY | HI-DEF


VIDEO: GET TO KNOW ENDEAVOUR'S ASTRONAUTS PLAY | HI-DEF



VIDEO: PRE-FLIGHT INTERVIEW WITH MARK KELLY PLAY


VIDEO: PRE-FLIGHT INTERVIEW WITH GREG JOHNSON PLAY


VIDEO: PRE-FLIGHT INTERVIEW WITH MIKE FINCKE PLAY


VIDEO: PRE-FLIGHT INTERVIEW WITH ROBERTO VITTORI PLAY


VIDEO: PRE-FLIGHT INTERVIEW WITH DREW FEUSTEL PLAY


VIDEO: PRE-FLIGHT INTERVIEW WITH GREG CHAMITOFF PLAY



VIDEO: ENDEAVOUR CLEARED FOR APRIL 29 LAUNCH PLAY



VIDEO: EVACUATION DRESS REHEARSAL PLAY | HI-DEF


VIDEO: ASTRONAUTS BOARD ENDEAVOUR PLAY | HI-DEF


VIDEO: SUITING UP FOR PRACTICE COUNT PLAY | HI-DEF


VIDEO: SHUTTLE INSPECTED FOR STORM DAMAGE PLAY | HI-DEF


VIDEO: CREW TEST-DRIVES PAD ESCAPE VEHICLE PLAY | HI-DEF


VIDEO: ASTRONAUT CHAT AT THE PRESS SITE PLAY | HI-DEF


VIDEO: CREW ARRIVES FOR PRACTICE COUNT PLAY | HI-DEF



VIDEO: PAYLOADS ARRIVE AT LAUNCH PAD 39A PLAY | HI-DEF


VIDEO: CANISTER ROTATED UPRIGHT FOR PAD PLAY | HI-DEF


VIDEO: PALLET OF SPARE PARTS INTO CANISTER PLAY | HI-DEF


VIDEO: AMS PAYLOAD PUT INTO TRANSPORTER PLAY | HI-DEF



VIDEO: SHUTTLE AND STATION PROGRAM BRIEFING PLAY


VIDEO: THE STS-134 MISSION OVERVIEW PRESENTATIONS PLAY


VIDEO: IN-DEPTH WITH ALPHA MAGNETIC SPECTROMETER PLAY


VIDEO: PREVIEW BRIEFING ON MISSION'S SPACEWALKS PLAY


VIDEO: THE ASTRONAUTS' PRE-FLIGHT NEWS BRIEFING PLAY



VIDEO: SUN RISES OVER THE LAUNCH PAD PLAY | HI-DEF


VIDEO: ENDEAVOUR ARRIVES ATOP PAD 39A PLAY | HI-DEF


VIDEO: ROLLOUT FROM VEHICLE ASSEMBLY BUILDING PLAY | HI-DEF



VIDEO: HOISTING ENDEAVOUR TO TANK AND SRBS PLAY | HI-DEF


VIDEO: ORBITER GOES VERTICAL PLAY | HI-DEF


VIDEO: ENDEAVOUR LEAVES PROCESSING HANGAR PLAY | HI-DEF



VIDEO: PAYLOAD MEDIA DAY PLAY | HI-DEF


VIDEO: THE ALPHA MAGNETIC SPECTROMETER PLAY | HI-DEF


VIDEO: PAYLOAD REMOVED FROM C-5 PLAY | HI-DEF


VIDEO: AMS ARRIVES FROM EUROPE PLAY | HI-DEF



VIDEO: EXPRESS LOGISTICS CARRIER NO. 3 PLAY | HI-DEF


VIDEO: HIGH-PRESSURE OXYGEN GAS TANK PLAY | HI-DEF


VIDEO: PUTTING STATION ANTENNA ON CARRIER PLAY | HI-DEF



VIDEO: TANK UNLOADED TO ASSEMBLY BUILDING PLAY | HI-DEF


VIDEO: THE EXTERNAL FUEL TANK ARRIVES PLAY | HI-DEF


VIDEO: BOOSTER SEGMENT MOVED TO VAB PLAY | HI-DEF


VIDEO: KENNEDY SPACE CENTER SRB CEREMONY PLAY | HI-DEF


VIDEO: ENDEAVOUR FITTED WITH MAIN ENGINES PLAY | HI-DEF


VIDEO: ORBITER TOWED OFF RUNWAY PLAY | HI-DEF



MORE: STS-134 VIDEO ARCHIVE


HDTV: HIGH-DEFINITION COVERAGE


SUBSCRIBE NOW