Mission preview: One final spaceflight for Endeavour
BY WILLIAM HARWOOD
STORY WRITTEN FOR CBS NEWS "SPACE PLACE" & USED WITH PERMISSION
Posted: April 28, 2011


KENNEDY SPACE CENTER, FL--With just two flights remaining and thousands of layoffs looming, NASA is readying the shuttle Endeavour for launch Friday on its 25th and final mission, a four-spacewalk voyage to deliver supplies, spare parts and a $2 billion particle physics detector to the International Space Station.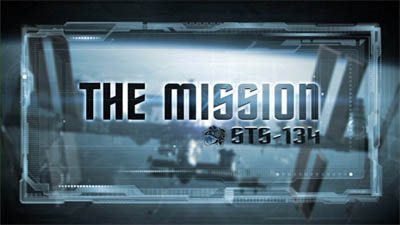 Credit: NASA



Playing out against a backdrop of uncertainty about the future of American manned space flight, Endeavour's launch on NASA's next-to-last shuttle flight has generated intense public interest in the wake of a Jan. 8 assassination attempt that left Rep. Gabrielle Giffords, wife of shuttle commander Mark Kelly, gravely injured with a gunshot wound to the head.

Recovering in Houston, Giffords faces a long, difficult rehabilitation and an uncertain prognosis. But Kelly says his wife is making steady progress and will attend the launching in Florida. When told her medical team had approved the trip, she pumped her fist and said "awesome," Kelly told the CBS Evening News.

Joining the national surge of interest in Giffords' story and Kelly's decision to remain in place as Endeavour's commander, President Barack Obama and his family also plan to attend the launching, making him only the third sitting president to witness a manned space launch.

Giffords, her entourage and the First Family will watch from a secure location near the launch control center 3.4 miles from launch pad while several hundred thousand area residents and tourists jam nearby roads and beaches for a chance to see one of NASA's final two shuttle launchings as the 30-year-old program draws to a close.

"It's been an incredible success over a long period of time and it brings a capability that certainly we're not going to replace with the next vehicle," Kelly said. "So it's sad to see it go. (But) I think it's probably the right time to retire the shuttle and move on to something else so we can get out of low-Earth orbit and start to explore the solar system again."

Using a repaired external tank that was damaged during Hurricane Katrina, Endeavour's launch on the 134th shuttle mission is targeted for 3:47:52 p.m. EDT on Friday, April 29, roughly the moment Earth's rotation carries pad 39A into the plane of the space station's orbit. To catch up with the lab complex, the shuttle must take off within five minutes of that "in-plane" moment.

Joining Kelly on Endeavour's upper flight deck will be pilot Gregory "Box" Johnson, European Space Agency flight engineer Roberto Vittori and Michael Fincke, a space station veteran who has logged nearly a full year in space during two earlier expeditions aboard the space station.

Strapped in on the shuttle's lower deck will be station veteran Gregory Chamitoff and Andrew Feustel, who helped repair the Hubble Space Telescope during a 2009 shuttle mission. All seven shuttle fliers are space veterans, but it's the first shuttle flight for Fincke, who rode Russian Soyuz spacecraft for his first two missions.

Lost in the glare of the Giffords story, Endeavour's mission is among the most ambitious of the final half-dozen or so flights to complete the assembly of the International Space Station. Carrying 15 tons of cargo, shuttle mission STS-134 will complete the U.S. segment of the lab complex after 12 years of construction. A final flight by the shuttle Atlantis in late June is devoted primarily to stocking the lab with supplies.

"It is an extremely complex mission," said shuttle Program Manager John Shannon. "It's a long period of time docked to the station, four EVAs, a tremendous amount of activity internal to the ISS, we're going to put a world-class experiment on the ISS and get it all hooked up.

"I think the missions we are executing now in complexity are the most difficult missions that not just NASA, but any nation has ever flown in space. And I would include Apollo in that discussion. I think the missions we do right now are more complicated than what we were doing even during the moon landings."

Assuming an on-time liftoff, Kelly plans to guide Endeavour to a docking at the space station's forward port around 1:25 p.m. on May 1. A pallet of spare components will be robotically bolted to left side of the station's power truss a few hours later. The next day, the 7.5-ton Alpha Magnetic Spectrometer will be attached to the right side of the power truss.

Using a massive magnet to bend the trajectories of high-energy cosmic rays -- charged particles from supernovas, neutron stars, black holes and other cosmic enigmas -- scientists will look for evidence of antimatter and as-yet-undetected dark matter, believed to make up a quarter of the mass of the universe.

AMS may even find evidence of strange particles made up of quarks in different arrangements than those found on Earth. Or something completely unexpected.

The AMS "really probes the foundations of modern physics," said Sam Ting, a Nobel Laureate who manages the multinational experiment. "But to my collaborators and I, the most exciting objective of AMS is to probe the unknown, to search for phenomena which exist in nature but yet we have not the tools or the imagination to find."

AMS will operate autonomously after it is connected to station power, beaming down a continuous stream of data for at least 10 years and possibly longer if the lab is funded past 2020.

With AMS in place, Fincke, Feustel and Chamitoff, working in alternating two-man teams, plan to carry out four spacewalks May 3, 5, 7 and 9 to retrieve one materials science exposure experiment and to install another; to refill the ammonia coolant reservoir in the station's far left-side solar array; to re-lubricate a solar array rotary joint; to install a robot arm attachment fitting on the Russian Zarya module; and to perform needed maintenance.

They also plan to test an innovative new technique for removing nitrogen from their bloodstreams prior to one spacewalk, a protocol to prevent the bends that is less time consuming and potentially disruptive than the established technique.

If all goes well, Endeavour will undock from the station around 6:18 p.m. on May 11. Then, testing new sensors and software under development for NASA's Orion deep space exploration capsule, the shuttle crew will re-rendezvous with the station, pulling within about 1,000 feet before breaking off and departing the area.

Landing back at the Kennedy Space Center is targeted for 9:22 a.m. on Friday, May 13. But if Endeavour is in good shape after docking, NASA managers plan to extend the flight one or two days to give the crew more time to help their station colleagues with needed maintenance. If two days are added, the landing would be expected around 8:40 a.m. on May 15.

It is not yet known where President Obama, his family or Giffords will view the launching. NASA normally reserves the top floor of a United Space Alliance office building near the huge Vehicle Assembly Building for guests of the agency administrator, providing an unobstructed view of the launch pad a few miles away.

President Bill Clinton and wife Hillary watched the launch of former Sen. John Glenn aboard the shuttle Discovery in 1998 from the roof of the nearby launch control center where the families of shuttle crews typically gather.

In any case, NASA and Brevard County officials are bracing for large crowds as tourists and area residents turn out to witness the shuttle program's next-to-last launching. During Discovery's final launch in February, tourism officials estimated more than 300,000 shuttle watchers jammed area roads an beaches, generating major traffic jams across the county.

Even larger crowds are expected for Endeavour's launching. If bad weather or technical problems delay launch inside of four hours, NASA managers may be forced to order a 48-hour slip because of expected traffic snarls that would make it difficult for engineers to "safe" the shuttle, get home for needed rest and then get back to the space center in time for a 24-hour recycle.

Obama's presence for Endeavour's launching is fitting, not just to show support for Kelly and Giffords as she continues her difficult recovery, but also because of his administration's drive to reshape America's manned space program.

While expressing support for the Bush administration's post-shuttle moon program during the 2008 presidential campaign, Obama has since ordered NASA to scrap the Constellation program and to focus instead on helping private industry develop commercial space taxis to ferry U.S. astronauts to and from low-Earth orbit after the shuttle fleet is retired.

At the same time, the administration gave into congressional demands for immediate work on a new-heavy lift rocket to propel new crew capsules like Lockheed Martin's Orion spacecraft, originally designed for moon missions, on deep space voyages to nearby asteroids and, eventually, Mars.

But exploration is a long-term goal and the targets and mission architectures are not yet defined. In the near term, the focus is on operating the space station, retiring the shuttle and developing commercial manned spacecraft to take it's place.

It will take private industry at least three to four years to develop new orbital spacecraft and until then, NASA will be forced to rely on Russian Soyuz vehicles, at an average cost of about $55 million a seat, to get astronauts to and from the station.

While many NASA insiders agree with the need to replace the space shuttle with a less expensive more up-to-date spacecraft, virtually everyone laments the political decisions and compromises that resulted in a multi-year gap between the shuttle's retirement and the debut of whatever vehicle will replace it.

As it is, the shuttle's highly trained work force is being phased out as NASA winds down the program.

Through earlier layoffs and attrition, United Space Alliance, the shuttle prime contractor, has reduced its workforce in Florida, Texas and Alabama from around 10,500 in October 2009 to a current level of around 5,600. In late July or early August, the company will implement another major reduction, eliminating between 2,600 and 2,800 jobs across the company. Of that total, 1,850 to 1,950 job losses are expected in Florida, 750 to 800 in Texas and 30 to 40 in Alabama.

"We have been stepping down our workforce over the last, really, three years," Shannon told reporters last month. "Back in late 2006, the shuttle program had 14,000 contractors. We're currently down to just over 6,000 contractors. We had 1,800 civil servants at that time, we're just over 1,000 at this time.

"So it's been this gradual phase down. We're at a point now where it's primarily operations and sustaining engineering for the different elements that are left, and we require those out to the end of the program."

And the end is clearly at hand.

Only two more shuttle flights are on the books -- Endeavour's mission and a final flight by the shuttle Atlantis in late June. A small transition team, made up of only a few hundred managers and engineers, will be responsible for decommissioning the orbiters after their final flights, removing components that might be used in follow-on programs and preparing the ships for eventual museum duty.

Discovery will be sent to the Smithsonian Air and Space Museum's Steven F. Udvar-Hazy Center near Washington. Atlantis will remain at the Kennedy Space Center and Endeavour will be displayed at the California Science Center in Los Angeles.