Giffords flies to Florida for Endeavour's launch
BY WILLIAM HARWOOD
STORY WRITTEN FOR CBS NEWS "SPACE PLACE" & USED WITH PERMISSION
Posted: April 27, 2011


The shuttle Endeavour's countdown is proceeding smoothly toward launch Friday with no technical problems of any significance and forecasters predicting an 80 percent chance of good weather. Rep. Gabrielle Giffords, the gravely wounded wife of shuttle commander Mark Kelly, flew to Florida from Houston Wednesday, her first major trip since an assassination attempt in January.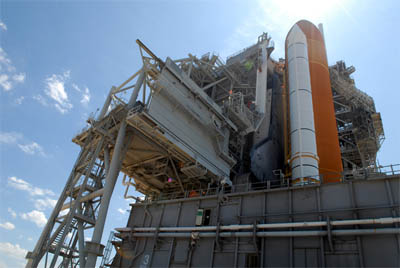 Credit: NASA



President Barack Obama also plans to attend Endeavour's launching, landing aboard Air Force One at the nearby Cape Canaveral Air Force Station Friday. The president and his family will visit a shuttle processing hangar before Endeavour's planned takeoff at 3:47:52 p.m. Obama is scheduled to fly to Miami later in the afternoon.

As for Giffords, "we treat that just like a crew family visit," said MIke Moses, director of shuttle integration at the Kennedy Space Center. "She needs a little extra care and attention. There's going to be a lot of extra, outside attention placed on it, but from a what-we're-doing (standpoint), she's NASA family and we're treating her just like we do all the rest of the crew families."

Crew families typically watch shuttle take offs from the roof of the Launch Control Center 3.4 miles from the pad. And that's where President Clinton and wife Hillary watched former Sen. John Glenn's 1998 shuttle launch. A crane was parked by the building Wednesday and workers could be seen hauling material of some sort to the roof.

With only two flights left before the shuttle program comes to an end, large crowds are expected around the Kennedy Space Center to watch Endeavour's 25th and final liftoff. Launch Director Mike Leinbach said Brevard County law enforcement officials estimated some 400,000 spectators turned out for the shuttle Discovery's final flight in February. Between 500,000 and 750,000 spectators are expected for Endeavour's launch.

"What local law enforcement has told us is that whatever drive delay we experienced for (Discovery's) launch, it's going to be about 50 percent longer this time going home," Leinbach said. "It's going to be tough to get home. But when you think about why the people are coming, to experience something that's uniquely American and be able to see one of the last two flights, that gives me a lot of pride."

Forecasters are predicting an 80 percent chance of good weather Friday for Endeavour's launching. The only concern is possibly high crosswinds at the emergency runway where Kelly and pilot Gregory Johnson would have to attempt a landing if a main engine failed early in flight.

Shuttle weather officer Kathy Winters said a front is expected to move through the area Thursday , bringing possibly severe thunderstorms to the Kennedy Space Center that night. Lightning could hold up plans to retract a protective gantry, but Leinbach said the countdown could accommodate a four- to five-hour delay with no impact on fueling and launch.

"That really shouldn't be a problem for us," he said.

If all goes well, engineers will begin pumping liquid oxygen and hydrogen rocket fuel into Endeavour's external tank around 6:22 a.m. Friday. Kelly, Johnson and their crewmates -- Michael Fincke, Gregory Chamitoff, Andrew Feustel and European Space Agency astronaut Roberto Vittori -- will strap in around 12:30 p.m. to await liftoff.

"We're not working any significant issues at all," Leinbach said. "The team's upbeat. I talked to the firing room this morning, and they're all excited about the mission, about the countdown, the president showing up. We're dealing with that, it's a little bit of a challenge for us, but the team is not distracted by that."


Additional coverage for subscribers:


VIDEO: THE PRE-LAUNCH NEWS CONFERENCE PLAY


VIDEO: ASTRONAUTS ARRIVE AT LAUNCH SITE PLAY | HI-DEF


VIDEO: COUNTDOWN PREVIEW BRIEFING PLAY | HI-DEF



VIDEO: GUIDED TOUR OF SPACE STATION PLAY | HI-DEF


VIDEO: ENDEAVOUR MISSION PREVIEW MOVIE PLAY | HI-DEF


VIDEO: GET TO KNOW ENDEAVOUR'S ASTRONAUTS PLAY | HI-DEF



VIDEO: PRE-FLIGHT INTERVIEW WITH MARK KELLY PLAY


VIDEO: PRE-FLIGHT INTERVIEW WITH GREG JOHNSON PLAY


VIDEO: PRE-FLIGHT INTERVIEW WITH MIKE FINCKE PLAY


VIDEO: PRE-FLIGHT INTERVIEW WITH ROBERTO VITTORI PLAY


VIDEO: PRE-FLIGHT INTERVIEW WITH DREW FEUSTEL PLAY


VIDEO: PRE-FLIGHT INTERVIEW WITH GREG CHAMITOFF PLAY



VIDEO: ENDEAVOUR CLEARED FOR APRIL 29 LAUNCH PLAY



VIDEO: EVACUATION DRESS REHEARSAL PLAY | HI-DEF


VIDEO: ASTRONAUTS BOARD ENDEAVOUR PLAY | HI-DEF


VIDEO: SUITING UP FOR PRACTICE COUNT PLAY | HI-DEF


VIDEO: SHUTTLE INSPECTED FOR STORM DAMAGE PLAY | HI-DEF


VIDEO: CREW TEST-DRIVES PAD ESCAPE VEHICLE PLAY | HI-DEF


VIDEO: ASTRONAUT CHAT AT THE PRESS SITE PLAY | HI-DEF


VIDEO: CREW ARRIVES FOR PRACTICE COUNT PLAY | HI-DEF



VIDEO: PAYLOADS ARRIVE AT LAUNCH PAD 39A PLAY | HI-DEF


VIDEO: CANISTER ROTATED UPRIGHT FOR PAD PLAY | HI-DEF


VIDEO: PALLET OF SPARE PARTS INTO CANISTER PLAY | HI-DEF


VIDEO: AMS PAYLOAD PUT INTO TRANSPORTER PLAY | HI-DEF



VIDEO: SHUTTLE AND STATION PROGRAM BRIEFING PLAY


VIDEO: THE STS-134 MISSION OVERVIEW PRESENTATIONS PLAY


VIDEO: IN-DEPTH WITH ALPHA MAGNETIC SPECTROMETER PLAY


VIDEO: PREVIEW BRIEFING ON MISSION'S SPACEWALKS PLAY


VIDEO: THE ASTRONAUTS' PRE-FLIGHT NEWS BRIEFING PLAY



VIDEO: SUN RISES OVER THE LAUNCH PAD PLAY | HI-DEF


VIDEO: ENDEAVOUR ARRIVES ATOP PAD 39A PLAY | HI-DEF


VIDEO: ROLLOUT FROM VEHICLE ASSEMBLY BUILDING PLAY | HI-DEF



VIDEO: HOISTING ENDEAVOUR TO TANK AND SRBS PLAY | HI-DEF


VIDEO: ORBITER GOES VERTICAL PLAY | HI-DEF


VIDEO: ENDEAVOUR LEAVES PROCESSING HANGAR PLAY | HI-DEF



VIDEO: PAYLOAD MEDIA DAY PLAY | HI-DEF


VIDEO: THE ALPHA MAGNETIC SPECTROMETER PLAY | HI-DEF


VIDEO: PAYLOAD REMOVED FROM C-5 PLAY | HI-DEF


VIDEO: AMS ARRIVES FROM EUROPE PLAY | HI-DEF



VIDEO: EXPRESS LOGISTICS CARRIER NO. 3 PLAY | HI-DEF


VIDEO: HIGH-PRESSURE OXYGEN GAS TANK PLAY | HI-DEF


VIDEO: PUTTING STATION ANTENNA ON CARRIER PLAY | HI-DEF



VIDEO: TANK UNLOADED TO ASSEMBLY BUILDING PLAY | HI-DEF


VIDEO: THE EXTERNAL FUEL TANK ARRIVES PLAY | HI-DEF


VIDEO: BOOSTER SEGMENT MOVED TO VAB PLAY | HI-DEF


VIDEO: KENNEDY SPACE CENTER SRB CEREMONY PLAY | HI-DEF


VIDEO: ENDEAVOUR FITTED WITH MAIN ENGINES PLAY | HI-DEF


VIDEO: ORBITER TOWED OFF RUNWAY PLAY | HI-DEF



MORE: STS-134 VIDEO ARCHIVE


HDTV: HIGH-DEFINITION COVERAGE


SUBSCRIBE NOW