President Obama to attend Endeavour's final launch
BY STEPHEN CLARK
SPACEFLIGHT NOW
Posted: April 20, 2011


President Obama will attend next week's launch of space shuttle Endeavour, the first time since 1998 a sitting president has visited the Kennedy Space Center to view a manned blastoff, according to a White House official.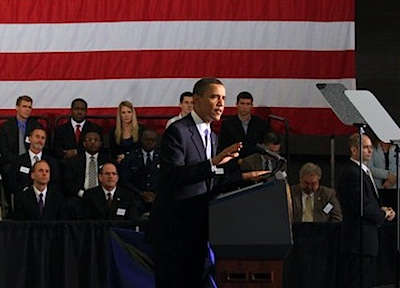 President Obama previously visited the Kennedy Space Center April 2010. Credit: Stephen Clark/Spaceflight Now



It will be President Obama's second visit to the spaceport after delivering a policy speech in April 2010 defending his vision for the U.S. space program.

A White House official confirmed the planned visit to Spaceflight Now.

President Obama will reportedly be joined First Lady Michelle Obama and his two daughters for the launch, which is set for next Friday, April 29, at 3:47 p.m. EDT (1947 GMT).

The visit will be the first time a sitting president has attended a space shuttle launch since 1998, when President Clinton flew to Florida to watch John Glenn soar into orbit on the shuttle Discovery.

The president could join Rep. Gabrielle Giffords, D-Ariz., the wife of Endeavour commander Mark Kelly, at the space shuttle launch. Giffords was shot in the head in an assassination attempt Jan. 10 at a meeting with constituents in Tucson.

Doctors say Giffords has made steady progress since the assassination attempt, and the injured congresswoman plans to attend Endeavour's liftoff if she can secure the approval of her medical team. Giffords is recovering in a Houston-area hospital not far from the shuttle crew's training base at the Johnson Space Center.

The mission is the second-to-last for the space shuttle program, and the final flight of Endeavour. The shuttle's six astronauts will deliver to the International Space Station the Alpha Magnetic Spectrometer, a $2 billion particle physics experiment designed to yield fresh insights into the birth of the universe.

Endeavour will also haul a platform of space parts to the complex, and the shuttle's crew plans to conduct four spacewalks to help maintain the orbiting research laboratory.