Endeavour astronauts practice their countdown
BY JUSTIN RAY
SPACEFLIGHT NOW
Posted: April 1, 2011


The Endeavour astronauts followed a realistic countdown sequence today, getting suited up and strapping inside the space shuttle for a thorough dress rehearsal that culminated with a pretend ignition and shutdown of the three main engines at T-minus 4 seconds.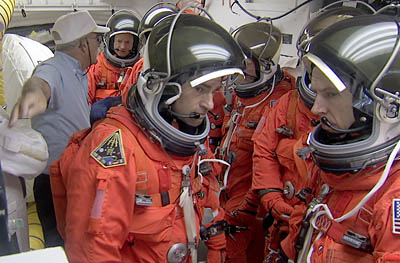 The six astronauts huddle in the pad's White Room for emergency training after the countdown. Credit: NASA TV
SEE PHOTO GALLERY



Commander Mark Kelly, pilot Greg Johnson, flight engineer Roberto Vittori and spacewalkers Drew Feustel, Mike Fincke and Greg Chamitoff got dressed in their bright orange spacesuits and emerged from crew quarters at 10:45 a.m.

The Astrovan delivered the astronauts to the seaside pad to begin entering the orbiter and taking their assigned seats for the "dry" countdown, which did not involve fueling the shuttle.

The final count also practiced holds at the intermediate way points of T-minus 5 minutes and T-minus 1 minute, 57 seconds before eventually ticking down to the simulated pad abort at 2:05 p.m. EDT.

The Terminal Countdown Demonstration Test concluded with the astronauts exiting the shuttle at 2:25 p.m. to rehearse the "Mode 1" emergency evacuation procedures and hopping in the escape baskets hanging on the launch tower.

"We didn't have any issues. I think everything went pretty smooth and looking forward to practicing Mode 1," Kelly said before leaving the orbiter.

After Thursday's stormy weather held up preparations for test, NASA officials initially pushed back the mock liftoff time by five hours. But managers ended up shortening the delay to just three hours.

"From the entire crew of Endeavour, thanks for getting us here early. I know there was a lot of hard work that went into it with all the weather you guys were dealing with yesterday and we really appreciate that. We're going to get a chance to go back to Houston today and spend one of two final weekends with our families. So we really appreciate you guys doing that for us," Kelly radioed the launch team after the successful rehearsal.

Every shuttle crew undergoes the TCDT before a planned launch. While in Florida, the astronauts spent time learning about emergency equipment, test-drove an armored tank for evacuating the pad, got some landing practice in the training aircraft and toured the payload bay.

The astronauts will return to Kennedy Space Center on April 15 to begin their real countdown activities.

Liftoff remains targeted for April 19 at 7:48 p.m. EDT on a two-week flight to install the Alpha Magnetic Spectrometer particle physics experiment and a cache of large spare parts on the International Space Station, plus perform four spacewalks for the maintenance and upkeep of the orbiting complex.


Additional coverage for subscribers:


VIDEO: SHUTTLE INSPECTED FOR STORM DAMAGE PLAY | HI-DEF


VIDEO: CREW TEST-DRIVES PAD ESCAPE VEHICLE PLAY | HI-DEF


VIDEO: ASTRONAUT CHAT AT THE PRESS SITE PLAY | HI-DEF


VIDEO: CREW ARRIVES FOR PRACTICE COUNT PLAY | HI-DEF



VIDEO: PAYLOADS ARRIVE AT LAUNCH PAD 39A PLAY | HI-DEF


VIDEO: CANISTER ROTATED UPRIGHT FOR PAD PLAY | HI-DEF


VIDEO: PALLET OF SPARE PARTS INTO CANISTER PLAY | HI-DEF


VIDEO: AMS PAYLOAD PUT INTO TRANSPORTER PLAY | HI-DEF



VIDEO: SHUTTLE AND STATION PROGRAM BRIEFING PLAY


VIDEO: THE STS-134 MISSION OVERVIEW PRESENTATIONS PLAY


VIDEO: IN-DEPTH WITH ALPHA MAGNETIC SPECTROMETER PLAY


VIDEO: PREVIEW BRIEFING ON MISSION'S SPACEWALKS PLAY


VIDEO: THE ASTRONAUTS' PRE-FLIGHT NEWS BRIEFING PLAY



VIDEO: SUN RISES OVER THE LAUNCH PAD PLAY | HI-DEF


VIDEO: ENDEAVOUR ARRIVES ATOP PAD 39A PLAY | HI-DEF


VIDEO: ROLLOUT FROM VEHICLE ASSEMBLY BUILDING PLAY | HI-DEF



VIDEO: HOISTING ENDEAVOUR TO TANK AND SRBS PLAY | HI-DEF


VIDEO: ORBITER GOES VERTICAL PLAY | HI-DEF


VIDEO: ENDEAVOUR LEAVES PROCESSING HANGAR PLAY | HI-DEF



VIDEO: PAYLOAD MEDIA DAY PLAY | HI-DEF


VIDEO: THE ALPHA MAGNETIC SPECTROMETER PLAY | HI-DEF


VIDEO: PAYLOAD REMOVED FROM C-5 PLAY | HI-DEF


VIDEO: AMS ARRIVES FROM EUROPE PLAY | HI-DEF



VIDEO: EXPRESS LOGISTICS CARRIER NO. 3 PLAY | HI-DEF


VIDEO: HIGH-PRESSURE OXYGEN GAS TANK PLAY | HI-DEF


VIDEO: PUTTING STATION ANTENNA ON CARRIER PLAY | HI-DEF



VIDEO: TANK UNLOADED TO ASSEMBLY BUILDING PLAY | HI-DEF


VIDEO: THE EXTERNAL FUEL TANK ARRIVES PLAY | HI-DEF


VIDEO: BOOSTER SEGMENT MOVED TO VAB PLAY | HI-DEF


VIDEO: KENNEDY SPACE CENTER SRB CEREMONY PLAY | HI-DEF


VIDEO: ENDEAVOUR FITTED WITH MAIN ENGINES PLAY | HI-DEF


VIDEO: ORBITER TOWED OFF RUNWAY PLAY | HI-DEF



MORE: STS-134 VIDEO ARCHIVE


HDTV: HIGH-DEFINITION COVERAGE


SUBSCRIBE NOW