Shuttle crew comes to town for practice countdown
BY JUSTIN RAY
SPACEFLIGHT NOW
Posted: March 29, 2011


The six astronauts to fly Endeavour's final orbital voyage have jetted into the Kennedy Space Center for this week's countdown dress rehearsal with the space shuttle launch team.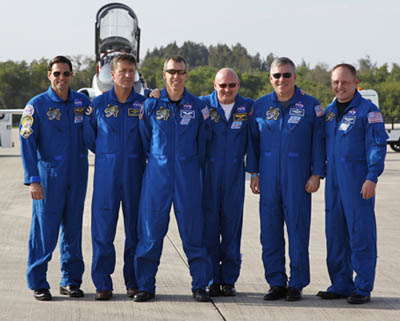 Credit: Ben Cooper/Spaceflight Now



Commander Mark Kelly, pilot Greg Johnson, flight engineer Roberto Vittori and spacewalkers Drew Feustel, Mike Fincke and Greg Chamitoff traveled today from their home base in Houston, arriving at the Cape in waves of T-38 jets between 5 and 5:30 p.m. EDT.

"We like coming to see the space shuttle. It's always exciting, especially when you are three weeks away from launch," Kelly said.

Every shuttle crew undergoes the Terminal Countdown Demonstration Test, or TCDT, in the final weeks before a planned launch. While in Florida, the astronauts will spend time learning how to evacuate pad 39A if an emergency arises, including procedures to operate the slide-wire baskets that would quickly whisk the crew from the launch tower to a bunker west of the pad, and test-drive an armored tank available for the astronauts to escape the area.

On Friday, the crew boards Endeavour for a full countdown simulation. The astronauts will follow a normal launch morning routine with breakfast, a weather briefing on conditions at the Cape and various abort landing sites, then don their suits and depart crew quarters at about 7:45 a.m. to board the Astrovan that will take them to pad 39A.

After reach the pad shortly past 8 a.m., the astronauts will climb inside Endeavour and strap into their assigned seats for the final three hours of the mock countdown.

Clocks will halt in the final seconds to simulate a shutdown of the three main engines just prior to liftoff around 11 a.m. The crew egresses the shuttle and practices scurrying to the slide-wire baskets to finish the training drill.

"Terminal countdown test is when the processing and the training kinda comes together after being parallel things for a very long period of time," Kelly said.

After TCDT concludes, the crew will return to Houston to finish their training there before coming back to Florida on April 15 to begin the countdown.

Endeavour is scheduled for blastoff April 19 on the spaceplane's 25th and last flight before retirement. The 14-day flight will install the Alpha Magnetic Spectrometer and a spare parts pallet on the International Space Station. Also on the agenda, Feustel, Fincke and Chamitoff will work in pairs to conduct a series of maintenance spacewalks outside the station.


Additional coverage for subscribers:


VIDEO: PAYLOADS ARRIVE AT LAUNCH PAD 39A PLAY | HI-DEF


VIDEO: CANISTER ROTATED UPRIGHT FOR PAD PLAY | HI-DEF


VIDEO: PALLET OF SPARE PARTS INTO CANISTER PLAY | HI-DEF


VIDEO: AMS PAYLOAD PUT INTO TRANSPORTER PLAY | HI-DEF



VIDEO: SHUTTLE AND STATION PROGRAM BRIEFING PLAY


VIDEO: THE STS-134 MISSION OVERVIEW PRESENTATIONS PLAY


VIDEO: IN-DEPTH WITH ALPHA MAGNETIC SPECTROMETER PLAY


VIDEO: PREVIEW BRIEFING ON MISSION'S SPACEWALKS PLAY


VIDEO: THE ASTRONAUTS' PRE-FLIGHT NEWS BRIEFING PLAY



VIDEO: SUN RISES OVER THE LAUNCH PAD PLAY | HI-DEF


VIDEO: ENDEAVOUR ARRIVES ATOP PAD 39A PLAY | HI-DEF


VIDEO: ROLLOUT FROM VEHICLE ASSEMBLY BUILDING PLAY | HI-DEF



VIDEO: HOISTING ENDEAVOUR TO TANK AND SRBS PLAY | HI-DEF


VIDEO: ORBITER GOES VERTICAL PLAY | HI-DEF


VIDEO: ENDEAVOUR LEAVES PROCESSING HANGAR PLAY | HI-DEF



VIDEO: PAYLOAD MEDIA DAY PLAY | HI-DEF


VIDEO: THE ALPHA MAGNETIC SPECTROMETER PLAY | HI-DEF


VIDEO: PAYLOAD REMOVED FROM C-5 PLAY | HI-DEF


VIDEO: AMS ARRIVES FROM EUROPE PLAY | HI-DEF



VIDEO: EXPRESS LOGISTICS CARRIER NO. 3 PLAY | HI-DEF


VIDEO: HIGH-PRESSURE OXYGEN GAS TANK PLAY | HI-DEF


VIDEO: PUTTING STATION ANTENNA ON CARRIER PLAY | HI-DEF



VIDEO: TANK UNLOADED TO ASSEMBLY BUILDING PLAY | HI-DEF


VIDEO: THE EXTERNAL FUEL TANK ARRIVES PLAY | HI-DEF


VIDEO: BOOSTER SEGMENT MOVED TO VAB PLAY | HI-DEF


VIDEO: KENNEDY SPACE CENTER SRB CEREMONY PLAY | HI-DEF


VIDEO: ENDEAVOUR FITTED WITH MAIN ENGINES PLAY | HI-DEF


VIDEO: ORBITER TOWED OFF RUNWAY PLAY | HI-DEF



MORE: STS-134 VIDEO ARCHIVE


HDTV: HIGH-DEFINITION COVERAGE


SUBSCRIBE NOW