Worker dies at shuttle pad
BY WILLIAM HARWOOD
STORY WRITTEN FOR CBS NEWS "SPACE PLACE" & USED WITH PERMISSION
Posted: March 14, 2011


KENNEDY SPACE CENTER, FL--A United Space Alliance worker at launch complex 39A, where the shuttle Endeavour is being processed for launch April 19, fell to his death early Monday, a NASA spokesman said. An investigation is underway and all work at the pad has been suspended for the rest of the day.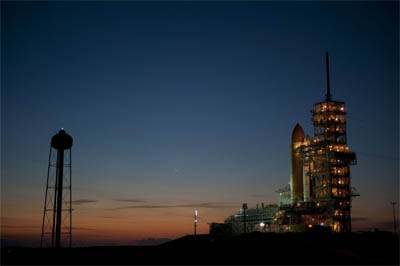 Credit: NASA



The mishap occurred around 7:40 a.m. EDT (GMT-4). Allard Beutel, a NASA spokesman at the Kennedy Space Center, said emergency crews responded but the worker "could not be revived." The worker later was identified as James D. Vanover, 53, a swing arm engineer at the launch pad. His family was notified, but no other details were immediately available.

"Our heartfelt sympathy goes out to the family of Mr. Vanover," USA CEO Virginia Barnes said in a statement. "Our focus right now is on providing support for the family, and for his coworkers. We are also providing our full support to investigating officials in order to determine the cause of the incident as quickly as possible. Until that investigation is complete, it would be inappropriate to provide further comment on the details."

Endeavour was hauled to the launch pad late last week for work to ready the ship for launch April 19 on its 25th and final mission. Endeavour's flight, and a final mission by the shuttle Atlantis in late June, are the only missions left on NASA's shuttle manifest as the agency retires the fleet and shifts its focus to developing new commercial launch vehicles.

NASA has been laying off the shuttle contractor workforce in stages as the program's retirement approaches and another round is expected in the next few weeks. NASA managers have praised the workforce in recent weeks for maintaining its focus on safety during a particularly turbulent period.

Endeavour's flight has generated more interest than usual because of commander Mark Kelly's decision to fly with his crew and his plans to bring his wife, Rep. Gabrielle Giffords, to the launching. The Arizona Democrat was shot in the head in January and is recovering in Houston.