Backup commander replaces Kelly in near-term training
BY WILLIAM HARWOOD
STORY WRITTEN FOR CBS NEWS "SPACE PLACE" & USED WITH PERMISSION
Posted: January 13, 2011


Veteran shuttle commander Frederick Sturckow will replace Mark Kelly in near-term training for a flight aboard the shuttle Endeavour in April, NASA announced Thursday. With Kelly's wife, Rep. Gabrielle Giffords, in critical condition in Tucson with a gunshot wound to the head, the substitution will free Kelly to remain at her bedside while ensuring his crewmates complete critical flight training.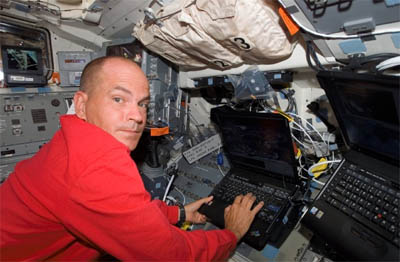 Credit: NASA



NASA officials said Kelly, who endorsed the decision, remains the designated commander of shuttle mission STS-134. Sturckow, a veteran of four previous shuttle missions, will begin training with Endeavour's crew next week.

"I recommended to my management that we take steps now to prepare to complete the mission in my absence, if necessary," Kelly said in a NASA statement. "I am very hopeful that I will be in a position to rejoin my STS-134 crew members to finish our training."

Peggy Whitson, chief of the astronaut office at the Johnson Space Center in Houston, said Kelly "is still the commander of STS-134."

"He is facing many uncertainties now as he supports Gabrielle, and our goal is to allow him to keep his undistracted attention on his family while allowing preparations for the mission to progress. Designating a backup allows the crew and support team to continue training, and enables Mark to focus on his wife's care."

No shuttle commander has ever been replaced this close to flight. There have, however, been several cases where other crew members were replaced due to illnesses or other issues.

Astronaut David Griggs, scheduled to serve as pilot of shuttle mission STS-33, was replaced after he was killed June 17, 1989, flying a vintage aircraft. Jeff Ashby was replaced as the pilot of STS-85 in 1997 because his wife had terminal cancer. And astronauts Gus Loria and Carlos Noriega were replaced aboard shuttle missions in 2002 and 2004 respectively because of undisclosed medical issues.

Earlier Thursday, NASA managers reviewed processing timelines and signed off on target launch dates for the next two space shuttle missions.

As expected, the agency hopes to launch the shuttle Discovery on mission STS-133, a flight to deliver needed supplies and a cargo storage module to the International Space Station, at 4:50:13 p.m. EST on Feb. 24. That target date assumes engineers complete repairs to structural ribs, or stringers, in the ship's external tank in time to move the shuttle back out to the launch pad around the end of the month.

Assuming an on-time launch, the flight plan calls for Discovery to dock with the space station around 1 p.m. on Feb. 26. Two spacewalks are planned, one on Feb. 28 and another on March 2, before undocking three days later and landing back at the Kennedy Space Center around noon on March 7.

Launch of the shuttle Endeavour on mission STS-134, a flight to deliver a $2 billion physics experiment to the station, is now targeted for liftoff at 7:48:34 p.m. EDT on April 19, setting up a docking two days later. Four spacewalks are planned for April 23, 25, 27 and 29. Landing at the Kennedy Space Center is planned for around 2:30 p.m. on May 3.

Only one additional shuttle flight is planned, a space station resupply mission with Atlantis that currently is targeted for launch June 28. NASA managers hope to fly that mission later in the summer if the budget permits, to leave the station as well supplied as possible before the fleet is retired.