Booster stacking underway for final space shuttle launch
BY STEPHEN CLARK
SPACEFLIGHT NOW
Posted: July 21, 2010


Workers started assembling twin solid rocket boosters this week to help power Endeavour toward orbit in February on the final scheduled launch of the space shuttle program.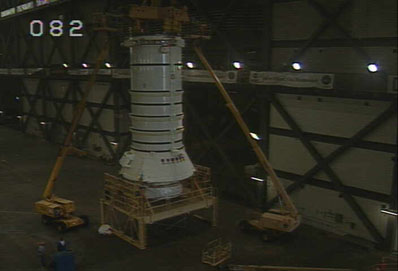 The right solid rocket booster's aft segment inside the Vehicle Assembly Building transfer aisle.



A heavy-lifting crane hoisted the aft segment of the shuttle's left solid rocket booster Monday and moved the motor atop a mobile launcher platform. The boosters for Endeavour's STS-134 mission are being stacked inside High Bay 1 of the Kennedy Space Center's cavernous Vehicle Assembly Building.

Crews repeated the procedure Tuesday and lifted the right booster's aft segment from the VAB's transfer aisle into High Bay 1.

It will take about three weeks to stack the boosters. Each motor consists of four segments already packed with solid propellant.

Shuttle solid rocket boosters are 149 feet tall and 12 feet wide. The boosters each weigh about 1.3 million pounds with propellant.

Endeavour's external fuel tank will be attached to the boosters in early September. The bullet-shaped tank arrived at KSC on July 13 and moved inside the VAB on July 14. The tank was lifted inside a checkout cell Thursday for tests before it is mated to the shuttle boosters.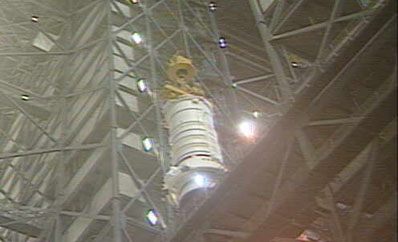 The right solid rocket booster's aft segment is lifted Tuesday evening inside the Vehicle Assembly Building.



The STS-134 mission is currently planned to be the last flight of the shuttle program, but NASA managers hope to add one more mission if the agency can reach an agreement with Congress and the White House.

Endeavour is scheduled to blast off Feb. 26 at about 4:19 p.m. EDT with a crew of six space veterans led by commander Mark Kelly. The astronauts will haul a spare parts platform and the Alpha Magnetic Spectrometer to the International Space Station.

The high-tech spectrometer is a particle physics experiment designed to measure cosmic rays and search for antimatter and dark matter.

Kelly will be joined aboard Endeavour by pilot Gregory H. Johnson and mission specialists Andrew Feustel, Michael Fincke, Gregory Chamitoff and Roberto Vittori.