Discovery enters Smithsonian as historic relic of bygone era
BY JUSTIN RAY
SPACEFLIGHT NOW
Posted: April 19, 2012


The most-flown spaceship in human history, sailing on 39 voyages to deploy and retrieve satellites, open a new window on the universe by launching the Hubble Space Telescope and help to construct the International Space Station, the shuttle orbiter Discovery reached her final resting place today at the Smithsonian.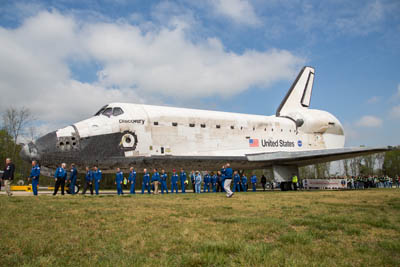 Former crew members induct their Discovery into the Smithsonian.
Credit: Walter Scriptunas II/Spaceflight Now
See full image



Having orbited the planet 5,830 times and traveled 148,221,675 miles, Discovery was the fleet-leading vehicle for the space shuttle program, serving the United States in flight from 1984 to 2011.

"Space shuttle Discovery is the star, it has the most extensive record of all the shuttle fleet. It's 39 missions included a whole bunch of things, but it became a science platform for nine flights, a satellite launcher for 12 flights, a telescope repair station. ... And also served as a plain, flat-out truck. It was the first space station delivery truck, 13 flights it made to put together the space station that goes over us even today," said John Glenn, the first American to orbit Earth in 1962 and a payload specialist aboard Discovery in 1998.

"Discovery was truly a heavy hauler in construction of the International Space Station, and that station is now doing continuing research with 15 international partners for us in the most unique scientific laboratory ever conceived."

But with the decision by then-President George W. Bush in 2004 to wind down the shuttle program, Discovery flew into a forced retirement.

"The unfortunate decision made eight-and-a-half years ago to terminate the shuttle fleet in my view prematurely grounded Discovery and delayed our research. But those decisions have been made, we recovered and now we move on with new programs and possibilities unlimited," Glenn said at today's Smithsonian ceremony.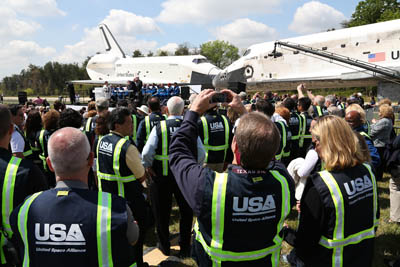 United Space Alliance ground technicians watch the ceremony.
Credit: Walter Scriptunas II/Spaceflight Now
See full image



Discovery underwent an extensive decommissioning and safing process over the past year that culminated with this morning's ceremony outside the National Air and Space Museum's Steven F. Udvar-Hazy Center in Northern Virginia to make the spaceplane an artifact in the Smithsonian's national collection of aerospace treasures.

"The hope that we leave with you today is that this magnificent flying machine that carried more people to space than any vehicle ever before will be a testament, not only to overcoming the human and technological obstacles of the day, but a tangible example that our dreams of exploration, of reaching our higher potential are always within reach if we stretch for them," said NASA Administrator Charles Bolden, a former Discovery mission commander.

"I hope people appreciate the workmanship, the craftsmanship, the expertise that went into making that vehicle over and over again," said Steve Bowen, a spacewalker on last year's final Discovery mission.

Our photo galleries from today:

The Smithsonian had the prototype orbiter Enterprise on display since 2003, but moved that vehicle out of the museum early today to make room for Discovery and her historic credentials.

"Discovery is the vehicle of record, so we did everything we could to keep it as intact as possible. That was a big desire of the Smithsonian so that a hundred years from now if an engineer that wants to crawl around and see what it took to fly in space they can do that," said Stephanie Stilson, the NASA official responsible for overseeing the shuttles' retirements and moves to museums.

"We've minimized the things we took out. There's some things that had to come out -- certain communications boxes for security reasons, certain lines we could not flush enough to make safe. So the Orbital Maneuvering System pods in the back those are basically gutted, forward reaction control system basically gutted."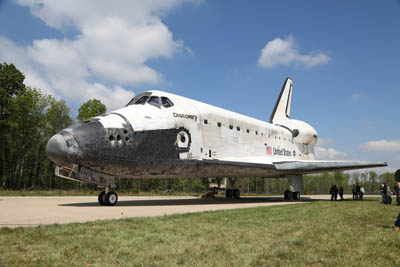 Discovery is towed from Dulles to the museum.
Credit: Walter Scriptunas II/Spaceflight Now
See full image



While sisterships Atlantis and Endeavour have been donating key pieces of hardware from their main propulsion systems for use in NASA's future heavy-lift rocket, Discovery was not compelled to be as charitable.

"Of the three flight vehicles, this is going to be the one that is most flight-like," said Kevin Templin, the shuttle program's transition manager.

"We have retained a lot of hardware for future use and for forensics engineering. We've taken some parts off Discovery, but of the three we've left most of the main propulsion system intact. The other two vehicles -- Atlantis and Endeavour -- have had more of their main propulsion systems removed for use in the Space Launch System.

"Certainly from the outside all three vehicles are going to look the same as they would for spaceflight. What has been taken out has been internal and the public won't know the difference."

It was the sense of history and preserving one of the orbiters, particularly for the Smithsonian, that kept Discovery from being scavenged excessively.

"It is going to the Air and Space Museum, which is the national collection. So there was a concerted effort where we were working with other programs that if we didn't need quantities of hardware that required us to take it from all three, we would leave the hardware in Discovery. Since it is the nation's collection of aircraft and spacecraft, we wanted this one preserved for posterity," said Templin.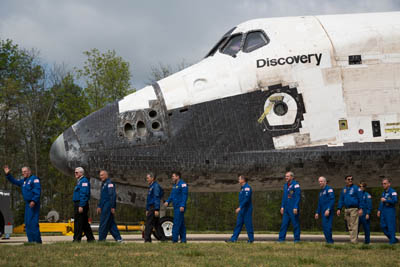 Former crew members induct their Discovery into the Smithsonian.
Credit: Walter Scriptunas II/Spaceflight Now
See full image



In addition to removing sections of plumbing and valves from the shuttles' aft compartments for future use, the stock of main engines has been placed in environmentally-controlled storage to power NASA's mega rocket. The shuttles are being fitted with replica engine nozzles for display.

What's more, technicians are removing items of interest for engineering autopsies on equipment never fully probed while the shuttles were in service.

"This is the only reusable spacecraft that has flown 135 missions. Some of the hardware has never been looked at, we've never had to take it off, it's never needed to be examined. So we would to compare, take that stuff apart to see how it really faired over years of flight," said Templin.

With Discovery now delivered, Enterprise will be towed to the mobile crane contraption erected at the neighboring Dulles International Airport for hoisting atop the Boeing 747 carrier jet in advance of next Monday's scheduled transport to New York City's John F. Kennedy International Airport.

Once the mobile crane system is finished at Dulles, it will be packed up, trucked to JFK and reassembled for the task of lowering Enterprise there.

But that "traveling roadshow" and the time required to set up the lifting equipment means the 747 and Enterprise will remain coupled together for about three weeks, sitting patiently within a large tent-like de-icing facility at the airport.

Later this June, Enterprise takes a 30-mile barge ride to reach the Intrepid Sea, Air & Space Museum on the Hudson River. NASA will lend the museum a sling to raise the orbiter off the barge and onto the vintage aircraft carrier now a floating display site of historic aircraft.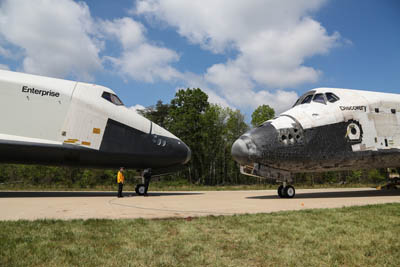 Enterprise and Discovery.
Credit: Walter Scriptunas II/Spaceflight Now
See full image



Endeavour is headed in September to Los Angeles, becoming an inspirational exhibit at the California Science Center, a sprawling educational and hands-on learning facility for students. Plans call for the vehicle to be displayed vertically with an external tank and twin solid rocket boosters as she would have looked poised for blastoff.

But Endeavour faces a tricky 13-mile journey through city streets from the Los Angeles International Airport to the museum.

"They've done a really good job of planning out a route that will allow the wing span to go through city streets. A lot of coordination has to take place there because of utility lines, street lights, things like that. That has been in work since they were awarded Endeavour," said Templin.

"We've driven the tow route with them. It all looks feasible -- challenging -- but they have a good plan to get from Los Angeles International to the California Science Center. They are looking to do that in October."

Atlantis will remain at the space shuttle homeport, the newest attraction at Kennedy Space Center's Visitor Complex that will receive the orbiter this November and open its freshly constructed exhibit to the public next summer. The commercially-run center will have Atlantis displayed with the payload bay doors open as if the orbiter was in space.

Discovery will remain resting on her landing gear in post-touchdown fashion, appearing as though she just returned from a mission.

"It is sad to see something you've invested half of your career in going off to a museum, but the museums have great plans for exhibiting the vehicles," said Templin.

"I think we need to get up-close and understand how complex this program is and a better understanding of what we can build, what the United States is capable of and hopefully foster some support and excitement about what we are going to do."







The official embroidered crew patch for shuttle Discovery's final flight is available in our store. Free shipping to U.S. addresses!


U.S. SHOPPERS | WORLDWIDE





Additional coverage for subscribers:


VIDEO: TIRE-SMOKING TOUCHDOWN AT DULLES PLAY | HI-DEF


VIDEO: DISCOVERY'S KENNEDY SPACE CENTER FLYOVER PLAY | HI-DEF


VIDEO: FERRYFLIGHT BUZZES OVER COCOA BEACH PLAY | HI-DEF


VIDEO: AERIAL VIEWS OF FERRYFLIGHT TAKING OFF PLAY | HI-DEF


VIDEO: TAKEOFF OF SHUTTLE CARRIER AIRCRAFT PLAY | HI-DEF


VIDEO: TAXIING TO NORTH-END OF RUNWAY PLAY | HI-DEF



VIDEO: AERIAL VIEWS OF DISCOVERY ATOP 747 PLAY | HI-DEF


VIDEO: DISCOVERY'S FINAL CREW SAYS GOODBYE PLAY | HI-DEF


VIDEO: 747 PUSHES OUT OF CRANE GANTRY PLAY | HI-DEF


VIDEO: ORBITER MOUNTED ATOP THE CARRIER JET PLAY | HI-DEF


VIDEO: DISCOVERY ROLLS TO RUNWAY FOR FERRYFLIGHT PLAY | HI-DEF


VIDEO: SHUTTLE CARRIER AIRCRAFT ARRIVES @ KSC PLAY | HI-DEF


VIDEO: DISCOVERY MOVED TO VAB FOR STORAGE PLAY | HI-DEF


VIDEO: CREW MODULE HATCH CLOSED IN HANGAR PLAY | HI-DEF


VIDEO: MIDDECK PUT BACK TOGETHER PLAY | HI-DEF



VIDEO: SHUTTLE DISCOVERY LANDS FOR FINAL TIME PLAY | HI-DEF


VIDEO: ASTRONAUTS WELCOMED BACK TO EARTH PLAY | HI-DEF


VIDEO: CREW INSPECT DISCOVERY ON RUNWAY PLAY | HI-DEF


VIDEO: COMMENTS BY BOLDEN AND LINDSEY PLAY | HI-DEF


VIDEO: POST-FLIGHT CREW BRIEFING PLAY | HI-DEF



VIDEO: LANDING REPLAYS: INSIDE MISSION CONTROL PLAY | HI-DEF


VIDEO: LANDING REPLAYS: VAB ROOF PLAY | HI-DEF


VIDEO: LANDING REPLAYS: RUNWAY EAST PLAY | HI-DEF


VIDEO: LANDING REPLAYS: RUNWAY WEST PLAY | HI-DEF


VIDEO: LANDING REPLAYS: RUNWAY MID-FIELD PLAY | HI-DEF


VIDEO: LANDING REPLAYS: PATRICK AFB TRACKER PLAY | HI-DEF



VIDEO: LANDING REPLAYS: PILOT'S WINDOW PLAY


VIDEO: LANDING REPLAYS: INFRARED CAMERA PLAY


VIDEO: LANDING REPLAYS: RUNWAY NORTH PLAY


VIDEO: LANDING REPLAYS: RUNWAY SOUTH PLAY



VIDEO: FLIGHT DAY 13 HIGHLIGHTS MOVIE PLAY


VIDEO: TUESDAY'S MISSION STATUS BRIEFING PLAY


VIDEO: SHUTTLE CREW PAYS TRIBUTE TO DISCOVERY PLAY | HI-DEF


VIDEO: INTERVIEW WITH 3-TIME DISCOVERY FLIER PLAY


VIDEO: UPDATE FROM MISSION MANAGEMENT TEAM PLAY


VIDEO: ABC, CBS AND AP MEDIA INTERVIEWS WITH CREW PLAY



VIDEO: SPECIAL ENGINEERING FOOTAGE OF LAUNCH HI-DEF


VIDEO: WILLIAM SHATNER TRIBUTE TO DISCOVERY HI-DEF



VIDEO: FLIGHT DAY 12 HIGHLIGHTS MOVIE PLAY


VIDEO: EXTRAORDINARY TIME-LAPSE OF STATION FLYAROUND PLAY


VIDEO: MONDAY'S MISSION STATUS BRIEFING PLAY


VIDEO: BEAUTIFUL VIEWS OF DISCOVERY DURING FLYAROUND PLAY


VIDEO: SHUTTLE DISCOVERY UNDOCKS FROM THE STATION PLAY


VIDEO: NARRATED PREVIEW OF UNDOCKING DAY PLAY | HI-DEF



VIDEO: FLIGHT DAY 11 HIGHLIGHTS MOVIE PLAY


VIDEO: FAREWELL CEREMONY BETWEEN CREWS PLAY | HI-DEF


VIDEO: SUNDAY'S MISSION STATUS BRIEFING PLAY


VIDEO: SUNDAY MORNING FLIGHT DIRECTOR INTERVIEW PLAY



UPDATED HIGH-DEFINITION VIDEO LISTING:


FLIGHT DAY 9: CREW'S HOME MOVIES HI-DEF


FLIGHT DAY 7: ANOTHER SUCCESSFUL SPACEWALK HI-DEF


FLIGHT DAY 7: ROBONAUT MOVED INTO DESTINY LAB HI-DEF


FLIGHT DAY 7: EXERCISING ON SHUTTLE'S BICYCLE HI-DEF


FLIGHT DAY 7: SPACESUIT LEAK FOUND AND FIXED HI-DEF


FLIGHT DAY 6: PREPS FOR SPACEWALK NO. 2 HI-DEF


FLIGHT DAY 6: THE SPACEWALKING TOOLS HI-DEF


FLIGHT DAY 6: MODIFYING STATION EQUIPMENT HI-DEF


FLIGHT DAY 6: FUN TIME FLOATING IN PMM HI-DEF


FLIGHT DAY 6: CREWS ENTER INTO THE MODULE HI-DEF


FLIGHT DAY 6: PMM HATCHWAY IS OPENED UP HI-DEF


FLIGHT DAY 6: OPENING PASSAGEWAY TO MODULE HI-DEF


FLIGHT DAY 6: NEW "PMM" MODULE ATTACHED TO STATION HI-DEF


FLIGHT DAY 6: BREAKFAST TIME ABOARD THE ORBITER HI-DEF


FLIGHT DAY 5: TIRED BUT HAPPY SPACEWALKERS HI-DEF


FLIGHT DAY 5: FLY SPACE STATION'S ROBOT ARM HI-DEF


FLIGHT DAY 5: CHOREOGRAPHING THE SPACEWALK HI-DEF


FLIGHT DAY 5: SPACEWALKERS GET READY TO LEAVE HI-DEF



VIDEO: FLIGHT DAY 10 HIGHLIGHTS MOVIE PLAY


VIDEO: SATURDAY'S MISSION STATUS BRIEFING PLAY


VIDEO: SATURDAY MORNING FLIGHT DIRECTOR INTERVIEW PLAY



VIDEO: CREW'S HOME MOVIES FROM FLIGHT DAY 9 PLAY


VIDEO: CREW'S HOME MOVIES FROM FLIGHT DAY 7 PLAY


VIDEO: CREW'S HOME MOVIES FROM FLIGHT DAY 6 PLAY


VIDEO: CREW'S HOME MOVIES FROM FLIGHT DAY 5 PLAY



VIDEO: FLIGHT DAY 9 HIGHLIGHTS MOVIE PLAY


VIDEO: FRIDAY'S MISSION STATUS BRIEFING PLAY


VIDEO: CREW IN-FLIGHT NEWS BRIEFING WITH U.S. AND ITALY PLAY


VIDEO: EDUCATIONAL EVENT WITH SCHOOL CHILDREN PLAY


VIDEO: FRIDAY MORNING FLIGHT DIRECTOR INTERVIEW PLAY



VIDEO: LEFT-HAND BOOSTER CAMERA LOOKING UPWARD PLAY


VIDEO: LEFT-HAND BOOSTER CAMERA LOOKING INBOARD PLAY


VIDEO: LEFT-HAND BOOSTER CAMERA LOOKING DOWNWARD PLAY


VIDEO: RIGHT-HAND BOOSTER CAMERA LOOKING UPWARD PLAY


VIDEO: RIGHT-HAND BOOSTER CAMERA LOOKING INBOARD PLAY


VIDEO: RIGHT-HAND BOOSTER CAMERA LOOKING DOWNWARD PLAY


VIDEO: EXTERNAL TANK CAMERA: LIFTOFF TO ORBIT PLAY


VIDEO: LOOKING OUT THE PILOT'S WINDOW DURING LAUNCH PLAY



VIDEO: FLIGHT DAY 8 HIGHLIGHTS MOVIE PLAY


VIDEO: PRESIDENT OBAMA CHATS WITH ORBITING CREW PLAY | HI-DEF


VIDEO: THURSDAY'S MISSION STATUS BRIEFING PLAY


VIDEO: DISCOVERY'S FLIGHT EXTENDED ANOTHER DAY PLAY


VIDEO: MSNBC, ATLANTA AND FOX RADIO INTERVIEWS WITH CREW PLAY


VIDEO: CNN, D.C., TAMPA, LOS ANGELES INTERVIEWS WITH CREW PLAY


VIDEO: THURSDAY MORNING FLIGHT DIRECTOR INTERVIEW PLAY



VIDEO: FLIGHT DAY 7 HIGHLIGHTS MOVIE PLAY


VIDEO: WEDNESDAY'S MISSION STATUS BRIEFING PLAY


VIDEO: SPACEWALKER TAKES RIDE OF A LIFETIME PLAY


VIDEO: EUROPEAN EXPERIMENT BRACKET MOVED TO SHUTTLE PLAY


VIDEO: RESIDUAL AMMONIA VENTED FROM FAILED PUMP PLAY


VIDEO: WEDNESDAY MORNING FLIGHT DIRECTOR INTERVIEW PLAY


VIDEO: NARRATED PREVIEW OF SPACEWALK NO. 2 PLAY | HI-DEF



VIDEO: FLIGHT DAY 6 HIGHLIGHTS MOVIE PLAY


VIDEO: SEATTLE AND HOUSTON TV INTERVIEWS WITH CREW PLAY


VIDEO: TUESDAY'S MISSION STATUS BRIEFING PLAY


VIDEO: 'NO GO' FOR SPACE STATION PHOTO OP PLAY


VIDEO: PERMANENT MULTIPURPOSE MODULE ATTACHED PLAY


VIDEO: ROBOT ARM MANEUVERS MODULE TO ITS NEW HOME PLAY


VIDEO: STATION'S NEW MODULE UNBERTHED FROM SHUTTLE PLAY


VIDEO: ROBOT ARM GRAPPLES MODULE ABOARD DISCOVERY PLAY


VIDEO: ORBITAL SUNRISE OVER PMM BEFORE LEAVING SHUTTLE PLAY


VIDEO: TUESDAY MORNING FLIGHT DIRECTOR INTERVIEW PLAY


VIDEO: ANIMATED EXPLANATION OF NEW MODULE PLAY | HI-DEF


VIDEO: NARRATED PREVIEW OF MODULE INSTALLATION PLAY | HI-DEF



VIDEO: LAUNCH REPLAY: LOOKING OUT THE PILOT'S WINDOW PLAY



VIDEO: FLIGHT DAY 5 HIGHLIGHTS MOVIE PLAY


VIDEO: MONDAY'S MISSION STATUS BRIEFING PLAY


VIDEO: DISCOVERY'S FLIGHT EXTENDED ONE DAY PLAY


VIDEO: EVA NO. 1 CONCLUDES PLAY


VIDEO: JAPANESE "MESSAGE IN A BOTTLE" CAPTURES SPACE PLAY


VIDEO: FAILED PUMP COVERED UP WITH THERMAL BLANKET PLAY


VIDEO: GRAPPLE FIXTURE MOVED FROM PUMP TO OTHER SPARE PLAY


VIDEO: AMMONIA VENTING TOOLS ATTACHED TO FAILED PUMP PLAY


VIDEO: BOLTS ENGAGED TO HOLD OLD PUMP IN STORAGE BOX PLAY


VIDEO: FAILED PUMP MODULE FINALLY PUT INTO ENCLOSURE PLAY


VIDEO: ROBOT ARM SWINGS STEVE BOWEN AROUND THE STATION PLAY


VIDEO: SPACEWALKER HOPS ABOARD STATION'S ROBOT ARM PLAY


VIDEO: MONDAY MORNING FLIGHT DIRECTOR INTERVIEW PLAY


VIDEO: NARRATED PREVIEW OF SPACEWALK NO. 1 PLAY | HI-DEF



VIDEO: FLIGHT DAY 4 HIGHLIGHTS MOVIE PLAY


VIDEO: CREW'S HOME MOVIES FROM FLIGHT DAY 4 PLAY | HI-DEF


VIDEO: WX CHANNEL, BOSTON, ATLANTA, TAMPA INTERVIEWS PLAY


VIDEO: MISSION MANAGEMENT TEAM UPDATE PLAY


VIDEO: SUNDAY'S MISSION STATUS BRIEFING PLAY


VIDEO: SUNDAY MORNING FLIGHT DIRECTOR INTERVIEW PLAY



VIDEO: FLIGHT DAY 3 HIGHLIGHTS MOVIE PLAY


VIDEO: EXPRESS LOGISTICS CARRIER NO. 4 INSTALLED PLAY


VIDEO: SPACE STATION ARM INCH-WORMS TO NEW BASE PLAY


VIDEO: PAYLOAD HANDED FROM STATION ARM TO SHUTTLE ARM PLAY


VIDEO: SPARE PARTS PLATFORM HOISTED FROM SHUTTLE PLAY


VIDEO: STATION ROBOT ARM GRAPPLES ELC 4 PALLET PLAY


VIDEO: SPACEWALKING SUITS MOVED INTO AIRLOCK PLAY



VIDEO: SATURDAY'S MISSION STATUS BRIEFING PLAY


VIDEO: SHUTTLE CREW WELCOMED ABOARD STATION PLAY


VIDEO: DOCKING OF SHUTTLE TO STATION AS SEEN LIVE PLAY


VIDEO: SHUTTLE ARCS OUT IN FRONT OF SPACE STATION PLAY


VIDEO: DISCOVERY PERFORMS THE 360-DEGREE BACKFLIP PLAY


VIDEO: BEAUTIFUL VIEWS OF SHUTTLE DURING RENDEZVOUS PLAY


VIDEO: SPACECRAFT COMMANDERS TALK FROM AFAR PLAY


VIDEO: TERMINAL INITIATION BURN SEEN FROM STATION PLAY


VIDEO: TIME-LAPSE OF DISCOVERY MANEUVERING PLAY


VIDEO: ANIMATED EXPLANATION OF ELC NO. 4 INSTALL PLAY | HI-DEF


VIDEO: NARRATED PREVIEW OF THE DOCKING PLAY | HI-DEF


VIDEO: GUIDED TOUR OF SHUTTLE'S PAYLOAD BAY PLAY | HI-DEF



VIDEO: FLIGHT DAY 2 HIGHLIGHTS MOVIE PLAY


VIDEO: FRIDAY'S MISSION STATUS BRIEFING PLAY


VIDEO: NARRATED PREVIEW OF FLIGHT DAY 2 ACTIVITIES PLAY | HI-DEF



VIDEO: FLIGHT DAY 1 HIGHLIGHTS MOVIE PLAY


VIDEO: PAYLOAD BAY DOORS OPENED IN SPACE PLAY



VIDEO: THE FULL STS-133 LAUNCH EXPERIENCE PLAY


VIDEO: SHUTTLE DISCOVERY BLASTS OFF! PLAY | HI-DEF


VIDEO: GO INSIDE MISSION CONTROL DURING LAUNCH PLAY | HI-DEF


VIDEO: EXTERNAL TANK CAMERA: LIFTOFF TO ORBIT PLAY


VIDEO: AERIAL VIEWS AROUND THE CAPE PLAY | HI-DEF



VIDEO: LAUNCH REPLAY: VAB ROOF PLAY | HI-DEF


VIDEO: LAUNCH REPLAY: PRESS SITE PLAY | HI-DEF


VIDEO: LAUNCH REPLAY: PAD PERIMETER PLAY | HI-DEF


VIDEO: LAUNCH REPLAY: BEACH TRACKER PLAY | HI-DEF


VIDEO: LAUNCH REPLAY: PAD CAMERA 070 PLAY | HI-DEF


VIDEO: LAUNCH REPLAY: PAD CAMERA 071 PLAY | HI-DEF


VIDEO: LAUNCH REPLAY: UCS-23 TRACKER PLAY | HI-DEF


VIDEO: LAUNCH REPLAY: PLAYALINDA BEACH PLAY | HI-DEF


VIDEO: LAUNCH REPLAY: PAD FRONT CAMERA PLAY | HI-DEF


VIDEO: LAUNCH REPLAY: WEST TOWER CAMERA PLAY | HI-DEF



VIDEO: ASTRONAUTS LEAVE CREW QUARTERS PLAY | HI-DEF


VIDEO: CREW FINISHES GETTING SUITED UP PLAY | HI-DEF



VIDEO: LOOK BACK AT THE LAUNCH DELAYS PLAY | HI-DEF


VIDEO: NARRATED REVIEW OF SHUTTLE'S PREPARATIONS PLAY | HI-DEF


VIDEO: NARRATED REVIEW OF PAYLOADS' PREPARATIONS PLAY | HI-DEF



VIDEO: TIME-LAPSE OF PAD GANTRY ROLLBACK PLAY


VIDEO: LAUNCH PAD GANTRY ROLLED BACK PLAY | HI-DEF


VIDEO: INSIDE CONTROL ROOM WHEN COUNT STARTED PLAY | HI-DEF


VIDEO: UNIQUE VIEWS OF SHUTTLE ON THE PAD PLAY | HI-DEF


VIDEO: THE PRE-LAUNCH NEWS CONFERENCE PLAY


VIDEO: DISCOVERY'S COUNTDOWN IS UNDERWAY PLAY


VIDEO: LAUNCH COUNTDOWN PREVIEW AND WEATHER FORECAST PLAY


VIDEO: ASTRONAUTS ARRIVE AT LAUNCH SITE AGAIN PLAY | HI-DEF


VIDEO: DISCOVERY CLEARED FOR LAUNCH ON FEB. 24 PLAY



VIDEO: STEVE BOWEN BEGINS CREW TRAINING PLAY | HI-DEF



VIDEO: SUN RISES OVER SPACEPORT AFTER ROLLOUT PLAY | HI-DEF


VIDEO: SHUTTLE ARRIVES ATOP LAUNCH PAD 39A AGAIN PLAY | HI-DEF


VIDEO: CROWDS CHEER ON DISCOVERY'S ROLLOUT PLAY | HI-DEF


VIDEO: DISCOVERY RE-EMERGES FROM THE VAB PLAY | HI-DEF


VIDEO: LAUNCH TEAM PRACTICES PROCEDURES PLAY | HI-DEF



VIDEO: FRESH FOAM APPLIED TO EXTERNAL TANK PLAY | HI-DEF



VIDEO: ROOT CAUSE OF SHUTTLE TANK CRACKS FOUND PLAY



VIDEO: REPAIRS AND STRENGTHENING TO TANK PLAY | HI-DEF


VIDEO: DIGITAL X-RAY INSPECTIONS IN THE VAB PLAY | HI-DEF


VIDEO: WORK UNDERWAY TO REMOVE FOAM AND SENSORS PLAY | HI-DEF


VIDEO: SETTING UP ACCESS PLATFORMS AROUND TANK PLAY | HI-DEF



VIDEO: SHUTTLE ROLLED BACK TO ASSEMBLY BUILDING PLAY | HI-DEF


VIDEO: DISCOVERY DEPARTS LAUNCH PAD 39A PLAY | HI-DEF


VIDEO: LUNAR ECLIPSE OVER DISCOVERY PLAY | HI-DEF



VIDEO: HIGHLIGHTS FROM THE FUELING TEST PLAY | HI-DEF


VIDEO: RECAP OF THE FUELING EXERCISE PLAY


VIDEO: FUELING TEST COUNTDOWN UPDATE PLAY


VIDEO: COMMENTS FROM SHUTTLE LAUNCH DIRECTOR PLAY


VIDEO: GROUND UMBILICAL CARRIER PLATE CHECKED PLAY


VIDEO: INFO ON EXTERNAL TANK INSTRUMENTATION PLAY


VIDEO: DETAILED INFORMATION ON SPECIAL FUELING TEST PLAY



VIDEO: SHUTTLE DISCOVERY'S LAUNCH DELAYED TO FEBRUARY PLAY



VIDEO: FINAL PREPS FOR INSTRUMENTED TEST PLAY | HI-DEF


VIDEO: STRAIN GAUGES ATTACHED TO TANK PLAY | HI-DEF


VIDEO: BACKSCATTER INSPECTIONS OF TANK MIDSECTION PLAY | HI-DEF



VIDEO: INSTALLING DOUBLERS OVER STRINGERS PLAY | HI-DEF


VIDEO: GASEOUS HYDROGEN VENT ARM RETURNED PLAY | HI-DEF


VIDEO: DOUBLERS TO BEEF UP CRACKED BEAMS PLAY | HI-DEF


VIDEO: HYDROGEN FITTING IS REINSTALLED PLAY | HI-DEF


VIDEO: OPENING UP TANK'S ENTRANCE DOOR PLAY | HI-DEF


VIDEO: GUCP DETACHED AND SEALS REMOVED PLAY | HI-DEF


VIDEO: BROKEN FOAM REMOVED FROM THE TANK PLAY | HI-DEF


VIDEO: VENT ARM LETS GO FROM LEAKY GUCP PLAY | HI-DEF


VIDEO: DISCOVERY AWAITS REPAIRS TO TANK PROBLEMS PLAY | HI-DEF



VIDEO: INFORMATIVE DESCRIPTION OF TANK CRACK PROBLEM PLAY


VIDEO: DISCOVERY'S LAUNCH DELAYED TO MID-DECEMBER PLAY



VIDEO: GASEOUS HYDROGEN VENT ARM DETACHED FROM SHUTTLE PLAY



VIDEO: STS-133 MISSION PREVIEW MOVIE PLAY | HI-DEF


VIDEO: SHUTTLE DISCOVERY CREW BIOGRAPHIES PLAY | HI-DEF


VIDEO: ISS EXPEDITION 25-26 PREVIEW MOVIE PLAY | HI-DEF


VIDEO: SPACE STATION CREW BIOGRAPHIES PLAY | HI-DEF



VIDEO: POST-SCRUB NEWS BRIEFING ON LEAK PLAY


VIDEO: GASEOUS HYDROGEN LEAK SCRUBS LAUNCH PLAY | HI-DEF


VIDEO: BAD WEATHER DELAYS DISCOVERY LAUNCH PLAY


VIDEO: ELECTRICAL ISSUE NO LONGER A CONCERN FOR DISCOVERY PLAY


VIDEO: LAUNCH POSTPONED BY ELECTRICAL CONCERN PLAY


VIDEO: TUESDAY MORNING'S COUNTDOWN STATUS CHECK PLAY


VIDEO: DISCOVERY'S PRE-LAUNCH NEWS CONFERENCE PLAY


VIDEO: COUNTDOWN PREVIEW BRIEFING AND WEATHER FORECAST PLAY


VIDEO: ANOTHER 24-HOUR DELAY ORDERED TO FINISH REPAIRS PLAY


VIDEO: LAUNCH DELAYED 24 HOURS BY LEAK REPAIRS PLAY



VIDEO: ASTRONAUTS ARRIVE FOR LAUNCH PLAY | HI-DEF



VIDEO: FLIGHT READINESS REVIEW SETS LAUNCH DATE PLAY



VIDEO: SHUTTLE AND STATION PROGRAM BRIEFING PLAY


VIDEO: THE STS-133 MISSION OVERVIEW PRESENTATIONS PLAY


VIDEO: PREVIEW BRIEFING ON MISSION'S SPACEWALKS PLAY


VIDEO: IN-DEPTH BACKGROUND ON ROBONAUT 2 HUMANOID PLAY


VIDEO: THE ASTRONAUTS' PRE-FLIGHT NEWS BRIEFING PLAY



VIDEO: PAYLOAD BAY DOORS CLOSED FOR LAUNCH PLAY | HI-DEF


VIDEO: CREW LEAVES KSC FOR TRIP TO HOUSTON PLAY | HI-DEF


VIDEO: ASTRONAUTS INSPECT THE PAYLOAD BAY PLAY | HI-DEF


VIDEO: SHUTTLE EVACUATION PRACTICE PLAY | HI-DEF


VIDEO: ASTRONAUTS EGRESS SHUTTLE AS SEEN LIVE PLAY


VIDEO: ASTRONAUTS BOARD DISCOVERY PLAY | HI-DEF


VIDEO: SUN RISES ON LAUNCH PAD 39A PLAY | HI-DEF


VIDEO: LAUNCH DAY REHEARSAL BEGINS PLAY | HI-DEF


VIDEO: COMMEMORATIVE WALL SIGNING IN VAB PLAY | HI-DEF


VIDEO: CREW BRIEFED ON EMERGENCY PROCEDURES PLAY | HI-DEF


VIDEO: IN SHUTTLE TRAINING AIRCRAFT'S COCKPIT PLAY | HI-DEF


VIDEO: TEST-DRIVING AN EMERGENCY ARMORED TANK PLAY | HI-DEF



VIDEO: PRE-LAUNCH INTERVIEW WITH STEVE LINDSEY PLAY


VIDEO: PRE-LAUNCH INTERVIEW WITH ERIC BOE PLAY


VIDEO: PRE-LAUNCH INTERVIEW WITH AL DREW PLAY


VIDEO: PRE-LAUNCH INTERVIEW WITH TIM KOPRA PLAY


VIDEO: PRE-LAUNCH INTERVIEW WITH MIKE BARRATT PLAY


VIDEO: PRE-LAUNCH INTERVIEW WITH NICOLE STOTT PLAY



VIDEO: PAYLOADS INSTALLED INTO DISCOVERY PLAY | HI-DEF


VIDEO: MISSION PAYLOADS ARRIVE AT LAUNCH PAD PLAY | HI-DEF


VIDEO: CANISTER HAULING PAYLOADS TURNED UPRIGHT PLAY | HI-DEF


VIDEO: MODULE HOISTED INTO SHIPPING CANISTER PLAY | HI-DEF


VIDEO: WEIGHING NEW SPACE STATION MODULE PLAY | HI-DEF



VIDEO: GANTRY PLACED AROUND DISCOVERY PLAY | HI-DEF


VIDEO: SHUTTLE ATLANTIS REACHES PAD 39A PLAY | HI-DEF


VIDEO: CROWDS WATCH DISCOVERY'S FINAL ROLLOUT PLAY | HI-DEF



VIDEO: SHUTTLE HOISTED FOR ATTACHMENT TO TANK PLAY | HI-DEF


VIDEO: CRANE ROTATES THE ORBITER VERTICALLY PLAY | HI-DEF


VIDEO: DISCOVERY DEPARTS ITS HANGAR PLAY | HI-DEF



VIDEO: TIME-LAPSE SHOWS DISCOVERY ASCENDING IN VAB PLAY


VIDEO: TIME-LAPSE SHOWS THE MOVE TO ASSEMBLY BUILDING PLAY



VIDEO: DISCOVERY'S MAIDEN FLIGHT: FIRST TRIP TO VAB PLAY


VIDEO: DISCOVERY'S MAIDEN FLIGHT: ROLLOUT TO PAD 39A PLAY


VIDEO: DISCOVERY'S MAIDEN FLIGHT: TEST-FIRING ENGINES PLAY


VIDEO: DISCOVERY'S MAIDEN FLIGHT: ASSORTED VIEWS OF FRF PLAY



VIDEO: THE HISTORY OF SHUTTLE DISCOVERY PLAY


VIDEO: THE HISTORY OF SHUTTLE ENDEAVOUR PLAY


VIDEO: THE HISTORY OF SHUTTLE ATLANTIS PLAY



VIDEO: INSPECTION OF THE MISSION PAYLOADS PLAY | HI-DEF


VIDEO: ROBONAUT ARRIVES AT KENNEDY SPACE CENTER PLAY | HI-DEF


VIDEO: SPACE STATION'S SPARE THERMAL RADIATOR PLAY | HI-DEF


VIDEO: BLANKETING LEONARDO WITH INSULATION PLAY | HI-DEF


VIDEO: RACK INSERTED INTO LEONARDO FOR LAUNCH PLAY | HI-DEF


VIDEO: LEONARDO RETURNS FROM ITS PREVIOUS FLIGHT PLAY | HI-DEF


VIDEO: STATION'S SPARE PARTS DEPOT ARRIVES PLAY | HI-DEF



VIDEO: ORBITER'S PAYLOAD BAY CLOSED FOR ROLLOUT PLAY | HI-DEF


VIDEO: ASTRONAUTS VISIT THEIR SPACECRAFT PLAY | HI-DEF


VIDEO: CREW INSPECTS LEONARDO MODULE PLAY | HI-DEF


VIDEO: DISCOVERY RECEIVES ITS MAIN ENGINES PLAY | HI-DEF


VIDEO: FUEL TANK MATED TO SOLID ROCKET BOOSTERS PLAY | HI-DEF


VIDEO: HOISTING FUEL TANK INTO CHECKOUT BAY PLAY | HI-DEF


VIDEO: EXTERNAL FUEL TANK UNLOADED FROM BARGE PLAY | HI-DEF


VIDEO: MISSION'S FUEL TANK ARRIVES AT SPACEPORT PLAY | HI-DEF



VIDEO: POST-FLIGHT DESERVICING: OMS POD PLAY | HI-DEF


VIDEO: POST-FLIGHT DESERVICING: OBSS BOOM PLAY | HI-DEF


VIDEO: POST-FLIGHT DESERVICING: ENGINES PLAY | HI-DEF


SUBSCRIBE NOW