Discovery's final landing marks beginning of the end
BY WILLIAM HARWOOD
STORY WRITTEN FOR CBS NEWS "SPACE PLACE" & USED WITH PERMISSION
Posted: March 9, 2011


KENNEDY SPACE CENTER, FL--Enduring the heat of re-entry one last time, the shuttle Discovery dropped out of orbit and returned to Earth Wednesday to wrap up a near-flawless 39th and final mission, a milestone marking the beginning of the end for NASA's winged rocketships.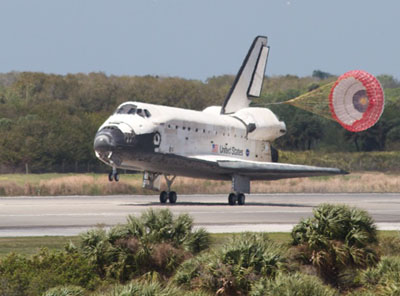 Credit: Steven Young/Spaceflight Now



After firing its twin braking rockets for a computer-controlled descent halfway around the planet, commander Steven Lindsey took over manual control and guided Discovery through a 250-degree left turn to line up on runway 15.

Pilot Eric Boe then deployed the ship's landing gear and the 204,000-pound shuttle swooped to a tire-smoking touchdown on runway 15 at 11:57:17 a.m. EST (GMT-5).

Lindsey had no problems with a stiff 25-knot headwind and a few moments later, NASA's oldest surviving space shuttle rolled to a halt, wrapping up a career spanning some 5,750 orbits, 148 million miles and 365 days in space during 39 missions since its maiden launch in August 1984.

"And Houston, Discovery, for the final time, wheels stopped," Lindsey radioed flight controllers in Houston.

"Discovery, Houston, great job by you and your crew," replied astronaut Charles Hobaugh in mission control. "That was a great landing in tough conditions and it was an awesome docked mission you all had. You were able to take Discovery up to a full 365 days of actual time on orbit. I think you'd call that a fleet leader and a leader of any manned vehicle for time in orbit. So job well done."

With only two more missions left on NASA's shuttle manifest -- a flight by Endeavour in April and a final voyage by Atlantis in late June -- Discovery's landing marked the beginning of the end for the world's most complex -- and expensive to operate -- manned rocket.

"We're seeing a program come to a close here and to see these shuttles, these beautiful, magnificent flying machines end their service life is obviously a little bit sad for us," Barratt said earlier this week.

"But it is about time, they've lived a very long time, they've had a fabulous success record, they've built this magnificent space station, they've given us lots of science and a tremendous amount of experience of just how to operate in space. More than anything, we look forward to seeing them retire with dignity and bringing on the next line of spaceships."

Lindsey, Boe, Barratt and their crewmates -- Nicole Stott and spacewalkers Stephen Bowen and Alvin Drew -- were welcomed home by NASA Administrator Charles Bolden, space operations chief Bill Gerstenmaier, shuttle program manager John Shannon, Launch Director Mike Leinbach and scores of other agency managers and engineers who turned out for Discovery's final homecoming.

"It's great to be back," Lindsey said on the runway. "Discovery launched and came back on this flight, just like my previous two flights on Discovery, with absolutely no liens against her, no single system with any problems whatsoever. ... It's because of the Kennedy Space Center work force here that takes care of this vehicle, it came back as perfect on its final flight as it did on its first flight.

"This is a pretty bittersweet moment for all of us. As the minutes pass, I'm getting sadder and sadder about this being the last flight. And I know all the folks involved in the shuttle program feel the same way."

Lindsey thanked Discovery's processing team for "giving us just a fantastic vehicle to fly. It was a privilege to be in charge of her for just a couple of weeks and I'm sad to give her back. But I couldn't imagine giving her back into better hands than this group right here."

Over the course of an extended 13-day mission, Lindsey and his crewmates attached a final U.S. module to the International Space Station, delivered a spare set of radiator panels and an external stowage platform and transferred several tons of supplies and equipment to the lab complex.

Bowen and Drew also staged two spacewalks to accomplish a variety of long-planned maintenance tasks. And the astronauts helped their station colleagues service a U.S. oxygen generator and a carbon dioxide removal system.

"When we walk away from her on the runway after we land, there's going to be tears in my eyes, I know," Stott said of Discovery. "I worked with her at Kennedy Space Center and the chance to fly (the last mission) has just been a real, real privilege."

With Discovery safely back on Earth, engineers in the nearby Vehicle Assembly Building made final preparations to haul the shuttle Endeavour to launch pad 39A Thursday for work to ready the ship for its 25th and final launch April 19.

If all goes well, NASA will close out the shuttle program by launching the Atlantis June 28 on a final space station resupply mission.

Discovery's landing brought that long-awaited -- and to some, long-dreaded -- end game into sharp focus. Barratt captured the thoughts of many space workers when he reflected on the shuttle program's legacy from orbit.

"I think about this space shuttle fleet like the clipper ships that were strong and fast and powerful, they did their jobs but they were also graceful and beautiful," he said. "They conjured up imagination, of foreign travel, exotic places, of exploration. And Discovery is just an elite member of this elite fleet.

"The clippers faded, and it was because there was an alternative, there was another ship that was coming in -- steam power -- that was stronger, faster perhaps, but not quite as beautiful.

"We have the legacy of the clippers in our shuttle fleet and it's a legacy that everybody who's ever touched these vehicles should be extremely proud of," he said. "I think the only problem area there is we don't have that follow on, we're not replacing the shuttle with something and I think that's what makes it a little bit sad for us."

At the same time, he said, "it is a time to celebrate."

"The legacy this spaceship has made for herself is just nothing more than cause for celebration, she's returned so much science, so much experience and the experience that we as crew members have had has just been marvelous and again, something our country should be very, very proud of."

In the wake of the 2003 Columbia disaster, the Bush administration ordered NASA to complete the International Space Station and retire the shuttle by the end of fiscal 2010, a target that eventually slipped to June because of a variety of technical issues. The idea was to free up money to develop a new generation of safer, lower-cost rockets and spacecraft to carry astronauts back to the moon by the early 2020s.

But the Bush administration never fully funded the proposed Constellation moon program and President Obama concluded it was not affordable. He ordered NASA to help private industry develop commercial spacecraft to ferry astronauts to and from the space station while the agency focuses on deep space exploration.

How that strategy will play out in the ongoing budget debate is not yet clear. But for the next several years, until a new rocket debuts to replace the shuttle, the only way for U.S. astronauts to reach orbit will be to hitch rides aboard Russian Soyuz spacecraft.

"We won't do anything nearly as complex with another vehicle for a very long time," Drew said Tuesday. "Five or 10 years from now, they're going to look back and say 'how did we ever build a vehicle that could do all these things?'

"This was a pretty bold and audacious thing to put together back in the 1970s and I just don't know if we have that audacity now to build something nearly as ambitious as the shuttle."

Over the next few months, Discovery will be decommissioned and ultimately turned into a museum display.

NASA has not yet announced where the orbiters will end up, but it's widely expected that one of them will be displayed at the Smithsonian's National Air and Space Museum.

The contract authorizing construction of Discovery was awarded Jan. 29, 1979, and initial work to begin building the crew module began the following August. The spacecraft was completed at North American Rockwell's Palmdale, Calif., plant in October 1983 and was ferried to the Kennedy Space Center Nov. 9, 1983.

Following an on-pad main engine test firing June 2, 1984, NASA attempted to launch Discovery on its maiden voyage the following June 26. But in a moment of high drama, the shuttle's main engines shut down seconds after ignition because of a sluggish fuel valve.

The problem was corrected, and commander Henry Hartsfield and his crew, including Challenger astronaut Judith Resnik, finally blasted off Aug. 30, 1984, on a successful mission to deploy three commercial communications satellites and to test space station construction techniques.

Over the next 26 and a half years and 39 flights, Discovery carried out four military missions, two Spacelab science flights, two visits to the Russian Mir space station, one Mir docking and 13 missions to the International Space Station. At least 24 civilian and military satellites were carried into space, including the Hubble Space Telescope.

Discovery also flew the return-to-flight missions following the 1986 destruction of the shuttle Challenger and the 2003 loss of Columbia. In addition, two stranded communications satellites were plucked out of orbit by spacewalking astronauts and brought back to Earth for repairs in November 1984 in what many veterans consider the most daring shuttle mission ever attempted.

"When you really look at the space shuttle and its capability, it can do everything, everything you can think of in space except for one thing, it can't leave low-Earth orbit, but it can do everything else," Lindsey said in a NASA interview.

"It can do robotics. It can do science. It can go dock. When you dock with the space station, in the end you have to maintain a three-inch corridor and one degree of attitude error and you can easily fly the shuttle manually and maintain that. I mean, that's unbelievable for a 120-ton vehicle.

"I don't think there's going to be another one that's ever going to match the versatility of the space shuttle, and I think that's the legacy."



UPDATED: The official embroidered crew patch for shuttle Discovery's final flight is available in our store. Free shipping to U.S. addresses!


U.S. SHOPPERS | WORLDWIDE





Additional coverage for subscribers:


VIDEO: SHUTTLE DISCOVERY LANDS FOR FINAL TIME PLAY | HI-DEF


VIDEO: ASTRONAUTS WELCOMED BACK TO EARTH PLAY | HI-DEF


VIDEO: CREW INSPECT DISCOVERY ON RUNWAY PLAY | HI-DEF


VIDEO: COMMENTS BY BOLDEN AND LINDSEY PLAY | HI-DEF


VIDEO: POST-FLIGHT CREW BRIEFING PLAY | HI-DEF



VIDEO: LANDING REPLAYS: INSIDE MISSION CONTROL PLAY | HI-DEF


VIDEO: LANDING REPLAYS: VAB ROOF PLAY | HI-DEF


VIDEO: LANDING REPLAYS: RUNWAY EAST PLAY | HI-DEF


VIDEO: LANDING REPLAYS: RUNWAY WEST PLAY | HI-DEF


VIDEO: LANDING REPLAYS: RUNWAY MID-FIELD PLAY | HI-DEF


VIDEO: LANDING REPLAYS: PATRICK AFB TRACKER PLAY | HI-DEF



VIDEO: LANDING REPLAYS: PILOT'S WINDOW PLAY


VIDEO: LANDING REPLAYS: INFRARED CAMERA PLAY


VIDEO: LANDING REPLAYS: RUNWAY NORTH PLAY


VIDEO: LANDING REPLAYS: RUNWAY SOUTH PLAY



VIDEO: FLIGHT DAY 13 HIGHLIGHTS MOVIE PLAY


VIDEO: TUESDAY'S MISSION STATUS BRIEFING PLAY


VIDEO: SHUTTLE CREW PAYS TRIBUTE TO DISCOVERY PLAY | HI-DEF


VIDEO: INTERVIEW WITH 3-TIME DISCOVERY FLIER PLAY


VIDEO: UPDATE FROM MISSION MANAGEMENT TEAM PLAY


VIDEO: ABC, CBS AND AP MEDIA INTERVIEWS WITH CREW PLAY



VIDEO: SPECIAL ENGINEERING FOOTAGE OF LAUNCH HI-DEF


VIDEO: WILLIAM SHATNER TRIBUTE TO DISCOVERY HI-DEF



VIDEO: FLIGHT DAY 12 HIGHLIGHTS MOVIE PLAY


VIDEO: EXTRAORDINARY TIME-LAPSE OF STATION FLYAROUND PLAY


VIDEO: MONDAY'S MISSION STATUS BRIEFING PLAY


VIDEO: BEAUTIFUL VIEWS OF DISCOVERY DURING FLYAROUND PLAY


VIDEO: SHUTTLE DISCOVERY UNDOCKS FROM THE STATION PLAY


VIDEO: NARRATED PREVIEW OF UNDOCKING DAY PLAY | HI-DEF



VIDEO: FLIGHT DAY 11 HIGHLIGHTS MOVIE PLAY


VIDEO: FAREWELL CEREMONY BETWEEN CREWS PLAY | HI-DEF


VIDEO: SUNDAY'S MISSION STATUS BRIEFING PLAY


VIDEO: SUNDAY MORNING FLIGHT DIRECTOR INTERVIEW PLAY



UPDATED HIGH-DEFINITION VIDEO LISTING:


FLIGHT DAY 9: CREW'S HOME MOVIES HI-DEF


FLIGHT DAY 7: ANOTHER SUCCESSFUL SPACEWALK HI-DEF


FLIGHT DAY 7: ROBONAUT MOVED INTO DESTINY LAB HI-DEF


FLIGHT DAY 7: EXERCISING ON SHUTTLE'S BICYCLE HI-DEF


FLIGHT DAY 7: SPACESUIT LEAK FOUND AND FIXED HI-DEF


FLIGHT DAY 6: PREPS FOR SPACEWALK NO. 2 HI-DEF


FLIGHT DAY 6: THE SPACEWALKING TOOLS HI-DEF


FLIGHT DAY 6: MODIFYING STATION EQUIPMENT HI-DEF


FLIGHT DAY 6: FUN TIME FLOATING IN PMM HI-DEF


FLIGHT DAY 6: CREWS ENTER INTO THE MODULE HI-DEF


FLIGHT DAY 6: PMM HATCHWAY IS OPENED UP HI-DEF


FLIGHT DAY 6: OPENING PASSAGEWAY TO MODULE HI-DEF


FLIGHT DAY 6: NEW "PMM" MODULE ATTACHED TO STATION HI-DEF


FLIGHT DAY 6: BREAKFAST TIME ABOARD THE ORBITER HI-DEF


FLIGHT DAY 5: TIRED BUT HAPPY SPACEWALKERS HI-DEF


FLIGHT DAY 5: FLY SPACE STATION'S ROBOT ARM HI-DEF


FLIGHT DAY 5: CHOREOGRAPHING THE SPACEWALK HI-DEF


FLIGHT DAY 5: SPACEWALKERS GET READY TO LEAVE HI-DEF



VIDEO: FLIGHT DAY 10 HIGHLIGHTS MOVIE PLAY


VIDEO: SATURDAY'S MISSION STATUS BRIEFING PLAY


VIDEO: SATURDAY MORNING FLIGHT DIRECTOR INTERVIEW PLAY



VIDEO: CREW'S HOME MOVIES FROM FLIGHT DAY 9 PLAY


VIDEO: CREW'S HOME MOVIES FROM FLIGHT DAY 7 PLAY


VIDEO: CREW'S HOME MOVIES FROM FLIGHT DAY 6 PLAY


VIDEO: CREW'S HOME MOVIES FROM FLIGHT DAY 5 PLAY



VIDEO: FLIGHT DAY 9 HIGHLIGHTS MOVIE PLAY


VIDEO: FRIDAY'S MISSION STATUS BRIEFING PLAY


VIDEO: CREW IN-FLIGHT NEWS BRIEFING WITH U.S. AND ITALY PLAY


VIDEO: EDUCATIONAL EVENT WITH SCHOOL CHILDREN PLAY


VIDEO: FRIDAY MORNING FLIGHT DIRECTOR INTERVIEW PLAY



VIDEO: LEFT-HAND BOOSTER CAMERA LOOKING UPWARD PLAY


VIDEO: LEFT-HAND BOOSTER CAMERA LOOKING INBOARD PLAY


VIDEO: LEFT-HAND BOOSTER CAMERA LOOKING DOWNWARD PLAY


VIDEO: RIGHT-HAND BOOSTER CAMERA LOOKING UPWARD PLAY


VIDEO: RIGHT-HAND BOOSTER CAMERA LOOKING INBOARD PLAY


VIDEO: RIGHT-HAND BOOSTER CAMERA LOOKING DOWNWARD PLAY


VIDEO: EXTERNAL TANK CAMERA: LIFTOFF TO ORBIT PLAY


VIDEO: LOOKING OUT THE PILOT'S WINDOW DURING LAUNCH PLAY



VIDEO: FLIGHT DAY 8 HIGHLIGHTS MOVIE PLAY


VIDEO: PRESIDENT OBAMA CHATS WITH ORBITING CREW PLAY | HI-DEF


VIDEO: THURSDAY'S MISSION STATUS BRIEFING PLAY


VIDEO: DISCOVERY'S FLIGHT EXTENDED ANOTHER DAY PLAY


VIDEO: MSNBC, ATLANTA AND FOX RADIO INTERVIEWS WITH CREW PLAY


VIDEO: CNN, D.C., TAMPA, LOS ANGELES INTERVIEWS WITH CREW PLAY


VIDEO: THURSDAY MORNING FLIGHT DIRECTOR INTERVIEW PLAY



VIDEO: FLIGHT DAY 7 HIGHLIGHTS MOVIE PLAY


VIDEO: WEDNESDAY'S MISSION STATUS BRIEFING PLAY


VIDEO: SPACEWALKER TAKES RIDE OF A LIFETIME PLAY


VIDEO: EUROPEAN EXPERIMENT BRACKET MOVED TO SHUTTLE PLAY


VIDEO: RESIDUAL AMMONIA VENTED FROM FAILED PUMP PLAY


VIDEO: WEDNESDAY MORNING FLIGHT DIRECTOR INTERVIEW PLAY


VIDEO: NARRATED PREVIEW OF SPACEWALK NO. 2 PLAY | HI-DEF



VIDEO: FLIGHT DAY 6 HIGHLIGHTS MOVIE PLAY


VIDEO: SEATTLE AND HOUSTON TV INTERVIEWS WITH CREW PLAY


VIDEO: TUESDAY'S MISSION STATUS BRIEFING PLAY


VIDEO: 'NO GO' FOR SPACE STATION PHOTO OP PLAY


VIDEO: PERMANENT MULTIPURPOSE MODULE ATTACHED PLAY


VIDEO: ROBOT ARM MANEUVERS MODULE TO ITS NEW HOME PLAY


VIDEO: STATION'S NEW MODULE UNBERTHED FROM SHUTTLE PLAY


VIDEO: ROBOT ARM GRAPPLES MODULE ABOARD DISCOVERY PLAY


VIDEO: ORBITAL SUNRISE OVER PMM BEFORE LEAVING SHUTTLE PLAY


VIDEO: TUESDAY MORNING FLIGHT DIRECTOR INTERVIEW PLAY


VIDEO: ANIMATED EXPLANATION OF NEW MODULE PLAY | HI-DEF


VIDEO: NARRATED PREVIEW OF MODULE INSTALLATION PLAY | HI-DEF



VIDEO: LAUNCH REPLAY: LOOKING OUT THE PILOT'S WINDOW PLAY



VIDEO: FLIGHT DAY 5 HIGHLIGHTS MOVIE PLAY


VIDEO: MONDAY'S MISSION STATUS BRIEFING PLAY


VIDEO: DISCOVERY'S FLIGHT EXTENDED ONE DAY PLAY


VIDEO: EVA NO. 1 CONCLUDES PLAY


VIDEO: JAPANESE "MESSAGE IN A BOTTLE" CAPTURES SPACE PLAY


VIDEO: FAILED PUMP COVERED UP WITH THERMAL BLANKET PLAY


VIDEO: GRAPPLE FIXTURE MOVED FROM PUMP TO OTHER SPARE PLAY


VIDEO: AMMONIA VENTING TOOLS ATTACHED TO FAILED PUMP PLAY


VIDEO: BOLTS ENGAGED TO HOLD OLD PUMP IN STORAGE BOX PLAY


VIDEO: FAILED PUMP MODULE FINALLY PUT INTO ENCLOSURE PLAY


VIDEO: ROBOT ARM SWINGS STEVE BOWEN AROUND THE STATION PLAY


VIDEO: SPACEWALKER HOPS ABOARD STATION'S ROBOT ARM PLAY


VIDEO: MONDAY MORNING FLIGHT DIRECTOR INTERVIEW PLAY


VIDEO: NARRATED PREVIEW OF SPACEWALK NO. 1 PLAY | HI-DEF



VIDEO: FLIGHT DAY 4 HIGHLIGHTS MOVIE PLAY


VIDEO: CREW'S HOME MOVIES FROM FLIGHT DAY 4 PLAY | HI-DEF


VIDEO: WX CHANNEL, BOSTON, ATLANTA, TAMPA INTERVIEWS PLAY


VIDEO: MISSION MANAGEMENT TEAM UPDATE PLAY


VIDEO: SUNDAY'S MISSION STATUS BRIEFING PLAY


VIDEO: SUNDAY MORNING FLIGHT DIRECTOR INTERVIEW PLAY



VIDEO: FLIGHT DAY 3 HIGHLIGHTS MOVIE PLAY


VIDEO: EXPRESS LOGISTICS CARRIER NO. 4 INSTALLED PLAY


VIDEO: SPACE STATION ARM INCH-WORMS TO NEW BASE PLAY


VIDEO: PAYLOAD HANDED FROM STATION ARM TO SHUTTLE ARM PLAY


VIDEO: SPARE PARTS PLATFORM HOISTED FROM SHUTTLE PLAY


VIDEO: STATION ROBOT ARM GRAPPLES ELC 4 PALLET PLAY


VIDEO: SPACEWALKING SUITS MOVED INTO AIRLOCK PLAY



VIDEO: SATURDAY'S MISSION STATUS BRIEFING PLAY


VIDEO: SHUTTLE CREW WELCOMED ABOARD STATION PLAY


VIDEO: DOCKING OF SHUTTLE TO STATION AS SEEN LIVE PLAY


VIDEO: SHUTTLE ARCS OUT IN FRONT OF SPACE STATION PLAY


VIDEO: DISCOVERY PERFORMS THE 360-DEGREE BACKFLIP PLAY


VIDEO: BEAUTIFUL VIEWS OF SHUTTLE DURING RENDEZVOUS PLAY


VIDEO: SPACECRAFT COMMANDERS TALK FROM AFAR PLAY


VIDEO: TERMINAL INITIATION BURN SEEN FROM STATION PLAY


VIDEO: TIME-LAPSE OF DISCOVERY MANEUVERING PLAY


VIDEO: ANIMATED EXPLANATION OF ELC NO. 4 INSTALL PLAY | HI-DEF


VIDEO: NARRATED PREVIEW OF THE DOCKING PLAY | HI-DEF


VIDEO: GUIDED TOUR OF SHUTTLE'S PAYLOAD BAY PLAY | HI-DEF



VIDEO: FLIGHT DAY 2 HIGHLIGHTS MOVIE PLAY


VIDEO: FRIDAY'S MISSION STATUS BRIEFING PLAY


VIDEO: NARRATED PREVIEW OF FLIGHT DAY 2 ACTIVITIES PLAY | HI-DEF



VIDEO: FLIGHT DAY 1 HIGHLIGHTS MOVIE PLAY


VIDEO: PAYLOAD BAY DOORS OPENED IN SPACE PLAY



VIDEO: THE FULL STS-133 LAUNCH EXPERIENCE PLAY


VIDEO: SHUTTLE DISCOVERY BLASTS OFF! PLAY | HI-DEF


VIDEO: GO INSIDE MISSION CONTROL DURING LAUNCH PLAY | HI-DEF


VIDEO: EXTERNAL TANK CAMERA: LIFTOFF TO ORBIT PLAY


VIDEO: AERIAL VIEWS AROUND THE CAPE PLAY | HI-DEF



VIDEO: LAUNCH REPLAY: VAB ROOF PLAY | HI-DEF


VIDEO: LAUNCH REPLAY: PRESS SITE PLAY | HI-DEF


VIDEO: LAUNCH REPLAY: PAD PERIMETER PLAY | HI-DEF


VIDEO: LAUNCH REPLAY: BEACH TRACKER PLAY | HI-DEF


VIDEO: LAUNCH REPLAY: PAD CAMERA 070 PLAY | HI-DEF


VIDEO: LAUNCH REPLAY: PAD CAMERA 071 PLAY | HI-DEF


VIDEO: LAUNCH REPLAY: UCS-23 TRACKER PLAY | HI-DEF


VIDEO: LAUNCH REPLAY: PLAYALINDA BEACH PLAY | HI-DEF


VIDEO: LAUNCH REPLAY: PAD FRONT CAMERA PLAY | HI-DEF


VIDEO: LAUNCH REPLAY: WEST TOWER CAMERA PLAY | HI-DEF



VIDEO: ASTRONAUTS LEAVE CREW QUARTERS PLAY | HI-DEF


VIDEO: CREW FINISHES GETTING SUITED UP PLAY | HI-DEF



VIDEO: LOOK BACK AT THE LAUNCH DELAYS PLAY | HI-DEF


VIDEO: NARRATED REVIEW OF SHUTTLE'S PREPARATIONS PLAY | HI-DEF


VIDEO: NARRATED REVIEW OF PAYLOADS' PREPARATIONS PLAY | HI-DEF



VIDEO: TIME-LAPSE OF PAD GANTRY ROLLBACK PLAY


VIDEO: LAUNCH PAD GANTRY ROLLED BACK PLAY | HI-DEF


VIDEO: INSIDE CONTROL ROOM WHEN COUNT STARTED PLAY | HI-DEF


VIDEO: UNIQUE VIEWS OF SHUTTLE ON THE PAD PLAY | HI-DEF


VIDEO: THE PRE-LAUNCH NEWS CONFERENCE PLAY


VIDEO: DISCOVERY'S COUNTDOWN IS UNDERWAY PLAY


VIDEO: LAUNCH COUNTDOWN PREVIEW AND WEATHER FORECAST PLAY


VIDEO: ASTRONAUTS ARRIVE AT LAUNCH SITE AGAIN PLAY | HI-DEF


VIDEO: DISCOVERY CLEARED FOR LAUNCH ON FEB. 24 PLAY



VIDEO: STEVE BOWEN BEGINS CREW TRAINING PLAY | HI-DEF



VIDEO: SUN RISES OVER SPACEPORT AFTER ROLLOUT PLAY | HI-DEF


VIDEO: SHUTTLE ARRIVES ATOP LAUNCH PAD 39A AGAIN PLAY | HI-DEF


VIDEO: CROWDS CHEER ON DISCOVERY'S ROLLOUT PLAY | HI-DEF


VIDEO: DISCOVERY RE-EMERGES FROM THE VAB PLAY | HI-DEF


VIDEO: LAUNCH TEAM PRACTICES PROCEDURES PLAY | HI-DEF



VIDEO: FRESH FOAM APPLIED TO EXTERNAL TANK PLAY | HI-DEF



VIDEO: ROOT CAUSE OF SHUTTLE TANK CRACKS FOUND PLAY



VIDEO: REPAIRS AND STRENGTHENING TO TANK PLAY | HI-DEF


VIDEO: DIGITAL X-RAY INSPECTIONS IN THE VAB PLAY | HI-DEF


VIDEO: WORK UNDERWAY TO REMOVE FOAM AND SENSORS PLAY | HI-DEF


VIDEO: SETTING UP ACCESS PLATFORMS AROUND TANK PLAY | HI-DEF



VIDEO: SHUTTLE ROLLED BACK TO ASSEMBLY BUILDING PLAY | HI-DEF


VIDEO: DISCOVERY DEPARTS LAUNCH PAD 39A PLAY | HI-DEF


VIDEO: LUNAR ECLIPSE OVER DISCOVERY PLAY | HI-DEF



VIDEO: HIGHLIGHTS FROM THE FUELING TEST PLAY | HI-DEF


VIDEO: RECAP OF THE FUELING EXERCISE PLAY


VIDEO: FUELING TEST COUNTDOWN UPDATE PLAY


VIDEO: COMMENTS FROM SHUTTLE LAUNCH DIRECTOR PLAY


VIDEO: GROUND UMBILICAL CARRIER PLATE CHECKED PLAY


VIDEO: INFO ON EXTERNAL TANK INSTRUMENTATION PLAY


VIDEO: DETAILED INFORMATION ON SPECIAL FUELING TEST PLAY



VIDEO: SHUTTLE DISCOVERY'S LAUNCH DELAYED TO FEBRUARY PLAY



VIDEO: FINAL PREPS FOR INSTRUMENTED TEST PLAY | HI-DEF


VIDEO: STRAIN GAUGES ATTACHED TO TANK PLAY | HI-DEF


VIDEO: BACKSCATTER INSPECTIONS OF TANK MIDSECTION PLAY | HI-DEF



VIDEO: INSTALLING DOUBLERS OVER STRINGERS PLAY | HI-DEF


VIDEO: GASEOUS HYDROGEN VENT ARM RETURNED PLAY | HI-DEF


VIDEO: DOUBLERS TO BEEF UP CRACKED BEAMS PLAY | HI-DEF


VIDEO: HYDROGEN FITTING IS REINSTALLED PLAY | HI-DEF


VIDEO: OPENING UP TANK'S ENTRANCE DOOR PLAY | HI-DEF


VIDEO: GUCP DETACHED AND SEALS REMOVED PLAY | HI-DEF


VIDEO: BROKEN FOAM REMOVED FROM THE TANK PLAY | HI-DEF


VIDEO: VENT ARM LETS GO FROM LEAKY GUCP PLAY | HI-DEF


VIDEO: DISCOVERY AWAITS REPAIRS TO TANK PROBLEMS PLAY | HI-DEF



VIDEO: INFORMATIVE DESCRIPTION OF TANK CRACK PROBLEM PLAY


VIDEO: DISCOVERY'S LAUNCH DELAYED TO MID-DECEMBER PLAY



VIDEO: GASEOUS HYDROGEN VENT ARM DETACHED FROM SHUTTLE PLAY



VIDEO: STS-133 MISSION PREVIEW MOVIE PLAY | HI-DEF


VIDEO: SHUTTLE DISCOVERY CREW BIOGRAPHIES PLAY | HI-DEF


VIDEO: ISS EXPEDITION 25-26 PREVIEW MOVIE PLAY | HI-DEF


VIDEO: SPACE STATION CREW BIOGRAPHIES PLAY | HI-DEF



VIDEO: POST-SCRUB NEWS BRIEFING ON LEAK PLAY


VIDEO: GASEOUS HYDROGEN LEAK SCRUBS LAUNCH PLAY | HI-DEF


VIDEO: BAD WEATHER DELAYS DISCOVERY LAUNCH PLAY


VIDEO: ELECTRICAL ISSUE NO LONGER A CONCERN FOR DISCOVERY PLAY


VIDEO: LAUNCH POSTPONED BY ELECTRICAL CONCERN PLAY


VIDEO: TUESDAY MORNING'S COUNTDOWN STATUS CHECK PLAY


VIDEO: DISCOVERY'S PRE-LAUNCH NEWS CONFERENCE PLAY


VIDEO: COUNTDOWN PREVIEW BRIEFING AND WEATHER FORECAST PLAY


VIDEO: ANOTHER 24-HOUR DELAY ORDERED TO FINISH REPAIRS PLAY


VIDEO: LAUNCH DELAYED 24 HOURS BY LEAK REPAIRS PLAY



VIDEO: ASTRONAUTS ARRIVE FOR LAUNCH PLAY | HI-DEF



VIDEO: FLIGHT READINESS REVIEW SETS LAUNCH DATE PLAY



VIDEO: SHUTTLE AND STATION PROGRAM BRIEFING PLAY


VIDEO: THE STS-133 MISSION OVERVIEW PRESENTATIONS PLAY


VIDEO: PREVIEW BRIEFING ON MISSION'S SPACEWALKS PLAY


VIDEO: IN-DEPTH BACKGROUND ON ROBONAUT 2 HUMANOID PLAY


VIDEO: THE ASTRONAUTS' PRE-FLIGHT NEWS BRIEFING PLAY



VIDEO: PAYLOAD BAY DOORS CLOSED FOR LAUNCH PLAY | HI-DEF


VIDEO: CREW LEAVES KSC FOR TRIP TO HOUSTON PLAY | HI-DEF


VIDEO: ASTRONAUTS INSPECT THE PAYLOAD BAY PLAY | HI-DEF


VIDEO: SHUTTLE EVACUATION PRACTICE PLAY | HI-DEF


VIDEO: ASTRONAUTS EGRESS SHUTTLE AS SEEN LIVE PLAY


VIDEO: ASTRONAUTS BOARD DISCOVERY PLAY | HI-DEF


VIDEO: SUN RISES ON LAUNCH PAD 39A PLAY | HI-DEF


VIDEO: LAUNCH DAY REHEARSAL BEGINS PLAY | HI-DEF


VIDEO: COMMEMORATIVE WALL SIGNING IN VAB PLAY | HI-DEF


VIDEO: CREW BRIEFED ON EMERGENCY PROCEDURES PLAY | HI-DEF


VIDEO: IN SHUTTLE TRAINING AIRCRAFT'S COCKPIT PLAY | HI-DEF


VIDEO: TEST-DRIVING AN EMERGENCY ARMORED TANK PLAY | HI-DEF



VIDEO: PRE-LAUNCH INTERVIEW WITH STEVE LINDSEY PLAY


VIDEO: PRE-LAUNCH INTERVIEW WITH ERIC BOE PLAY


VIDEO: PRE-LAUNCH INTERVIEW WITH AL DREW PLAY


VIDEO: PRE-LAUNCH INTERVIEW WITH TIM KOPRA PLAY


VIDEO: PRE-LAUNCH INTERVIEW WITH MIKE BARRATT PLAY


VIDEO: PRE-LAUNCH INTERVIEW WITH NICOLE STOTT PLAY



VIDEO: PAYLOADS INSTALLED INTO DISCOVERY PLAY | HI-DEF


VIDEO: MISSION PAYLOADS ARRIVE AT LAUNCH PAD PLAY | HI-DEF


VIDEO: CANISTER HAULING PAYLOADS TURNED UPRIGHT PLAY | HI-DEF


VIDEO: MODULE HOISTED INTO SHIPPING CANISTER PLAY | HI-DEF


VIDEO: WEIGHING NEW SPACE STATION MODULE PLAY | HI-DEF



VIDEO: GANTRY PLACED AROUND DISCOVERY PLAY | HI-DEF


VIDEO: SHUTTLE ATLANTIS REACHES PAD 39A PLAY | HI-DEF


VIDEO: CROWDS WATCH DISCOVERY'S FINAL ROLLOUT PLAY | HI-DEF



VIDEO: SHUTTLE HOISTED FOR ATTACHMENT TO TANK PLAY | HI-DEF


VIDEO: CRANE ROTATES THE ORBITER VERTICALLY PLAY | HI-DEF


VIDEO: DISCOVERY DEPARTS ITS HANGAR PLAY | HI-DEF



VIDEO: TIME-LAPSE SHOWS DISCOVERY ASCENDING IN VAB PLAY


VIDEO: TIME-LAPSE SHOWS THE MOVE TO ASSEMBLY BUILDING PLAY



VIDEO: DISCOVERY'S MAIDEN FLIGHT: FIRST TRIP TO VAB PLAY


VIDEO: DISCOVERY'S MAIDEN FLIGHT: ROLLOUT TO PAD 39A PLAY


VIDEO: DISCOVERY'S MAIDEN FLIGHT: TEST-FIRING ENGINES PLAY


VIDEO: DISCOVERY'S MAIDEN FLIGHT: ASSORTED VIEWS OF FRF PLAY



VIDEO: THE HISTORY OF SHUTTLE DISCOVERY PLAY


VIDEO: THE HISTORY OF SHUTTLE ENDEAVOUR PLAY


VIDEO: THE HISTORY OF SHUTTLE ATLANTIS PLAY



VIDEO: INSPECTION OF THE MISSION PAYLOADS PLAY | HI-DEF


VIDEO: ROBONAUT ARRIVES AT KENNEDY SPACE CENTER PLAY | HI-DEF


VIDEO: SPACE STATION'S SPARE THERMAL RADIATOR PLAY | HI-DEF


VIDEO: BLANKETING LEONARDO WITH INSULATION PLAY | HI-DEF


VIDEO: RACK INSERTED INTO LEONARDO FOR LAUNCH PLAY | HI-DEF


VIDEO: LEONARDO RETURNS FROM ITS PREVIOUS FLIGHT PLAY | HI-DEF


VIDEO: STATION'S SPARE PARTS DEPOT ARRIVES PLAY | HI-DEF



VIDEO: ORBITER'S PAYLOAD BAY CLOSED FOR ROLLOUT PLAY | HI-DEF


VIDEO: ASTRONAUTS VISIT THEIR SPACECRAFT PLAY | HI-DEF


VIDEO: CREW INSPECTS LEONARDO MODULE PLAY | HI-DEF


VIDEO: DISCOVERY RECEIVES ITS MAIN ENGINES PLAY | HI-DEF


VIDEO: FUEL TANK MATED TO SOLID ROCKET BOOSTERS PLAY | HI-DEF


VIDEO: HOISTING FUEL TANK INTO CHECKOUT BAY PLAY | HI-DEF


VIDEO: EXTERNAL FUEL TANK UNLOADED FROM BARGE PLAY | HI-DEF


VIDEO: MISSION'S FUEL TANK ARRIVES AT SPACEPORT PLAY | HI-DEF



VIDEO: POST-FLIGHT DESERVICING: OMS POD PLAY | HI-DEF


VIDEO: POST-FLIGHT DESERVICING: OBSS BOOM PLAY | HI-DEF


VIDEO: POST-FLIGHT DESERVICING: ENGINES PLAY | HI-DEF


SUBSCRIBE NOW