Equipment transfers wrapping up before farewell
BY WILLIAM HARWOOD
STORY WRITTEN FOR CBS NEWS "SPACE PLACE" & USED WITH PERMISSION
Posted: March 6, 2011


After transferring a final few items to and from the International Space Station, the Discovery astronauts planned to enjoy a few hours of off-duty time Sunday before bidding their station colleagues farewell, moving back aboard the orbiter, closing hatches and preparing for undocking early Monday to wrap up a busy resupply mission.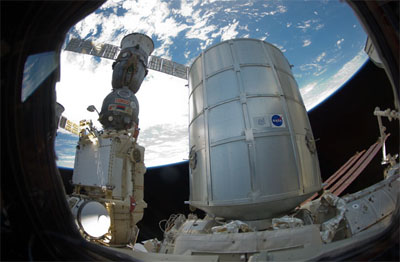 Looking at the station windows at the new Permanent Multipurpose Module. Credit: NASA



"You have accomplished everything on orbit that you launched to do and then some!" flight controllers told the crew in their daily "execute package" of instructions and timeline updates. "Have fun on this added transfer day! Just a friendly reminder -- before closing the hatch tonight, make sure everything and everybody is on the correct side!"

The combined crews plan to share a final joint meal before the shuttle astronauts take a break to relax and enjoy the view. A brief farewell ceremony in the Harmony module is planned for 3:33 p.m. EST (GMT-5) followed by hatch closure just before 4 p.m.

"We'll be finishing up our transfers, make sure we get everything that was slated to end up on the space station safely on the station and everything that's supposed to come back to the ground transferred over to Discovery before we close the hatches," said space station Flight Director Chris Edelen.

"So the shuttle crew will be working on primarily middeck transfer and they'll take the afternoon off. They'll also check out their rendezvous tools in preparation for (the post-undocking) fly around tomorrow. The station crew will also be helping with preparing samples for return to Earth. We'll be bringing back about 250 pounds of refrigerated samples. These are mostly biological samples for life science experiments that are going to be kept nice and cold on the middeck of Discovery before she lands."

Along with final equipment transfers, station commander Scott Kelly planned to remove maintenance equipment from the oxygen generation assembly in the U.S. Tranquility module after work Saturday to adjust the chemistry of supply water and to install a filter intended to prevent particulates from clogging internal components.

The OGA works by using electricity to break water down into hydrogen and oxygen. The device was activated briefly Saturday after the filter was installed to collect water samples that will be returned to Earth aboard Discovery for detailed analysis. If the water meets specifications, the OGA will be returned to normal operation in the near future.

The astronauts also serviced a carbon dioxide removal assembly in the U.S. Destiny laboratory module Saturday, carrying out a bit of electronic surgery to bypass a short circuit in a heater assembly. The repair work went well and Edelen said the device appeared to be working normally.

Here is an updated timeline of the crew's activities for Saturday (in EST and mission elapsed time; includes rev. J of the NASA TV schedule):

DATE/EST...DD...HH...MM...EVENT

03/06
03:23 AM...09...10...30...Crew wakeup
04:48 AM...09...11...55...ISS daily planning conference
06:13 AM...09...13...20...EVA reconfigure and transfer
06:33 AM...09...13...40...Transfer operations resume
06:48 AM...09...13...55...ISS: OGA cleanup
08:13 AM...09...15...20...SAFER checkout and swap
10:13 AM...09...17...20...Joint crew meal
11:13 AM...09...18...20...Crew off duty
01:30 PM...09...20...37...Mission status briefing on NTV
01:58 PM...09...21...05...Rendezvous tools checkout
02:33 PM...09...21...40...Oxygen transfer teardown
03:33 PM...09...22...40...Farewell ceremony
03:48 PM...09...22...55...Egress and hatch closure
04:18 PM...09...23...25...Orbiter docking system leak checks
04:33 PM...09...23...40...Centerline camera install
04:38 PM...09...23...45...ISS daily planning conference
06:53 PM...10...02...00...ISS crew sleep begins
07:23 PM...10...02...30...STS crew sleep begins
09:00 PM...10...04...07...Daily highlights reel (repeated hourly)



UPDATED: The official embroidered crew patch for shuttle Discovery's final flight is available in our store. Free shipping to U.S. addresses!


U.S. SHOPPERS | WORLDWIDE





Additional coverage for subscribers:


VIDEO: SUNDAY MORNING FLIGHT DIRECTOR INTERVIEW PLAY



UPDATED HIGH-DEFINITION VIDEO LISTING:


FLIGHT DAY 9: CREW'S HOME MOVIES HI-DEF


FLIGHT DAY 7: ANOTHER SUCCESSFUL SPACEWALK HI-DEF


FLIGHT DAY 7: ROBONAUT MOVED INTO DESTINY LAB HI-DEF


FLIGHT DAY 7: EXERCISING ON SHUTTLE'S BICYCLE HI-DEF


FLIGHT DAY 7: SPACESUIT LEAK FOUND AND FIXED HI-DEF


FLIGHT DAY 6: PREPS FOR SPACEWALK NO. 2 HI-DEF


FLIGHT DAY 6: THE SPACEWALKING TOOLS HI-DEF


FLIGHT DAY 6: MODIFYING STATION EQUIPMENT HI-DEF


FLIGHT DAY 6: FUN TIME FLOATING IN PMM HI-DEF


FLIGHT DAY 6: CREWS ENTER INTO THE MODULE HI-DEF


FLIGHT DAY 6: PMM HATCHWAY IS OPENED UP HI-DEF


FLIGHT DAY 6: OPENING PASSAGEWAY TO MODULE HI-DEF


FLIGHT DAY 6: NEW "PMM" MODULE ATTACHED TO STATION HI-DEF


FLIGHT DAY 6: BREAKFAST TIME ABOARD THE ORBITER HI-DEF


FLIGHT DAY 5: TIRED BUT HAPPY SPACEWALKERS HI-DEF


FLIGHT DAY 5: FLY SPACE STATION'S ROBOT ARM HI-DEF


FLIGHT DAY 5: CHOREOGRAPHING THE SPACEWALK HI-DEF


FLIGHT DAY 5: SPACEWALKERS GET READY TO LEAVE HI-DEF



VIDEO: FLIGHT DAY 10 HIGHLIGHTS MOVIE PLAY


VIDEO: SATURDAY'S MISSION STATUS BRIEFING PLAY


VIDEO: SATURDAY MORNING FLIGHT DIRECTOR INTERVIEW PLAY



VIDEO: CREW'S HOME MOVIES FROM FLIGHT DAY 9 PLAY


VIDEO: CREW'S HOME MOVIES FROM FLIGHT DAY 7 PLAY


VIDEO: CREW'S HOME MOVIES FROM FLIGHT DAY 6 PLAY


VIDEO: CREW'S HOME MOVIES FROM FLIGHT DAY 5 PLAY



VIDEO: FLIGHT DAY 9 HIGHLIGHTS MOVIE PLAY


VIDEO: FRIDAY'S MISSION STATUS BRIEFING PLAY


VIDEO: CREW IN-FLIGHT NEWS BRIEFING WITH U.S. AND ITALY PLAY


VIDEO: EDUCATIONAL EVENT WITH SCHOOL CHILDREN PLAY


VIDEO: FRIDAY MORNING FLIGHT DIRECTOR INTERVIEW PLAY



VIDEO: LEFT-HAND BOOSTER CAMERA LOOKING UPWARD PLAY


VIDEO: LEFT-HAND BOOSTER CAMERA LOOKING INBOARD PLAY


VIDEO: LEFT-HAND BOOSTER CAMERA LOOKING DOWNWARD PLAY


VIDEO: RIGHT-HAND BOOSTER CAMERA LOOKING UPWARD PLAY


VIDEO: RIGHT-HAND BOOSTER CAMERA LOOKING INBOARD PLAY


VIDEO: RIGHT-HAND BOOSTER CAMERA LOOKING DOWNWARD PLAY


VIDEO: EXTERNAL TANK CAMERA: LIFTOFF TO ORBIT PLAY


VIDEO: LOOKING OUT THE PILOT'S WINDOW DURING LAUNCH PLAY



VIDEO: FLIGHT DAY 8 HIGHLIGHTS MOVIE PLAY


VIDEO: PRESIDENT OBAMA CHATS WITH ORBITING CREW PLAY | HI-DEF


VIDEO: THURSDAY'S MISSION STATUS BRIEFING PLAY


VIDEO: DISCOVERY'S FLIGHT EXTENDED ANOTHER DAY PLAY


VIDEO: MSNBC, ATLANTA AND FOX RADIO INTERVIEWS WITH CREW PLAY


VIDEO: CNN, D.C., TAMPA, LOS ANGELES INTERVIEWS WITH CREW PLAY


VIDEO: THURSDAY MORNING FLIGHT DIRECTOR INTERVIEW PLAY



VIDEO: FLIGHT DAY 7 HIGHLIGHTS MOVIE PLAY


VIDEO: WEDNESDAY'S MISSION STATUS BRIEFING PLAY


VIDEO: SPACEWALKER TAKES RIDE OF A LIFETIME PLAY


VIDEO: EUROPEAN EXPERIMENT BRACKET MOVED TO SHUTTLE PLAY


VIDEO: RESIDUAL AMMONIA VENTED FROM FAILED PUMP PLAY


VIDEO: WEDNESDAY MORNING FLIGHT DIRECTOR INTERVIEW PLAY


VIDEO: NARRATED PREVIEW OF SPACEWALK NO. 2 PLAY | HI-DEF



VIDEO: FLIGHT DAY 6 HIGHLIGHTS MOVIE PLAY


VIDEO: SEATTLE AND HOUSTON TV INTERVIEWS WITH CREW PLAY


VIDEO: TUESDAY'S MISSION STATUS BRIEFING PLAY


VIDEO: 'NO GO' FOR SPACE STATION PHOTO OP PLAY


VIDEO: PERMANENT MULTIPURPOSE MODULE ATTACHED PLAY


VIDEO: ROBOT ARM MANEUVERS MODULE TO ITS NEW HOME PLAY


VIDEO: STATION'S NEW MODULE UNBERTHED FROM SHUTTLE PLAY


VIDEO: ROBOT ARM GRAPPLES MODULE ABOARD DISCOVERY PLAY


VIDEO: ORBITAL SUNRISE OVER PMM BEFORE LEAVING SHUTTLE PLAY


VIDEO: TUESDAY MORNING FLIGHT DIRECTOR INTERVIEW PLAY


VIDEO: ANIMATED EXPLANATION OF NEW MODULE PLAY | HI-DEF


VIDEO: NARRATED PREVIEW OF MODULE INSTALLATION PLAY | HI-DEF



VIDEO: LAUNCH REPLAY: LOOKING OUT THE PILOT'S WINDOW PLAY



VIDEO: FLIGHT DAY 5 HIGHLIGHTS MOVIE PLAY


VIDEO: MONDAY'S MISSION STATUS BRIEFING PLAY


VIDEO: DISCOVERY'S FLIGHT EXTENDED ONE DAY PLAY


VIDEO: EVA NO. 1 CONCLUDES PLAY


VIDEO: JAPANESE "MESSAGE IN A BOTTLE" CAPTURES SPACE PLAY


VIDEO: FAILED PUMP COVERED UP WITH THERMAL BLANKET PLAY


VIDEO: GRAPPLE FIXTURE MOVED FROM PUMP TO OTHER SPARE PLAY


VIDEO: AMMONIA VENTING TOOLS ATTACHED TO FAILED PUMP PLAY


VIDEO: BOLTS ENGAGED TO HOLD OLD PUMP IN STORAGE BOX PLAY


VIDEO: FAILED PUMP MODULE FINALLY PUT INTO ENCLOSURE PLAY


VIDEO: ROBOT ARM SWINGS STEVE BOWEN AROUND THE STATION PLAY


VIDEO: SPACEWALKER HOPS ABOARD STATION'S ROBOT ARM PLAY


VIDEO: MONDAY MORNING FLIGHT DIRECTOR INTERVIEW PLAY


VIDEO: NARRATED PREVIEW OF SPACEWALK NO. 1 PLAY | HI-DEF



VIDEO: FLIGHT DAY 4 HIGHLIGHTS MOVIE PLAY


VIDEO: CREW'S HOME MOVIES FROM FLIGHT DAY 4 PLAY | HI-DEF


VIDEO: WX CHANNEL, BOSTON, ATLANTA, TAMPA INTERVIEWS PLAY


VIDEO: MISSION MANAGEMENT TEAM UPDATE PLAY


VIDEO: SUNDAY'S MISSION STATUS BRIEFING PLAY


VIDEO: SUNDAY MORNING FLIGHT DIRECTOR INTERVIEW PLAY



VIDEO: FLIGHT DAY 3 HIGHLIGHTS MOVIE PLAY


VIDEO: EXPRESS LOGISTICS CARRIER NO. 4 INSTALLED PLAY


VIDEO: SPACE STATION ARM INCH-WORMS TO NEW BASE PLAY


VIDEO: PAYLOAD HANDED FROM STATION ARM TO SHUTTLE ARM PLAY


VIDEO: SPARE PARTS PLATFORM HOISTED FROM SHUTTLE PLAY


VIDEO: STATION ROBOT ARM GRAPPLES ELC 4 PALLET PLAY


VIDEO: SPACEWALKING SUITS MOVED INTO AIRLOCK PLAY



VIDEO: SATURDAY'S MISSION STATUS BRIEFING PLAY


VIDEO: SHUTTLE CREW WELCOMED ABOARD STATION PLAY


VIDEO: DOCKING OF SHUTTLE TO STATION AS SEEN LIVE PLAY


VIDEO: SHUTTLE ARCS OUT IN FRONT OF SPACE STATION PLAY


VIDEO: DISCOVERY PERFORMS THE 360-DEGREE BACKFLIP PLAY


VIDEO: BEAUTIFUL VIEWS OF SHUTTLE DURING RENDEZVOUS PLAY


VIDEO: SPACECRAFT COMMANDERS TALK FROM AFAR PLAY


VIDEO: TERMINAL INITIATION BURN SEEN FROM STATION PLAY


VIDEO: TIME-LAPSE OF DISCOVERY MANEUVERING PLAY


VIDEO: ANIMATED EXPLANATION OF ELC NO. 4 INSTALL PLAY | HI-DEF


VIDEO: NARRATED PREVIEW OF THE DOCKING PLAY | HI-DEF


VIDEO: GUIDED TOUR OF SHUTTLE'S PAYLOAD BAY PLAY | HI-DEF



VIDEO: FLIGHT DAY 2 HIGHLIGHTS MOVIE PLAY


VIDEO: FRIDAY'S MISSION STATUS BRIEFING PLAY


VIDEO: NARRATED PREVIEW OF FLIGHT DAY 2 ACTIVITIES PLAY | HI-DEF



VIDEO: FLIGHT DAY 1 HIGHLIGHTS MOVIE PLAY


VIDEO: PAYLOAD BAY DOORS OPENED IN SPACE PLAY



VIDEO: THE FULL STS-133 LAUNCH EXPERIENCE PLAY


VIDEO: SHUTTLE DISCOVERY BLASTS OFF! PLAY | HI-DEF


VIDEO: GO INSIDE MISSION CONTROL DURING LAUNCH PLAY | HI-DEF


VIDEO: EXTERNAL TANK CAMERA: LIFTOFF TO ORBIT PLAY


VIDEO: AERIAL VIEWS AROUND THE CAPE PLAY | HI-DEF



VIDEO: LAUNCH REPLAY: VAB ROOF PLAY | HI-DEF


VIDEO: LAUNCH REPLAY: PRESS SITE PLAY | HI-DEF


VIDEO: LAUNCH REPLAY: PAD PERIMETER PLAY | HI-DEF


VIDEO: LAUNCH REPLAY: BEACH TRACKER PLAY | HI-DEF


VIDEO: LAUNCH REPLAY: PAD CAMERA 070 PLAY | HI-DEF


VIDEO: LAUNCH REPLAY: PAD CAMERA 071 PLAY | HI-DEF


VIDEO: LAUNCH REPLAY: UCS-23 TRACKER PLAY | HI-DEF


VIDEO: LAUNCH REPLAY: PLAYALINDA BEACH PLAY | HI-DEF


VIDEO: LAUNCH REPLAY: PAD FRONT CAMERA PLAY | HI-DEF


VIDEO: LAUNCH REPLAY: WEST TOWER CAMERA PLAY | HI-DEF



VIDEO: ASTRONAUTS LEAVE CREW QUARTERS PLAY | HI-DEF


VIDEO: CREW FINISHES GETTING SUITED UP PLAY | HI-DEF



VIDEO: LOOK BACK AT THE LAUNCH DELAYS PLAY | HI-DEF


VIDEO: NARRATED REVIEW OF SHUTTLE'S PREPARATIONS PLAY | HI-DEF


VIDEO: NARRATED REVIEW OF PAYLOADS' PREPARATIONS PLAY | HI-DEF



VIDEO: TIME-LAPSE OF PAD GANTRY ROLLBACK PLAY


VIDEO: LAUNCH PAD GANTRY ROLLED BACK PLAY | HI-DEF


VIDEO: INSIDE CONTROL ROOM WHEN COUNT STARTED PLAY | HI-DEF


VIDEO: UNIQUE VIEWS OF SHUTTLE ON THE PAD PLAY | HI-DEF


VIDEO: THE PRE-LAUNCH NEWS CONFERENCE PLAY


VIDEO: DISCOVERY'S COUNTDOWN IS UNDERWAY PLAY


VIDEO: LAUNCH COUNTDOWN PREVIEW AND WEATHER FORECAST PLAY


VIDEO: ASTRONAUTS ARRIVE AT LAUNCH SITE AGAIN PLAY | HI-DEF


VIDEO: DISCOVERY CLEARED FOR LAUNCH ON FEB. 24 PLAY



VIDEO: STEVE BOWEN BEGINS CREW TRAINING PLAY | HI-DEF



VIDEO: SUN RISES OVER SPACEPORT AFTER ROLLOUT PLAY | HI-DEF


VIDEO: SHUTTLE ARRIVES ATOP LAUNCH PAD 39A AGAIN PLAY | HI-DEF


VIDEO: CROWDS CHEER ON DISCOVERY'S ROLLOUT PLAY | HI-DEF


VIDEO: DISCOVERY RE-EMERGES FROM THE VAB PLAY | HI-DEF


VIDEO: LAUNCH TEAM PRACTICES PROCEDURES PLAY | HI-DEF



VIDEO: FRESH FOAM APPLIED TO EXTERNAL TANK PLAY | HI-DEF



VIDEO: ROOT CAUSE OF SHUTTLE TANK CRACKS FOUND PLAY



VIDEO: REPAIRS AND STRENGTHENING TO TANK PLAY | HI-DEF


VIDEO: DIGITAL X-RAY INSPECTIONS IN THE VAB PLAY | HI-DEF


VIDEO: WORK UNDERWAY TO REMOVE FOAM AND SENSORS PLAY | HI-DEF


VIDEO: SETTING UP ACCESS PLATFORMS AROUND TANK PLAY | HI-DEF



VIDEO: SHUTTLE ROLLED BACK TO ASSEMBLY BUILDING PLAY | HI-DEF


VIDEO: DISCOVERY DEPARTS LAUNCH PAD 39A PLAY | HI-DEF


VIDEO: LUNAR ECLIPSE OVER DISCOVERY PLAY | HI-DEF



VIDEO: HIGHLIGHTS FROM THE FUELING TEST PLAY | HI-DEF


VIDEO: RECAP OF THE FUELING EXERCISE PLAY


VIDEO: FUELING TEST COUNTDOWN UPDATE PLAY


VIDEO: COMMENTS FROM SHUTTLE LAUNCH DIRECTOR PLAY


VIDEO: GROUND UMBILICAL CARRIER PLATE CHECKED PLAY


VIDEO: INFO ON EXTERNAL TANK INSTRUMENTATION PLAY


VIDEO: DETAILED INFORMATION ON SPECIAL FUELING TEST PLAY



VIDEO: SHUTTLE DISCOVERY'S LAUNCH DELAYED TO FEBRUARY PLAY



VIDEO: FINAL PREPS FOR INSTRUMENTED TEST PLAY | HI-DEF


VIDEO: STRAIN GAUGES ATTACHED TO TANK PLAY | HI-DEF


VIDEO: BACKSCATTER INSPECTIONS OF TANK MIDSECTION PLAY | HI-DEF



VIDEO: INSTALLING DOUBLERS OVER STRINGERS PLAY | HI-DEF


VIDEO: GASEOUS HYDROGEN VENT ARM RETURNED PLAY | HI-DEF


VIDEO: DOUBLERS TO BEEF UP CRACKED BEAMS PLAY | HI-DEF


VIDEO: HYDROGEN FITTING IS REINSTALLED PLAY | HI-DEF


VIDEO: OPENING UP TANK'S ENTRANCE DOOR PLAY | HI-DEF


VIDEO: GUCP DETACHED AND SEALS REMOVED PLAY | HI-DEF


VIDEO: BROKEN FOAM REMOVED FROM THE TANK PLAY | HI-DEF


VIDEO: VENT ARM LETS GO FROM LEAKY GUCP PLAY | HI-DEF


VIDEO: DISCOVERY AWAITS REPAIRS TO TANK PROBLEMS PLAY | HI-DEF



VIDEO: INFORMATIVE DESCRIPTION OF TANK CRACK PROBLEM PLAY


VIDEO: DISCOVERY'S LAUNCH DELAYED TO MID-DECEMBER PLAY



VIDEO: GASEOUS HYDROGEN VENT ARM DETACHED FROM SHUTTLE PLAY



VIDEO: STS-133 MISSION PREVIEW MOVIE PLAY | HI-DEF


VIDEO: SHUTTLE DISCOVERY CREW BIOGRAPHIES PLAY | HI-DEF


VIDEO: ISS EXPEDITION 25-26 PREVIEW MOVIE PLAY | HI-DEF


VIDEO: SPACE STATION CREW BIOGRAPHIES PLAY | HI-DEF



VIDEO: POST-SCRUB NEWS BRIEFING ON LEAK PLAY


VIDEO: GASEOUS HYDROGEN LEAK SCRUBS LAUNCH PLAY | HI-DEF


VIDEO: BAD WEATHER DELAYS DISCOVERY LAUNCH PLAY


VIDEO: ELECTRICAL ISSUE NO LONGER A CONCERN FOR DISCOVERY PLAY


VIDEO: LAUNCH POSTPONED BY ELECTRICAL CONCERN PLAY


VIDEO: TUESDAY MORNING'S COUNTDOWN STATUS CHECK PLAY


VIDEO: DISCOVERY'S PRE-LAUNCH NEWS CONFERENCE PLAY


VIDEO: COUNTDOWN PREVIEW BRIEFING AND WEATHER FORECAST PLAY


VIDEO: ANOTHER 24-HOUR DELAY ORDERED TO FINISH REPAIRS PLAY


VIDEO: LAUNCH DELAYED 24 HOURS BY LEAK REPAIRS PLAY



VIDEO: ASTRONAUTS ARRIVE FOR LAUNCH PLAY | HI-DEF



VIDEO: FLIGHT READINESS REVIEW SETS LAUNCH DATE PLAY



VIDEO: SHUTTLE AND STATION PROGRAM BRIEFING PLAY


VIDEO: THE STS-133 MISSION OVERVIEW PRESENTATIONS PLAY


VIDEO: PREVIEW BRIEFING ON MISSION'S SPACEWALKS PLAY


VIDEO: IN-DEPTH BACKGROUND ON ROBONAUT 2 HUMANOID PLAY


VIDEO: THE ASTRONAUTS' PRE-FLIGHT NEWS BRIEFING PLAY



VIDEO: PAYLOAD BAY DOORS CLOSED FOR LAUNCH PLAY | HI-DEF


VIDEO: CREW LEAVES KSC FOR TRIP TO HOUSTON PLAY | HI-DEF


VIDEO: ASTRONAUTS INSPECT THE PAYLOAD BAY PLAY | HI-DEF


VIDEO: SHUTTLE EVACUATION PRACTICE PLAY | HI-DEF


VIDEO: ASTRONAUTS EGRESS SHUTTLE AS SEEN LIVE PLAY


VIDEO: ASTRONAUTS BOARD DISCOVERY PLAY | HI-DEF


VIDEO: SUN RISES ON LAUNCH PAD 39A PLAY | HI-DEF


VIDEO: LAUNCH DAY REHEARSAL BEGINS PLAY | HI-DEF


VIDEO: COMMEMORATIVE WALL SIGNING IN VAB PLAY | HI-DEF


VIDEO: CREW BRIEFED ON EMERGENCY PROCEDURES PLAY | HI-DEF


VIDEO: IN SHUTTLE TRAINING AIRCRAFT'S COCKPIT PLAY | HI-DEF


VIDEO: TEST-DRIVING AN EMERGENCY ARMORED TANK PLAY | HI-DEF



VIDEO: PRE-LAUNCH INTERVIEW WITH STEVE LINDSEY PLAY


VIDEO: PRE-LAUNCH INTERVIEW WITH ERIC BOE PLAY


VIDEO: PRE-LAUNCH INTERVIEW WITH AL DREW PLAY


VIDEO: PRE-LAUNCH INTERVIEW WITH TIM KOPRA PLAY


VIDEO: PRE-LAUNCH INTERVIEW WITH MIKE BARRATT PLAY


VIDEO: PRE-LAUNCH INTERVIEW WITH NICOLE STOTT PLAY



VIDEO: PAYLOADS INSTALLED INTO DISCOVERY PLAY | HI-DEF


VIDEO: MISSION PAYLOADS ARRIVE AT LAUNCH PAD PLAY | HI-DEF


VIDEO: CANISTER HAULING PAYLOADS TURNED UPRIGHT PLAY | HI-DEF


VIDEO: MODULE HOISTED INTO SHIPPING CANISTER PLAY | HI-DEF


VIDEO: WEIGHING NEW SPACE STATION MODULE PLAY | HI-DEF



VIDEO: GANTRY PLACED AROUND DISCOVERY PLAY | HI-DEF


VIDEO: SHUTTLE ATLANTIS REACHES PAD 39A PLAY | HI-DEF


VIDEO: CROWDS WATCH DISCOVERY'S FINAL ROLLOUT PLAY | HI-DEF



VIDEO: SHUTTLE HOISTED FOR ATTACHMENT TO TANK PLAY | HI-DEF


VIDEO: CRANE ROTATES THE ORBITER VERTICALLY PLAY | HI-DEF


VIDEO: DISCOVERY DEPARTS ITS HANGAR PLAY | HI-DEF



VIDEO: TIME-LAPSE SHOWS DISCOVERY ASCENDING IN VAB PLAY


VIDEO: TIME-LAPSE SHOWS THE MOVE TO ASSEMBLY BUILDING PLAY



VIDEO: DISCOVERY'S MAIDEN FLIGHT: FIRST TRIP TO VAB PLAY


VIDEO: DISCOVERY'S MAIDEN FLIGHT: ROLLOUT TO PAD 39A PLAY


VIDEO: DISCOVERY'S MAIDEN FLIGHT: TEST-FIRING ENGINES PLAY


VIDEO: DISCOVERY'S MAIDEN FLIGHT: ASSORTED VIEWS OF FRF PLAY



VIDEO: THE HISTORY OF SHUTTLE DISCOVERY PLAY


VIDEO: THE HISTORY OF SHUTTLE ENDEAVOUR PLAY


VIDEO: THE HISTORY OF SHUTTLE ATLANTIS PLAY



VIDEO: INSPECTION OF THE MISSION PAYLOADS PLAY | HI-DEF


VIDEO: ROBONAUT ARRIVES AT KENNEDY SPACE CENTER PLAY | HI-DEF


VIDEO: SPACE STATION'S SPARE THERMAL RADIATOR PLAY | HI-DEF


VIDEO: BLANKETING LEONARDO WITH INSULATION PLAY | HI-DEF


VIDEO: RACK INSERTED INTO LEONARDO FOR LAUNCH PLAY | HI-DEF


VIDEO: LEONARDO RETURNS FROM ITS PREVIOUS FLIGHT PLAY | HI-DEF


VIDEO: STATION'S SPARE PARTS DEPOT ARRIVES PLAY | HI-DEF



VIDEO: ORBITER'S PAYLOAD BAY CLOSED FOR ROLLOUT PLAY | HI-DEF


VIDEO: ASTRONAUTS VISIT THEIR SPACECRAFT PLAY | HI-DEF


VIDEO: CREW INSPECTS LEONARDO MODULE PLAY | HI-DEF


VIDEO: DISCOVERY RECEIVES ITS MAIN ENGINES PLAY | HI-DEF


VIDEO: FUEL TANK MATED TO SOLID ROCKET BOOSTERS PLAY | HI-DEF


VIDEO: HOISTING FUEL TANK INTO CHECKOUT BAY PLAY | HI-DEF


VIDEO: EXTERNAL FUEL TANK UNLOADED FROM BARGE PLAY | HI-DEF


VIDEO: MISSION'S FUEL TANK ARRIVES AT SPACEPORT PLAY | HI-DEF



VIDEO: POST-FLIGHT DESERVICING: OMS POD PLAY | HI-DEF


VIDEO: POST-FLIGHT DESERVICING: OBSS BOOM PLAY | HI-DEF


VIDEO: POST-FLIGHT DESERVICING: ENGINES PLAY | HI-DEF


SUBSCRIBE NOW