Space station to receive its Italian float-in closet today
BY WILLIAM HARWOOD
STORY WRITTEN FOR CBS NEWS "SPACE PLACE" & USED WITH PERMISSION
Posted: March 1, 2011


A final U.S. module will be attached to the International Space Station Tuesday, an upgraded supply transfer compartment that will serve as a permanent storage closet to give station crews more room.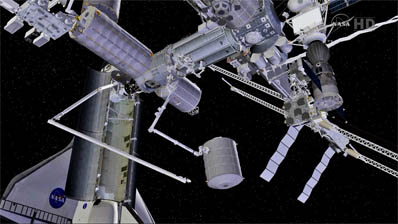 Credit: NASA TV



The Italian-built Permanent Multipurpose Module, or PMM, will be pulled from the shuttle Discovery's cargo bay starting around 8:45 a.m. EST (GMT-5). Astronauts Nicole Stott and MIchael Barratt, operating the space station's robot arm, will maneuver the module into position for attachment to the Earth-facing port of the central Unity module.

Once in place, four latches will engage to pull the 27,160-pound module snugly into place. Sixteen motorized bolts then will drive to firmly lock it to the station.

Overnight, flight controllers tested the common berthing mechanism to make sure the big bolts are ready for operation.

"They're each connected to a motor and they're rated to 19,000 pounds of force for each one of those," said space station Flight Director Chris Edelen. "So they're really strong. The module won't go anywhere.

"So they checked out the drive mechanism for all those bolts, they checked out the four latches that will be used to pull it toward the sealing surface. They also deployed the petals that cover up that sealing surface and inspected that and made sure it's nice and clean, there's no debris there that can potentially interfere with a nice airtight seal."

Installing the PMM and preparing it for hatch opening will take most of the day.

"It's a rather laborious process to get any kind of a module installed with the common berthing mechanism," Edelen said. "In addition to the task of robotically removing it from the shuttle's payload bay and installing it on the station, there's also the work to drive all those 16 bolts to get them to the right loaded force so that they securely hold the module in place, have a nice airtight seal, and then the crew has to open the hatches, perform the vestibule outfitting, the data, power and airflow connectors.

"And then finally, they have to remove some of the controllers that drive those bolts, they have to get those out of the way so there's a clear pathway. So it's quite a bit of work."

If all goes well, the PMM's hatch will be opened late today for a quick look inside.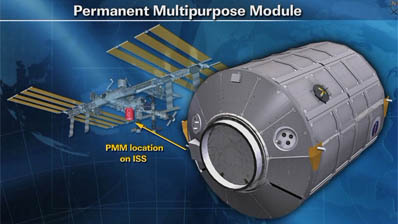 Credit: NASA TV



The PMM originally was built to carry supplies and equipment to the International Space Station aboard the space shuttle and then to return to Earth with trash and no-longer-needed equipment. With the shuttle fleet scheduled for retirement after just two more missions, NASA upgraded the Leonardo MPLM for permanent attachment to the station.

The module measures 21 feet long and 15 feet wide, providing an additional 2,472 cubic feet of useable pressurized volume. While it will have power, it is intended for storage only and does not feature any crew amenities.

"This is a great example of getting your money's worth out of a product," Edelen said. "The Italians built Leonardo and the other multi-purpose logistics modules and this one has flown seven times before. ... In this case, it's going to stay up permanently.

"Obviously, with the shuttle's retirement we won't be needing logistics modules any more. Where PMM will come in handy, it'll be storage space. Right now, it's chock full of supplies, food, science gear, spare parts and Robonaut. It will be used to store all those things as well as a lot of other equipment that's... coming up on other vehicles. It'll give us extra storage space."

NASA managers decided Monday to extend Discovery's stay at the station by one day to give the crew more time to unload the PMM and configure it for orbital operations. U.S. and Russian managers also are considering a plan to have a Russian Soyuz spacecraft undock for a dramatic photo survey of the station with the shuttle and a full complement of European, Japanese and Russian spacecraft attached. A decision on whether to proceed is expected later today.

Whether the Soyuz fly-around is approved or not, the mission extension will give the combined crews time to remove packing materials and other launch-related components and move them to the Japanese HTV cargo ship before it undocks late this month and burns up in the atmosphere.

"A lot of the equipment in the (PMM) was packed in foam as you would expect," Edelen said. "So a lot of the foam, they're going to take that out. Now is a great time to get rid of that foam, we don't want to store that on station, it'll just contribute to our lack of stowage space that we're already battling. So that foam is going to be moved over to the Japanese HTV transfer vehicle.

"We want to get rid of any trash or foam, anything that's no longer needed in the PMM. So they'll spend a good day unpacking everything, shipping the foam over to the HTV and just tidying up the PMM."

While the PMM attachment work is going on, astronauts Alvin Drew and Stephen Bowen will check their equipment and review their plans for a second spacewalk Wednesday. They will spend the night in the Quest airlock module at a reduced pressure to help purge nitrogen form their bloodstreams, a standard protocol to help prevent the bends.

Russian crew members plan to work on the Vozdukh carbon dioxide removal system, which has been operating intermittently in recent days. Overnight, U.S. flight controllers ran into problems with NASA's CO2 removal system when an internal heater shut down. A backup was activated and the system currently is operating at near-normal capacity.

A mission status briefing is planned for 11:30 a.m. and round-robin media interviews will begin at 4:23 p.m.

Here is an updated timeline of today's activities (in EST and mission elapsed time; includes revision E of the NASA television schedule):

DATE/EST...DD...HH...MM...SS...EVENT

03/01
05:53 AM...04...13...00...00...Crew wakeup
07:23 AM...04...14...30...00...ISS daily planning conference
08:08 AM...04...15...15...00...Station arm (SSRMS) grapples PMM
08:43 AM...04...15...50...00...SSRMS unberths PMM
09:48 AM...04...16...55...00...SSRMS intalls PMM on Unity nadir
10:18 AM...04...17...25...00...First stage bolts
10:38 AM...04...17...45...00...Second stage bolts
11:30 AM...04...18...37...00...Mission status briefing on NTV
11:38 AM...04...18...45...00...Crew meals begin
11:38 AM...04...18...45...00...SSRMS ungrapples PMM
12:38 PM...04...19...45...00...APFR heat shield removal
12:38 PM...04...19...45...00...PMM vestibule pressurization
01:53 PM...04...21...00...00...PMM vestibule ingress configured
02:33 PM...04...21...40...00...EVA-2: Equipment lock preps
02:53 PM...04...22...00...00...SSRMS positioned for EVA-2
03:18 PM...04...22...25...00...EVA-2: Tools configured
03:38 PM...04...22...45...00...Vestibule CPA removal
04:23 PM...04...23...30...00...PAO event (KING-TV/KTRK-TV/KOMO-TV)
05:08 PM...05...00...15...00...PMM IMV install
05:18 PM...05...00...25...00...EVA-2: Procedures review
06:33 PM...05...01...40...00...Vestibule CLS install
06:38 PM...05...01...45...00...ISS evening planning conference
06:58 PM...05...02...05...00...PMM ingress
07:48 PM...05...02...55...00...EVA-2: Mask pre-breathe
08:33 PM...05...03...40...00...EVA-2: Airlock depress to 10.2 psi
08:53 PM...05...04...00...00...ISS crew sleep begins
09:23 PM...05...04...30...00...STS crew sleep begins
10:00 PM...05...05...07...00...Daily highlights reel (repeated hourly)



The official embroidered crew patch for shuttle Discovery's final flight is available in our store. Free shipping to U.S. addresses!


U.S. SHOPPERS | WORLDWIDE





Additional coverage for subscribers:


VIDEO: ANIMATED EXPLANATION OF NEW MODULE PLAY | HI-DEF


VIDEO: NARRATED PREVIEW OF MODULE INSTALLATION PLAY | HI-DEF



VIDEO: LAUNCH REPLAY: LOOKING OUT THE PILOT'S WINDOW PLAY



VIDEO: MONDAY'S MISSION STATUS BRIEFING PLAY


VIDEO: DISCOVERY'S FLIGHT EXTENDED ONE DAY PLAY


VIDEO: EVA NO. 1 CONCLUDES PLAY


VIDEO: JAPANESE "MESSAGE IN A BOTTLE" CAPTURES SPACE PLAY


VIDEO: FAILED PUMP COVERED UP WITH THERMAL BLANKET PLAY


VIDEO: GRAPPLE FIXTURE MOVED FROM PUMP TO OTHER SPARE PLAY


VIDEO: AMMONIA VENTING TOOLS ATTACHED TO FAILED PUMP PLAY


VIDEO: BOLTS ENGAGED TO HOLD OLD PUMP IN STORAGE BOX PLAY


VIDEO: FAILED PUMP MODULE FINALLY PUT INTO ENCLOSURE PLAY


VIDEO: ROBOT ARM SWINGS STEVE BOWEN AROUND THE STATION PLAY


VIDEO: SPACEWALKER HOPS ABOARD STATION'S ROBOT ARM PLAY


VIDEO: MONDAY MORNING FLIGHT DIRECTOR INTERVIEW PLAY


VIDEO: NARRATED PREVIEW OF SPACEWALK NO. 1 PLAY | HI-DEF



VIDEO: FLIGHT DAY 4 HIGHLIGHTS MOVIE PLAY


VIDEO: CREW'S HOME MOVIES FROM FLIGHT DAY 4 PLAY | HI-DEF


VIDEO: WX CHANNEL, BOSTON, ATLANTA, TAMPA INTERVIEWS PLAY


VIDEO: MISSION MANAGEMENT TEAM UPDATE PLAY


VIDEO: SUNDAY'S MISSION STATUS BRIEFING PLAY


VIDEO: SUNDAY MORNING FLIGHT DIRECTOR INTERVIEW PLAY



VIDEO: FLIGHT DAY 3 HIGHLIGHTS MOVIE PLAY


VIDEO: EXPRESS LOGISTICS CARRIER NO. 4 INSTALLED PLAY


VIDEO: SPACE STATION ARM INCH-WORMS TO NEW BASE PLAY


VIDEO: PAYLOAD HANDED FROM STATION ARM TO SHUTTLE ARM PLAY


VIDEO: SPARE PARTS PLATFORM HOISTED FROM SHUTTLE PLAY


VIDEO: STATION ROBOT ARM GRAPPLES ELC 4 PALLET PLAY


VIDEO: SPACEWALKING SUITS MOVED INTO AIRLOCK PLAY



VIDEO: SATURDAY'S MISSION STATUS BRIEFING PLAY


VIDEO: SHUTTLE CREW WELCOMED ABOARD STATION PLAY


VIDEO: DOCKING OF SHUTTLE TO STATION AS SEEN LIVE PLAY


VIDEO: SHUTTLE ARCS OUT IN FRONT OF SPACE STATION PLAY


VIDEO: DISCOVERY PERFORMS THE 360-DEGREE BACKFLIP PLAY


VIDEO: BEAUTIFUL VIEWS OF SHUTTLE DURING RENDEZVOUS PLAY


VIDEO: SPACECRAFT COMMANDERS TALK FROM AFAR PLAY


VIDEO: TERMINAL INITIATION BURN SEEN FROM STATION PLAY


VIDEO: TIME-LAPSE OF DISCOVERY MANEUVERING PLAY


VIDEO: ANIMATED EXPLANATION OF ELC NO. 4 INSTALL PLAY | HI-DEF


VIDEO: NARRATED PREVIEW OF THE DOCKING PLAY | HI-DEF


VIDEO: GUIDED TOUR OF SHUTTLE'S PAYLOAD BAY PLAY | HI-DEF



VIDEO: FLIGHT DAY 2 HIGHLIGHTS MOVIE PLAY


VIDEO: FRIDAY'S MISSION STATUS BRIEFING PLAY


VIDEO: NARRATED PREVIEW OF FLIGHT DAY 2 ACTIVITIES PLAY | HI-DEF



VIDEO: FLIGHT DAY 1 HIGHLIGHTS MOVIE PLAY


VIDEO: PAYLOAD BAY DOORS OPENED IN SPACE PLAY



VIDEO: THE FULL STS-133 LAUNCH EXPERIENCE PLAY


VIDEO: SHUTTLE DISCOVERY BLASTS OFF! PLAY | HI-DEF


VIDEO: GO INSIDE MISSION CONTROL DURING LAUNCH PLAY | HI-DEF


VIDEO: EXTERNAL TANK CAMERA: LIFTOFF TO ORBIT PLAY


VIDEO: AERIAL VIEWS AROUND THE CAPE PLAY | HI-DEF



VIDEO: LAUNCH REPLAY: VAB ROOF PLAY | HI-DEF


VIDEO: LAUNCH REPLAY: PRESS SITE PLAY | HI-DEF


VIDEO: LAUNCH REPLAY: PAD PERIMETER PLAY | HI-DEF


VIDEO: LAUNCH REPLAY: BEACH TRACKER PLAY | HI-DEF


VIDEO: LAUNCH REPLAY: PAD CAMERA 070 PLAY | HI-DEF


VIDEO: LAUNCH REPLAY: PAD CAMERA 071 PLAY | HI-DEF


VIDEO: LAUNCH REPLAY: UCS-23 TRACKER PLAY | HI-DEF


VIDEO: LAUNCH REPLAY: PLAYALINDA BEACH PLAY | HI-DEF


VIDEO: LAUNCH REPLAY: PAD FRONT CAMERA PLAY | HI-DEF


VIDEO: LAUNCH REPLAY: WEST TOWER CAMERA PLAY | HI-DEF



VIDEO: ASTRONAUTS LEAVE CREW QUARTERS PLAY | HI-DEF


VIDEO: CREW FINISHES GETTING SUITED UP PLAY | HI-DEF



VIDEO: LOOK BACK AT THE LAUNCH DELAYS PLAY | HI-DEF


VIDEO: NARRATED REVIEW OF SHUTTLE'S PREPARATIONS PLAY | HI-DEF


VIDEO: NARRATED REVIEW OF PAYLOADS' PREPARATIONS PLAY | HI-DEF



VIDEO: TIME-LAPSE OF PAD GANTRY ROLLBACK PLAY


VIDEO: LAUNCH PAD GANTRY ROLLED BACK PLAY | HI-DEF


VIDEO: INSIDE CONTROL ROOM WHEN COUNT STARTED PLAY | HI-DEF


VIDEO: UNIQUE VIEWS OF SHUTTLE ON THE PAD PLAY | HI-DEF


VIDEO: THE PRE-LAUNCH NEWS CONFERENCE PLAY


VIDEO: DISCOVERY'S COUNTDOWN IS UNDERWAY PLAY


VIDEO: LAUNCH COUNTDOWN PREVIEW AND WEATHER FORECAST PLAY


VIDEO: ASTRONAUTS ARRIVE AT LAUNCH SITE AGAIN PLAY | HI-DEF


VIDEO: DISCOVERY CLEARED FOR LAUNCH ON FEB. 24 PLAY



VIDEO: STEVE BOWEN BEGINS CREW TRAINING PLAY | HI-DEF



VIDEO: SUN RISES OVER SPACEPORT AFTER ROLLOUT PLAY | HI-DEF


VIDEO: SHUTTLE ARRIVES ATOP LAUNCH PAD 39A AGAIN PLAY | HI-DEF


VIDEO: CROWDS CHEER ON DISCOVERY'S ROLLOUT PLAY | HI-DEF


VIDEO: DISCOVERY RE-EMERGES FROM THE VAB PLAY | HI-DEF


VIDEO: LAUNCH TEAM PRACTICES PROCEDURES PLAY | HI-DEF



VIDEO: FRESH FOAM APPLIED TO EXTERNAL TANK PLAY | HI-DEF



VIDEO: ROOT CAUSE OF SHUTTLE TANK CRACKS FOUND PLAY



VIDEO: REPAIRS AND STRENGTHENING TO TANK PLAY | HI-DEF


VIDEO: DIGITAL X-RAY INSPECTIONS IN THE VAB PLAY | HI-DEF


VIDEO: WORK UNDERWAY TO REMOVE FOAM AND SENSORS PLAY | HI-DEF


VIDEO: SETTING UP ACCESS PLATFORMS AROUND TANK PLAY | HI-DEF



VIDEO: SHUTTLE ROLLED BACK TO ASSEMBLY BUILDING PLAY | HI-DEF


VIDEO: DISCOVERY DEPARTS LAUNCH PAD 39A PLAY | HI-DEF


VIDEO: LUNAR ECLIPSE OVER DISCOVERY PLAY | HI-DEF



VIDEO: HIGHLIGHTS FROM THE FUELING TEST PLAY | HI-DEF


VIDEO: RECAP OF THE FUELING EXERCISE PLAY


VIDEO: FUELING TEST COUNTDOWN UPDATE PLAY


VIDEO: COMMENTS FROM SHUTTLE LAUNCH DIRECTOR PLAY


VIDEO: GROUND UMBILICAL CARRIER PLATE CHECKED PLAY


VIDEO: INFO ON EXTERNAL TANK INSTRUMENTATION PLAY


VIDEO: DETAILED INFORMATION ON SPECIAL FUELING TEST PLAY



VIDEO: SHUTTLE DISCOVERY'S LAUNCH DELAYED TO FEBRUARY PLAY



VIDEO: FINAL PREPS FOR INSTRUMENTED TEST PLAY | HI-DEF


VIDEO: STRAIN GAUGES ATTACHED TO TANK PLAY | HI-DEF


VIDEO: BACKSCATTER INSPECTIONS OF TANK MIDSECTION PLAY | HI-DEF



VIDEO: INSTALLING DOUBLERS OVER STRINGERS PLAY | HI-DEF


VIDEO: GASEOUS HYDROGEN VENT ARM RETURNED PLAY | HI-DEF


VIDEO: DOUBLERS TO BEEF UP CRACKED BEAMS PLAY | HI-DEF


VIDEO: HYDROGEN FITTING IS REINSTALLED PLAY | HI-DEF


VIDEO: OPENING UP TANK'S ENTRANCE DOOR PLAY | HI-DEF


VIDEO: GUCP DETACHED AND SEALS REMOVED PLAY | HI-DEF


VIDEO: BROKEN FOAM REMOVED FROM THE TANK PLAY | HI-DEF


VIDEO: VENT ARM LETS GO FROM LEAKY GUCP PLAY | HI-DEF


VIDEO: DISCOVERY AWAITS REPAIRS TO TANK PROBLEMS PLAY | HI-DEF



VIDEO: INFORMATIVE DESCRIPTION OF TANK CRACK PROBLEM PLAY


VIDEO: DISCOVERY'S LAUNCH DELAYED TO MID-DECEMBER PLAY



VIDEO: GASEOUS HYDROGEN VENT ARM DETACHED FROM SHUTTLE PLAY



VIDEO: STS-133 MISSION PREVIEW MOVIE PLAY | HI-DEF


VIDEO: SHUTTLE DISCOVERY CREW BIOGRAPHIES PLAY | HI-DEF


VIDEO: ISS EXPEDITION 25-26 PREVIEW MOVIE PLAY | HI-DEF


VIDEO: SPACE STATION CREW BIOGRAPHIES PLAY | HI-DEF



VIDEO: POST-SCRUB NEWS BRIEFING ON LEAK PLAY


VIDEO: GASEOUS HYDROGEN LEAK SCRUBS LAUNCH PLAY | HI-DEF


VIDEO: BAD WEATHER DELAYS DISCOVERY LAUNCH PLAY


VIDEO: ELECTRICAL ISSUE NO LONGER A CONCERN FOR DISCOVERY PLAY


VIDEO: LAUNCH POSTPONED BY ELECTRICAL CONCERN PLAY


VIDEO: TUESDAY MORNING'S COUNTDOWN STATUS CHECK PLAY


VIDEO: DISCOVERY'S PRE-LAUNCH NEWS CONFERENCE PLAY


VIDEO: COUNTDOWN PREVIEW BRIEFING AND WEATHER FORECAST PLAY


VIDEO: ANOTHER 24-HOUR DELAY ORDERED TO FINISH REPAIRS PLAY


VIDEO: LAUNCH DELAYED 24 HOURS BY LEAK REPAIRS PLAY



VIDEO: ASTRONAUTS ARRIVE FOR LAUNCH PLAY | HI-DEF



VIDEO: FLIGHT READINESS REVIEW SETS LAUNCH DATE PLAY



VIDEO: SHUTTLE AND STATION PROGRAM BRIEFING PLAY


VIDEO: THE STS-133 MISSION OVERVIEW PRESENTATIONS PLAY


VIDEO: PREVIEW BRIEFING ON MISSION'S SPACEWALKS PLAY


VIDEO: IN-DEPTH BACKGROUND ON ROBONAUT 2 HUMANOID PLAY


VIDEO: THE ASTRONAUTS' PRE-FLIGHT NEWS BRIEFING PLAY



VIDEO: PAYLOAD BAY DOORS CLOSED FOR LAUNCH PLAY | HI-DEF


VIDEO: CREW LEAVES KSC FOR TRIP TO HOUSTON PLAY | HI-DEF


VIDEO: ASTRONAUTS INSPECT THE PAYLOAD BAY PLAY | HI-DEF


VIDEO: SHUTTLE EVACUATION PRACTICE PLAY | HI-DEF


VIDEO: ASTRONAUTS EGRESS SHUTTLE AS SEEN LIVE PLAY


VIDEO: ASTRONAUTS BOARD DISCOVERY PLAY | HI-DEF


VIDEO: SUN RISES ON LAUNCH PAD 39A PLAY | HI-DEF


VIDEO: LAUNCH DAY REHEARSAL BEGINS PLAY | HI-DEF


VIDEO: COMMEMORATIVE WALL SIGNING IN VAB PLAY | HI-DEF


VIDEO: CREW BRIEFED ON EMERGENCY PROCEDURES PLAY | HI-DEF


VIDEO: IN SHUTTLE TRAINING AIRCRAFT'S COCKPIT PLAY | HI-DEF


VIDEO: TEST-DRIVING AN EMERGENCY ARMORED TANK PLAY | HI-DEF



VIDEO: PRE-LAUNCH INTERVIEW WITH STEVE LINDSEY PLAY


VIDEO: PRE-LAUNCH INTERVIEW WITH ERIC BOE PLAY


VIDEO: PRE-LAUNCH INTERVIEW WITH AL DREW PLAY


VIDEO: PRE-LAUNCH INTERVIEW WITH TIM KOPRA PLAY


VIDEO: PRE-LAUNCH INTERVIEW WITH MIKE BARRATT PLAY


VIDEO: PRE-LAUNCH INTERVIEW WITH NICOLE STOTT PLAY



VIDEO: PAYLOADS INSTALLED INTO DISCOVERY PLAY | HI-DEF


VIDEO: MISSION PAYLOADS ARRIVE AT LAUNCH PAD PLAY | HI-DEF


VIDEO: CANISTER HAULING PAYLOADS TURNED UPRIGHT PLAY | HI-DEF


VIDEO: MODULE HOISTED INTO SHIPPING CANISTER PLAY | HI-DEF


VIDEO: WEIGHING NEW SPACE STATION MODULE PLAY | HI-DEF



VIDEO: GANTRY PLACED AROUND DISCOVERY PLAY | HI-DEF


VIDEO: SHUTTLE ATLANTIS REACHES PAD 39A PLAY | HI-DEF


VIDEO: CROWDS WATCH DISCOVERY'S FINAL ROLLOUT PLAY | HI-DEF



VIDEO: SHUTTLE HOISTED FOR ATTACHMENT TO TANK PLAY | HI-DEF


VIDEO: CRANE ROTATES THE ORBITER VERTICALLY PLAY | HI-DEF


VIDEO: DISCOVERY DEPARTS ITS HANGAR PLAY | HI-DEF



VIDEO: TIME-LAPSE SHOWS DISCOVERY ASCENDING IN VAB PLAY


VIDEO: TIME-LAPSE SHOWS THE MOVE TO ASSEMBLY BUILDING PLAY



VIDEO: DISCOVERY'S MAIDEN FLIGHT: FIRST TRIP TO VAB PLAY


VIDEO: DISCOVERY'S MAIDEN FLIGHT: ROLLOUT TO PAD 39A PLAY


VIDEO: DISCOVERY'S MAIDEN FLIGHT: TEST-FIRING ENGINES PLAY


VIDEO: DISCOVERY'S MAIDEN FLIGHT: ASSORTED VIEWS OF FRF PLAY



VIDEO: THE HISTORY OF SHUTTLE DISCOVERY PLAY


VIDEO: THE HISTORY OF SHUTTLE ENDEAVOUR PLAY


VIDEO: THE HISTORY OF SHUTTLE ATLANTIS PLAY



VIDEO: INSPECTION OF THE MISSION PAYLOADS PLAY | HI-DEF


VIDEO: ROBONAUT ARRIVES AT KENNEDY SPACE CENTER PLAY | HI-DEF


VIDEO: SPACE STATION'S SPARE THERMAL RADIATOR PLAY | HI-DEF


VIDEO: BLANKETING LEONARDO WITH INSULATION PLAY | HI-DEF


VIDEO: RACK INSERTED INTO LEONARDO FOR LAUNCH PLAY | HI-DEF


VIDEO: LEONARDO RETURNS FROM ITS PREVIOUS FLIGHT PLAY | HI-DEF


VIDEO: STATION'S SPARE PARTS DEPOT ARRIVES PLAY | HI-DEF



VIDEO: ORBITER'S PAYLOAD BAY CLOSED FOR ROLLOUT PLAY | HI-DEF


VIDEO: ASTRONAUTS VISIT THEIR SPACECRAFT PLAY | HI-DEF


VIDEO: CREW INSPECTS LEONARDO MODULE PLAY | HI-DEF


VIDEO: DISCOVERY RECEIVES ITS MAIN ENGINES PLAY | HI-DEF


VIDEO: FUEL TANK MATED TO SOLID ROCKET BOOSTERS PLAY | HI-DEF


VIDEO: HOISTING FUEL TANK INTO CHECKOUT BAY PLAY | HI-DEF


VIDEO: EXTERNAL FUEL TANK UNLOADED FROM BARGE PLAY | HI-DEF


VIDEO: MISSION'S FUEL TANK ARRIVES AT SPACEPORT PLAY | HI-DEF



VIDEO: POST-FLIGHT DESERVICING: OMS POD PLAY | HI-DEF


VIDEO: POST-FLIGHT DESERVICING: OBSS BOOM PLAY | HI-DEF


VIDEO: POST-FLIGHT DESERVICING: ENGINES PLAY | HI-DEF


SUBSCRIBE NOW