Shuttle Discovery poised on eve of her final spaceflight
BY WILLIAM HARWOOD
STORY WRITTEN FOR CBS NEWS "SPACE PLACE" & USED WITH PERMISSION
Posted: February 23, 2011


With good weather expected, NASA managers Wednesday cleared the shuttle Discovery for launch Thursday on a long-delayed space station resupply mission, the orbiter's 39th and final flight.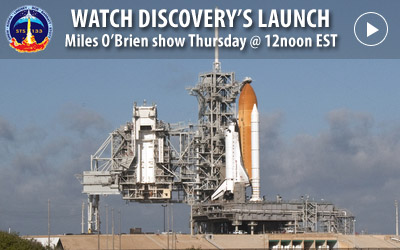 Credit: Spaceflight Now



Mike Moses, the shuttle integration manager at the Kennedy Space Center, said Discovery's countdown was proceeding smoothly with no technical problems of any significance at pad 39A.

"Today we held our launch minus-one-day mission management team meeting where we got together just to discuss our current status and our readiness," he told reporters. "Everything is on track, going beautifully with the countdown and we are more than ready for tomorrow's launch."

Discovery is scheduled for liftoff at 4:50:27 p.m. EST (GMT-5), the middle of a 10-minute window that roughly coincides with the moment Earth's rotation carries the launch pad into the plane of the International Space Station's orbit. The shuttle must launch within five minutes of that "in-plane" time to reach the lab complex.

Shuttle weather officer Kathy WInters said forecasters are continuing to predict an 80 percent chance of good weather. The outlook deteriorates slightly over the next few days as a frontal system moves through the area, with the odds dropping to 70 percent "go" Friday and 60 percent on Saturday.

The primary goals of the 133rd shuttle flight are to deliver supplies, science gear, spare parts and other equipment to the space station, along with a final U.S. module that will be used as an orbital storage depot.

"We've been ready from a mission standpoint for quite a while, now our hardware's in line and ready to go," Moses said. "We're delivering the PMM, the permanent Multi-purpose Module, which will be basically a really good addition to space station in terms of storage capability on orbit.

"We're taking up the ELC-4, external logistics cargo pallet, which has a spare radiator and room for other spare hardware once it gets on orbit and stowed on the station. We have two very busy EVAs (spacewalks) to clean up a lot of (unfinished) activities and prepare the station for the future."

The astronauts also will deliver science hardware and a variety of experiments, along with a humanoid technology demonstration robot known as Robonaut 2.

"So we're really looking forward to a very action-packed, successful mission and everything's on track," Moses said.

Launch originally was planned for last Nov. 1, but the flight was delayed by technical problems, bad weather and ultimately by cracks in the ship's external tank. The cracks have since been repaired and structural stiffeners were added to make rib-like stringers less susceptible to stress-relief fractures.

Launch Director Mike Leinbach said figuring out the root cause of the cracks was one of the most challenging realtime shuttle problems in the 30-year history of the program. But "we fixed the tank, we're going to fly it tomorrow and it's going to perform perfectly fine."

Discovery is NASA's most seasoned orbiter and it will be making its final voyage Thursday, followed by the final flight of Endeavour in April and Atlantis later this summer.

Asked if emotions were running high going into Discovery's final launch count, Leinbach said "the last flight of all three vehicles is going to be emotional for all of us."

"Landing day's going to be tough," he said. "Landing day of Discovery, and then Endeavour and especially Atlantis, the last mission, you'll see a lot of people on the runway who will probably choke up some. Because it's the end of a 30-year program that not only have we worked in and made our livelihoods in, but we've grown to love and appreciate and feel like we're doing something special for the country and, really, the world. And it's coming to an end, and that's tough.

"But we're going to do it right, we're going to approach each of these three flights the way we approached all the other ones, we'll pull them off and be able to look back and be very, very proud of what we've accomplished in the shuttle program."



The official embroidered crew patch for shuttle Discovery's final flight is available in our store. Free shipping to U.S. addresses!


U.S. SHOPPERS | WORLDWIDE





Additional coverage for subscribers:


VIDEO: THE PRE-LAUNCH NEWS CONFERENCE PLAY


VIDEO: DISCOVERY'S COUNTDOWN IS UNDERWAY PLAY


VIDEO: LAUNCH COUNTDOWN PREVIEW AND WEATHER FORECAST PLAY


VIDEO: ASTRONAUTS ARRIVE AT LAUNCH SITE AGAIN PLAY | HI-DEF


VIDEO: DISCOVERY CLEARED FOR LAUNCH ON FEB. 24 PLAY



VIDEO: STEVE BOWEN BEGINS CREW TRAINING PLAY | HI-DEF



VIDEO: SUN RISES OVER SPACEPORT AFTER ROLLOUT PLAY | HI-DEF


VIDEO: SHUTTLE ARRIVES ATOP LAUNCH PAD 39A AGAIN PLAY | HI-DEF


VIDEO: CROWDS CHEER ON DISCOVERY'S ROLLOUT PLAY | HI-DEF


VIDEO: DISCOVERY RE-EMERGES FROM THE VAB PLAY | HI-DEF


VIDEO: LAUNCH TEAM PRACTICES PROCEDURES PLAY | HI-DEF



VIDEO: FRESH FOAM APPLIED TO EXTERNAL TANK PLAY | HI-DEF



VIDEO: ROOT CAUSE OF SHUTTLE TANK CRACKS FOUND PLAY



VIDEO: REPAIRS AND STRENGTHENING TO TANK PLAY | HI-DEF


VIDEO: DIGITAL X-RAY INSPECTIONS IN THE VAB PLAY | HI-DEF


VIDEO: WORK UNDERWAY TO REMOVE FOAM AND SENSORS PLAY | HI-DEF


VIDEO: SETTING UP ACCESS PLATFORMS AROUND TANK PLAY | HI-DEF



VIDEO: SHUTTLE ROLLED BACK TO ASSEMBLY BUILDING PLAY | HI-DEF


VIDEO: DISCOVERY DEPARTS LAUNCH PAD 39A PLAY | HI-DEF


VIDEO: LUNAR ECLIPSE OVER DISCOVERY PLAY | HI-DEF



VIDEO: HIGHLIGHTS FROM THE FUELING TEST PLAY | HI-DEF


VIDEO: RECAP OF THE FUELING EXERCISE PLAY


VIDEO: FUELING TEST COUNTDOWN UPDATE PLAY


VIDEO: COMMENTS FROM SHUTTLE LAUNCH DIRECTOR PLAY


VIDEO: GROUND UMBILICAL CARRIER PLATE CHECKED PLAY


VIDEO: INFO ON EXTERNAL TANK INSTRUMENTATION PLAY


VIDEO: DETAILED INFORMATION ON SPECIAL FUELING TEST PLAY



VIDEO: SHUTTLE DISCOVERY'S LAUNCH DELAYED TO FEBRUARY PLAY



VIDEO: FINAL PREPS FOR INSTRUMENTED TEST PLAY | HI-DEF


VIDEO: STRAIN GAUGES ATTACHED TO TANK PLAY | HI-DEF


VIDEO: BACKSCATTER INSPECTIONS OF TANK MIDSECTION PLAY | HI-DEF



VIDEO: INSTALLING DOUBLERS OVER STRINGERS PLAY | HI-DEF


VIDEO: GASEOUS HYDROGEN VENT ARM RETURNED PLAY | HI-DEF


VIDEO: DOUBLERS TO BEEF UP CRACKED BEAMS PLAY | HI-DEF


VIDEO: HYDROGEN FITTING IS REINSTALLED PLAY | HI-DEF


VIDEO: OPENING UP TANK'S ENTRANCE DOOR PLAY | HI-DEF


VIDEO: GUCP DETACHED AND SEALS REMOVED PLAY | HI-DEF


VIDEO: BROKEN FOAM REMOVED FROM THE TANK PLAY | HI-DEF


VIDEO: VENT ARM LETS GO FROM LEAKY GUCP PLAY | HI-DEF


VIDEO: DISCOVERY AWAITS REPAIRS TO TANK PROBLEMS PLAY | HI-DEF



VIDEO: INFORMATIVE DESCRIPTION OF TANK CRACK PROBLEM PLAY


VIDEO: DISCOVERY'S LAUNCH DELAYED TO MID-DECEMBER PLAY



VIDEO: GASEOUS HYDROGEN VENT ARM DETACHED FROM SHUTTLE PLAY



VIDEO: STS-133 MISSION PREVIEW MOVIE PLAY | HI-DEF


VIDEO: SHUTTLE DISCOVERY CREW BIOGRAPHIES PLAY | HI-DEF


VIDEO: ISS EXPEDITION 25-26 PREVIEW MOVIE PLAY | HI-DEF


VIDEO: SPACE STATION CREW BIOGRAPHIES PLAY | HI-DEF



VIDEO: POST-SCRUB NEWS BRIEFING ON LEAK PLAY


VIDEO: GASEOUS HYDROGEN LEAK SCRUBS LAUNCH PLAY | HI-DEF


VIDEO: BAD WEATHER DELAYS DISCOVERY LAUNCH PLAY


VIDEO: ELECTRICAL ISSUE NO LONGER A CONCERN FOR DISCOVERY PLAY


VIDEO: LAUNCH POSTPONED BY ELECTRICAL CONCERN PLAY


VIDEO: TUESDAY MORNING'S COUNTDOWN STATUS CHECK PLAY


VIDEO: DISCOVERY'S PRE-LAUNCH NEWS CONFERENCE PLAY


VIDEO: COUNTDOWN PREVIEW BRIEFING AND WEATHER FORECAST PLAY


VIDEO: ANOTHER 24-HOUR DELAY ORDERED TO FINISH REPAIRS PLAY


VIDEO: LAUNCH DELAYED 24 HOURS BY LEAK REPAIRS PLAY



VIDEO: ASTRONAUTS ARRIVE FOR LAUNCH PLAY | HI-DEF



VIDEO: FLIGHT READINESS REVIEW SETS LAUNCH DATE PLAY



VIDEO: SHUTTLE AND STATION PROGRAM BRIEFING PLAY


VIDEO: THE STS-133 MISSION OVERVIEW PRESENTATIONS PLAY


VIDEO: PREVIEW BRIEFING ON MISSION'S SPACEWALKS PLAY


VIDEO: IN-DEPTH BACKGROUND ON ROBONAUT 2 HUMANOID PLAY


VIDEO: THE ASTRONAUTS' PRE-FLIGHT NEWS BRIEFING PLAY



VIDEO: PAYLOAD BAY DOORS CLOSED FOR LAUNCH PLAY | HI-DEF


VIDEO: CREW LEAVES KSC FOR TRIP TO HOUSTON PLAY | HI-DEF


VIDEO: ASTRONAUTS INSPECT THE PAYLOAD BAY PLAY | HI-DEF


VIDEO: SHUTTLE EVACUATION PRACTICE PLAY | HI-DEF


VIDEO: ASTRONAUTS EGRESS SHUTTLE AS SEEN LIVE PLAY


VIDEO: ASTRONAUTS BOARD DISCOVERY PLAY | HI-DEF


VIDEO: SUN RISES ON LAUNCH PAD 39A PLAY | HI-DEF


VIDEO: LAUNCH DAY REHEARSAL BEGINS PLAY | HI-DEF


VIDEO: COMMEMORATIVE WALL SIGNING IN VAB PLAY | HI-DEF


VIDEO: CREW BRIEFED ON EMERGENCY PROCEDURES PLAY | HI-DEF


VIDEO: IN SHUTTLE TRAINING AIRCRAFT'S COCKPIT PLAY | HI-DEF


VIDEO: TEST-DRIVING AN EMERGENCY ARMORED TANK PLAY | HI-DEF



VIDEO: PRE-LAUNCH INTERVIEW WITH STEVE LINDSEY PLAY


VIDEO: PRE-LAUNCH INTERVIEW WITH ERIC BOE PLAY


VIDEO: PRE-LAUNCH INTERVIEW WITH AL DREW PLAY


VIDEO: PRE-LAUNCH INTERVIEW WITH TIM KOPRA PLAY


VIDEO: PRE-LAUNCH INTERVIEW WITH MIKE BARRATT PLAY


VIDEO: PRE-LAUNCH INTERVIEW WITH NICOLE STOTT PLAY



VIDEO: PAYLOADS INSTALLED INTO DISCOVERY PLAY | HI-DEF


VIDEO: MISSION PAYLOADS ARRIVE AT LAUNCH PAD PLAY | HI-DEF


VIDEO: CANISTER HAULING PAYLOADS TURNED UPRIGHT PLAY | HI-DEF


VIDEO: MODULE HOISTED INTO SHIPPING CANISTER PLAY | HI-DEF


VIDEO: WEIGHING NEW SPACE STATION MODULE PLAY | HI-DEF



VIDEO: GANTRY PLACED AROUND DISCOVERY PLAY | HI-DEF


VIDEO: SHUTTLE ATLANTIS REACHES PAD 39A PLAY | HI-DEF


VIDEO: CROWDS WATCH DISCOVERY'S FINAL ROLLOUT PLAY | HI-DEF



VIDEO: SHUTTLE HOISTED FOR ATTACHMENT TO TANK PLAY | HI-DEF


VIDEO: CRANE ROTATES THE ORBITER VERTICALLY PLAY | HI-DEF


VIDEO: DISCOVERY DEPARTS ITS HANGAR PLAY | HI-DEF



VIDEO: TIME-LAPSE SHOWS DISCOVERY ASCENDING IN VAB PLAY


VIDEO: TIME-LAPSE SHOWS THE MOVE TO ASSEMBLY BUILDING PLAY



VIDEO: DISCOVERY'S MAIDEN FLIGHT: FIRST TRIP TO VAB PLAY


VIDEO: DISCOVERY'S MAIDEN FLIGHT: ROLLOUT TO PAD 39A PLAY


VIDEO: DISCOVERY'S MAIDEN FLIGHT: TEST-FIRING ENGINES PLAY


VIDEO: DISCOVERY'S MAIDEN FLIGHT: ASSORTED VIEWS OF FRF PLAY



VIDEO: THE HISTORY OF SHUTTLE DISCOVERY PLAY


VIDEO: THE HISTORY OF SHUTTLE ENDEAVOUR PLAY


VIDEO: THE HISTORY OF SHUTTLE ATLANTIS PLAY



VIDEO: INSPECTION OF THE MISSION PAYLOADS PLAY | HI-DEF


VIDEO: ROBONAUT ARRIVES AT KENNEDY SPACE CENTER PLAY | HI-DEF


VIDEO: SPACE STATION'S SPARE THERMAL RADIATOR PLAY | HI-DEF


VIDEO: BLANKETING LEONARDO WITH INSULATION PLAY | HI-DEF


VIDEO: RACK INSERTED INTO LEONARDO FOR LAUNCH PLAY | HI-DEF


VIDEO: LEONARDO RETURNS FROM ITS PREVIOUS FLIGHT PLAY | HI-DEF


VIDEO: STATION'S SPARE PARTS DEPOT ARRIVES PLAY | HI-DEF



VIDEO: ORBITER'S PAYLOAD BAY CLOSED FOR ROLLOUT PLAY | HI-DEF


VIDEO: ASTRONAUTS VISIT THEIR SPACECRAFT PLAY | HI-DEF


VIDEO: CREW INSPECTS LEONARDO MODULE PLAY | HI-DEF


VIDEO: DISCOVERY RECEIVES ITS MAIN ENGINES PLAY | HI-DEF


VIDEO: FUEL TANK MATED TO SOLID ROCKET BOOSTERS PLAY | HI-DEF


VIDEO: HOISTING FUEL TANK INTO CHECKOUT BAY PLAY | HI-DEF


VIDEO: EXTERNAL FUEL TANK UNLOADED FROM BARGE PLAY | HI-DEF


VIDEO: MISSION'S FUEL TANK ARRIVES AT SPACEPORT PLAY | HI-DEF



VIDEO: POST-FLIGHT DESERVICING: OMS POD PLAY | HI-DEF


VIDEO: POST-FLIGHT DESERVICING: OBSS BOOM PLAY | HI-DEF


VIDEO: POST-FLIGHT DESERVICING: ENGINES PLAY | HI-DEF


SUBSCRIBE NOW